(Check out: More Outstanding Marble Fountains Crafted by New Home Stone)
Water features such as fountains can be the most brilliant of additions to your outdoor space. They not only jazz up your exteriors with a stylish architectural element but also become a valuable addition to your entire home. Water fountains have time and again been a symbol of human prosperity and creativity for millennia.
You may not have given the good-old drinking fountain in your high school a second look, but you can't dismiss the truly remarkable beauty of a well-crafted artisan water fountain. Many of these water fountains around the world rank among the greatest surviving feats of engineering and creativity.
Europe is dotted with such gorgeous marble fountains that are simply breathtaking and have stood the test of time. Throughout history, these fountains have been seen as the source of life and as a significant feature for superior landscape design. They bring in a splash of beauty, luxury and divine tranquility. When looking to enhance the aesthetics of your home, then marble fountains are the key.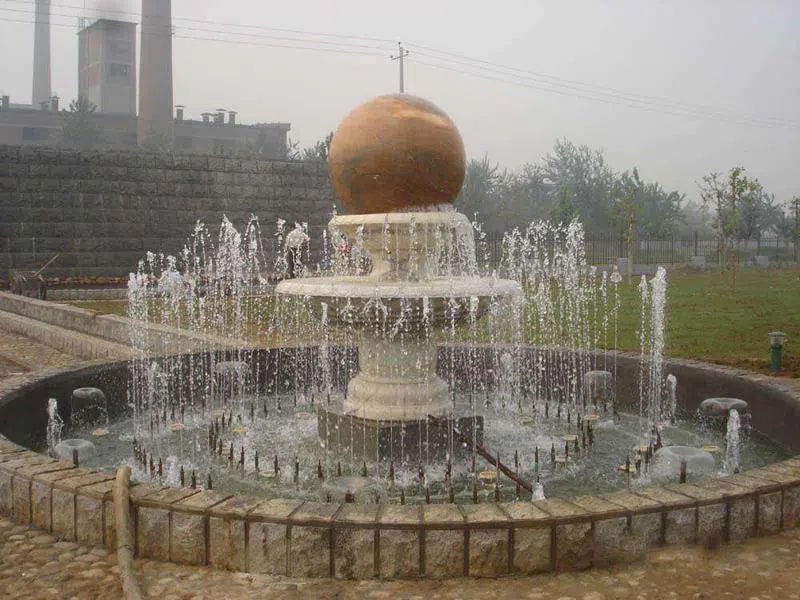 (Check out: More Outstanding Marble Fountains Crafted by New Home Stone)
The custom home features are not only popular in exterior home design, but in interior layouts as well. Whether you want to impress your guests with your impeccable taste or create a calming and refreshing atmosphere in your garden or backyard, marble fountains can offer so many benefits and raise the style quotient of your home.
There are plenty of options out there and they can easily make you feel confused and overwhelmed when it comes to choosing a piece that suits your lifestyle. To help you make an informed decision, we have mapped out the benefits of marble fountains and how can they elevate your lifestyle and home's design layout.
Benefits of Marble Fountains
The best thing about water fountains is that they are not a mere decorative element in your backyard or inside your home. There are numerous benefits that different styles of indoor water features offer. Aside from adding a beauty factor, they promote luck and positive energy. Many different cultures describe the benefits of water fountains and we have listed a few of them.
Improves and Purifies the Air Condition
Fountains are pretty and efficient. Be it indoors or outdoors, a water fountain can act like a humidifier that moisturizes your space. This further helps in improving the quality of air, making it more fresh and clean. This works brilliantly, especially if you are exposed to air pollution and dust. Moreover, water trickling from the fountain produces negative ions, offering you refreshing air. Negative ions efficiently remove dust particles dust from the air and maintain ample humidity in its surroundings. It can also help ward off dust allergies.
Functioning as a natural humidifier, water fountains can aid people living in very dry places that are vulnerable to dust and carbon in the air. This will help your yard or house plants grow better in a humid, dust-free area. It humidifies more effectively when you are installing a fountain with lots of running water through its two or three-tiered design.
Makes Feng Shui Better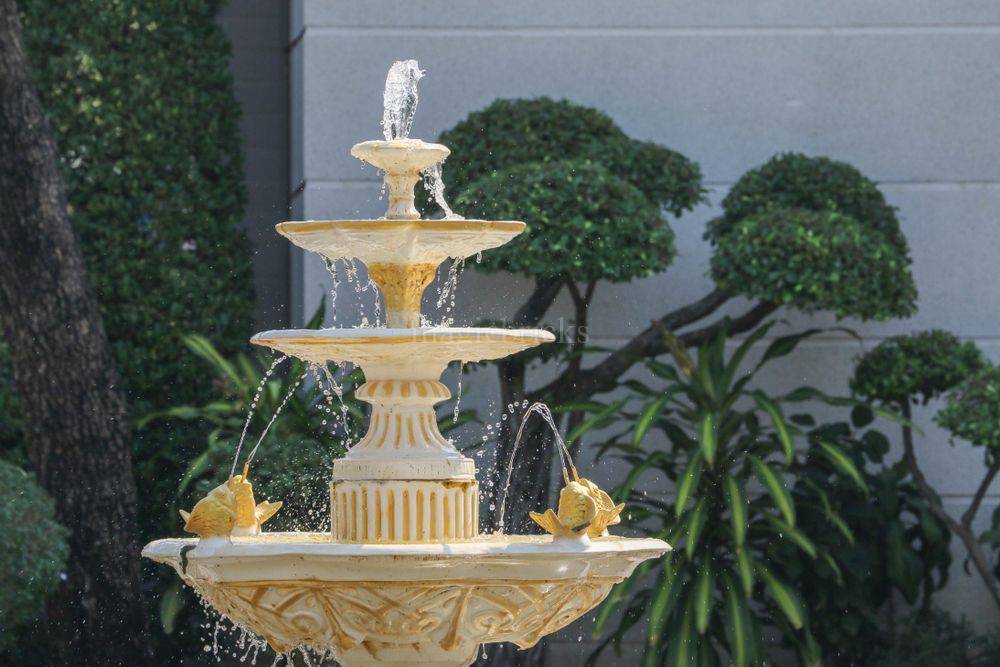 (Check out: More Outstanding Marble Fountains Crafted by New Home Stone)
Water fountains are one of the most popular features in feng shui. The practice of feng shui uses several tools in the form of home décor, and water fountains are known to bring luck and positivity to your home. A feng shui water fountain represents the element of water, and flowing water regularly helps maintain the energy in the house. Although you need to study feng shui before you can install this water feature in your home for maximum benefits through its right placement.
By placing a feng shui water fountain at the gateway to your home, you are introducing the vibes of harmony and positivity in the atmosphere. You can install this water feature both indoors and outdoors. There is one thing to remember that the flow of the water should always be facing the inside of the house, which keeps the positive vibe directed towards the house. It can also attract wealth, opportunities and an energetic vibe to the family.
Zen Style Helps Lose Anxiety
As far as the design aspect goes, Zen fountains feature simple lines, promote natural material and neutral colors. These fountains not only create a stunning layout but have a profound emotional and mental impact as well. The babbling, trickling sound of water is beyond calming and soothing. The flowing water offers a sense of quiet, peace, tranquility and rejuvenation. A Zen-style water fountain can help in stress relief and add an aesthetic element as well. The meditative benefits of fountains are universally known and they can aid you to unwind at the end of a long day.
Moreover, the sound of water can drown out unpleasant or irritating surrounding noises such as noisy neighbors, construction, barking dogs and traffic, etc. With a little bit of creativity, you can create a peaceful, meditative oasis by adding a few plants around your fountain or maybe a fish pond. This relaxing ambiance created by your stylish fountain can easily enhance the serenity of a garden and will calm your mind.
Displaying Natural Stone in Your Yard Boosts Property Value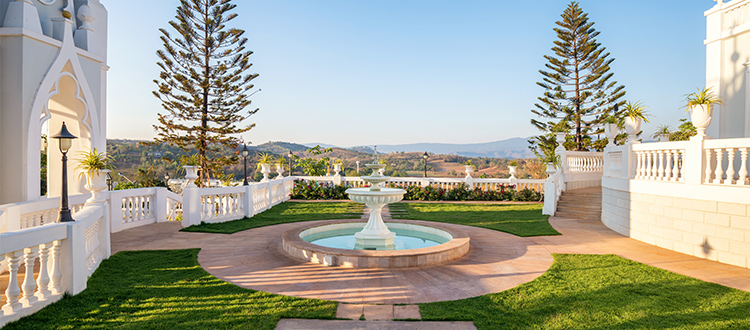 (Check out: More Outstanding Marble Fountains Crafted by New Home Stone)
Natural stone has an invigorating and charming quality that can boost the value of your entire property. Whether you choose to display your marble fountain in your backyard or inside your home, it will instantly become a valuable addition. Keeping up with the landscaping around the house is usually a lot of work. But if you want to create a peaceful and relaxing space, a fountain can work magically. There are many materials that are used to manufacture outdoor fountains; however, none can match the grace, beauty and practicality of natural stone, especially marble.
The inclusion of a natural stone water fountain can introduce a certain look and feel to your space. Moreover, they can last many years and require less maintenance, making them a valuable addition to your home. This unique water feature can give your home an expensive vibe and can attract potential buyers if you are looking to sell. Marble fountains can increase the value of your home, increase the curb appeal and also promote quality family time.
Increases Contact with Nature and Wildlife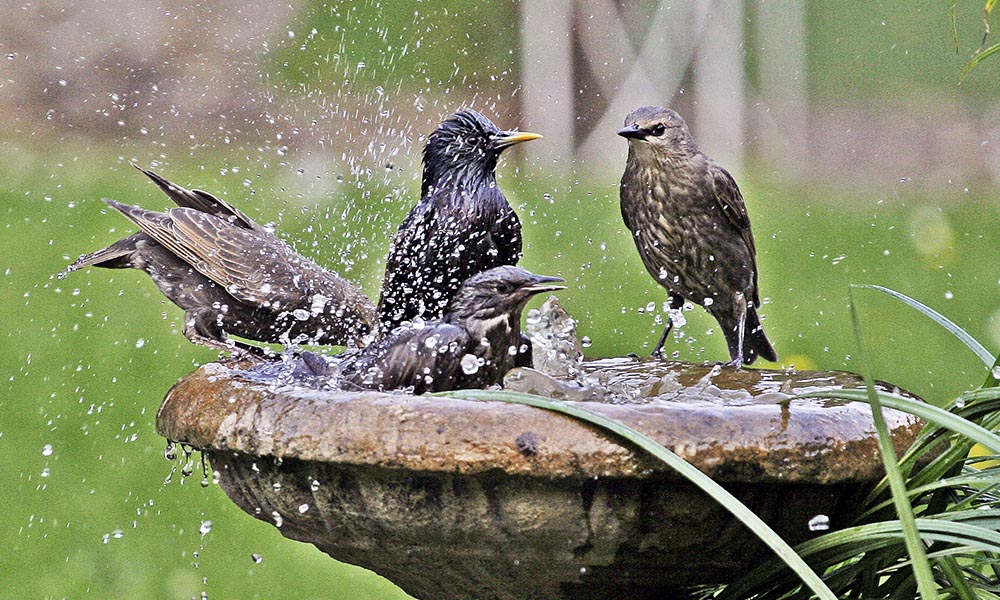 (Check out: More Outstanding Marble Fountains Crafted by New Home Stone)
The outdoor space of your home can become a haven for small creatures of nature once you install a stunning fountain there. Marble fountains attract butterflies, birds, squirrels, and many other stunning wildlife creatures. Moreover, by installing a fountain in your outdoor area, you can provide these animals with a never-ending supply of water to drink from, considering you don't use any harmful chemicals in this water. With a fountain, you can enjoy the delightful chirps of birds as they circle over or bathe in the water, creating a harmonious ambiance in your garden or backyard.
Even if you are not a passionate bird watcher, watching the little birds happily prancing about, drinking and bathing in a fountain can be pretty rewarding. Fountains work like magnets for attracting the wild, native species of animals, while they discourage nasty little gnats such as mosquitoes. If you are living in a great woodland area, your outdoor water fountain can even attract hard-to-see animals such as deer, elk, moose, even bears and cougars. Your marble fountain will not only raise the style quotient of your home but also will benefit the ecosystem.
Significance of Humans Using Stone Art throughout History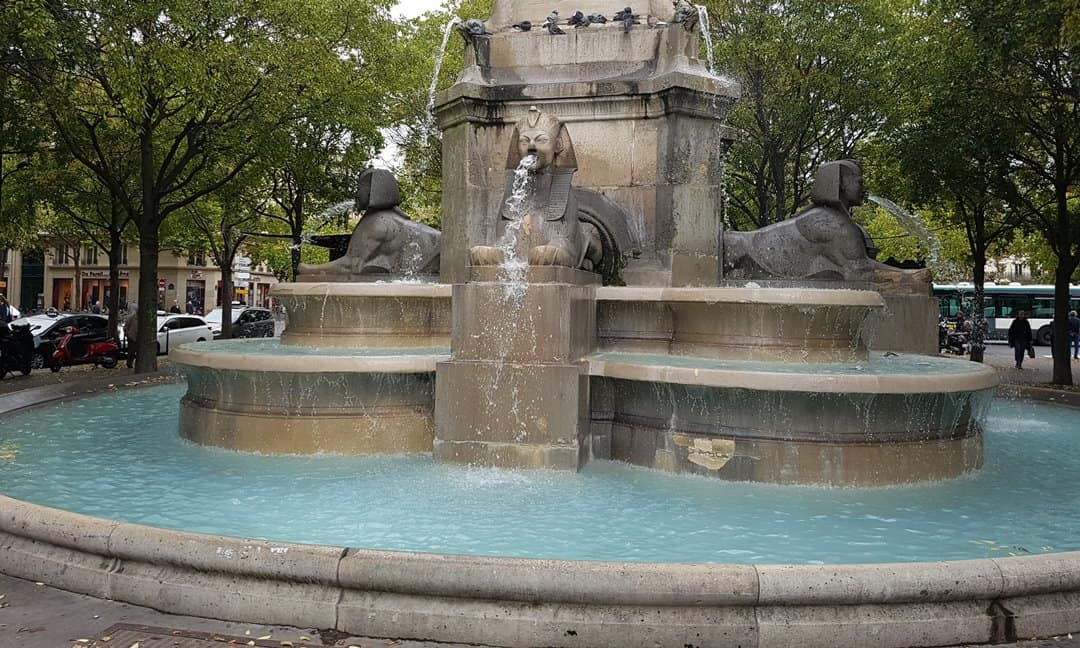 (Check out: More Outstanding Marble Fountains Crafted by New Home Stone)
The usage of natural stone in human civilization can be traced back to ancient Egyptians, Greeks and Romans. Ancient societies made stone basins to store drinking water. Dating back to 2000 BC, a carved stone basin was found in the ruins of the ancient Sumerian city in modern Iraq. The ancient Egyptians had ingenious systems for transporting water up from the Nile River for drinking and agricultural purposes; however, it was not possible to make water flow by gravity without a higher source. The Temple of Dendera in Qena City houses lion-shaped fountains, indicating the use of natural stone art in ancient Egypt.
There has been evidence that the ancient Greeks used aqueducts and gravity-powered fountains to give out water. According to historians, fountains were in existence in Athens, Corinth and other ancient Greek cities in the 6th century BC. It has been discovered that these fountains worked as the terminating points of aqueducts that brought water from springs and rivers into the human settlements. Greek fountains were built from natural stone or marble, while the water flow was directed through bronze pipes and emerged from the mouth of a sculpted mask that represented the powerful head of a lion or the mouth of an animal.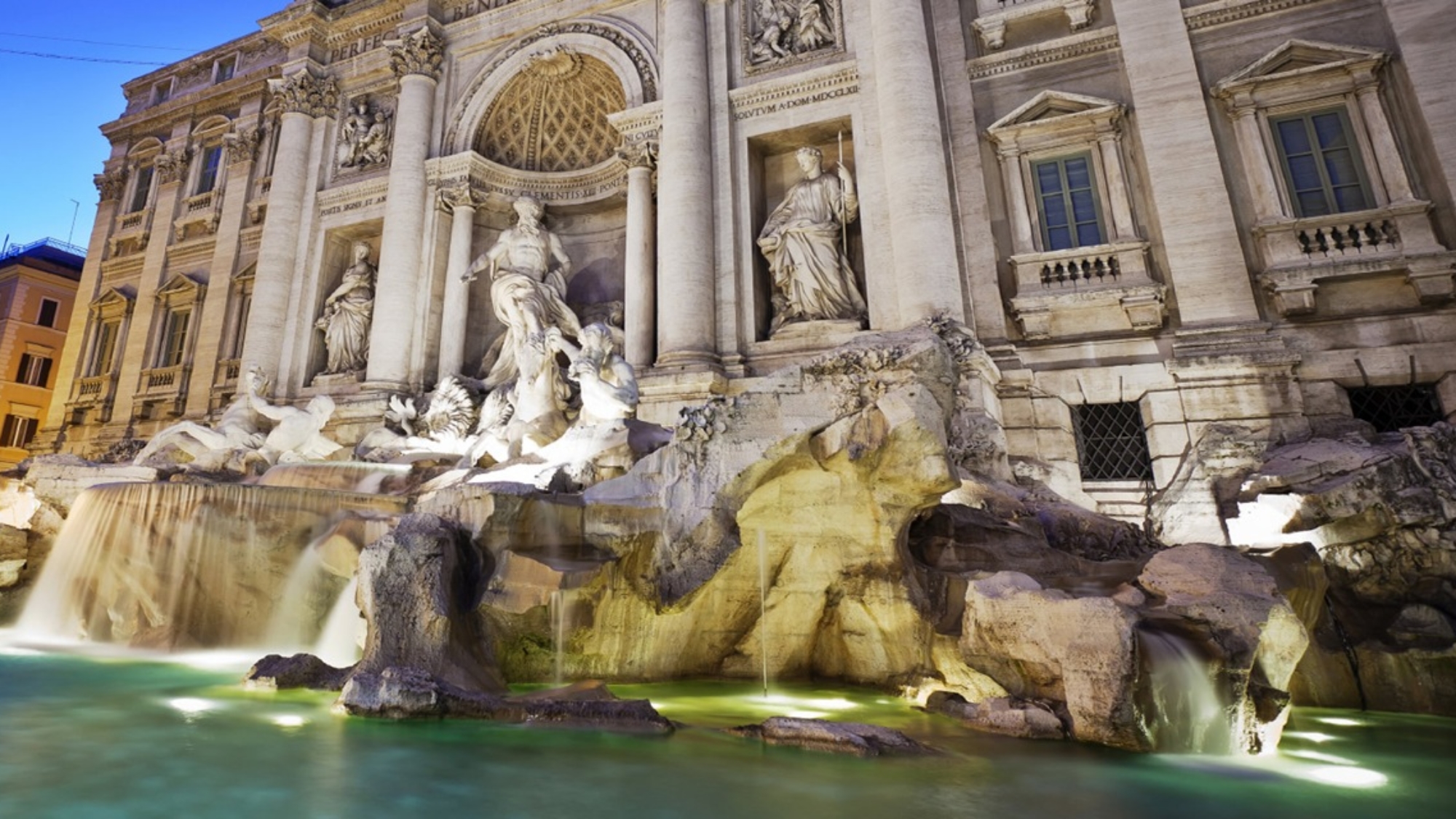 (Check out: More Outstanding Marble Fountains Crafted by New Home Stone)
Meanwhile, ancient Romans also built extensive systems of aqueducts from mountain rivers and lakes to offer water for the fountains and baths of Rome, which were made from natural stone material and distributed water through bronze pipes. During the excavation of Pompeii, the ruined city that was destroyed by Mount Vesuvius in 79 AD, revealed that the ancient city used free-standing fountains and basins along the streets. It was also discovered that the homes of elite Romans in the city have a small fountain in the atrium or the inner courtyard. Romans built many marvelous water features from natural stone throughout their empire, some of which are still intact and operational in many European countries.
Different Natural Stones Bringing Distinct Feel
When we hear natural stone, the mind immediately either goes to pebbles or boulders. However, natural stone has a range far more vast and beautiful. There are numerous types of natural stone material and each can bring a different feeling of nature into your humble abode.
The types of stone can be divided into three categories: sedimentary, metamorphic and igneous, which contain several of the most used natural stones that can invite various vibes in your outdoor garden.
Basalt Stone
(Check out: More Outstanding Marble Fountains Crafted by New Home Stone)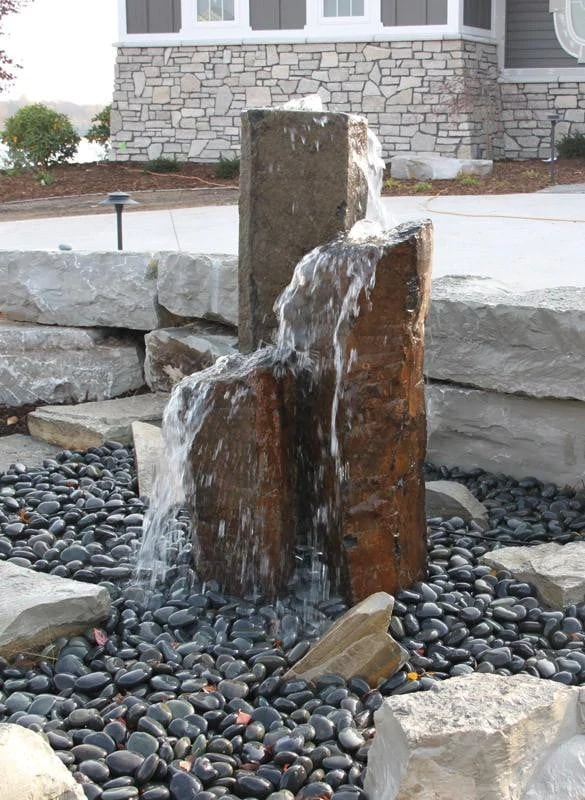 (Check out: More Outstanding Marble Fountains Crafted by New Home Stone)
Basalt is one of the most common types of natural stone. The color of basalt varies from gray to black and it features fine grains. You can easily recognize a basalt stone through its small pores and gray tones along with subtle and delicate patterns that can elevate both your interior and exterior.
Granite Stone
(Check out: More Outstanding Marble Fountains Crafted by Marblebee Ltd.)
Granite is an igneous rock that forms from magma deep within the planet's surface. Granite usually contains quartz and feldspar, which makes it extremely durable and scratch, heat and chip resistant. This stone has low porosity. Its durable nature and strength make it one of the best choices for fountains.
Quartzite Stone
It has similar physical and mechanical features as granite stone material. Quartzite is a perfect fit for both internal and external use. It can offer unique colors and veins that mimic the appearances of marble.
Limestone Stone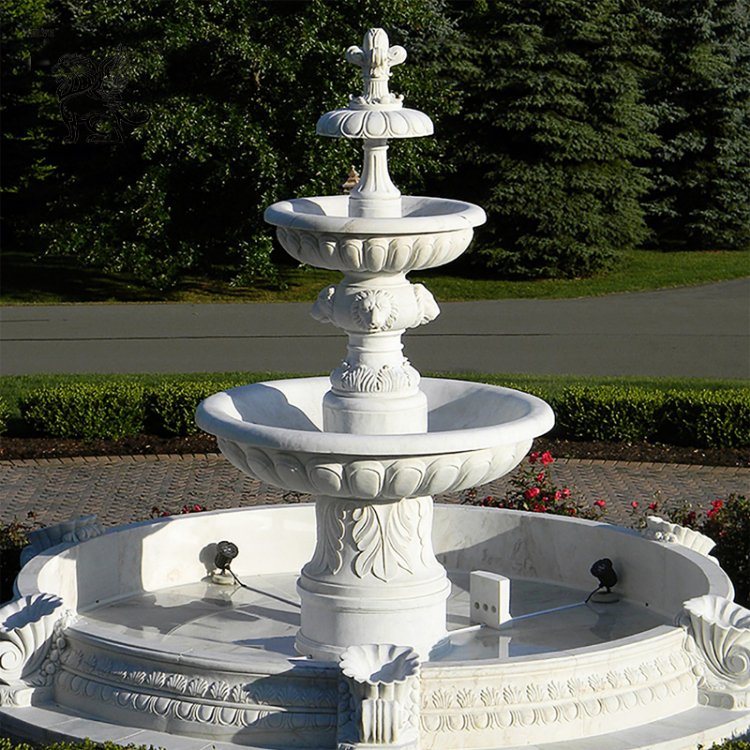 (Check out: More Outstanding Marble Fountains Crafted by New Home Stone)
This sedimentary stone type has been around for a long time. Limestone contains large qualities of calcite. It is commonly produced in a honed finish, as most limestone pieces are not able to sustain a high polish due to their delicate feature. Limestone is mostly ivory, brown and gray in color and features a low to mid-range strength.
Marble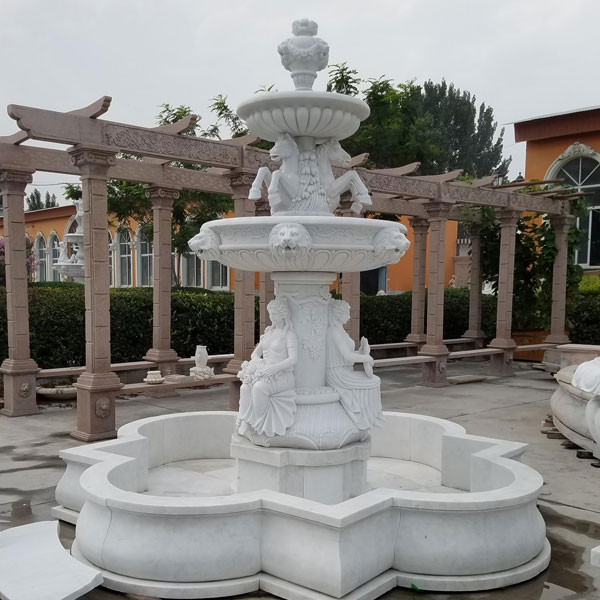 (Check out: More Outstanding Marble Fountains Crafted by New Home Stone)
No other natural stone can even amount to the grace and style that marble material offers. Marble is a metamorphic stone type that forms when limestone goes under the heat and pressure of metamorphism. Marble is strong, durable and has been in use since ancient times, where ancient Romans and Greek used it to create breathtaking water fountains throughout Europe, which have stood the test of time and stand tall even today.
Onyx Stone
(Check out: More Outstanding Marble Fountains Crafted by Marblebee Ltd.)
Onyx is a calcareous type of stone that has a very fine and tiny grain and feature veining running all over it. It is a translucent stone that represents the luxurious lifestyle and often is produced in a high polish finish to bring out the colors and patterns to the surface.
Travertine Stone
(Check out: More Outstanding Marble Fountains Crafted by Marblebee Ltd.)
Another one of the most beautiful and widely used natural stone types is travertine. It is a banded, more compact form of limestone, which is characterized by its porous surface and chambers through the stone. The stone varies in color from dusty white to silver-gray, to gold, coral red and toffee brown.
Sandstone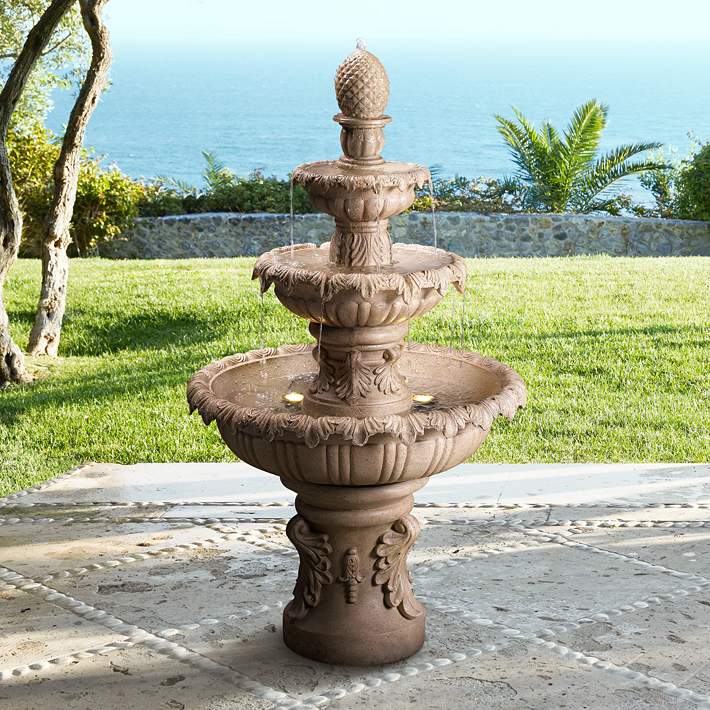 (Check out: More Outstanding Marble Fountains Crafted by New Home Stone)
Sandstone is a sedimentary type of stone that composes sand-size grains of minerals, rock or organic material. The stone also has a cementing material that glues the sand grains together. It may also contain a milieu of silt or clay-sized particles, which occupy the spaces between the grains of sand.
If you're willing to install a stone fountain of your dream in you landscape drop us a message, we are sure to provide you best quality fountain to grace up your property for many years to come. Stone choices are endless. Our expert stone artisans are work hard to turn any garden into beautiful oasis. You just need to send us your custom requirement.