An outdoor fountain can transform your mundane looking outdoor living space into a welcoming and relaxing space, which will make you want to spend more time in your outdoor oasis. Choosing the right fountain for your garden area becomes necessary to enhance the landscaping décor with a flawless combination of personal preference and practicality.
Water fountains have been a consistent symbol of human prosperity and ingenuity for millennia. Ancient civilizations of Rome and Greece used natural stone to create these marvelous water features and some of them have stood the test of time. The truly awe-inspiring beauty of a well-crafted artisan water fountain can become the centerpiece of a space and lure birds and butterflies to make your garden much more inviting.
Mostly crafted from natural stone such as marble, these fountains rank amongst the greatest surviving feats of engineering and creativity in the world. Regardless of their design, size or shape, marble water fountains can introduce a distinct exquisiteness to your landscape. To help you make an informed decision, we have compiled a handful of stunning marble fountains to elevate your garden design.
White Marble Two Layer Fountain with Female Statues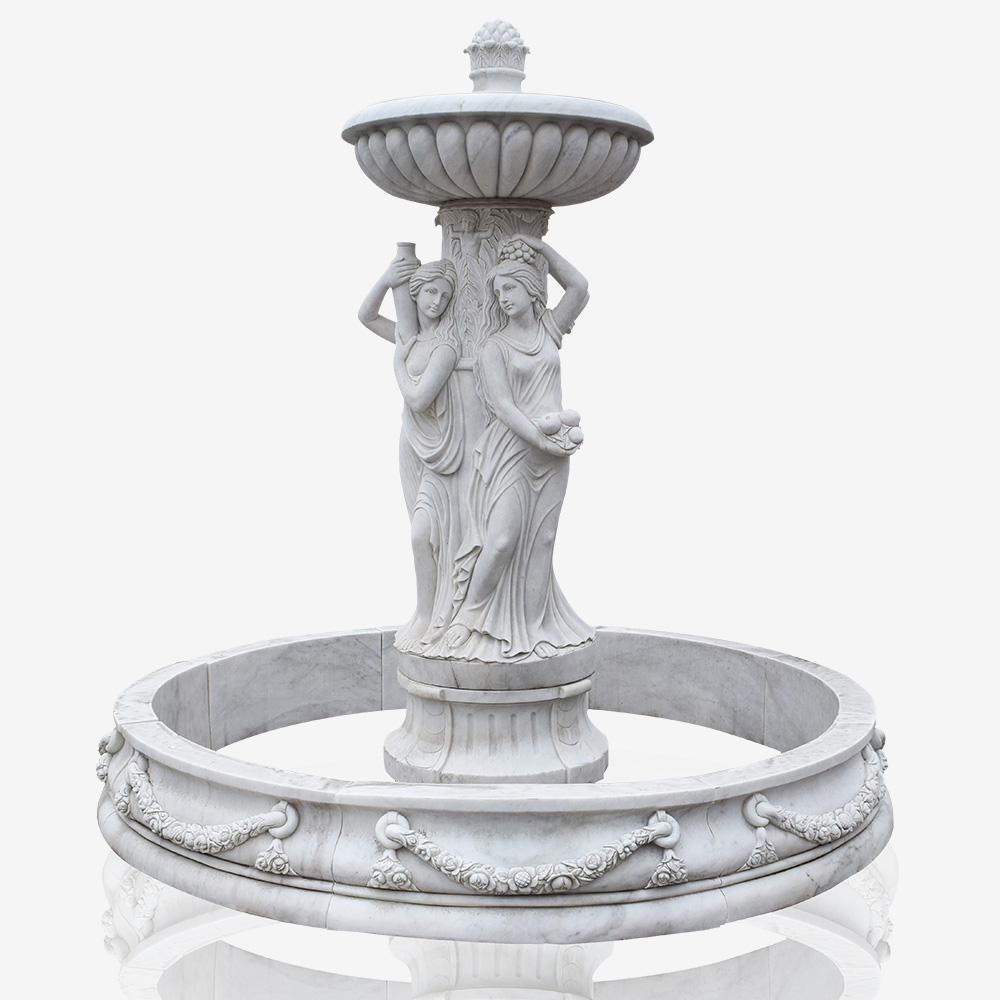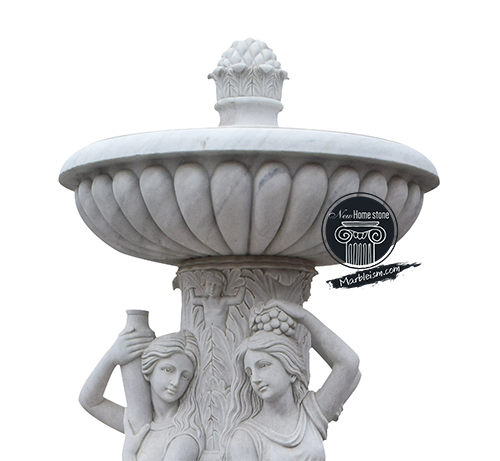 (Check out: White stone fountain 2 layer)
Water fountains have been considered a status symbol in residential and public spaces for a long time. But in recent times, many manufacturers provide inexpensive and affordable water features in the most beautiful of designs. Take a look at this gorgeous water fountain made from white marble with gray veining. The two-layer small water fountain features a gracefully detailed carving model that brings in a regal quality and elevates the design layout of your outdoor space. The two-layer garden fountain has a round pool at the base, with a round pillar in the middle holding the second layer. The pillar features two female statues around it with elegantly carved designs and patterns. You can install this white stone fountain in the center of your garden to make it a focal point and raise the overall value of your property. You can have it customized in any shape, size or material to better suit your space and design requirements. In addition, the natural stone fountain can withstand all kinds of weather without any damage and will grace your garden for decades to come.
White Marble 3-Layer Tiered Fountain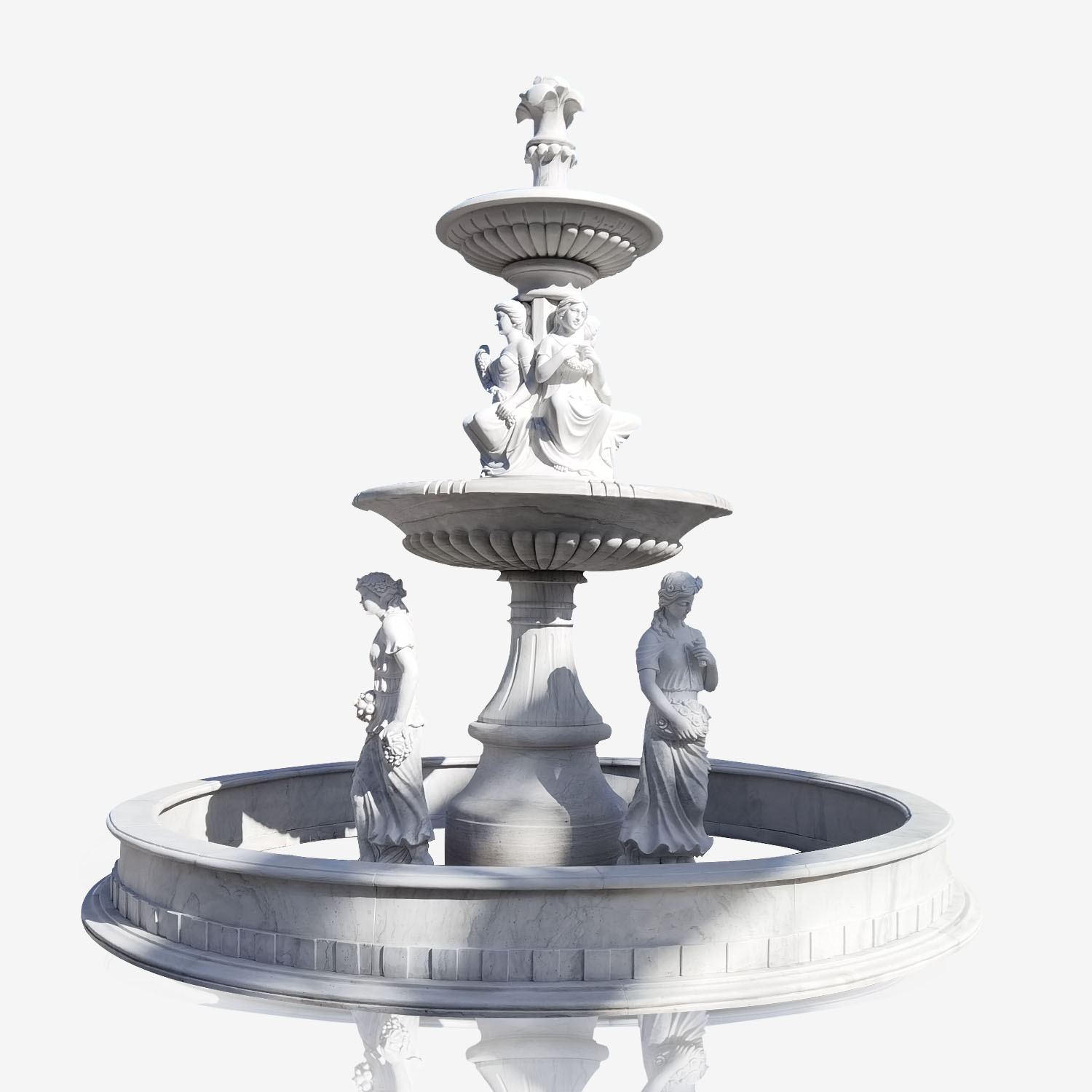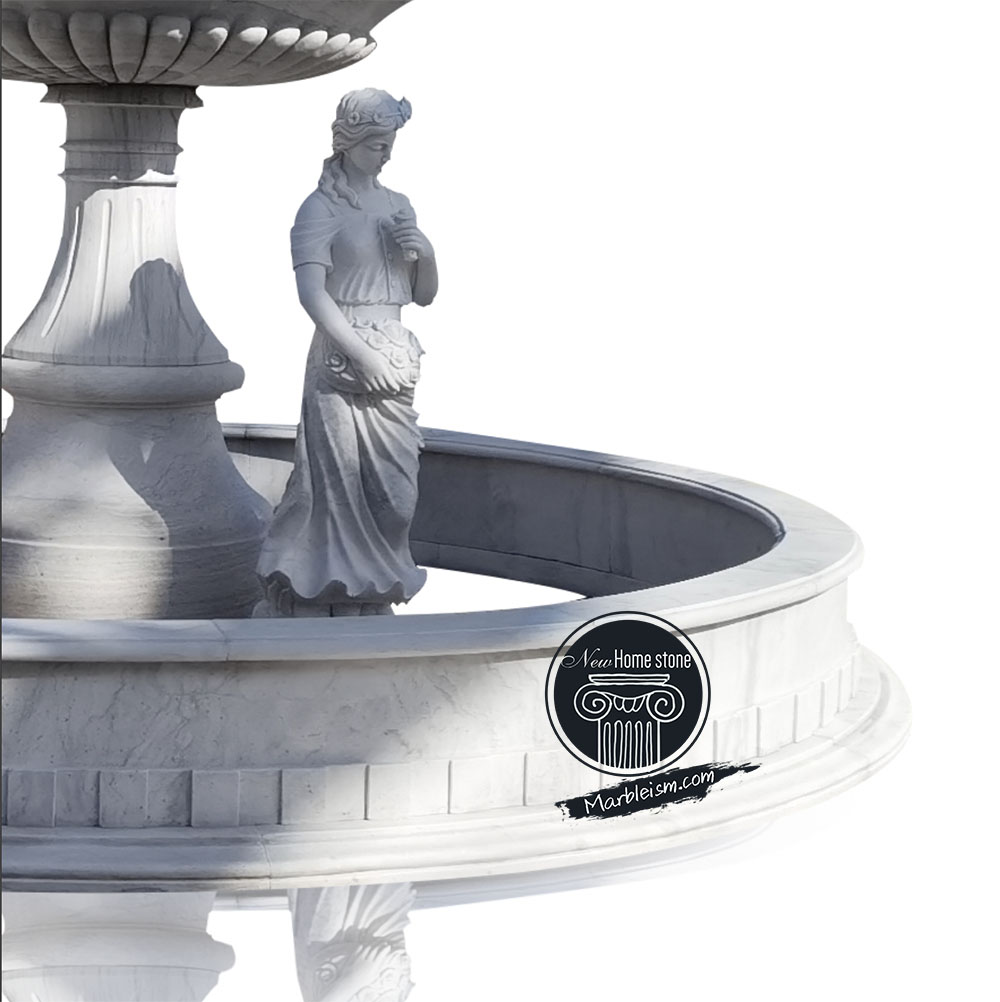 (Check out: White Marble 3 Tiered Fountain)
This white 3 layer tall water fountain will surely include a regal charm to your garden design. The tiered white marble garden fountain features several sculptures and geometric design elements. The base of the water fountain has two female statues standing in the middles of water pool, with a tall pillar in the center of it. The second tier also has some sculptures across the plinth that gives rise to the top tier with a finial-like water spout. The garden water feature has been carved beautifully from white marble with gray veining that lends it a stunning quality and raises the style quotient of your garden layout. The 3 layer sculpture stone fountain will be an architectural and aesthetical accent in your outdoor sanctuary, where you can enjoy the gentle bubbling sounds of the water. Each tier has pretty carved patterns and designs that beautifully add to the grace of the water feature. It will be an ideal addition to any modern, mid-century or contemporary home with a big garden.
Beige Travertine Wall Fountain with Basin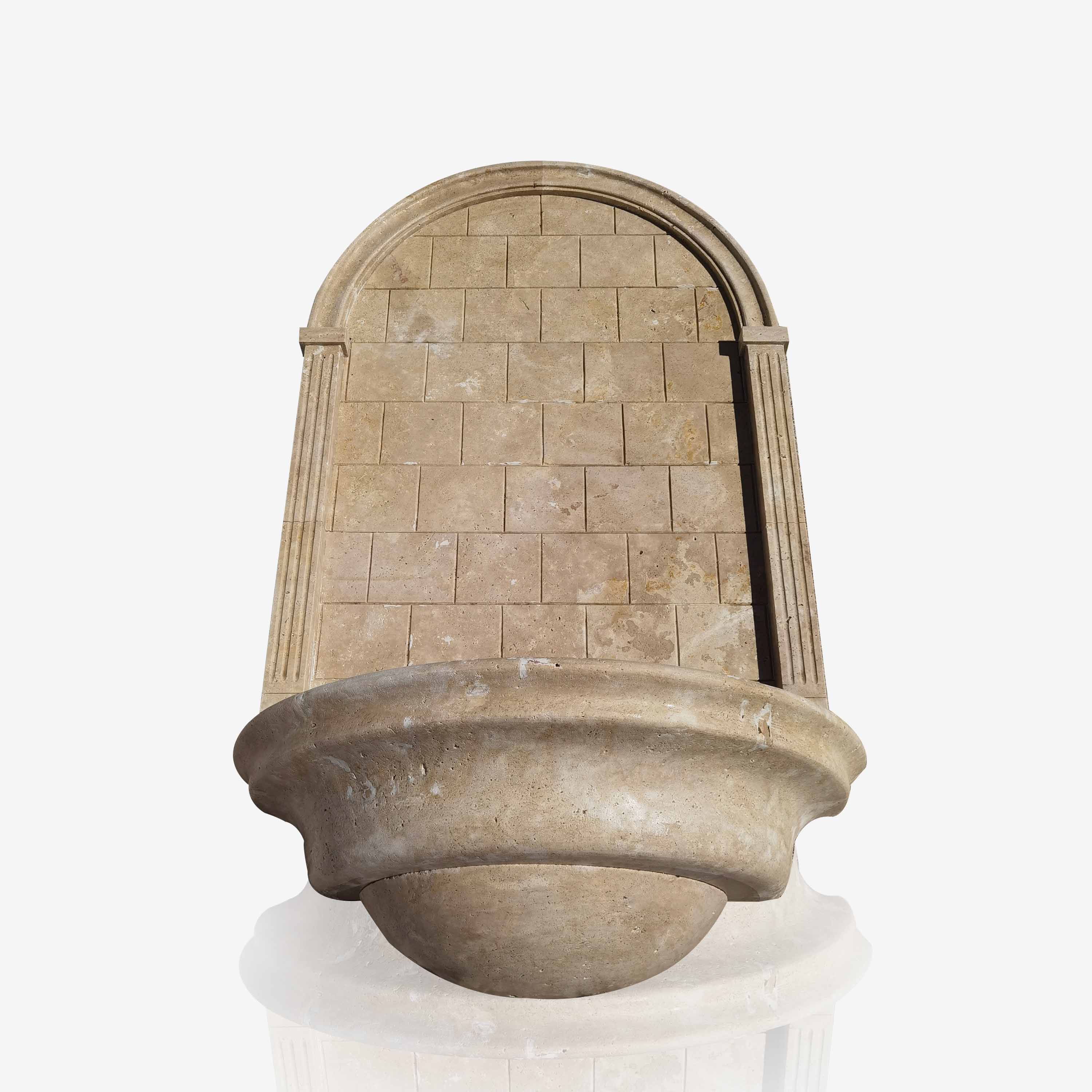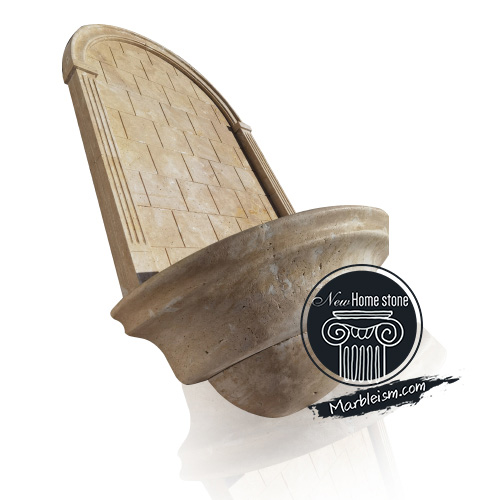 (Check out: Beige Travertine Wall Fountain with Basin)
Simple yet elegant, this beige travertine wall fountain with a basin can become an innate part of your garden design layout and enhance the decor of your outdoor space. The stone wall fountain has been carved out of natural beige travertine marble and has a brick wall-like background with a round basin in the front. At first look, it really doesn't look like much of a fountain, but it has a fantastical allure about its minimalist design. The round-shaped basin has the textures and artistic quality of the natural stone, which can endure any weather elements without sustaining much damage and can be an ageless addition to your garden. You can even install this vintage, simple design wall fountain in your garden as well indoors. It is a perfect fit for any modern or mid-century home and can be made to order according to any design modification requirements your existing layout or space may have. It will include a charming element to your space and you will get to enjoy it for many years to come.
White Marble Lion Head Garden Fountain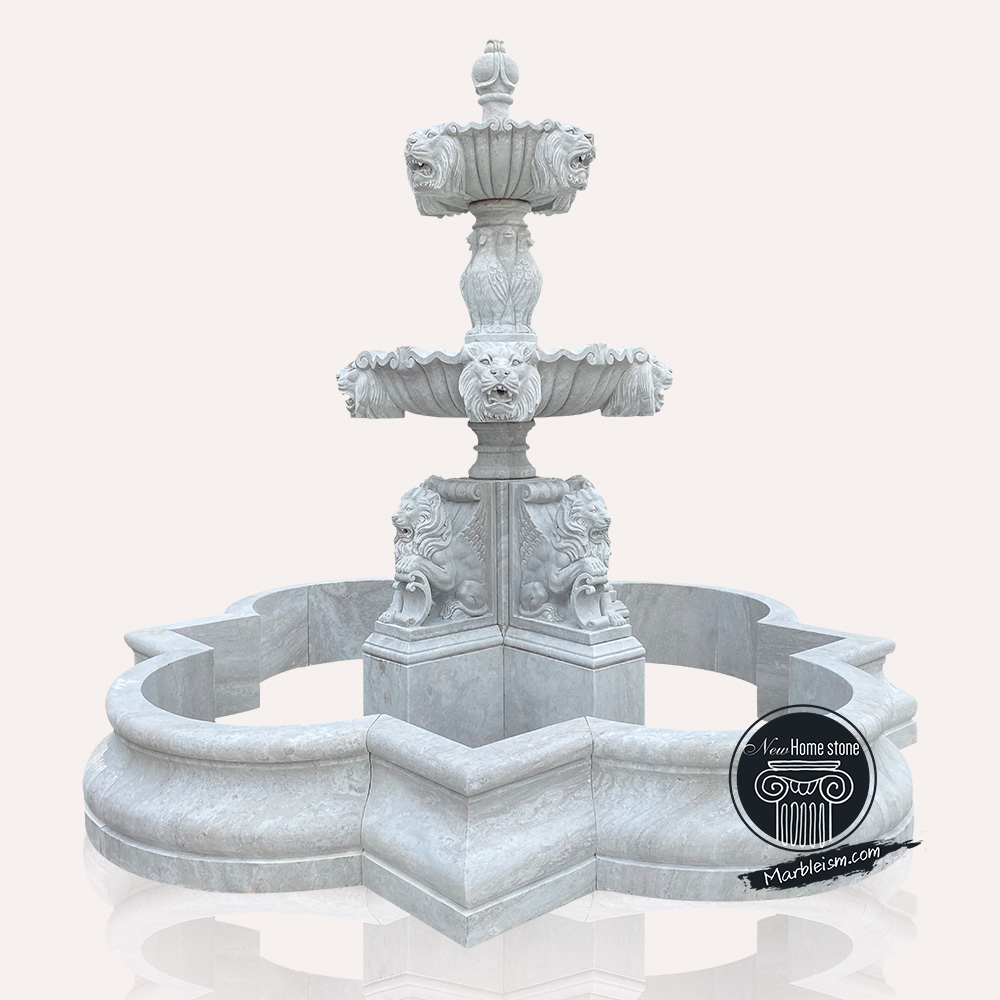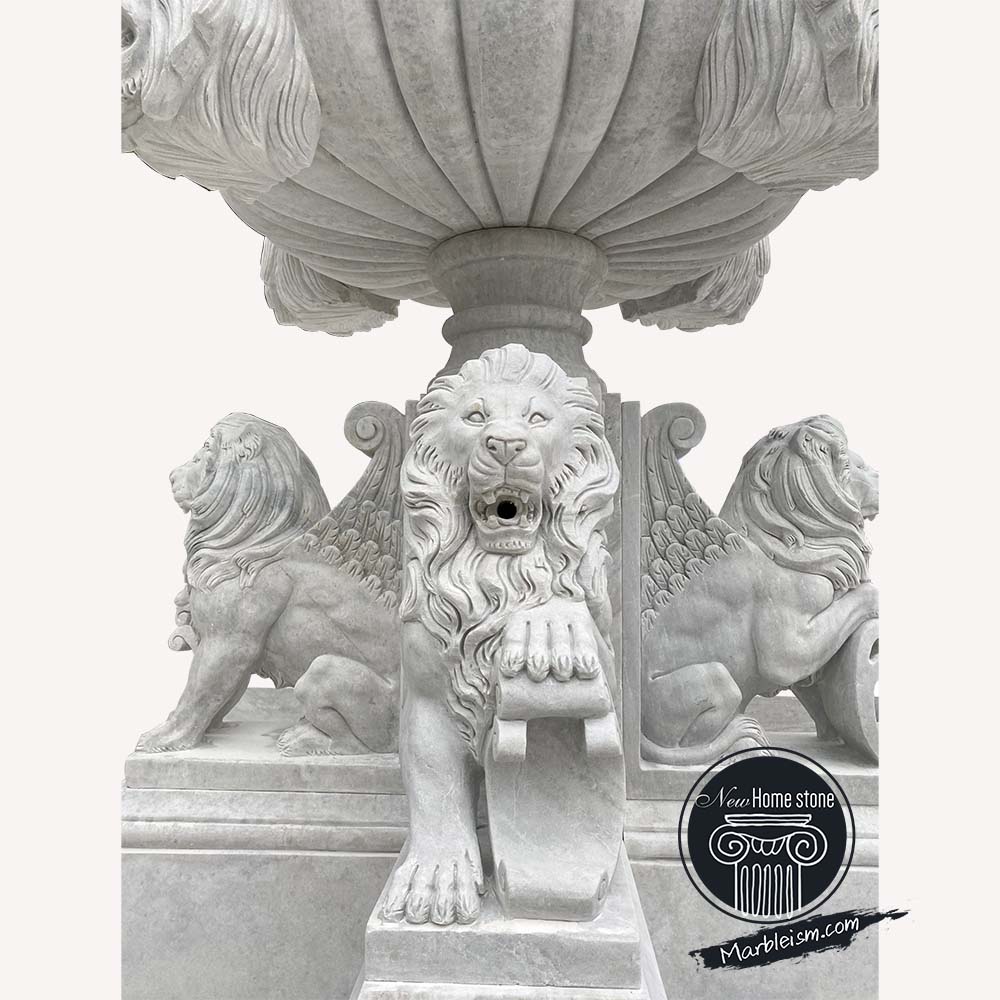 (Check out: White Marble Lion Head Garden Fountain with pool surround)
An absolute beauty to behold, this large garden fountain has been carved from natural white marble with gray veining and will be a timeless addition in your home for you to invest in. This beautiful garden water accent has been made from natural white marble that has delicate and light gray veins all over it. The lion head garden fountain features 12 lion heads on its 3 levels. Flawlessly carved from natural stone material, the 3 layer lion head marble fountain will bring in elegance, power and pride to your design, making it much more pleasant to hang out in your outdoor space. The water fountain with pool surround can become a focal point of the outdoor sanctuary and enhance the overall value of the entire property. You can have this marble fountain with pool made to order in any shape, size or material to better suit in your available space and existing design layout. Moreover, its geometrical patterns will invite a whimsical charm to your garden design and the marble makes it long-lasting and strong enough to withstand any wear-tear from natural extremities.
Egyptian Beige Marble Spiral Fountain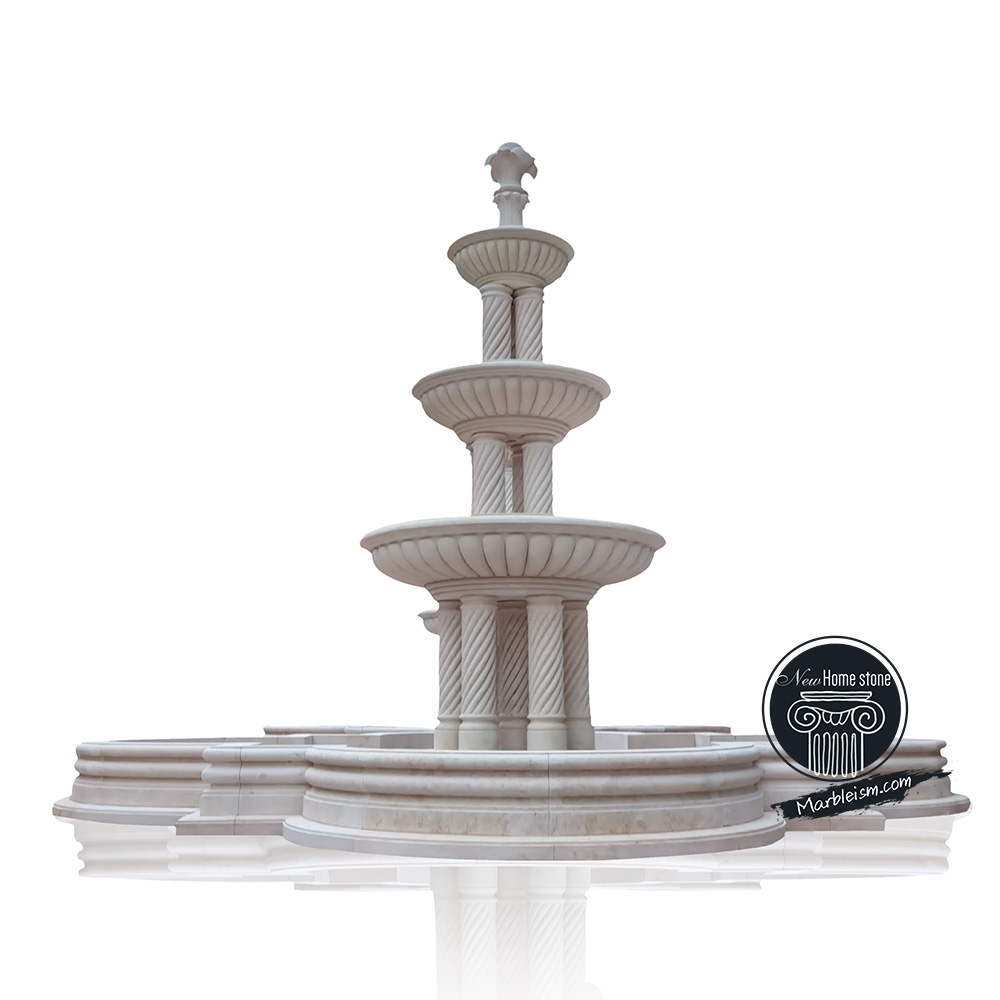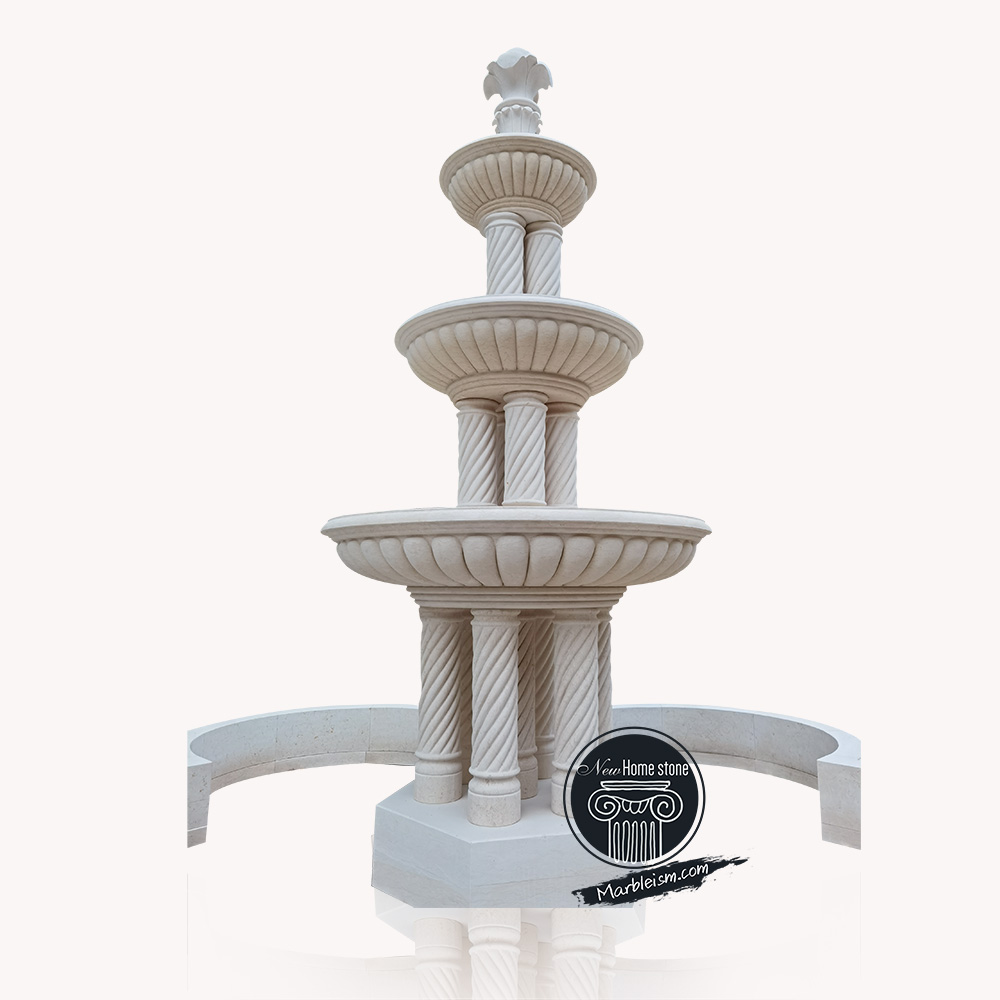 (Check out: Egyptian Beige Marble Spiral Fountain)
Meticulously carved from the beautiful Egyptian beige marble, this spiral column stone fountain is one of a kind and brings in a distinct element of charm and elegance. The tiered water fountain is simple yet gorgeous and has a resemblance to the fountains of ancient Roman or Greek civilizations. The 3-layer tall marble fountain with spiral columns will being in a royal touch to your garden layout and can become a valuable investment to your overall property. This large garden fountain with pool surround will be a great inclusion to any modern or contemporary home's large garden, where it will be the center of focus and talk of the town. It has been thoroughly carved from natural stone material, providing a unique texture and grace to the feature that can enhance any garden design right away. If you have a small or medium-sized garden, you can have it made to order in any shape, size or material to better fit your needs.
White Horse Stone Fountain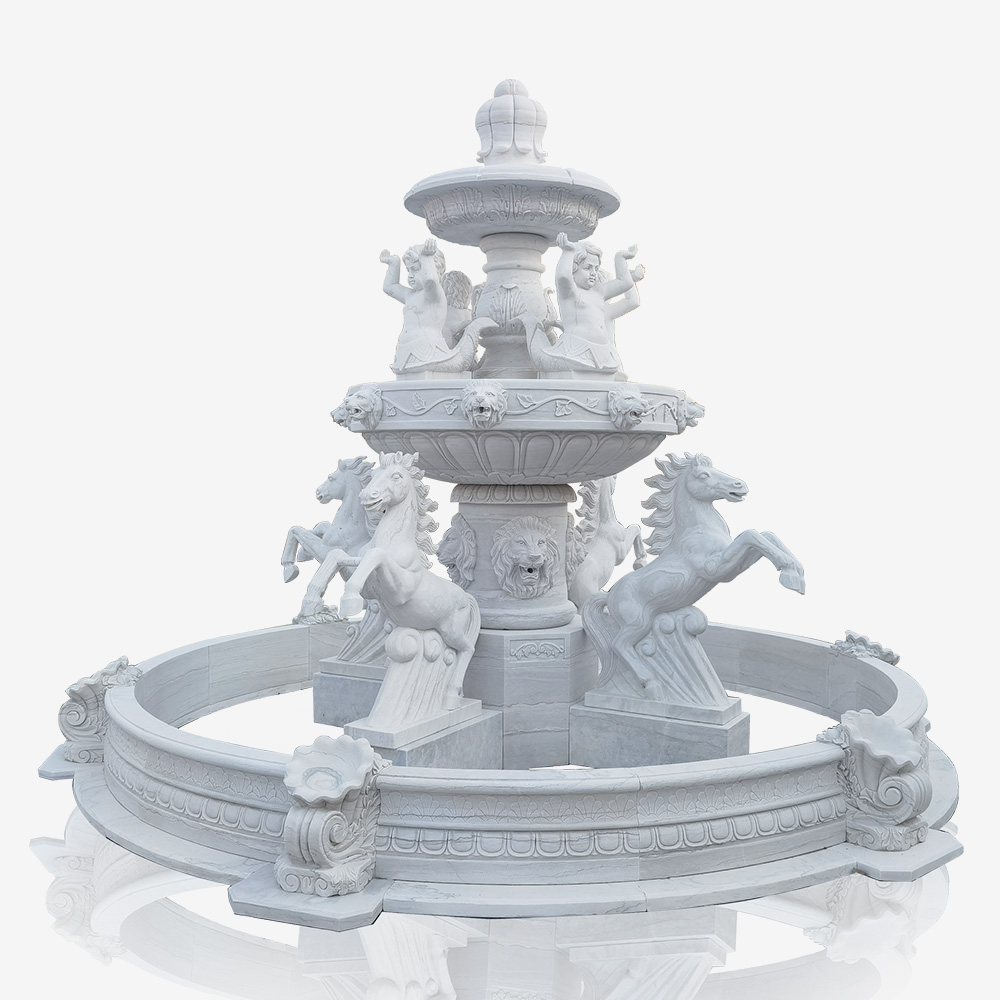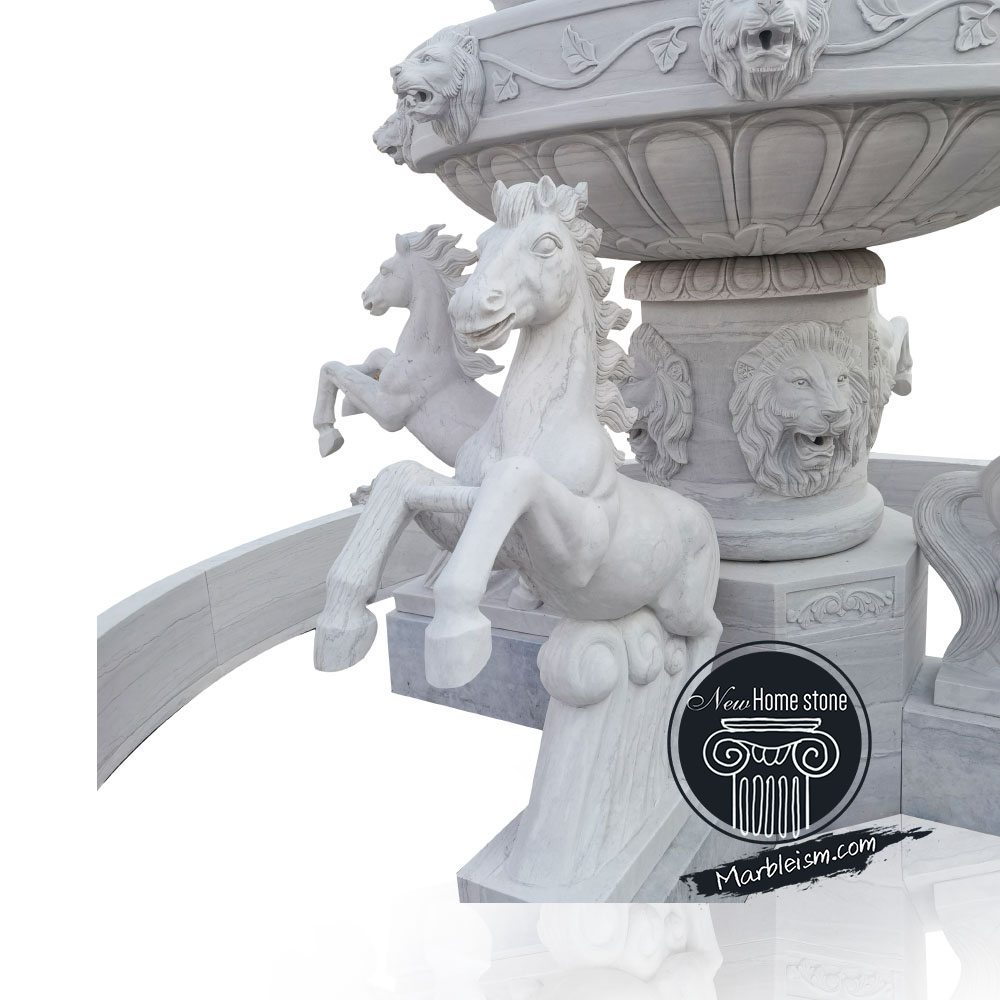 (Check out: White Horse Stone Fountain 3 layer white marble)
Honestly, many of us fall in love with sculptural fountains as they introduce a classic and royal vibe to any space they are installed in. If you are someone who enjoys such fountains as much as we do, this white horse stone fountain is the ideal pick for you and your space. It has been made from white marble with gray veining and has so many sculptural accents that it is hard to pick one as your favorite. Nevertheless, the most high up of these features in the 3 layer marble fountain with horse statues has to be the horse sculptures. The beautiful round surround pool has horses galloping to the outer side from the central pillar, where lion heads have been adeptly carved. The second tier has baby/angel figures alongside of lion heads. The detailed carving bring in a gentle yet powerful picture that also sends a message of living in harmony with nature and other living species that share the planet with humankind. This garden horse fountain is ideal for any large or medium garden of any modern, contemporary or mid-century home. It can also be customized in any shape, size or material to accommodate any design or size needs you may have as per your current layout or available space.