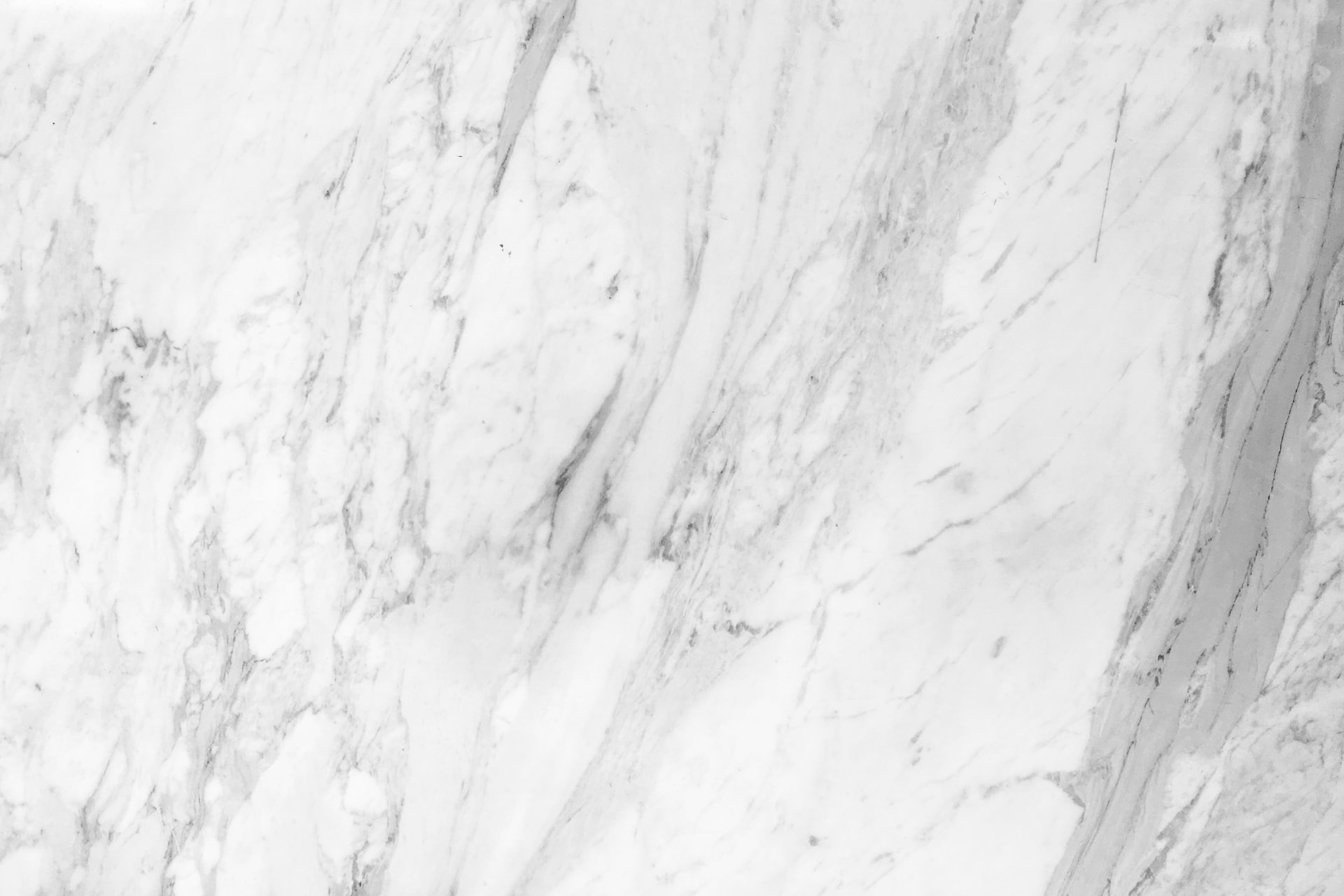 (Check out: Guangxi White Marble)
Marble has made a modern comeback in the design world while becoming a strong and durable member of any outdoor setting as well. In earlier days, when you used to picture marble as a design element, you probably have had a vision of large, cold rooms enveloped in floor-to-ceiling stone; but now, marble comes in small, fresh doses, aesthetics accents and statements pieces. Marble can be used to carve out ornate sculptures that adorn the living rooms, or stunning marble floors, classic marble bathroom accents and stylish garden pieces to elevate the design layout.
Dating back to ancient Greece and Rome, marble has long been a statement material in homes and other building structures. Marble is a luxurious material that is durable, strong and can withstand all-natural elements without sustaining any substantial damage. These qualities make marble a timeless addition to both indoors and outdoors. You can use it to lay out the groundwork, add porticos, plinths, statues, gazebos, benches, stairs and so much more.
Marble is one of those natural stones that can add distinct charm and character to any space and the outdoors is the perfect area to be spruced up by this stunning material. There are tons of smart ideas for outdoor settings that you can browse through online or consult designers.
Choosing a marble for your home or garden space can give these areas an unparalleled luxurious appearance and a timeless elegance. We have enlisted a few marble accents that you can install in your indoor and outdoor space to create a luxurious sense of grace and an ageless design layout that will increase the value of your entire property instantly.
1. Have a marble gazebo as the centerpiece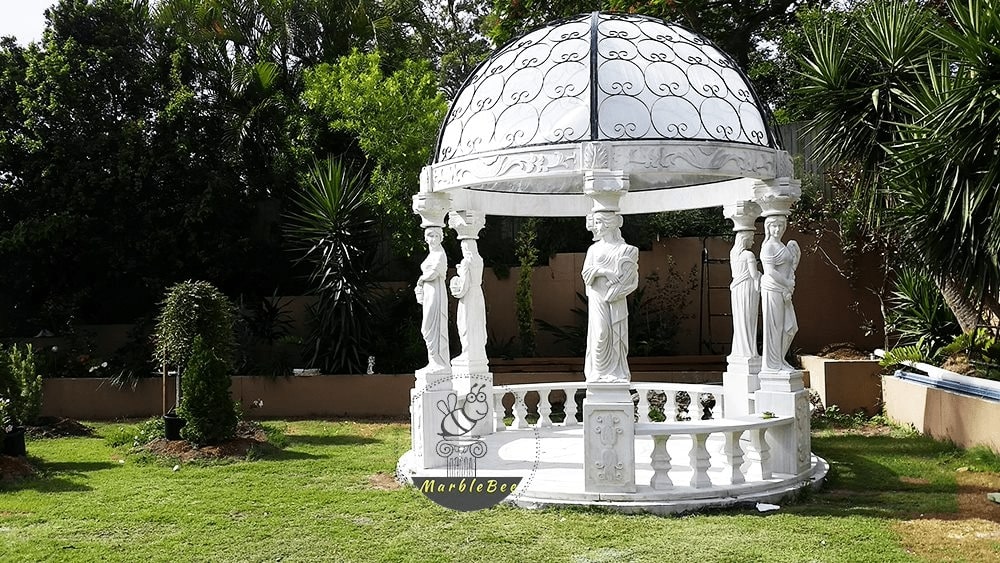 A gorgeous marble gazebo can introduce a beautifully unique element to your outdoor space. Take a look at this female pillar marble gazebo, which is one of the most classic gazebo designs and is akin to those used in European architecture. Standing tall on six female figure pillars, this white marble gazebo has delicate carvings on it and has an ironclad roof to protect it from rain or sun when someone is taking shelter in it. This beautiful feature can be installed in outdoor gardens, parks and squares – not only as a decoration piece but as a functional one as well. The design of this particular gazebo represents the Italian and English Neo-Classical, Romanesque and Baroque periods of architectural brilliance. Usually hand-carved, this marble accent can bring in a regal elegance that will serve you for ages to come while offering you a comfortable place to relax in your outdoor area and enjoy the beauty of nature in style.
2. Bring in the royalty stone columns and marble floor with a water feature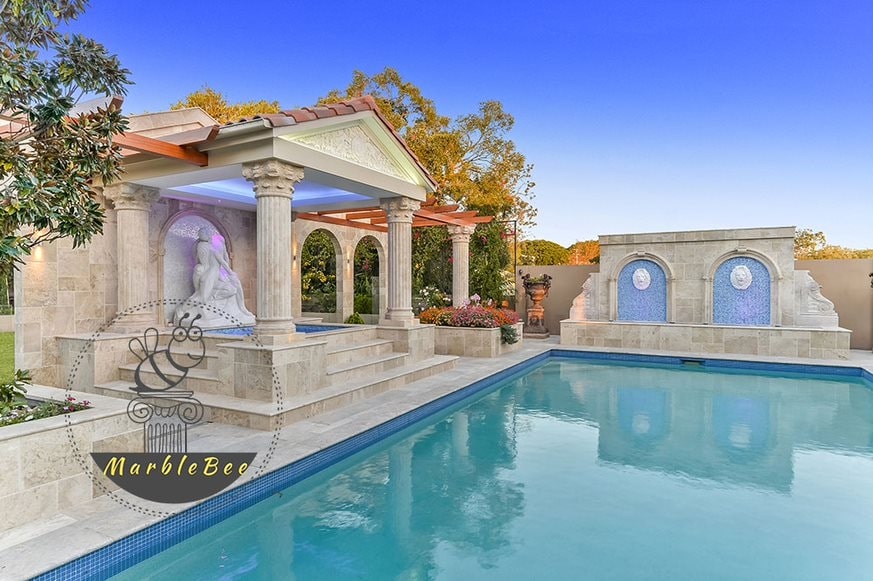 (Check out: Fountain Pool Surround)
If you have a big outdoor space, why not get creative to add fun and charm to your entire property? The above-pictured space is vocal about its usage of marble to increase the beauty quotient and make a practical investment as well. Definitely a derivative of European architecture, this space features a water pool alongside two wall-mounted lion head faucets and a small well-lit pool area with a marble statue under a roof. This entire setting is a wondrous place for people who love natural stone and water features. This design layout particularly needs a large space. You can bring in the stone columns and marble floor with a water feature to your outdoor garden and create a royal effect. The regal columns and floors will remind you of Greek and Roman designs of the past and will inspire a new element to your space.
3. Create a peaceful seating with marble bench in your yard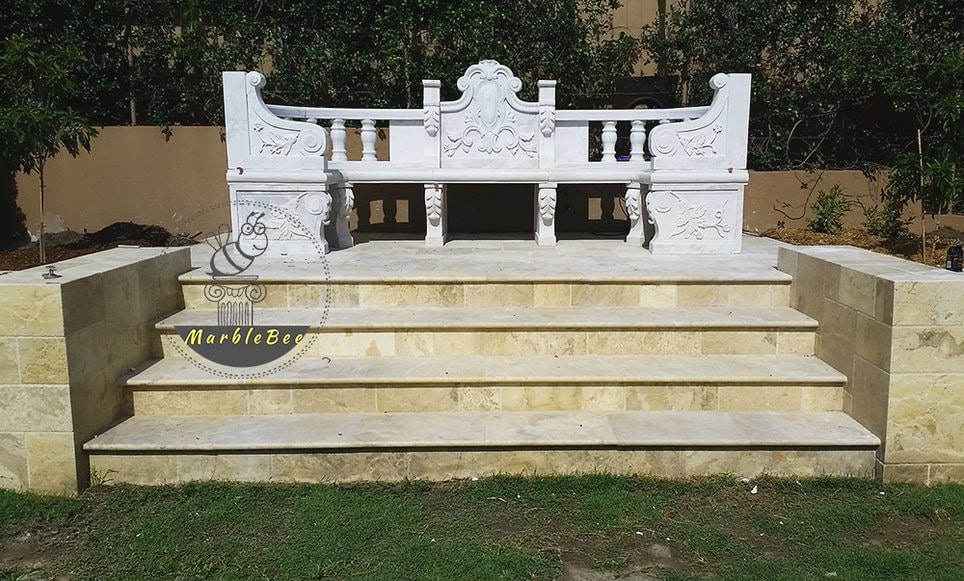 (Check out: Garden Bench by natural stone)
Your garden is incomplete without a perfect and comfortable place to sit down and enjoy the weather or simply to gossip with your close friends. A beautifully, hand-carved marble bench in your yard can be a brilliant addition that will not only become a seating option but will introduce a touch of elegance as well. It looks like a sofa carved out of marble blocks and has intricate carving over it. You can have it installed on a bit of height, just like in this picture. You can place a few marble stairs and sit like royalty, high above the common folk and enjoy the world around you. This marble bench will make a stunning addition to any home décor with a combination of modern design and natural beauty. Besides, the white marble adds a pop of color to the great green outdoors. It will lend your space a sense of authority and impeccable beauty, which will grace your garden for years to come and increase the overall value of your property.
4. Marble columns with a grand doorway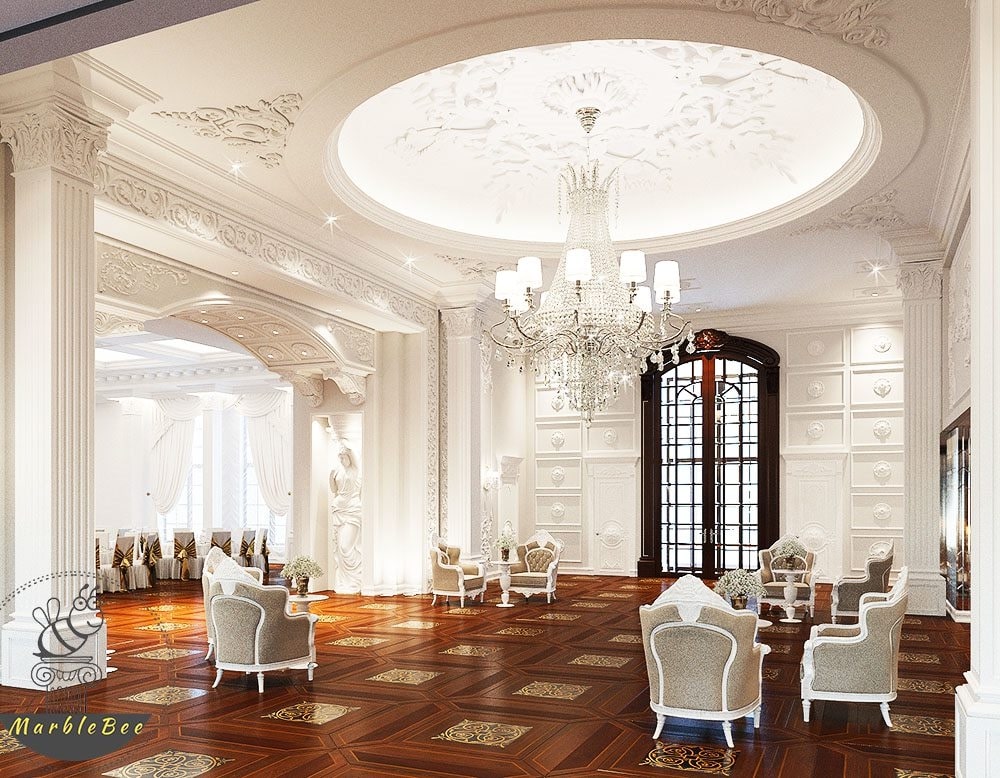 (Check out: Stone Door Surround)
Imagine entering a castle that has marble pillars and a beautiful entryway, and then imagine these elements in your home. Feels amazing, doesn't it? Marble columns with a great doorway can create a regal entry into your humble abode. Marble columns have been in use since ancient times and have thrived through Roman, Greek and other European civilizations that held marble in high esteem as a building material. Marble columns bring beauty, elegance and an inspirational atmosphere to any space. Moreover, a marble door surround can further elevate the design layout instantly. If you install marble columns with a grand doorway in your home, you will create an easy and beautiful element welcoming your guests and make a lovely impression. Moreover, the hand-carved intricate designs on these marble accents can add a charming quality to the entryway to your house.
5. A medium-sized intricately carved marble fireplace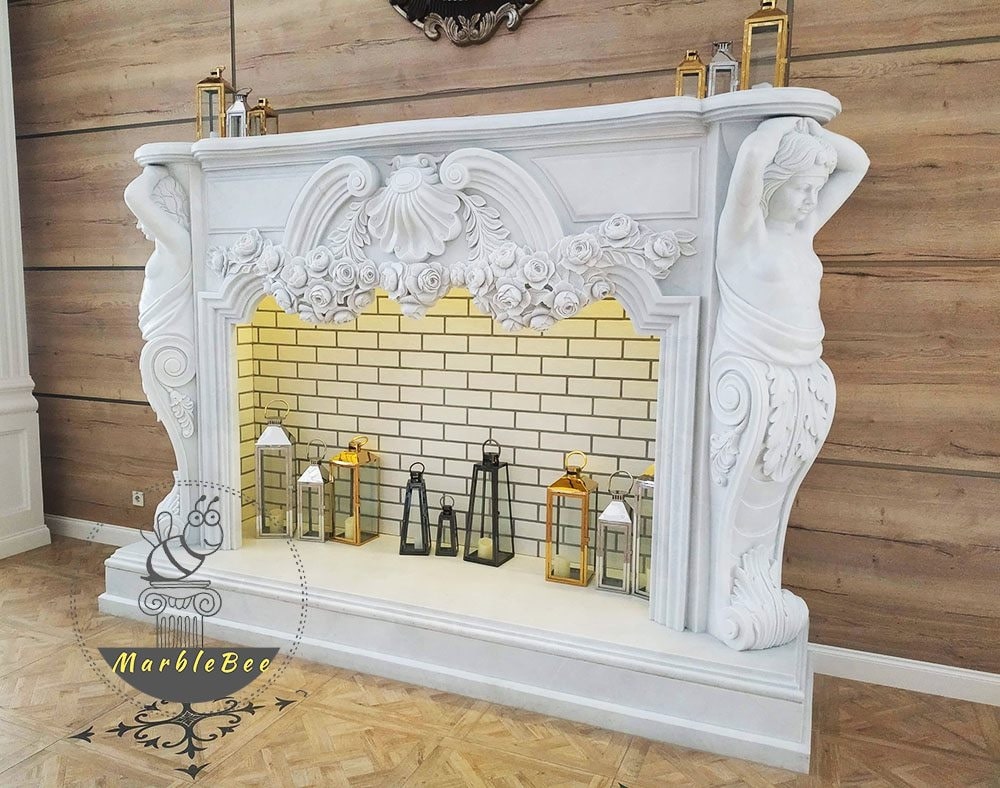 (Check out: White Marble Two Story Fireplace)
There is nothing cozier than a ruggedly handsome fireplace that keeps you warm during cold nights. When it comes to fireplaces, many people would choose natural stones such as marble. The beautiful natural material is available in a variety of colors, patterns and textures, providing you an opportunity to experiment with your fireplace and make it the central point of your living room. Marble fireplaces work for every aesthetic and budget, making them an affordable design element that could be added to any home. Whether you are planning to build a new fireplace or renovate an old one, a brilliantly carved marble piece can elevate the ambiance instantly. You can use a medium-sized meticulously carved marble fireplace for its designated purpose or use it as a decorative accent in your home and fill it with candles to brighten up your space. The marble will gracefully enhance the entire layout of your space. Besides, the delicate carvings add a distinct texture and architectural element into your foyer or living space that will be an ageless addition and make a valuable investment to your whole property.
6. Marble feature wall with a fireplace beneath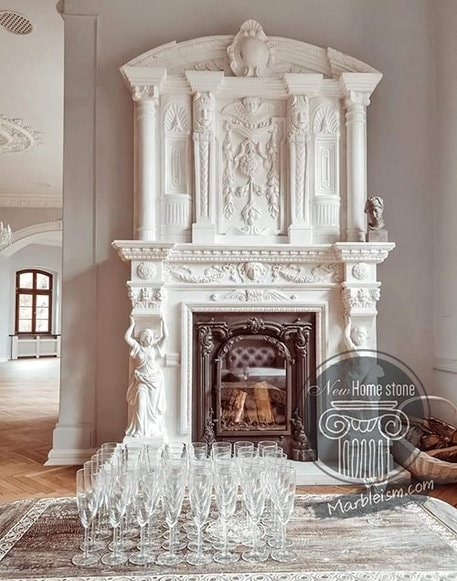 (Check out: High Ceiling Fireplace)
Imagine being curled up by a stunning fireplace, reading your favorite book and sipping your favorite wine or coffee, while snow falls silently outside. Sounds like the best thing on the planet, doesn't it? This white marble feature wall with a fireplace beneath is just the best feature your living room should have for an impeccable interior design. Featuring statues on columns and intricately carved designs, this marble accent will add depth and character to your space. It has plenty of mantel space and fireplace area for a decorative and cozy setting that will keep your home warm and embellished during the winters, which also happens to be the holiday season. It will add a distinct aesthetical element to your home and increase the value of your property. You can have this marble feature custom-made in any size, shape and color to better fit your existing home interior design and available space. You can even choose the designs and patterns this feature will be made with and the material as well. Just imagine this marble feature with a fireplace gracing your living room. Just brilliant!
7. Add a wall water feature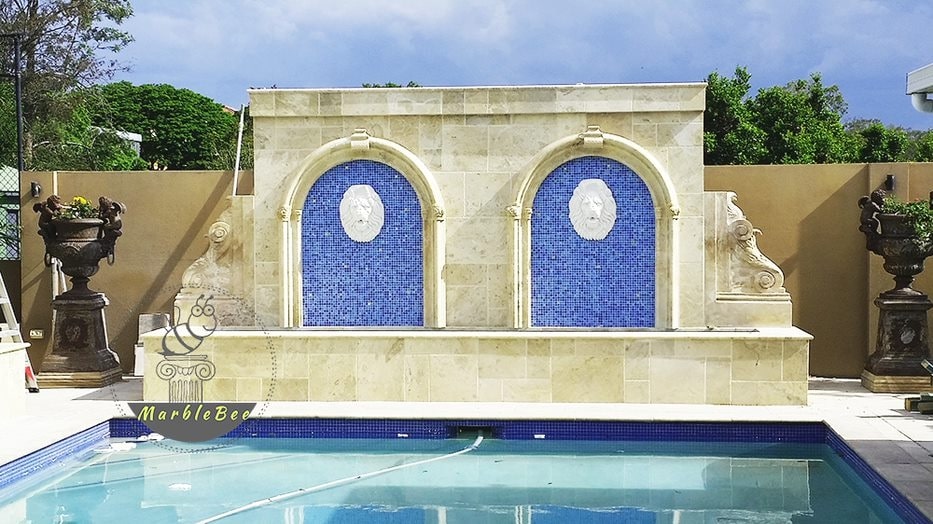 (Check out: Lion head backyard Wall fountain)
A wall water feature in either of your indoor or outdoor spaces can elevate the design quotient in a second. Imagine this double lion head stone wall fountain, sitting pretty in your space and introducing a sense of power, bravery, authority and beauty. It is a perfect addition to both your outdoor garden and your indoor foyer since its dedicated design fits both spaces elegantly and increases the aesthetics. This classic rustic French-style courtyard wall water feature has been made intricately from natural marble material and is inspired by an antique French wall fountain. You can enjoy a stunning natural stone wall fountain in your space as you admire the beauty of the great outdoors, coupled with the gentle sounds of babbling water. Inside your home, this same feature will introduce an element of freshness and a likeness of a calm forest brook, which will evoke a gracefully meditative vibe. You can simply sit by this elegant wall water feature in your garden and read a book as the gentle breeze caresses your skin paired with soft sunshine.
8. Incorporate marble statues inside the home wherever you can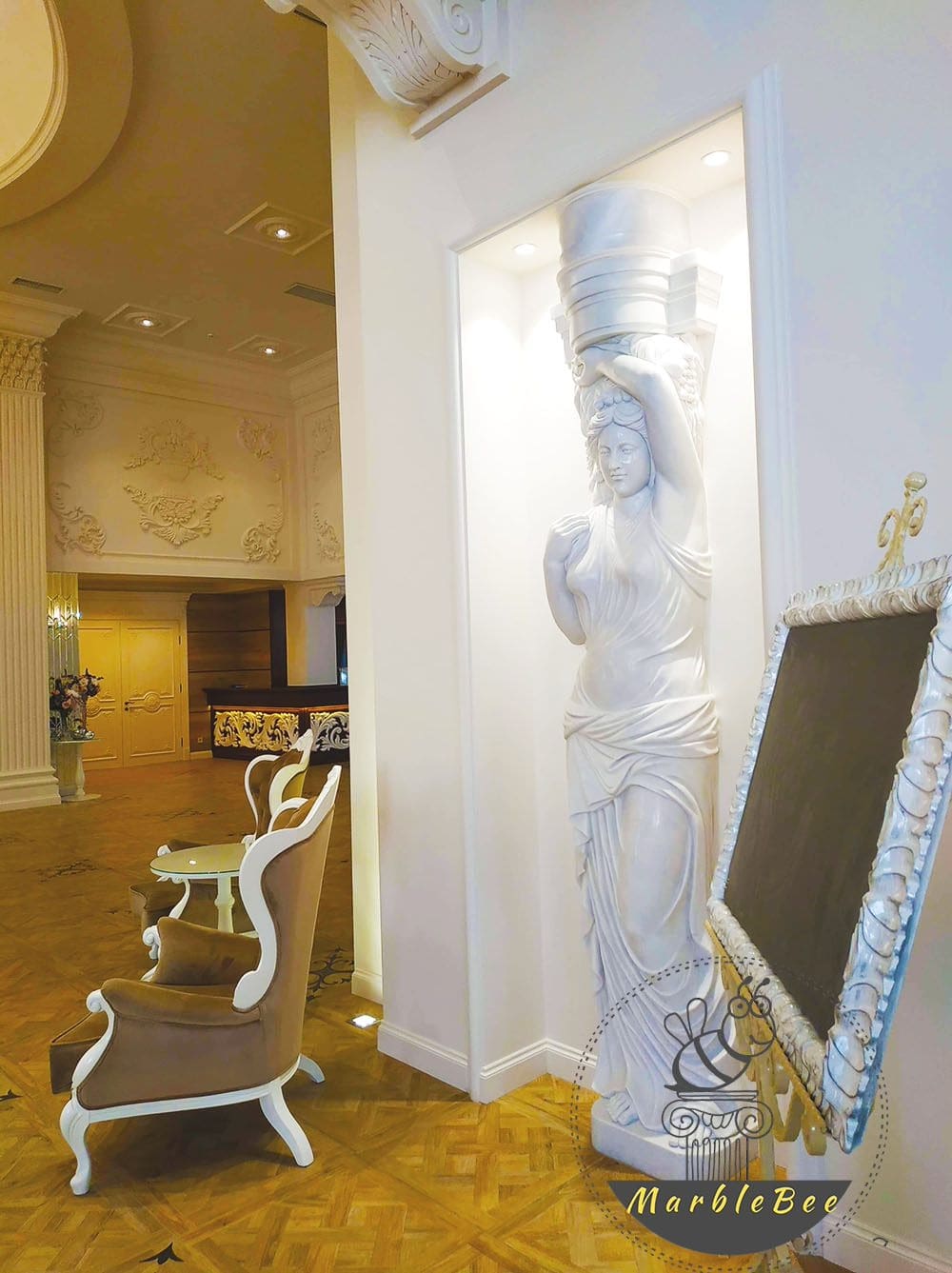 (Check out: Life size statue Nap in Gardens)
Ancient civilization developed classical antiquity and the legacy of marble statues. The medium became popular in Greece's archaic period as the art form evolved with more realism exhibited. Try to include marble statues inside the home wherever you can to add a stylish feature. You may have seen sculptures in interior design in magazines, but rarely inside the homes of people, you personally know. While many people are afraid to add marble statues to their home décor, these sculptures can work wonders in elevating the interiors. Marble statues can introduce a royal element to your humble abode. Delicately carved sculptures can evoke a European architectural vibe that is simply inexplicable. You can create an ambiance akin to museums and homes of art collectors. You can invest in bust statues, life-sized human statues, angel statues or animal sculptures in marble and bring in a regal allure to the space. The skillfully carved features of marble statues can simply make you fall in love with them. The facial expressions, gentle drapery caressing the figures and the beauty of the natural material are the best characteristics that marble statues have to offer.
9. Grand doorway at the entrance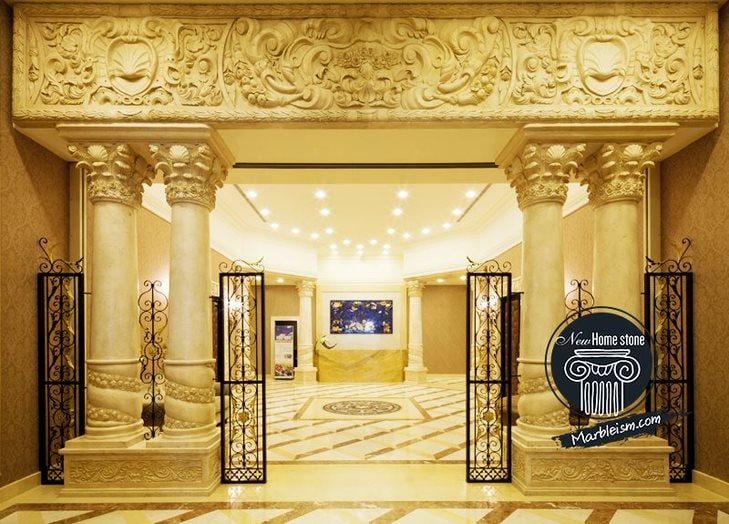 (Check out: Stone door surround with roman columns)
The big, beautiful, marvelous entrances to Disney's palaces have inspired many door designs for ages. A grand doorway as the entrance is one of the subsequent designs. When renovating the exterior of any house, you should always pay special attention to the doorway as it is a mirror of your house. It is the first thing that someone notices when entering your home. One of the most important parts of interior design, the front door can become a standout design element. You should browse and consider a strong paint color, stately architectural details and pristine landscaping accents. Marble makes a brilliant material for a statement entrance. After all, first impressions are extremely important. From the beautifully ornate door to a rustic and inviting marble design, find front door ideas to help set your entrance apart. Take this above-pictured doorway that has been intricately hand-carved and features delicate designs to enhance the beauty of your entire space. As it makes a way to your personality and how you decorate your home, it is essential to pick an entrance that matches your interior design theme and elevate it.
10. A small marble fountain in the garden will look great
Garden fountains have long been a part of architectural history. Some of the most beautiful and awe-inspiring marble fountains have been made throughout European civilizations – from Roman and Greek. A marble fountain for your garden is one of the best features you can include in your space. It will be a show stopper in your garden layout. Made from natural marble blocks, a small marble fountain in the garden will look great and enhance your space, creating a comfortable haven to relax in. Besides, flowing water is the background of history. From entirely practical and life-sustaining to contemporary works of decorative art, a marble outdoor fountain can be a valuable investment that will provide serenity and meditative qualities. The marble material makes it an amazing addition to your garden space, as the natural stone is extremely strong, durable and elegant. It will not get damaged in extreme weather elements, such as wind, rain or harsh heat. This marble fountain will be a graceful inclusion to any modern or contemporary garden and its tiered design will make the garden space your favorite place. You can also have this particular garden feature custom-made to better fit your existing design layout and available space.
All these marble home decor and garden ornaments are hand-carved on the different sites by Marblebee's expert craftsmen team, with years of experience in stone carving art. Feel free to contact Marblebee for marble home renovation projects.