Your home and the garden outside it make a bigger statement about your personality and style sense than any other thing. There are many design elements that can enhance the beauty of your living space by transforming the walls of your home and garden. With many bespoke wall dressing elements available in the market, it becomes necessary to know which feature will work for you.
While a garden is a must to offer some solace in the laps of nature in the middle of the city's hodgepodge, a garden wall is also a must to keep unwanted visitors out. The beauty of an outdoor landscape can elevate the value of your entire property. Now there are tons of elements to beautify one's garden, but not many options to enhance the garden wall.
Well, we are going to help you find those options and transform your space for a safer and cooler layout. You probably have heard of pedestals, plinths, piers, pillar caps, porticos and columns that go on or around the walls of your home and garden to provide a secure and statement design. We will explain to you what these bespoke features are and how they can enhance the design layout of your living space.
Pier Caps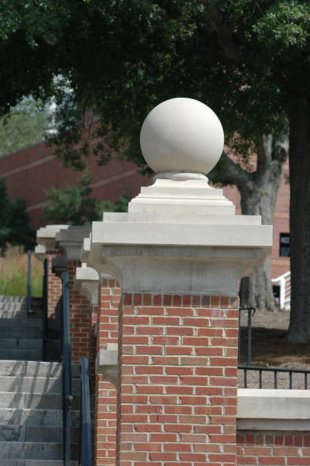 First of all, let's talk about pier caps, what they are, what types of pier caps are there and which ones are better. Pier caps, which are also known as capitals, cappers, tops and coping stones, are a simple and effective medium to increase the beauty of your brick or concrete pier and fence. Once placed atop piers, natural stone pier caps create a classic look that adds instant charm to your fence. They mostly work in an outdoor space.
Limestone Pier Caps
Natural stone accents are always a good idea when revamping any space in your home, especially the garden. Outdoor pillars become an integral part of your design and must be the symbol of luxury, which remains incomplete without a quality pier cap on the top. Stone pier caps include the most popular ones – marble pier caps and limestone pier piling caps.
The Limestone Pier Cap is made from limestone, a sedimentary rock that is composed of several minerals and calcium substances that make it a durable addition to your outdoor settings.
Pros and Cons of Natural Stone Pier Caps and Cast Stone Pier Caps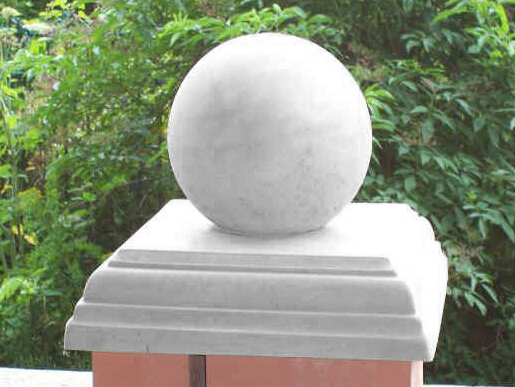 Natural stone is one of the most durable and strong construction materials there is. After enduring immense pressure beneath the earth's surface, natural stone such as marble, limestone, granite, travertine, onyx and others, can withstand the elements of nature without sustaining any damage. These qualities make the natural stones a perfect choice to manufacture pier caps.
Whereas cast stone pier cap is an attractive feature, but it does not have the same endurance capacity as the natural stone pier caps. Sitting on top of a gate pier, post or pillar, cast stone pillar caps will offer protection to these elements and will provide the charming finishing touch to any entrance or fence. However, they are quite vulnerable to extreme temperatures and can crack, ruining the entire setting.
Therefore, manufacturing and purchasing a natural stone pier cap would be advisable.
Pros and Cons of Natural Stone Pier Caps and Concrete Pier Caps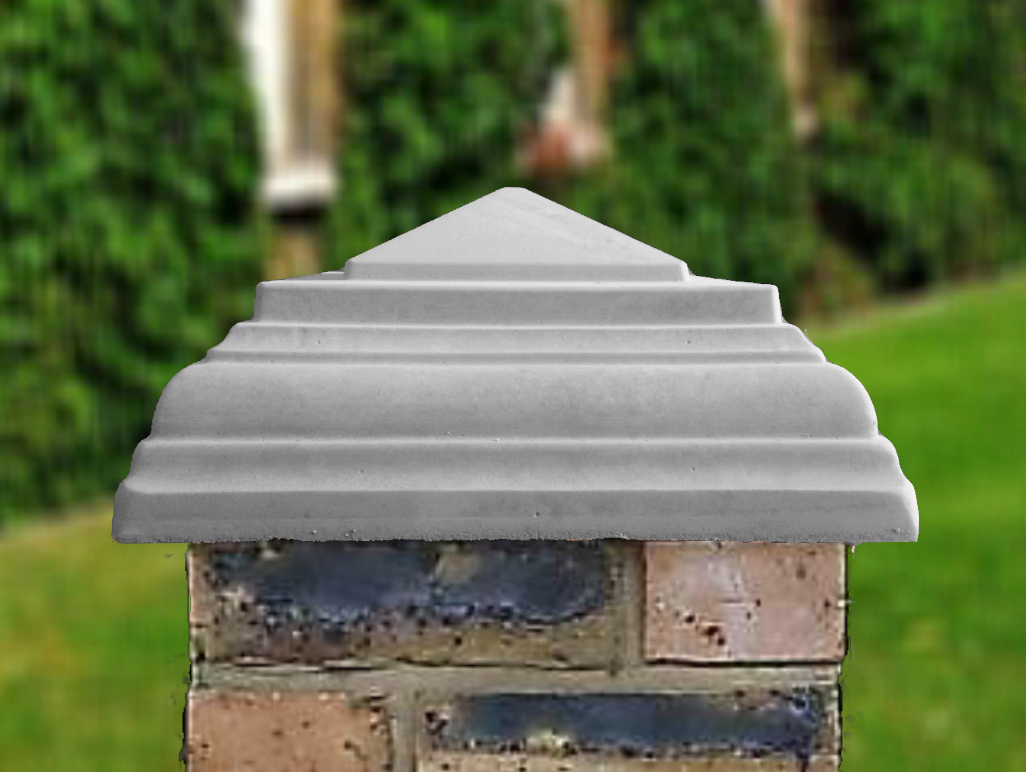 As mentioned above, natural stone pier caps are the most preferred choice for both manufacturers and customers alike. Natural stone is extremely durable and strong. It can endure immense pressure and look stunning in any space. There are many natural stone options such as marble, limestone, granite, travertine, onyx and others. These pier piling caps can withstand the elements of nature without sustaining any damage.
Whereas a concrete pillar cap can be more disadvantageous as compared to natural stone pillar caps. They are designed to protect brick or stonework from weather and corrosion, but concrete is not as sturdy and durable as marble pillar caps or stone pier caps. They can crack under extreme heat or cold and corrode over time, requiring a replacement. In comparison, custom pier caps that are made from natural stone do not require much attention and can withstand extreme weather conditions without any damage.
When choosing between concrete pier caps and natural stone pier caps, any manufacturer or customer should pick the one with natural stone material for timeless elegance.
Pillar Caps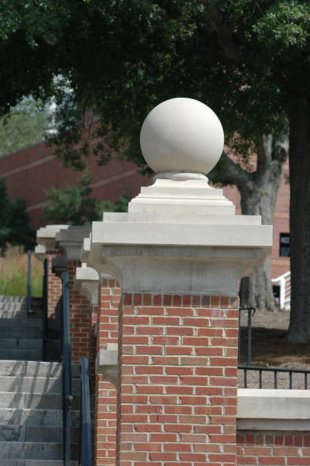 Used to complete, protect and accentuate the look of any pillar or column, pillar caps can instantly elevate the design of any space. Take this beautiful entrance hall cylindrical marble column with a pillar cap for instance. Beautifully sculpted from pure Egypt Beige marble, these pillars include various delicate details on the top, base and shaft. Place this elegant column pair at the entrance to make a style statement. It will be a great addition to any contemporary garden or home. It can be custom-made to better fit any available space. Pillar caps are usually installed in outdoor spaces such as garden and terrace railings but these can also be used inside the home for staircase railings.
Stone Splinth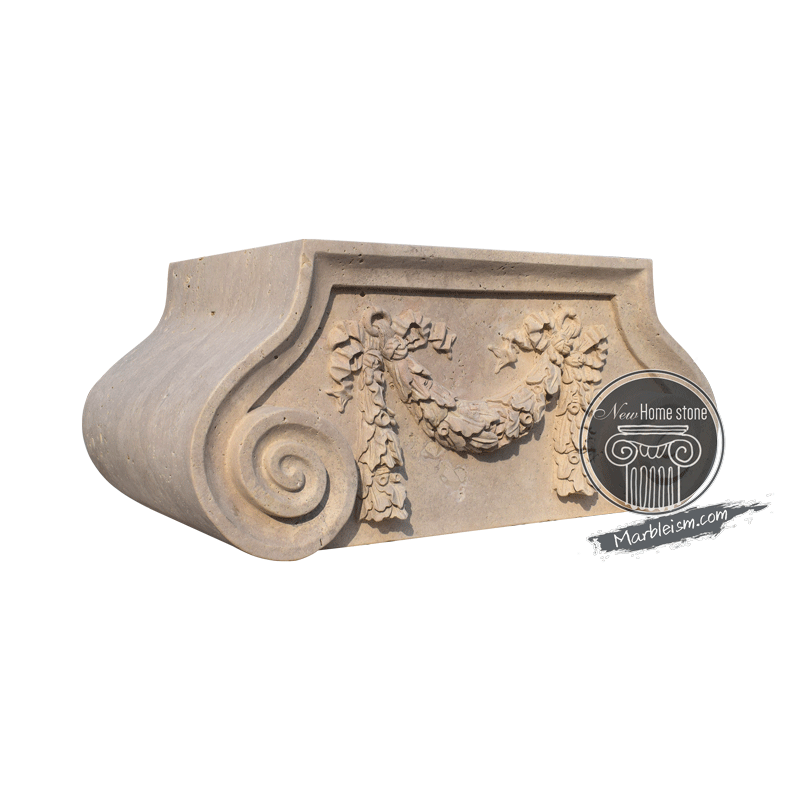 Stone plinths are used in classical architecture to support a building column or display things. This stunning stone plinth is an amazing addition to any indoor or outdoor landscape. It can be used to place antique statues, marble planters or a wishing pond. It has a pretty bright style making it a brilliant addition to your space. It has been carved out of marble to lend your landscape a graceful quality and it can be tailored in a particular time framework to provide you with this stunning accent. Marble pedestals are another elegant feature for any contemporary garden and home.
Bespoke Portico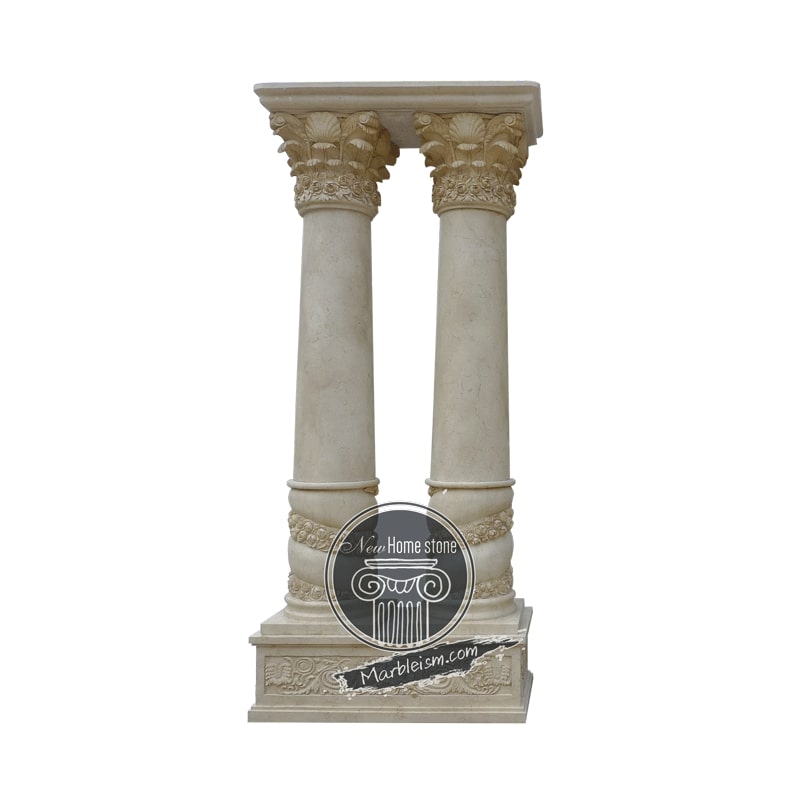 Whether you are renovating or building a new home, stone porticos can be easily installed to transform any doorway into a royal entrance. It can completely change the look of your home and bestow a distinct character to it. The above-photographed marble columns can be used to support the entrance and add effortless style. Manufacturers must be cautious while creating such stone accents to avoid any damage to the design and the item. Meticulously carved from natural stone, stone porticos can add rigorous quality to your space for years to come.
Wall Water Feature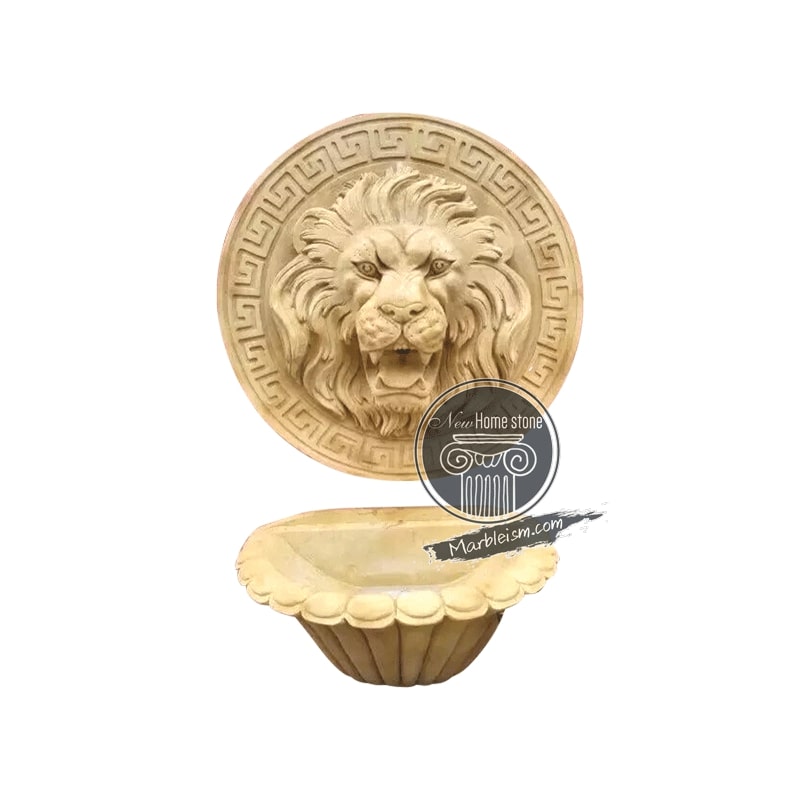 There are tons of bespoke wall dressing elements out there to grace your garden wall or any indoor wall in style, but there is only a handful that can rival a stunning wall-mounted animal fountain. This amazing wall water feature is a wall-mounted lion head fountain with a mounted basin that further adds to its beauty. The water flows from the lion's mouth into the bowl beneath, giving it a pleasurable and charming effect. This stylish feature will elegantly raise the style quotient in your space for years to come and bring a sense of distinction. Meticulously handmade, this marble item can offer robust quality and durability, while enhancing any design layout, simultaneously.
Stone Column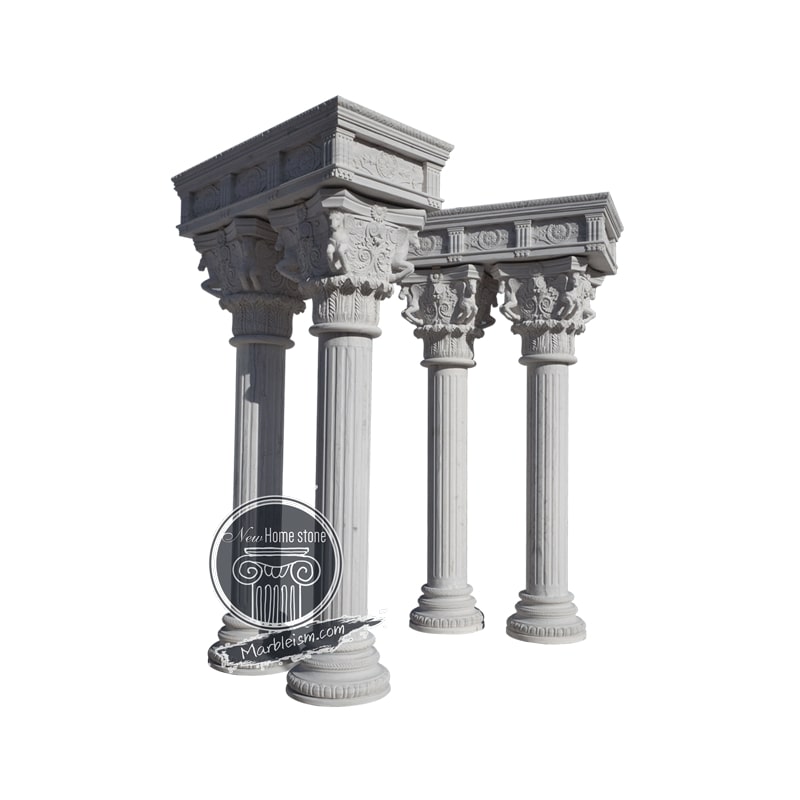 Stone columns are a wonderful addition to any given space and can elevate the style within minutes. Above photographed are tremendously embellishing entrance hall marble columns that will make your living space stand out among the rest. The marble Corinthian capitals are perfect to reignite the lost charm and elegance to your entryway and add individuality to your outdoor decor. These can be installed in the garden space as well, creating an authentic Italian-style entrance. They are hand sculpted for maximum accuracy and can fit anywhere. They can be custom-made to better suit your space and design layout. Manufacturers can make these from a variety of natural stones as per customer preference.
Stone Piers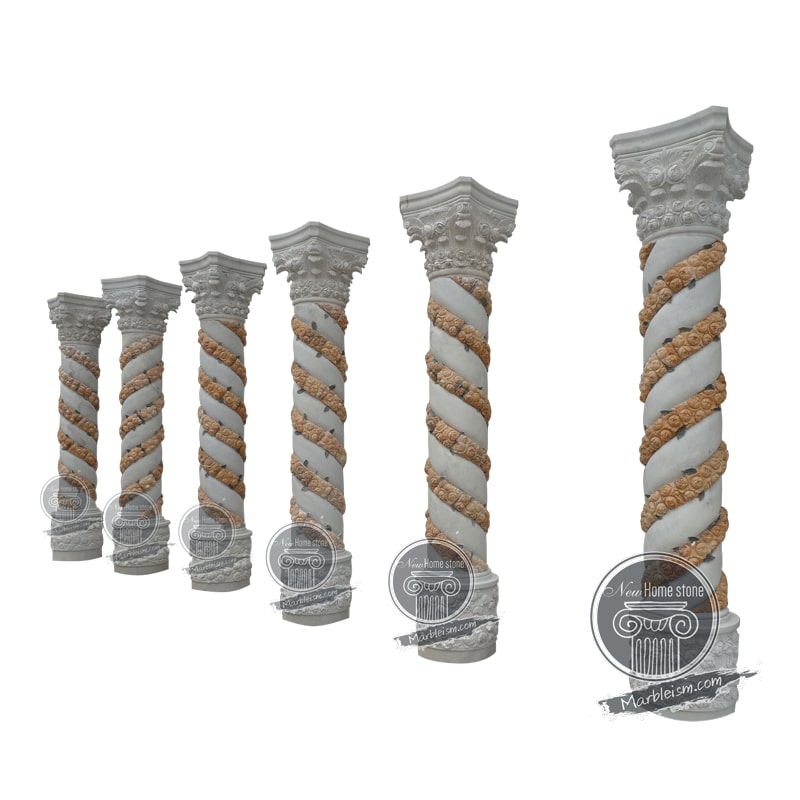 Stone piers are basically the stone columns that are installed between your garden walls or around the garden for added beauty and support. This Corinthian column set can evoke a sense of royalty and become a style statement. It will turn an ordinary design layout into a regal space. The artwork on this piece is inspired by the timeless designs of Roman, Greek and Egyptian civilizations. A full round white column balances its weight on an acanthus vase-like base, which can be installed over the entrance or high garden walls or anywhere around the outdoor space. They can work magic inside the house as well. Its elegant design and embellishing accents can any design within a minute. Besides, it can be made to order to better fit the space and layout of the customer.
Stone Hollow Brick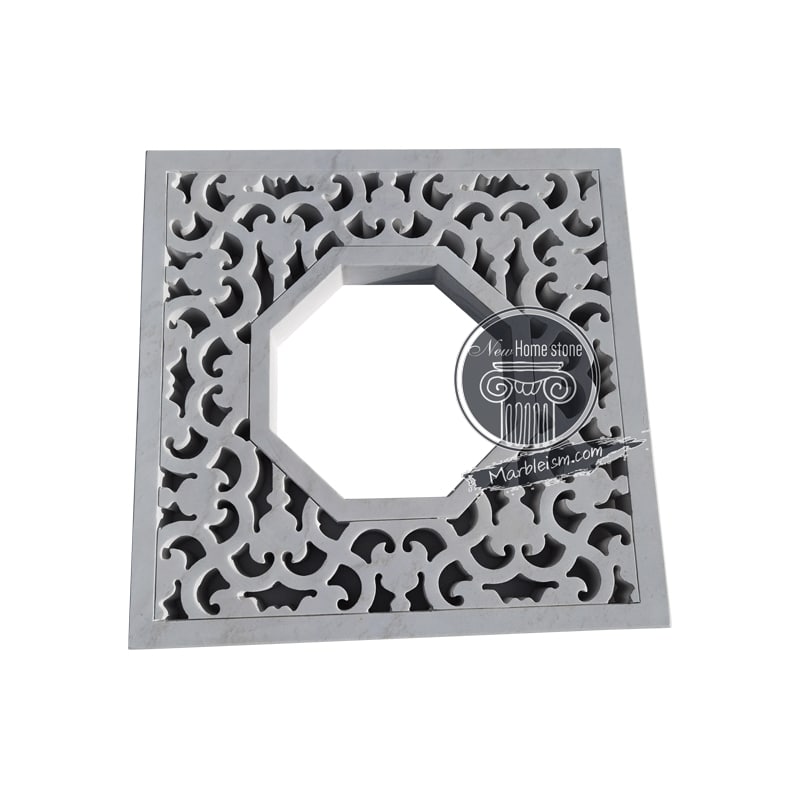 Hollow stone bricks can introduce a distinct and unique design element to your space. This hollow marble brick or tile is not merely a construction material, but a beautiful piece of art for you to introduce and enjoy in your living space. Apart from using it on the floor, this hollow tile can be installed on the wall as a bespoke wall dressing element. The white marble lends it a unique quality. It has been made from natural marble and semiprecious stones to create a stunning hollow marble brick wall. The detailed work of art on this element will erect a distinct feature in your home or garden and will gather plenty of compliments. It will remain a timeless piece for decades and can be made to order to better accommodate any modifications the customer may have. Manufacturers can use various stone materials to make this particular piece.
Marble Church Lectern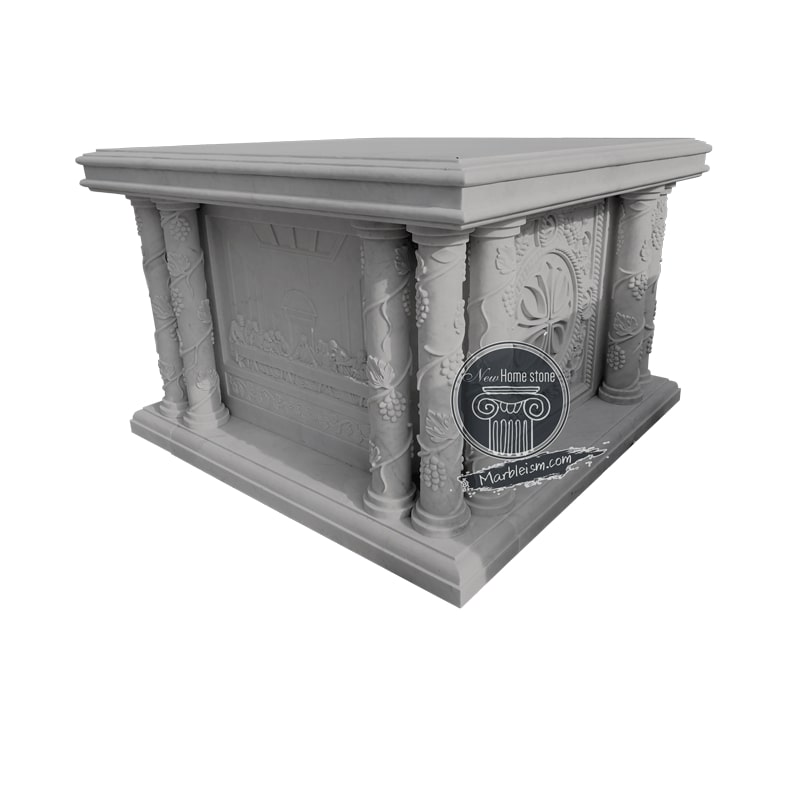 This modern marble church lectern is a marble pedestal that is a breathtaking piece of art and functional incorporation to any modern or contemporary home and garden. Carved out of pure white marble, this stone accent features high-quality gravure and has a simple yet stylish design. The size of the lectern can be altered as per customer requirements in order to better suit their available space and existing design layout. This beautiful piece has many embellishing and intricate patterns running all over it that will turn your space into a Roman space. You can either place it inside your home or in your outdoor oasis. It will serve as a side table or a place to exhibit statues or planters.
Frequently Asked Questions about Abovementioned Features and their Answers
Q: What is a plinth?
A: A stone plinth is a stone edifice that is used in classical architecture such as Roman, Greek and Egyptian architecture. It is basically a stone block that serves to support any building column. It raises the base of the column it supports above the ground, consequently, protecting it from mold and wetness.
Q: What are wall dressing elements?
A: Wall dressing elements are merely simple design features that you can install around the walls of your living space to enhance their beauty. All the finishes, moldings, ornaments and stone elements such as pedestals, plinths, piers, pillar caps, porticos and columns can elevate your walls and make them distinguished from the rest of the plain surface of the walls.
Q: Which on is better, a concrete accent or a natural stone on?
A: When it comes to adding stone accents to your space be it garden or home, always pick a natural stone material as it is a beautiful construction material that can last ages, is strong and will make a stylish addition. A concrete accent can crack under extreme weather, making it useless.
Q: Can pier caps be used inside the home?
A: Yes, pier caps can be used inside the house, but it takes a creative mind and stylish accents to enhance the interior design. Although pier caps are usually installed on garden walls and terrace railings, they can be placed on the indoor staircase as well for an intriguing design element.
Which material is better - marble or limestone?
A: Both stone materials, limestone and marble are good for construction. However, marble is wonderfully elegant and can make your space much amazing and add timeless beauty to its design. Marble is extremely sturdy and durable, more than limestone, which makes it a perfect choice for any kind of construction – both indoor and outdoor.
If you are looking for bespoke stone wall decorating elements to embellish your property or garden, contact Marbleism. They have a team of expert stone craftsmen with years of experience in beautifying every kind of property with hand-carved natural stone, marble and granite accents. Their bespoke and unique stone work will definitely increase the value and beauty of your home.