Placing marble statues or sculptures strategically around in a garden is one of the great ways to add a unique and vibrant touch to a home décor. From exclusive animal figures to alluring women sculptures, marble statues come in various forms, shapes, designs, and sizes with dozens of ways you can set them up in your property. You will rarely meet a person who will say 'NO' to an exclusively designed marble sculpture for a home decoration purpose; especially to an intricately designed veiled lady marble statue. Since 1850's, veiled lady marble bust statues have become a favorite choice of people to bring beauty, art, and elegance altogether to a home and garden décor.
History of marble veiled statues
The first marble statue of a woman with a veil was carved in Rome by the Italian sculptor Giovanni Strazza in the early 1850s using Carrara marble. Popularly known as the Veiled Virgin, the statue represents the historic characteristics of the Virgin Mary with a veil draped over her lifelike face. Her eyes are closed and her head is tilted down, seem as if she is calmly praying or expressing grief.
It is rare to find a neatly designed veiled woman marble statue, as achieving the illusion of a flowing piece of fabric clinging to a body with solid material like marble stone requires an expert level of skill. Here we have got the 10 best Veiled Lady Marble Statues that can create spectacular ambiance in your garden. The best thing is that you can get all of them customized for your space according to your size and design needs from Marbleism.
1. Veiled lady marble bust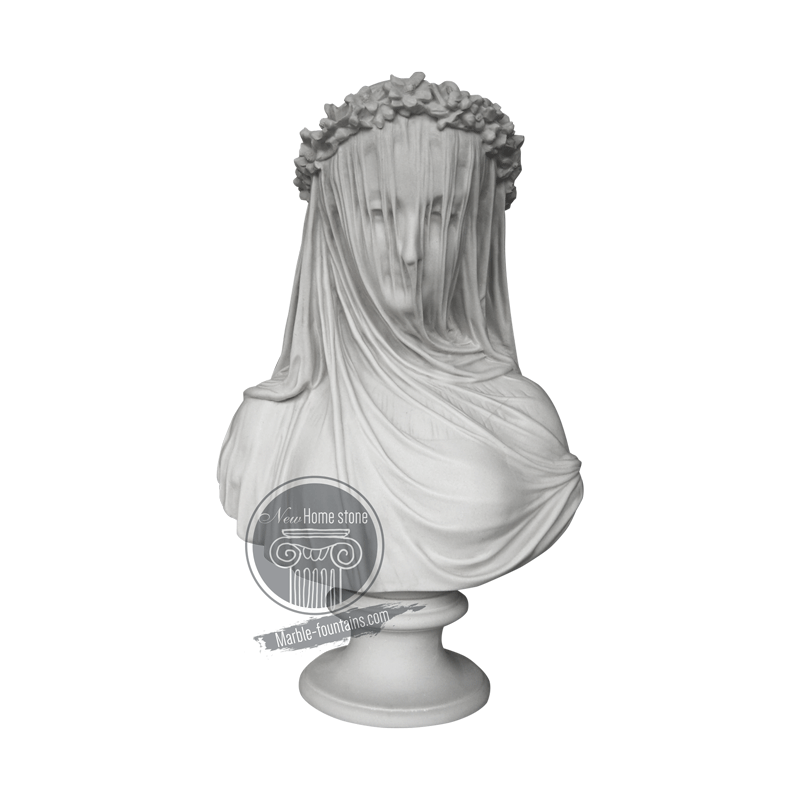 (Check out: Marble bust of the veiled lady)
This one is the replica of an exquisite 19th century marble sculpture of the Virgin Mary cloaked in a translucent veil with her eyes closed and her head a little tilted down in grief. She is also wearing a floral crown on her head giving the vibes of a guardian angel. The stunning figurine replicates the exact facial aspects and see-through veil pleats of the original statue carved by Giovanni Strazza in the early 1850s. You can get the same statue in custom dimensions for your home garden from Marbleism.
2. Giovanni Strazza - The Veiled Virgin, 1850s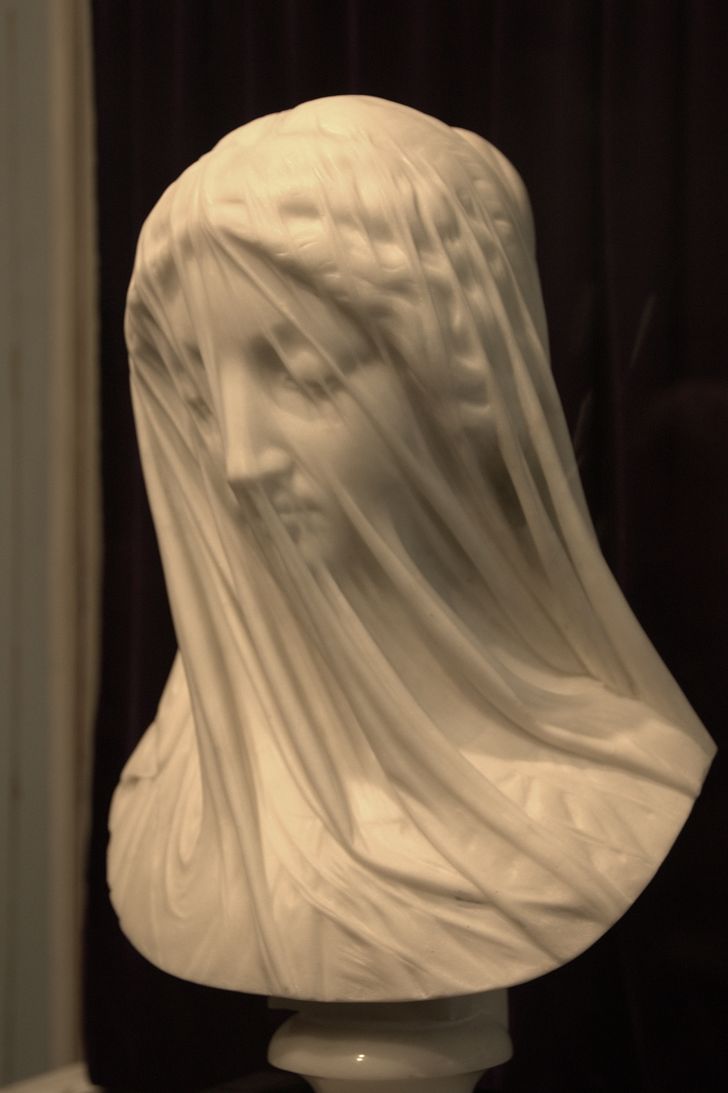 This astonishing statue of the veiled Virgin Mary is the original masterpiece by famous sculptor Giovanni Strazza. Crafted entirely using Carrara marble in Rome, the artwork is one of the most sensual arts in the world and considered an important part of Italian culture. Seeing the intricate details of the statue, one cannot believe that it is made of a hard material like marble. The sheer effect of its veil is unbelievable, you can easily confuse the material with fabric.
3. Raffaelle Monti - The Sleep of Sorrow and the Dream of Joy, 1861
People who are looking for a life-sized sculpture to spruce up their home décor should get Raffaelle Monti statue customized from Marbleism. The famous artwork was first exhibited during the London Expo in 1862, and today the work can be found in the same city in the Victoria and Albert Museum. The veiled figure is popularly known as "The Sleep of Sorrow and the Dream of Joy" for a very good reason. The sculpture describes two angelic women, one is laying in grief on the marble pedestal with flowers placed at one side. The other woman is sitting with folding legs above the one who's laying. The sheer veil of the woman at the top covered her face entirely and body partially. Her beautiful curves look so realistic and breathtaking. You can get this one customized in any size for your garden.
4. Raffaelle Monti - Sisters of Charity, 1847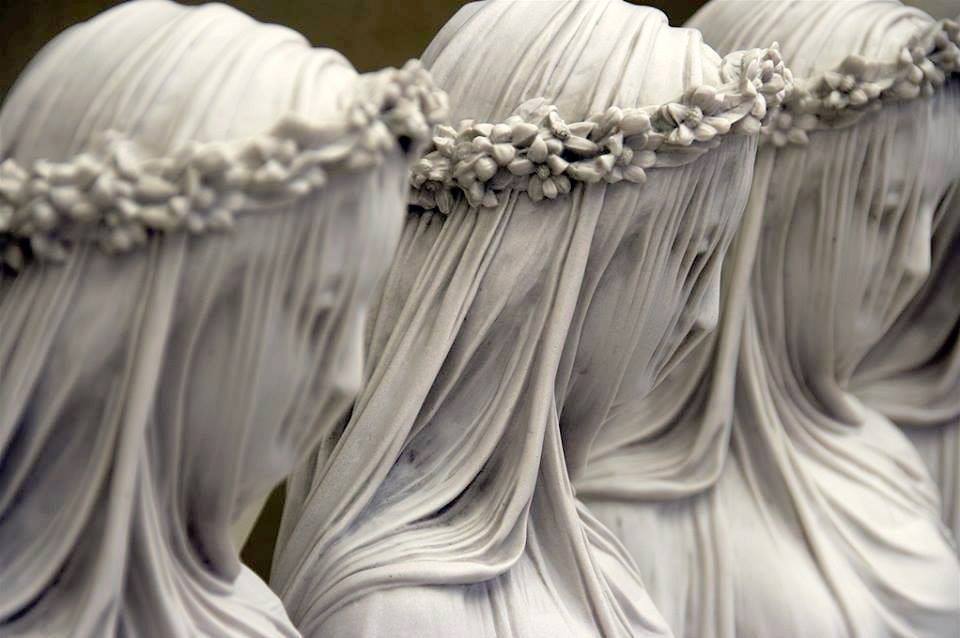 Here's another creation by Raffaelle Monti, a man of true genius - "Sisters of Charity". The artist used Carrara marble to create the thinnest stone veils for three seraphic figures. The veils look so realistic to flutter in the slightest wind. Their heads are tilted down and their eyes looking to the ground. The flower crowns on their heads making them look like divine being. You can place these angelic figures around your garden or lobby area.
5. Chauncey Bradley Ives - Undine Rising From the Waters, 1880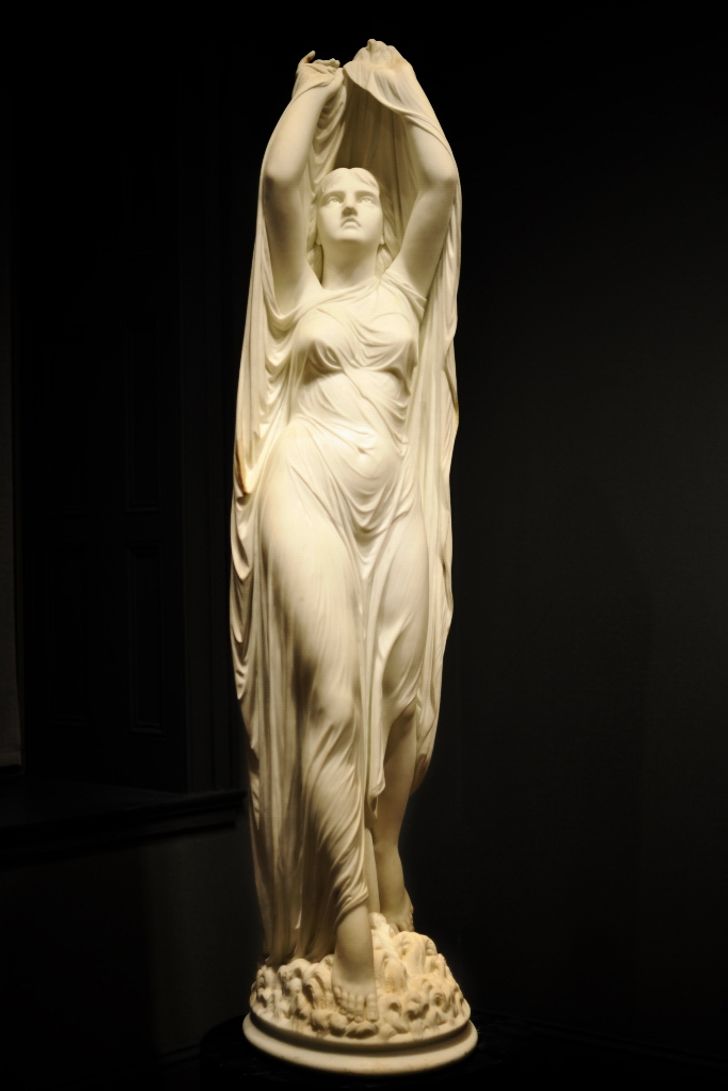 This astonishing art piece is of a lady who's holding her veil over her head with her hands up. Her translucent outfit is clinging to her body enhancing her womanly curves and sensual posture. The dress rumples literally feel so real that you won't feel it is made of tough marble. With her eyes looking up to the sky, her facial lexes look calm and so peaceful. This statue originally is known as "Undine Rising From the Waters", and it's the masterpiece of famous artist and sculpturer Chauncey Bradley Ives.
6. Giovanni Maria Benzoni - Veiled Rebecca, 1864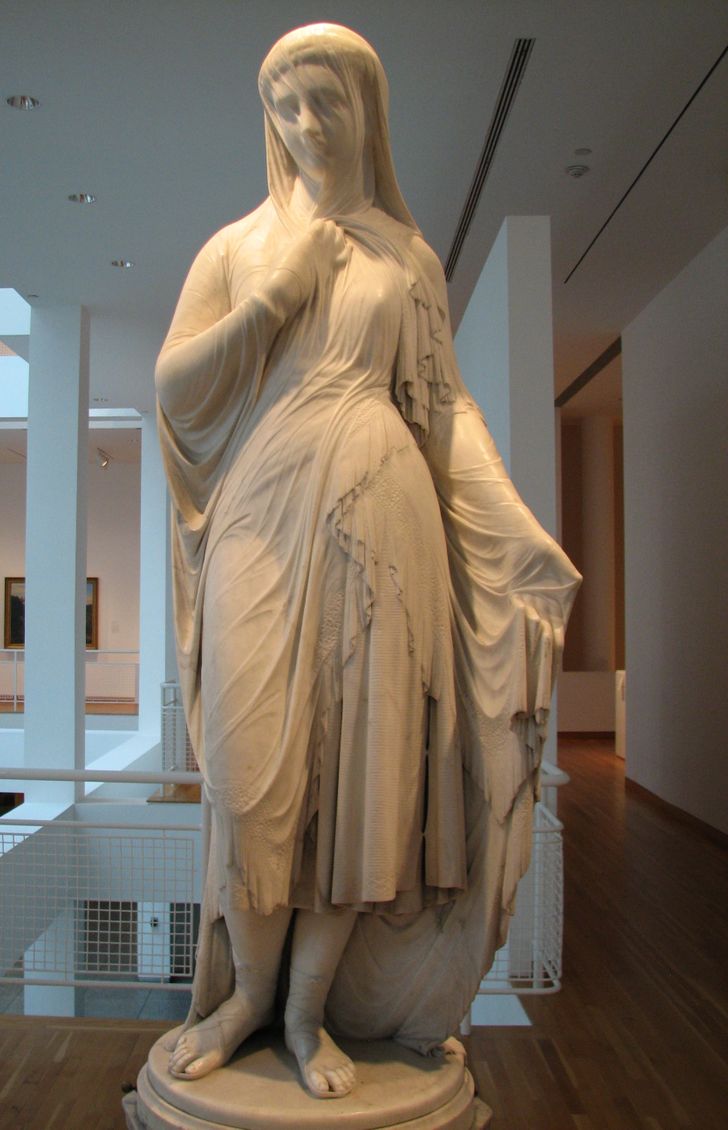 Here's a creation by Giovanni Maria Benzoni proving that she's one of the most eminent fans of veils. This sculpture shows her extraordinary sculptor's talent. It depicts the scene from the Hebrew Bible when a modest Rebecca covers herself with a veil upon meeting her future spouse. The sculpture highlights the artistry by achieving the illusion of making marble stone look like a fabric clinging to body. Marbleism has talented sculptors with a great level of skill who can carve this statuette for you according to your required dimensions.
7. Raffaelle Monti - Veiled Vestal, 1847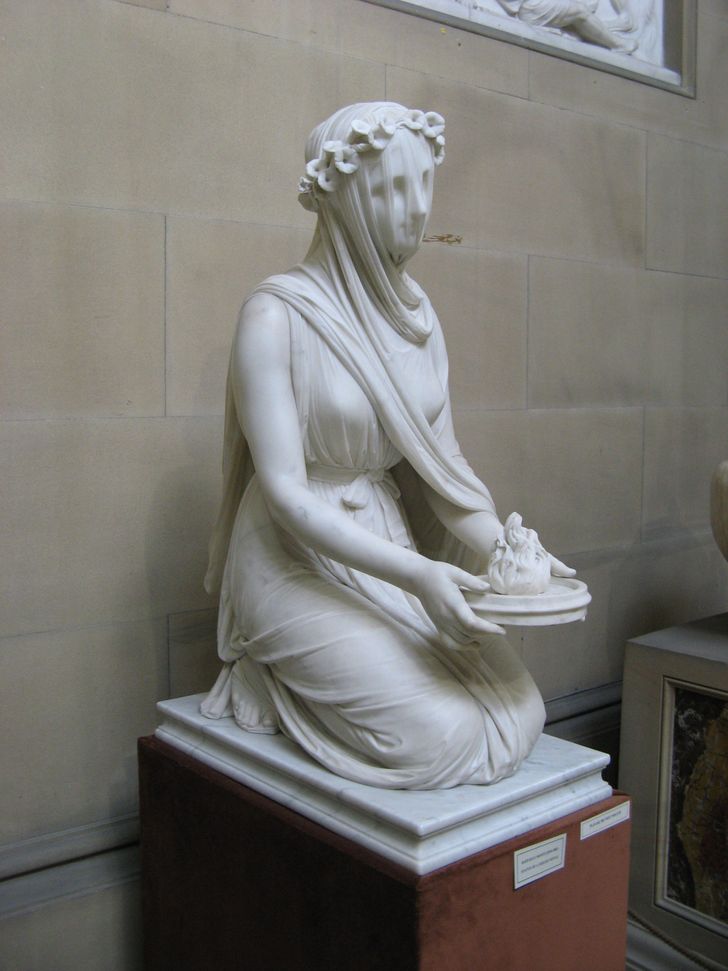 Veiled vestal is an 1847's mesmerizing artwork by Raffaelle Monti. The sculpture is a depiction of Vestal Virgin, the priestesses of the Ancient Roman goddess Vesta. The veil and the dress of the priestesses is so intricate and believable that you can see the sunbeams through it. The calmness on her face is so alluring makes the whole environment tranquil of the space where it is placed right now. The same piece can be tailor made by Marbleism on pre-order.
8. Antonio Corradini's "Veiled Truth"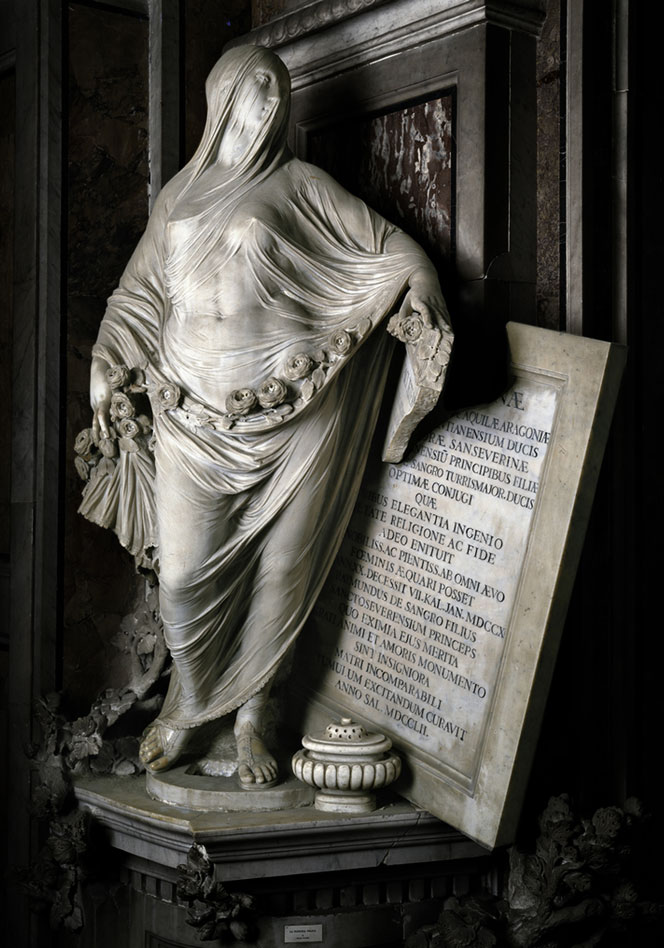 In 1752 with "Veiled Truth" Antonio Corradini proved that he's the master of carving seemingly weightless cloth over human flesh with marble. The veiled lady marble statue is the memorial of Raimondo di Sangro's mother in the Cappella Sansevero in Naples, the same place the statuette remains today. The way her drapery falls on her body is tough to achieve effect with unbending material like marble that only skilled sculptor can shape.
9. Marble Bust of The Veiled Virgin Mary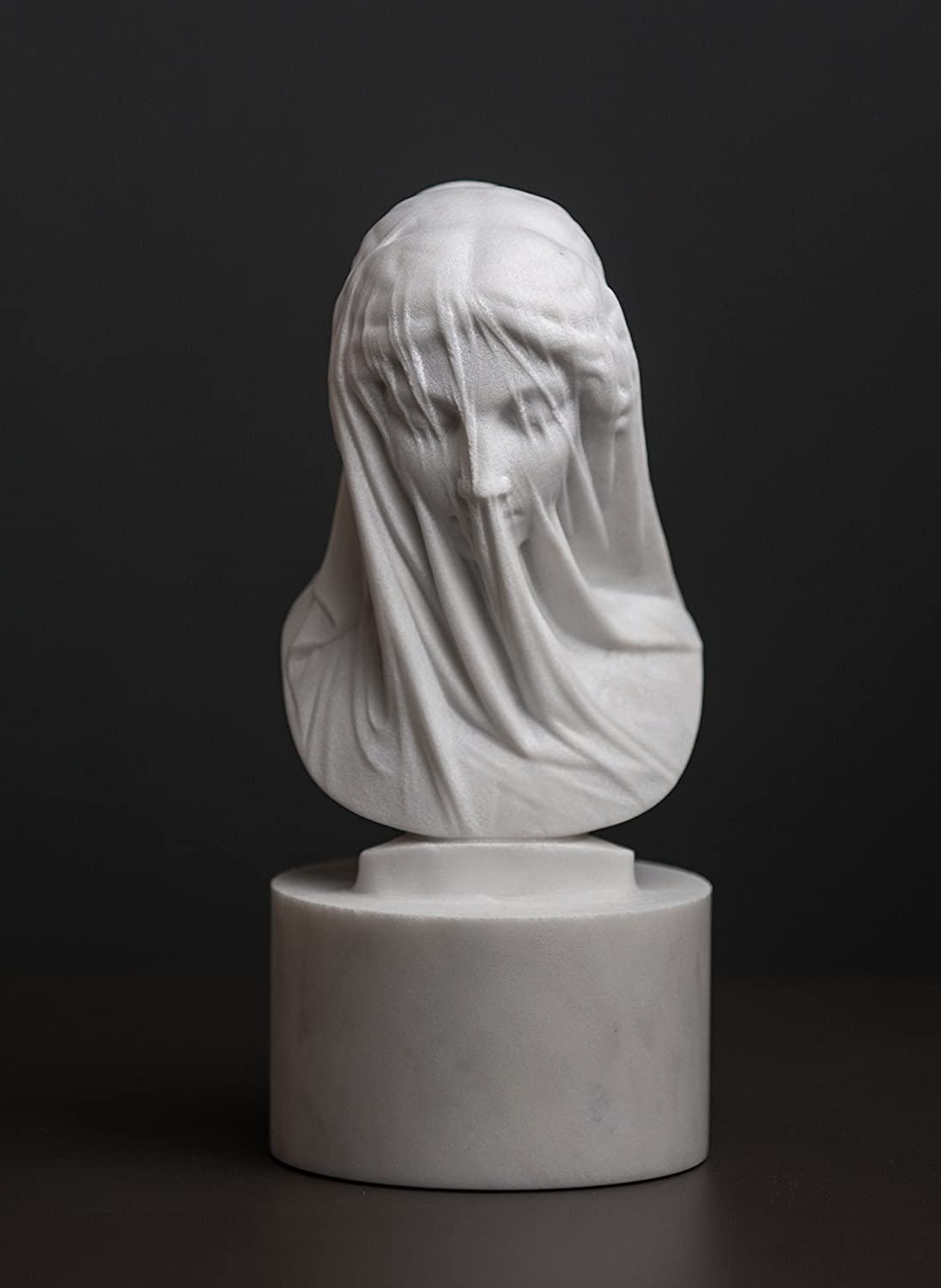 This amazing Marble Bust of The Veiled Virgin Mary can be placed in any corner inside your house or garden. You can get your hand on it easily as it is available on Amazon to buy at $349. The statue looks a little dissimilar from the original creation which was from the 19th century by Giovanni Strazza. It carries a different elegance and appeal with a round marble pedestal at the bottom.
10. Luo Li Rong Veiled Sculpture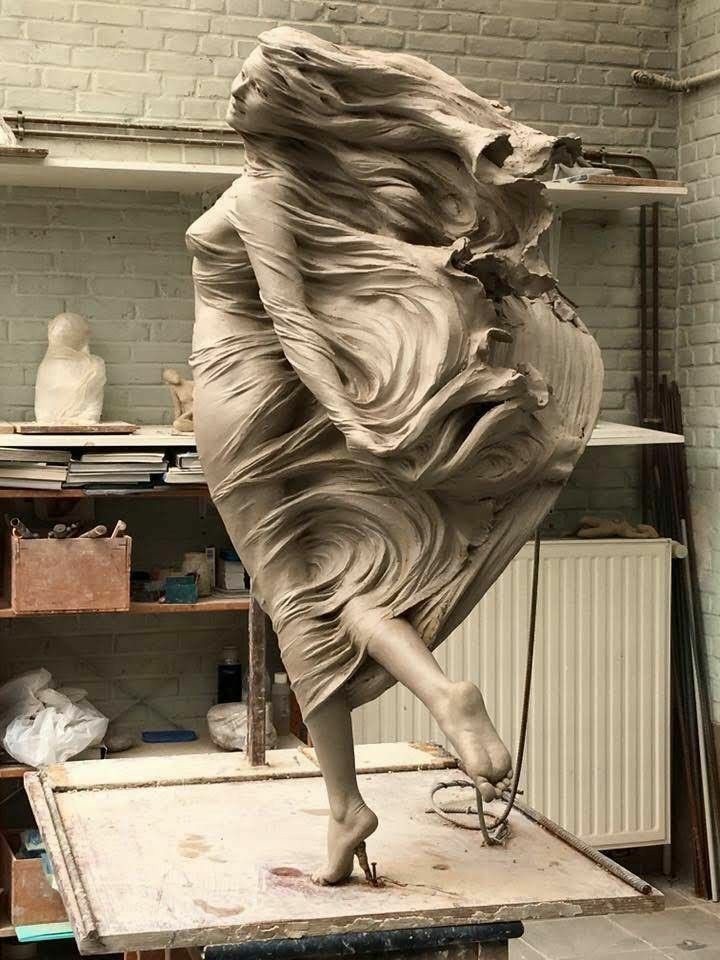 This one is from the young 20th century artist Luo Li Rong. The marble sculpture represents a female posing gorgeously wearing beautiful sheer dress with so many crinkles all over it. Only skilled craftsmen can work like this to achieve the effect of crinkled drapery, figure-hugging a female body beautifully to embellish her curves. Looking at her dress it literally feels as if the wind is blowing to west.
How veiled lady marble statues are made?
Veiled women marble statues are usually carved from premium quality marbles with the face and body that appear as if they are partially obstructed by a flowing see-through drapery. The effect of fabric clinging to the body and face is an illusion, usually achieved by using translucent marble and a sly composition. The expressions and physique of the woman underneath the veil are softly visible, adding to the beauty of the whole sculpture. The arty marble statues are intricately carved by expert sculptors.
At Marbleism you can discover a variety of marble statues including veiled women statues made by talented craftsmen who are proficient to sculpt intricate marble figures, fountains, bathtubs and columns. You can send in your custom requests for marble home décor products to Marbleism. Our craftsmen will provide you exactly what you want to match best your space and home décor. The quality of Marble we use to craft veiled figurines and other products is always supreme, so you don't need to worry about their wear and tear. You can expect them to beautify your space for generations.