(Check out: Church Theme Marble Statues For your Garden Hand-carved by New Home Stone)
Catholic and Christian Churches have a rich history of religious art. Senescent sculptures of Jesus Christ, the Mother Mary, biblical figures, and saints installed in these churches give us reason to pause and think about the realities of the faith, beauty of creation, and artisan who created them with an amazing eye for detail to make them look so corporeal.
For some, church-themed statues are an expression of belief, and for others, it is an art piece to bring peace and visual impact to their gardens and homes. Today, we have got you a list of the 10 most popular and notable church-themed statues that you must check if you're planning to install one in your home or garden.
Standing Saint Marry Sculpture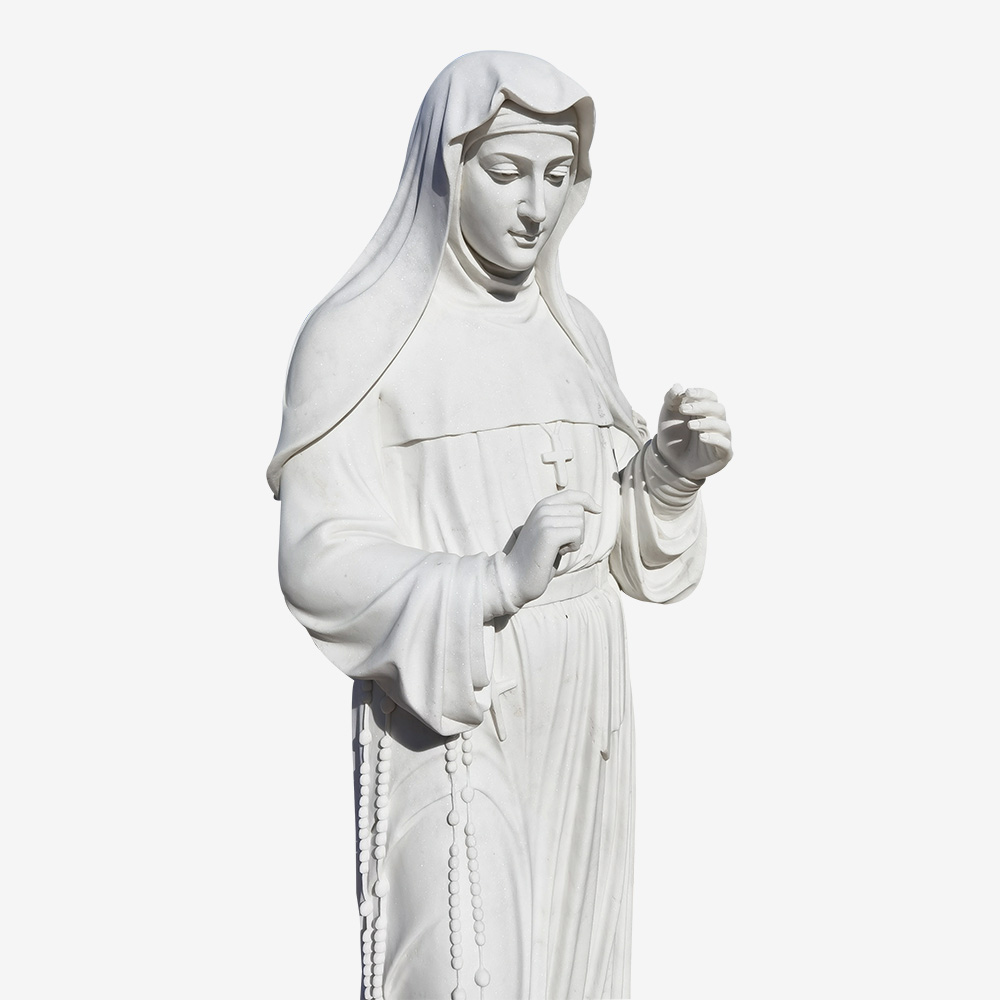 (Check out: Standing Saint Marry Sculpture)
This is a majestic life-size statue of Saint Mary crafted in all white with a single marble block. The religious lady stands upon a smooth round spherical base. Her hands are gracefully bent and her eyes gaze down. She's wearing a beautiful saint drapery and there is a cross imprinted on her chest. Her Godlike soothing appeal can fill any space with positive vibes. The saint Mary statue is handcrafted with detailed contour lines, curves, and many exquisite characteristics. Its all-white color palette complements the statue design beautifully. It is made from a high-quality white marble composite material and built by Master Italian artisans with the utmost attention to detail. All these qualities of it make it a perfect decoration element for gardens, homes, and for churches.
Michelangelo's Pieta Marble Statue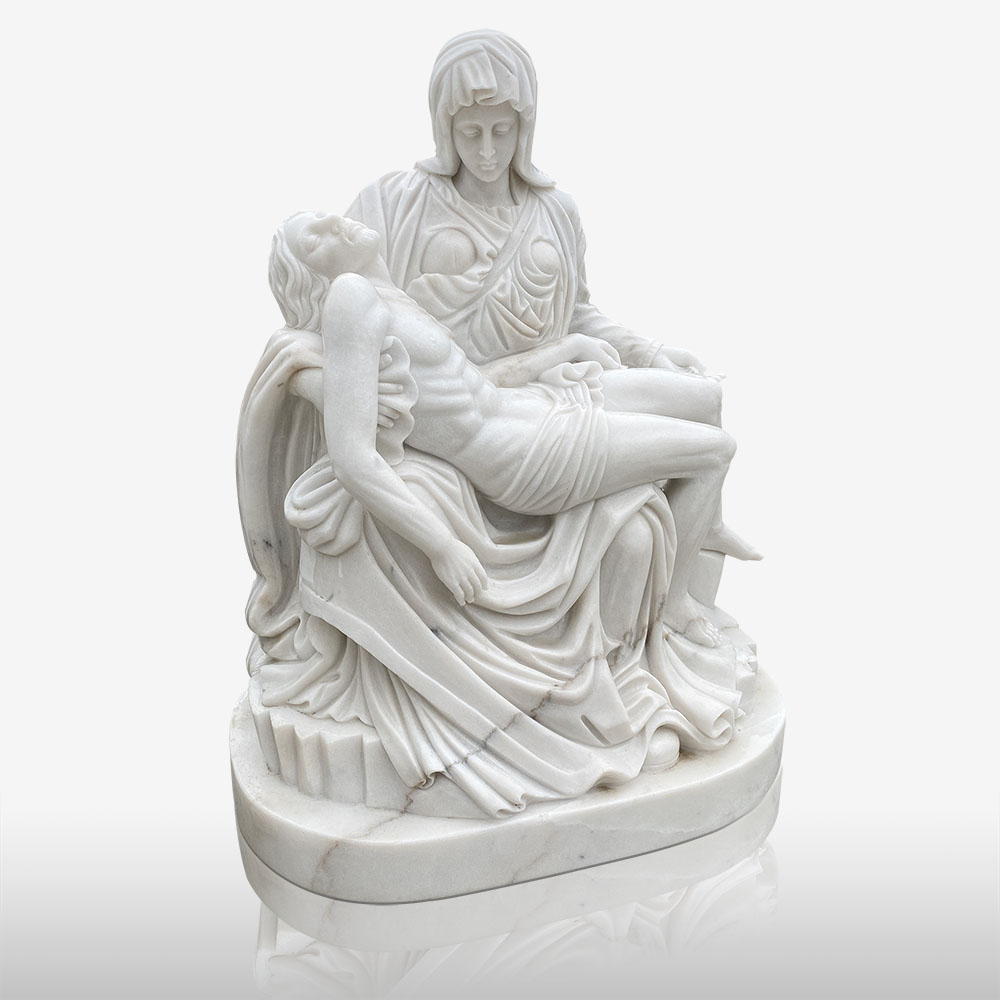 (Check out: Michelangelo's Pieta Marble Statue)
The statue is a replica of the original sculpture called Pieta. The fine artwork by Michelangelo was initially housed in St. Peter's Basilica, Vatican City, where plenty of his work is displayed. In the 18th century, it was moved to its current location to the first chapel on the north side after the gateway of the basilica. Made from gorgeous Italian Carrara marble, the monument was commissioned by the French Cardinal Jean de Bilheres who was the French ambassador in Rome. Apparently, it is the only work that Michelangelo ever signed. The religious piece of art features the body of Jesus on the lap of his mother Mary after the episode of decease. Michelangelo's understanding of the Pieta is unforeseen in Italian sculpture and balances the Renaissance ideals of classical beauty with naturalism. We can create a replica of any of these statues in any size, color, and material as per the customers' requirements. You can contact us to make your modification needs to be known and we will provide a statue that will enhance the beauty of your existing design layout and suit your available space.
Popular Jesus Christ Sculpture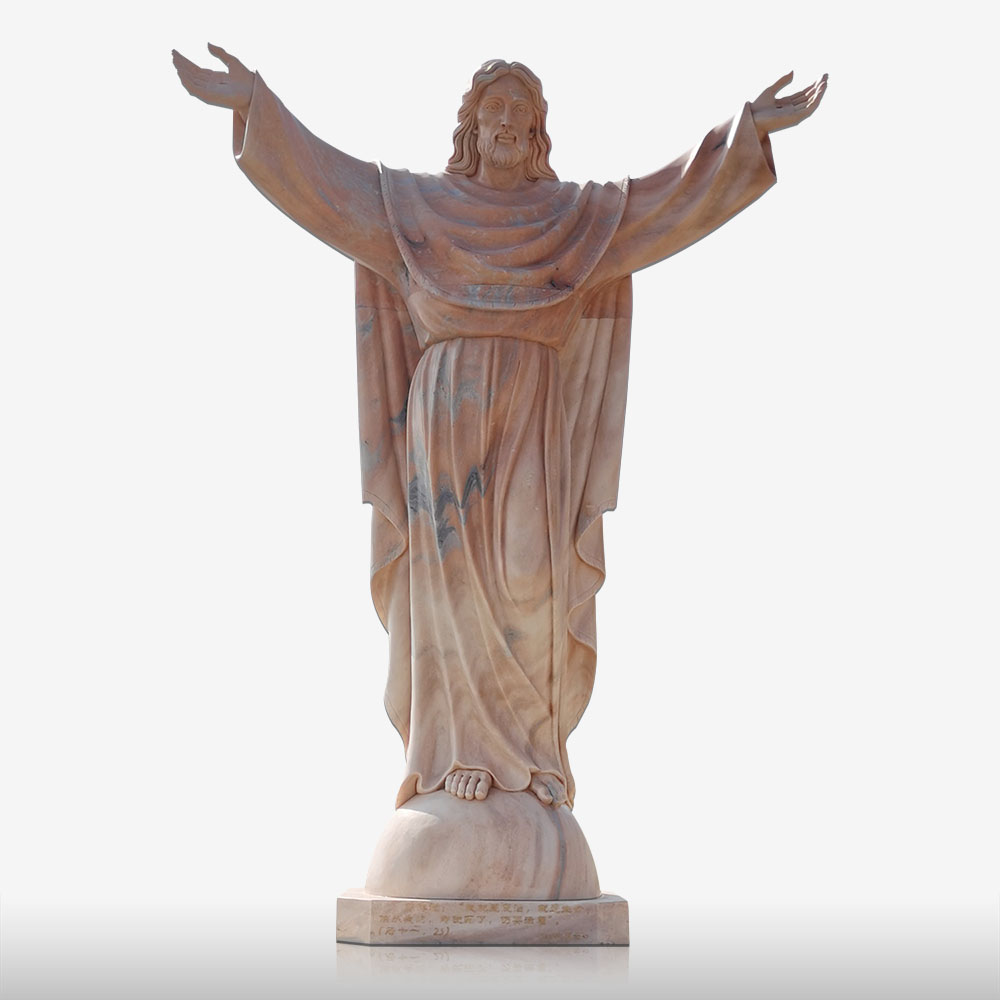 (Check out: Popular Jesus Christ Sculpture)
This popular Jesus Sculpture is a symbolic protector for people. It is a reminder of all that Jesus did for the world. It depicts the legendary figure of him in one of his typical classic postures. The statue with open arms ascending to the sky evokes the imagery of his legendary resurrection, his divinity, and the true power of compassion. This one marble statue is carved by one of the finest artists of the world from natural marble in our marble factory. This addition to any garden will inspire love and belief in any heart. The statue can also be a beautiful memorial to churches and cemeteries.
Virgin Mary wearing crown
(Check out: Virgin Mary wearing crown)
The white marble statue represents the blessed Mary with her lightened crown. It depicts "May Crowning" of the mother of Jesus as the "Queen of May". Crowning Mary is a traditional Roman Catholic ritual that occurs in the month of May. It is one of the most popular statues of the Virgin Mary with calm facial features, divinely posture, and crown. It brings the sense of love, enlightenment, and religious belief to the space wherever it is placed. You can see this sculpture of the Virgin Mary most in Catholic Churches around the world. The statue of saint lady is crafted with amazing attention to detail by expert stone artists. No doubt it could an amazing addition to your garden to bring peace, love, and blessings of the Mother of Jesus.
Christ of the peace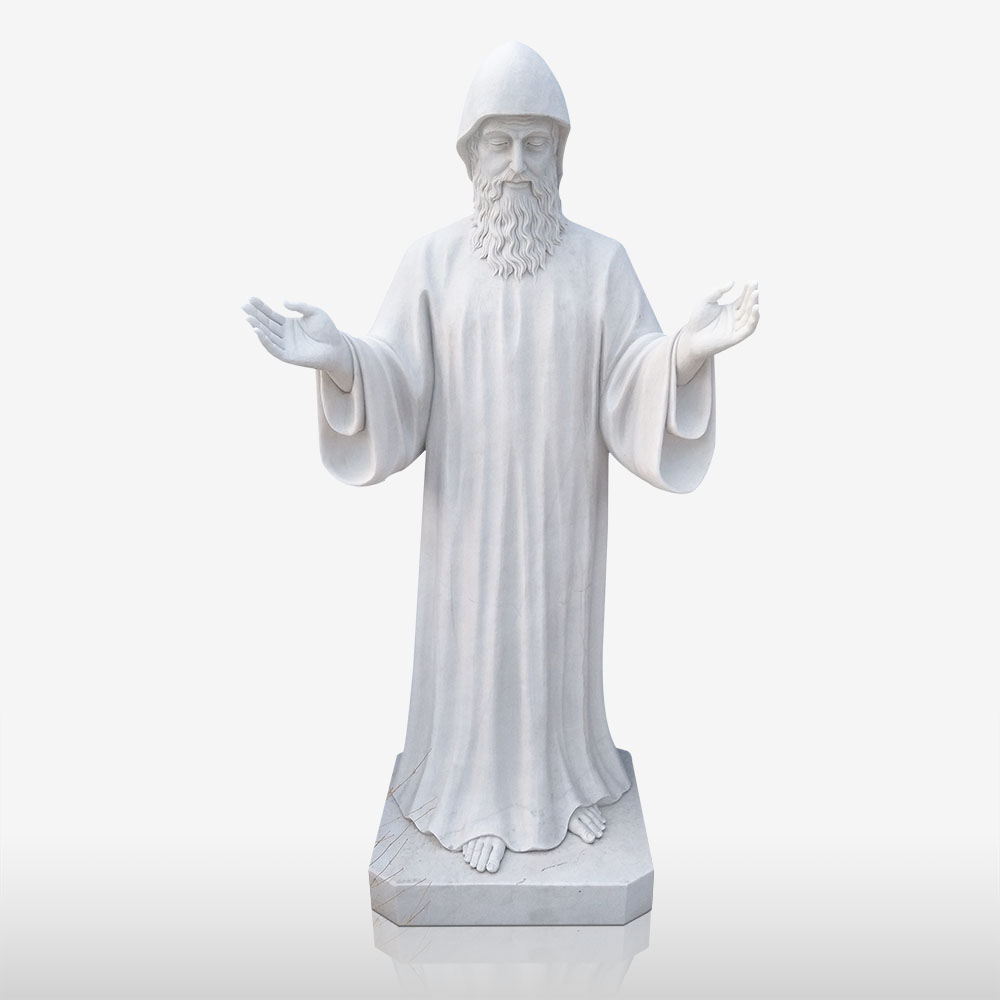 (Check out: Christ of the peace)
This art Deco sculpture embodies our belief. A believer gives the sculpture its soul. The superhuman figure is standing barefoot with arms half outstretched. It reminds all who view it of the majesty of the resurrected kind Jesus Christ. People who have faith in Jesus believe that he will come again to give believers eternal life. Its presence in your garden will make you want to wrap yourself in his warm arms. If we talk about the building material, it is carved from white marble to go well with most types of garden spaces. Place this bespoke Jesus statue in your landscape and let him give more power to you and your family.
Virgin Marry Holding cross and Jesus Christ crucifixion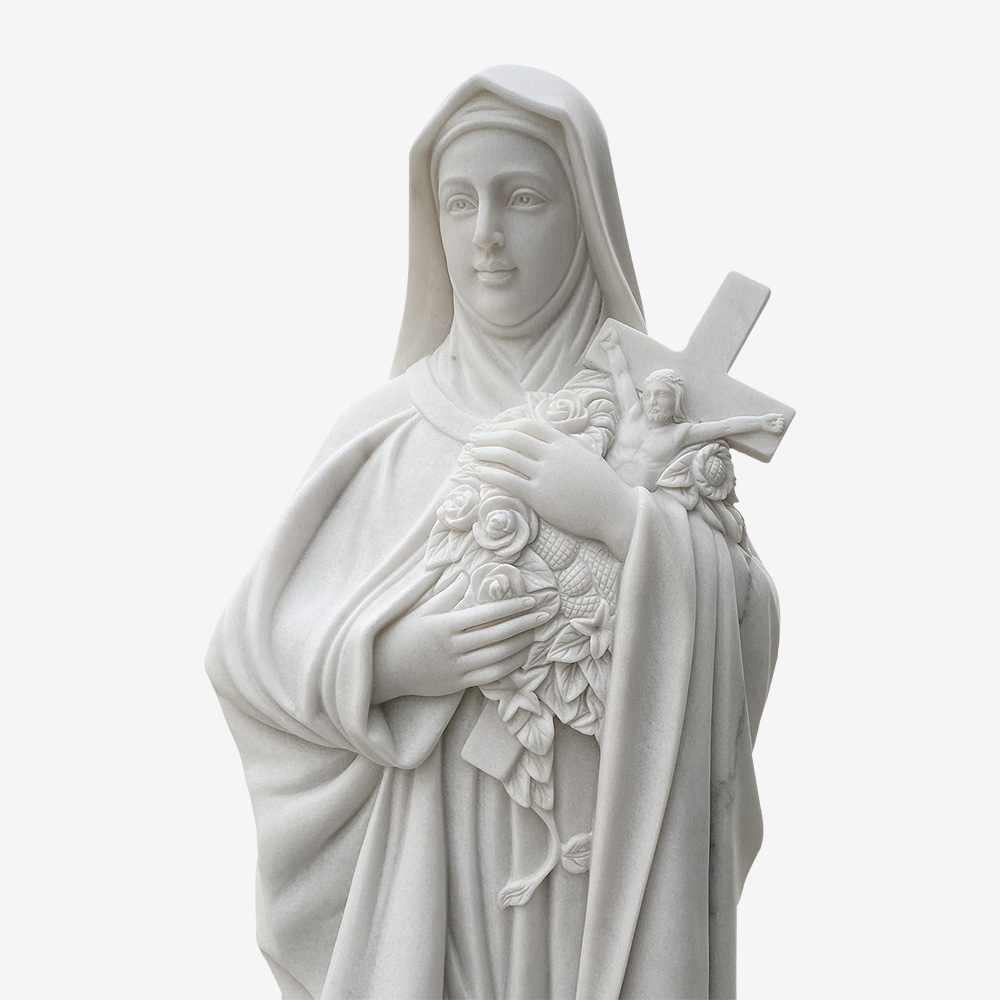 (Check out: Virgin Marry Holding cross and Jesus Christ crucifixion)
This statue is a depiction of the Blessed Virgin Mary as the Sorrowful Mother. The statue depicts one of the darkest religious scenes of the Virgin Mary holding the cross with Jesus Christ's crucifixion and roses. The statue speaks about the expressions and pain of Mother Mary during the moment when she with the other women, and the beloved disciples of Jesus were praying to transfer their pain to God. The statue reminds us of a very emotional story from Jesus's life and speaks a lot more about the strong image of Jesus's mother. The statue is entirely handcrafted with care and faith in Jesus by expert marble artisans who hold years of experience in the field.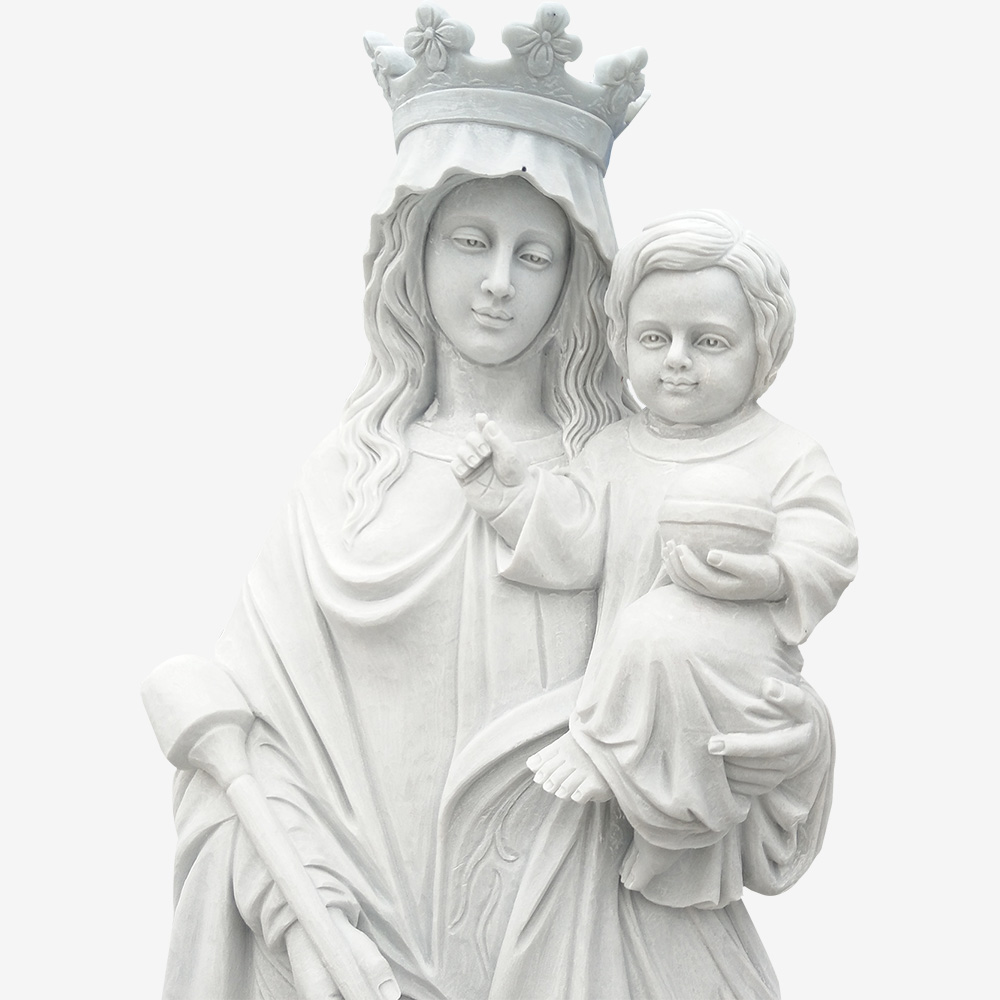 (Check out: White marble statue of Virgin Mary)
This marble statue of the Virgin Mary is made inspired by the "Virgin of Paris", created in the early 14th century. The statue depicts the Virgin Mary carrying the baby Jesus in her one arm. The Virgin Mary stands on the marble base with the calmness and love of a mother on her face. She's standing with open hair, wearing a crown and a mythical attire. She's holding a stick of blessing on her other hand spreading the light of love and peace. Her attire resembles a guardian mother who's there to take away all your pain. The baby Jesus sitting with crossed legs on his mother's one palm is looking at the front and holding a small bowl with a slight smile on his face. The statue is a popular sculpture and can be seen in many catholic churches. Install this in your garden to bring prosperity and love to your home.