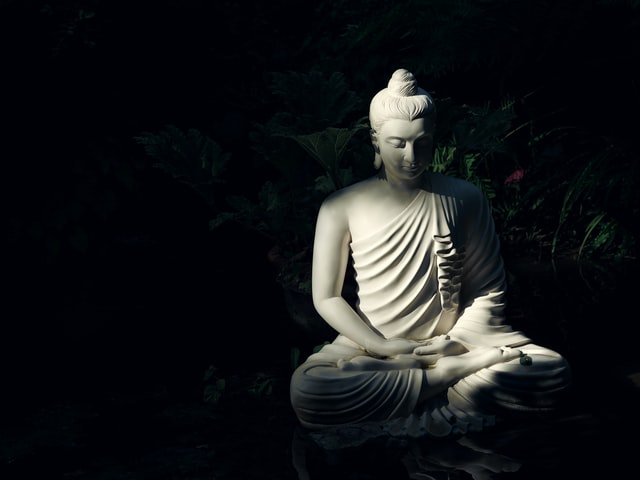 Buddhism is more than just a religion, teaches us to be calm, disciplined, and a way of life that encourages us to follow certain path to help conquer suffering. The world needs to learn teachings of Buddha more seriously to build up their moral strength and live peacefully with their fellow beings on earth. Who can't adopt the Buddhism as religion can try making it a lifestyle to bring peace and sense of joy in life. You can simply do this by bringing in a garden Buddha statue home, as peace is a state of mind that is directly linked to the energy of the space we live in.
Having a home that can bring you peace, harmony and a god night's sleep is nothing more than a blessing, and there is no other way to do that better than getting a Buddha statue home. Buddha statues for home decor have become a so popular that people are considering them more than other decorative pieces to improve the Feng Shui of their home or create a peaceful spot for meditation,especially in their home gardens.
There are a variety of beautiful stone garden Buddha statues that not only symbolize different physical postures of Lord Buddha but also the Buddhist teachings of contentment, protection and meditation. Have a look at these 15 best stone garden Buddha sculptures that will surely bring zen and tranquility to your garden atmosphere, all of these statues are hand-made and can be order to made to fit you space in your required size and dimension.
1. Marble Gandhara Buddha Statue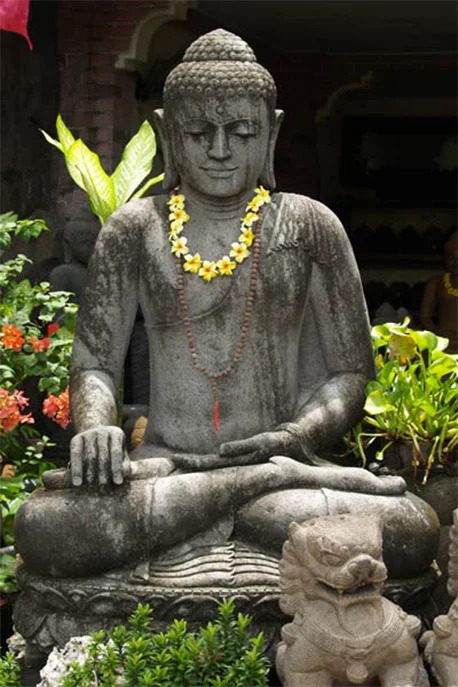 This amazingly crafted Gandhara-style Buddha statue is perfect for any garden, home, or Monastery. Made entirely from marble, this stunning marble Buddha sculpture depicts Lord Buddha in blissful meditation pose, with his hands resting on his lap in Dhyan Mudra, a posture for meditation. The Gandhara style Buddha is easily discernible by his straight hair arranged on a bun on his head. The Lord Buddha is wearing his Buddhist robe with his right shoulder bare and a sash over his left shoulder. There is also a third eye or Urna engraved on Buddha's forehead that is adding to its godlike appeal. This impressive statuary will make your dull garden lively and welcoming.
2. Black and Gray Buddha Statue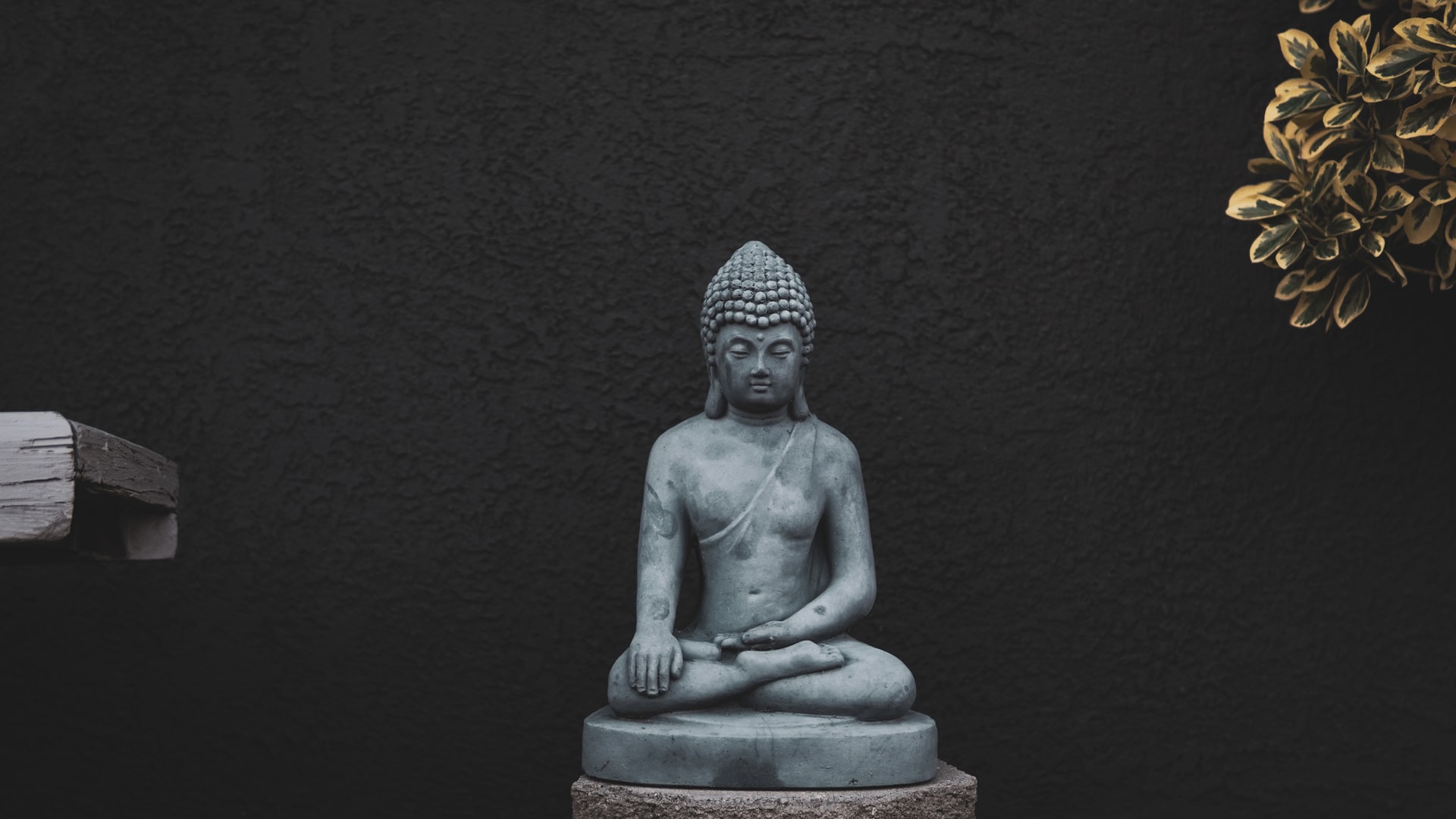 This beautifully crafted black and gray large meditating Buddha statue is flawlessly designed by proficient craftsmen in a way to make any dull space look vibrant. The Lord Buddha figure is sitting on a floral engraved pedestal in a mediating posture wearing a gray robe. The mediating posture and expressions of this Buddha statue teach us a very powerful method of healing our self and others to get the better of the inner sickness of attachment, hatred, and ignorance. You can install it in your yard to create a magnificent focal point along with some stone planters and water features around, to create a soothing atmosphere.
3. Large White Marble Buddha Statue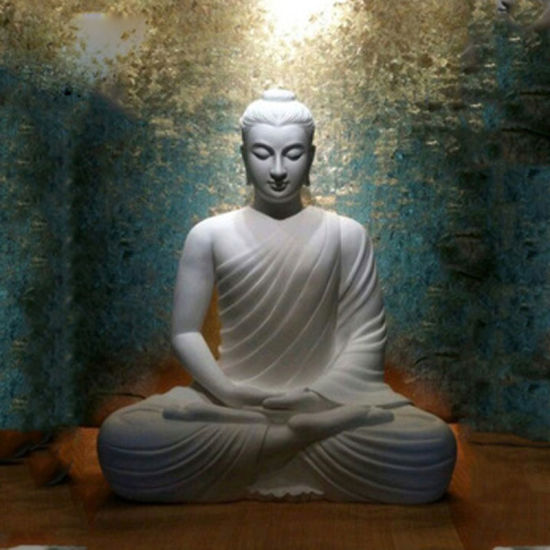 This large white marble meditating Buddha truly gives the appearance of an enlightened being who has unbiased compassion for all living beings. You will love the way it is crafted using clean white marble with no rough lines and patterns on it. It is simply divine, hand-crafted with care by proficient artisans to fill your home with positive energy and gratitude. You will fall in love with its calm facial expressions and easy body posture that teach us to be composed and amoral in every situation. Install it in your yard in a very comfortable space where you can practice meditation with it. You can set up some LED lights around the space where it is installed in your garden to make it look more beautiful at night times.
4. Hand Carved Stone Buddha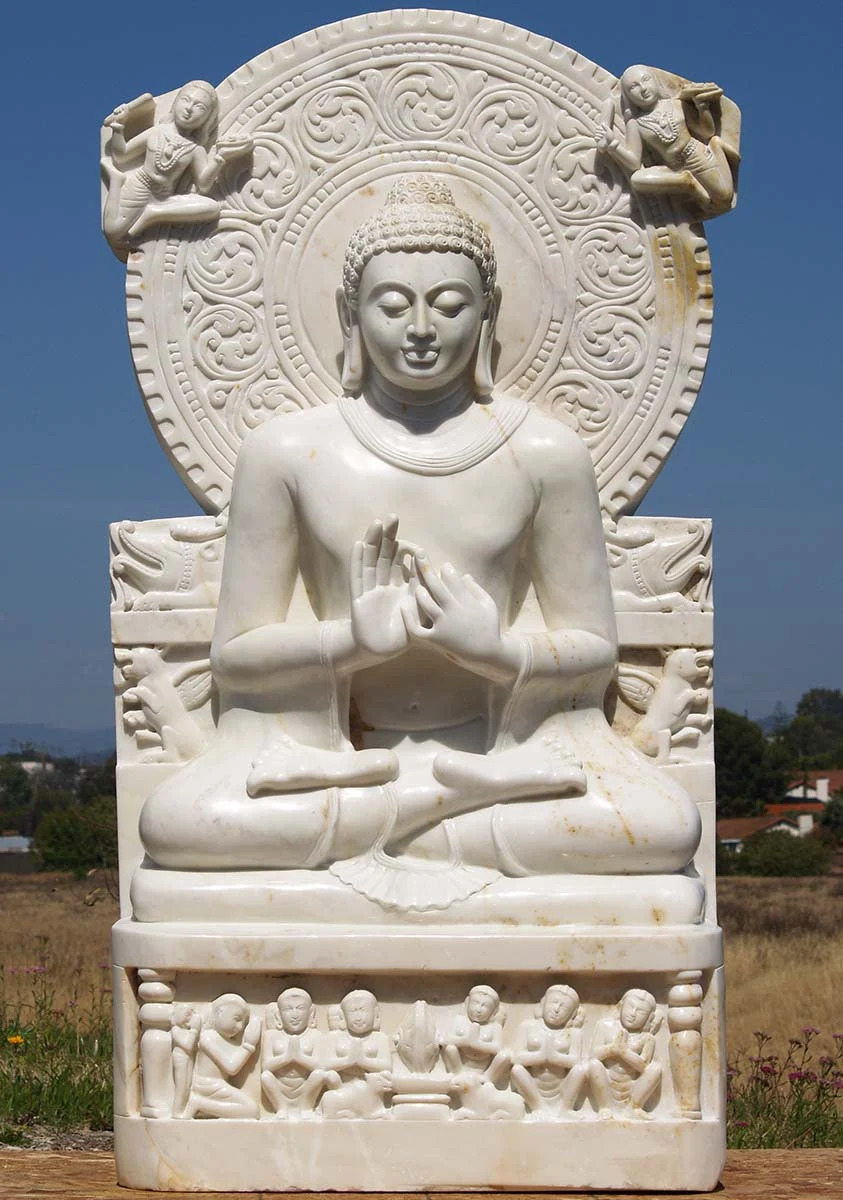 This hand-carved Buddha statue can be mounted on a wall of a garden. It is engraved on a block of natural stone to bestow your garden earthly appeal. The backstone of this statue is engraved in naturalistic style seen in early Greek sculpture. However, the statue draws inspiration from classical Indian Buddhist iconography, such as the elongated ears and the cranial mound, disguised by an elegant top knot. All these features reference the Buddha's enlightened status. A large halo frames the Buddha, highlighting his exalted status as the founder of the Buddhist faith. You can place this bespoke statue in your landscape or as a centerpiece in the lobby area of your house.
5. Large Stone Buddha Bust Head
Bearing a peaceful expression, this Buddha bust head features eyes downward in quiet reflection with dignified facial traits. The statue has a swirling urna or third eye on the forehead. It has been hand-carved from one block of stone, making it perfect for both indoor and outdoor usage. The Buddha sculpture portrays his earlobes stretched due to him wearing heavy gold earrings in his princely youth and his hair is styled in tight, sea shell-shaped curls. It has been made from lava stone, which works miraculously in any weather condition without sustaining any damage as the lava stone is extremely strong and durable. Having this in your space will bring serenity and peace of mind.
6. Stone Buddha Statue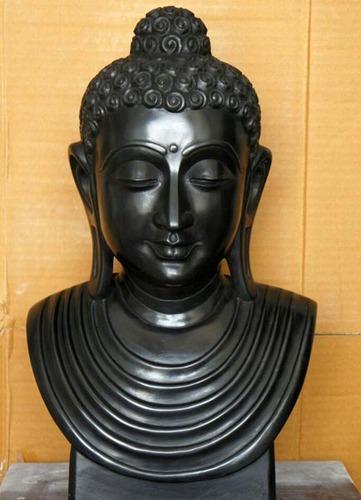 This beautiful black stone Buddha statue offers an exclusive and aesthetically pleasing home décor piece. It can be custom made in various sizes, materials and prices suiting to any custom modifications. It has an unparalleled beauty that can grace your home, office or garden with uniquely elegant quality. It features a finely polished surface with Buddha in his typical posture of calm contemplation or meditation. His earlobes are stretched downwards as he wore heavy metal earrings during his princely time. The placid expressions on his beautiful face are bound to give you a sense of peace.
7. White Marble Buddha Figure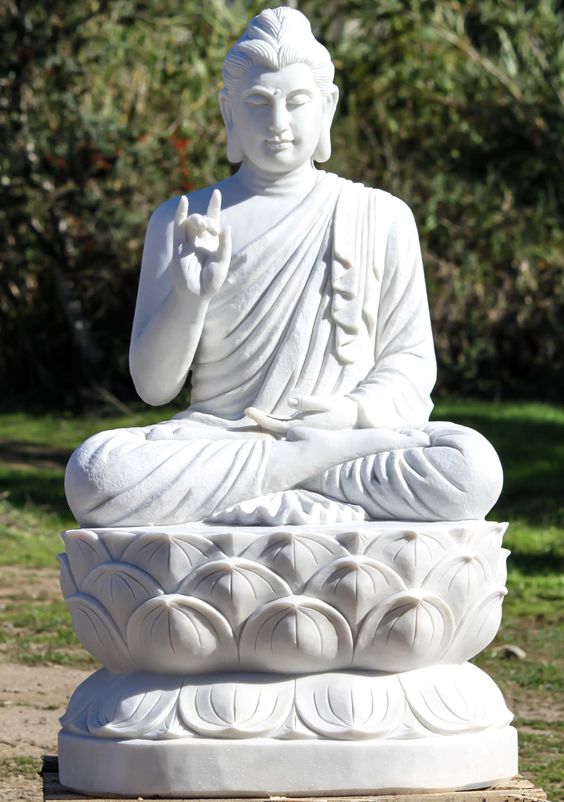 This gorgeous Buddha statue is seated in Karana Mudra, which is a sacred hand gesture during yoga or meditation as a means of channeling the flow of vital life force and warding off negativity. He has been portrayed in his Gandhara style as indicated by his straight hair positioned on a bun. He is sitting on a lotus base in a yoga posture, deep in meditation. This beautiful marble piece will be a great addition to any garden, home or temple. It can be customized as per customer requirements to best suit their available space and existing design layout.
8. White Buddha Statue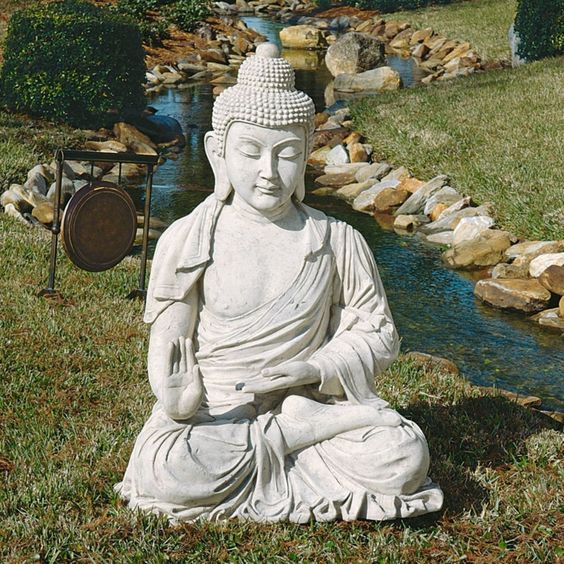 Sitting in his typical meditative posture, this white Buddha statue is awesome to be placed in an outdoor or indoor setting without worrying that it may disrupt your current layout. The statue is sitting in meditation, with curled-up hair and long earlobes. The subtle pleats of his robe are elegantly carved from the natural stone to instill a stunning life-like resemblance. It will add to the beauty of your décor and lend it an elegant quality. It can be made to order with any modifications required to make it a better fit for your space and layout.
9. Marble Standing Buddha Statue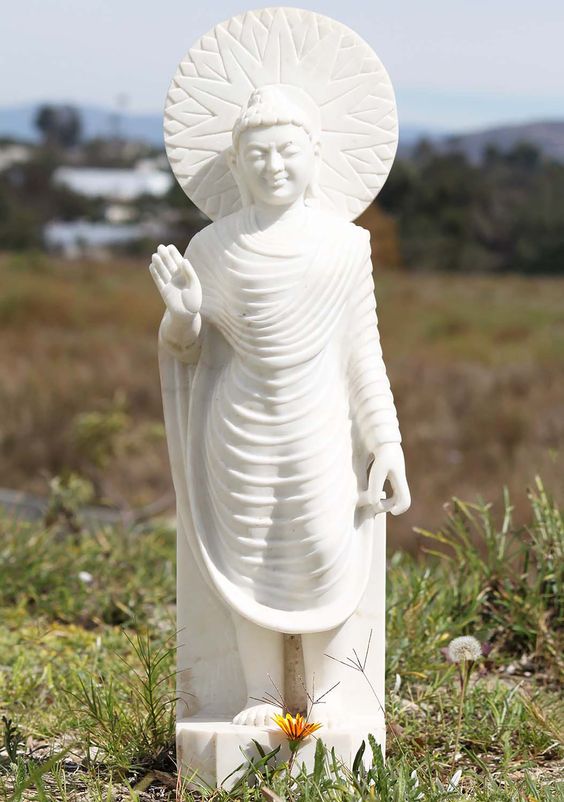 Hand-carved from natural white marble blocks, this standing Buddha statue is featured wearing long gossamer roves. The hand of the statue is held up in the abhagya mudra, a gesture granting his followers his ethereal protection. The godly halo framing the face of the statue highlights the beauty of his facial traits. It is perfect to be placed both inside and outside the house to lend them a beautiful marble quality. It can be customized in any size and color to suit your requirements. Given the versatility of the marble statue, it can withstand any weather conditions, making it suitable for the outdoors.
10. Granite Buddha Statue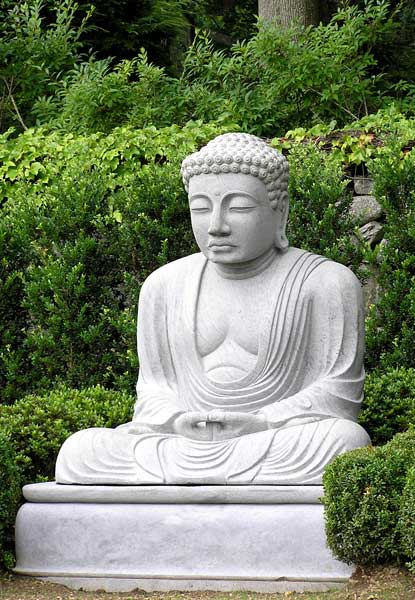 This stunning granite statue of Buddha is inspired by the original Kamakura, Daibutsu Buddha, which is the world's largest bronze statue of the divine teacher. The large granite sculpture is an incredible piece with brilliantly carved hands, robe, face and hair that carry a sense of peace and life. The statue gracefully sits on a pedestal that is carved in a separate piece. A huge aesthetic piece, this statue takes months to make and is made to order with any modifications demands you may have regarding the statue size or color. It can be installed in your garden, home or office for added beauty.
11. Premium Granite Buddha Statue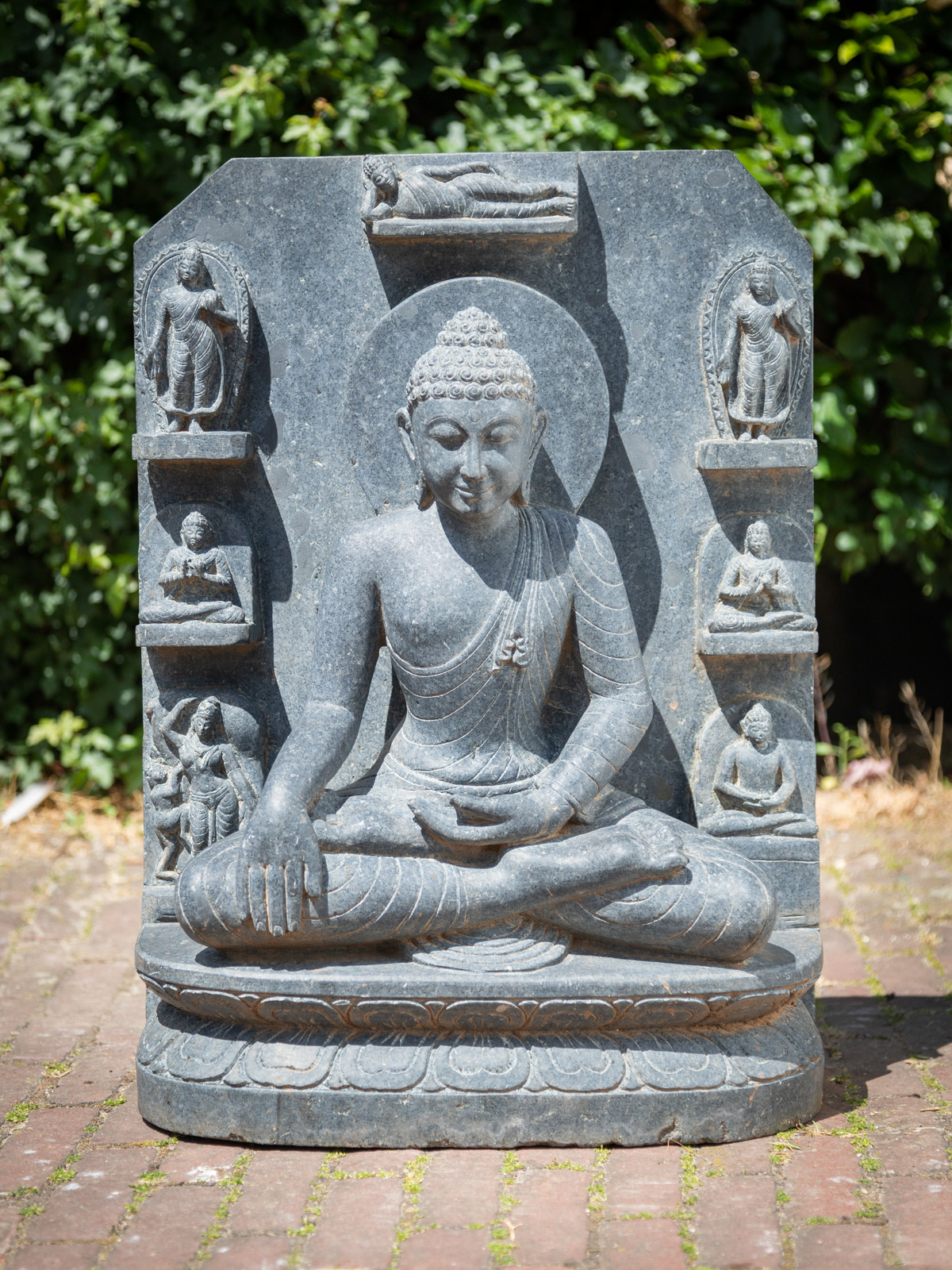 The ascetic, religious leader and teacher Gautama Buddha has been linked with the quality such as peace, calm and composure. This high-quality granite Buddha statue evokes those tranquil qualities in any space you install this statue. It has been hand-carved from a single granite block. The gray statue sits on a pedestal and has a background, which features various Buddha poses in small sculptures. It is a brilliant piece you can add to any space be it your garden, home or office entrance. It will add a zen quality to your space and can be made to order to suit your requirements.
12. Standing Buddha Garden Statue
This premium quality stone Buddha garden statue is a gorgeous and graceful artwork. It is suitable for gardens, homes and commercial building places; this statue of Buddha standing in meditation is hand-carved from natural stone blocks. The large sculpture will look impressive in a garden layout where it will evoke the ethereal quality that is associated with the subject of the piece. Moreover, it is made from stone, making it suitable for outdoor display as it will not get damaged under extreme weather conditions or natural elements. It can be custom-made as per the customer's request in any size and color.
13. Reading Monk Garden Statue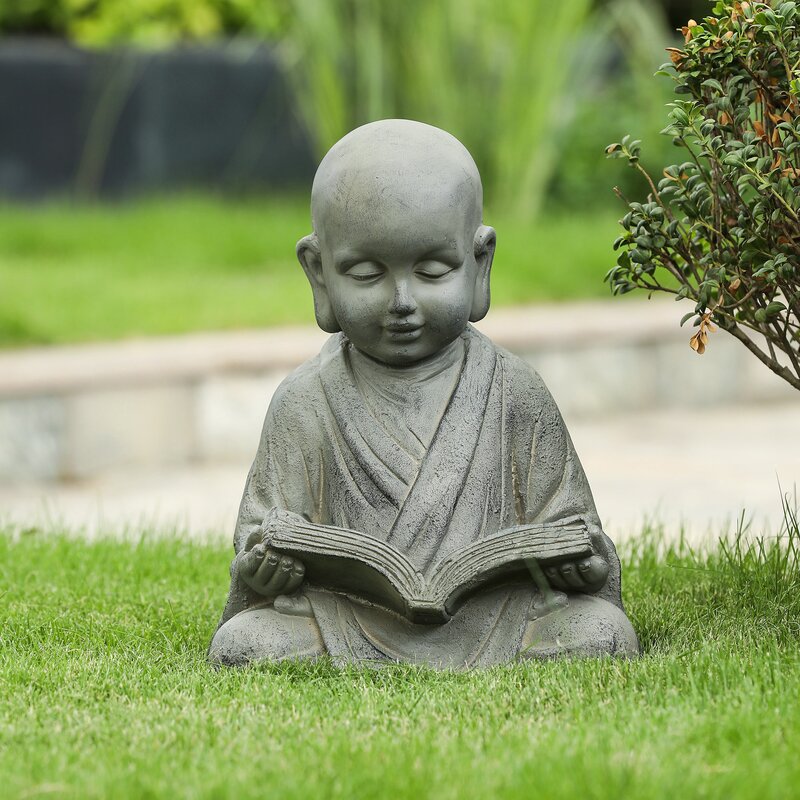 This sculpture looks like a small baby monk who is reading a scripture in a garden layout. Carved from natural stone, this cute little sculpture will make an amazing addition to any design layout, be it indoors or outdoors. The Buddha monk will create a tranquil environment. It will instantly become the centerpiece and focal point of your space, with great details. The monk is portrayed as sitting with an open book on his lap. The facial expressions ooze beauty, peace and harmony. It has a neutral color with a gray finish with a weathering method that bestowed an authentic aged look.
14. Antique Sitting Buddha Statue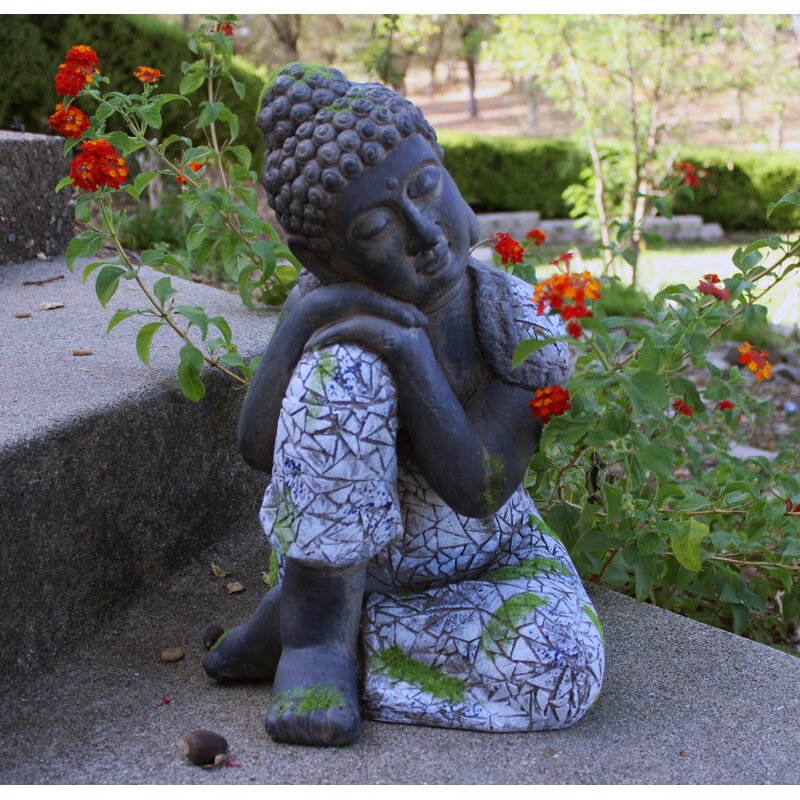 A beautiful piece to be included in your space, this zen Buddha statue is perfect for both indoor and outdoor settings. The statue is featured in its classic meditating pose with a highly distressed finish. The sculpture will add a graceful quality to your yard, garden, patio or any other garden layout. The antique finish highlights the detailed design of the sitting Buddha. It also has a distressed synthetic faux green moss design. It is hollow from the inside, making it easier to place anywhere you like. It can be customized in any size or color to fit your current design and available space.
15. Bodh Gaya Buddha Statue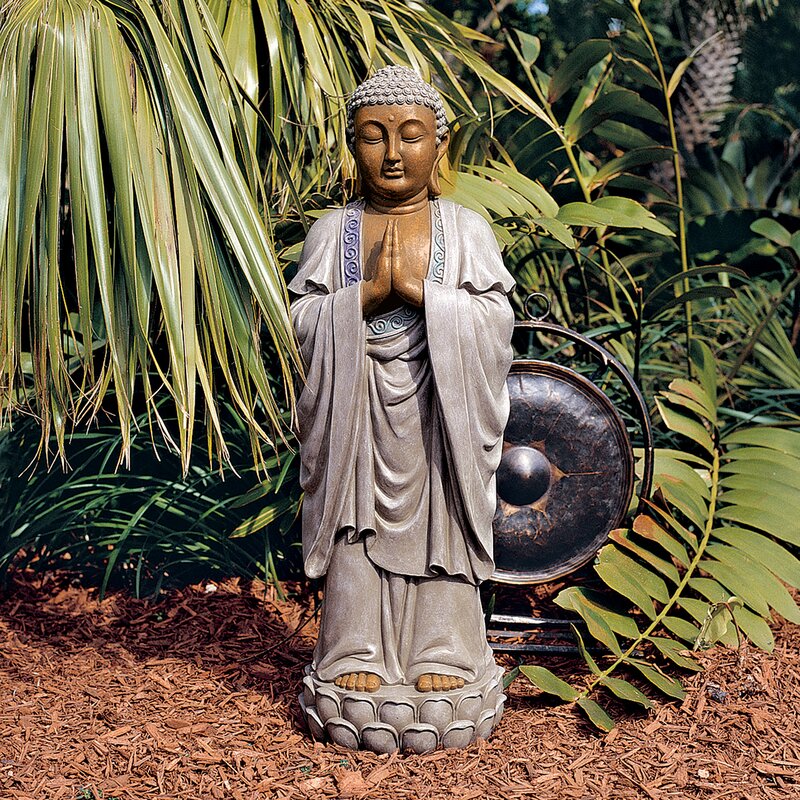 Standing in a calm composure on a stylized lotus, this Buddha statue evokes freshness with his peaceful countenance and infinite serenity. This beautiful piece of art can be placed in any space without disrupting the existing décor theme. It has muted hues of green, lavender, faux bronze and stone, which will accentuate all of its features. The sculpture has been cast in quality resin and meticulously hand-painted to lend it an exquisite aesthetic quality. It is suited for both indoor and outdoor displays as its subtle design can blend in any space. You can have it customized in any size or color to better fit your requirements and accommodate any modifications as per your available space and current design layout.
You can pre-order any of above statues according to your space dimension from Marblebee. We make and sell all types of Buddha statues at most competitive price range to fit all types of home and garden decor. We only use premium quality stones to craft our products so that they can last in your yard or home for generations. Feel free to send us your custom requirement.