(Check out: BESPOKE NATURAL STONE HAND-CARVED FOUNTAIN)
If you had to choose a single sculpture to adorn a beautiful outdoor landscape, many people would undoubtedly choose a fountain. They are essential and fundamental standbys in exterior design, and maybe even more importantly, there are almost endless different varieties and designs of fountains for any conceivable need.
Fountains can have tiers, elaborate carvings, or wide pools, and the range in size and style is truly massive. Best of all, we offer all of these varieties with limitless customization.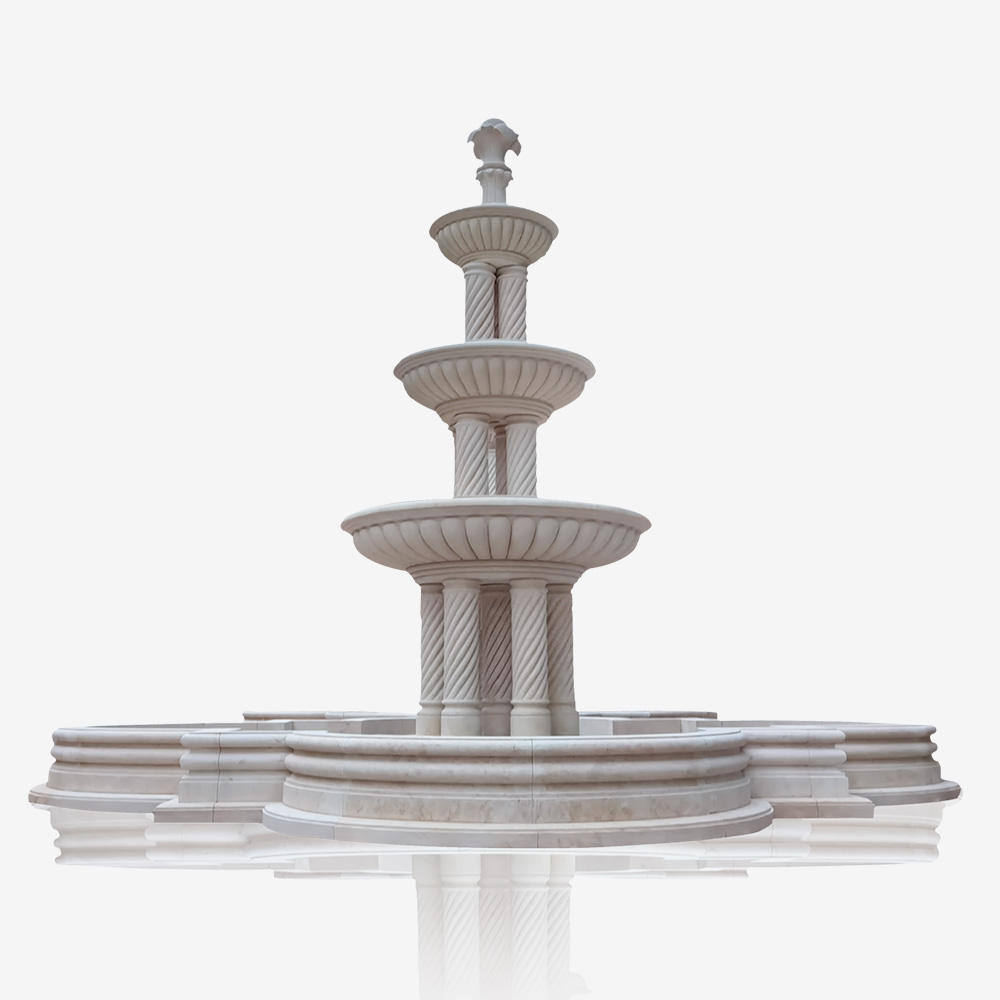 (Check out: Egyptian Beige Marble Spiral Fountain)
With mesmerizing swirling columns and clean, satisfying ridges and shapes, this Egyptian beige marble fountain towers high above like a giant stick of sweet white candy. With a broad pool base and a classical three-tier design, this fountain combines many popular outdoor fountain varieties.
Its repeating geometry and symmetry are pleasing to the eye even without water flowing out from it, but when the fountain is running, it is a truly stunning sight to behold.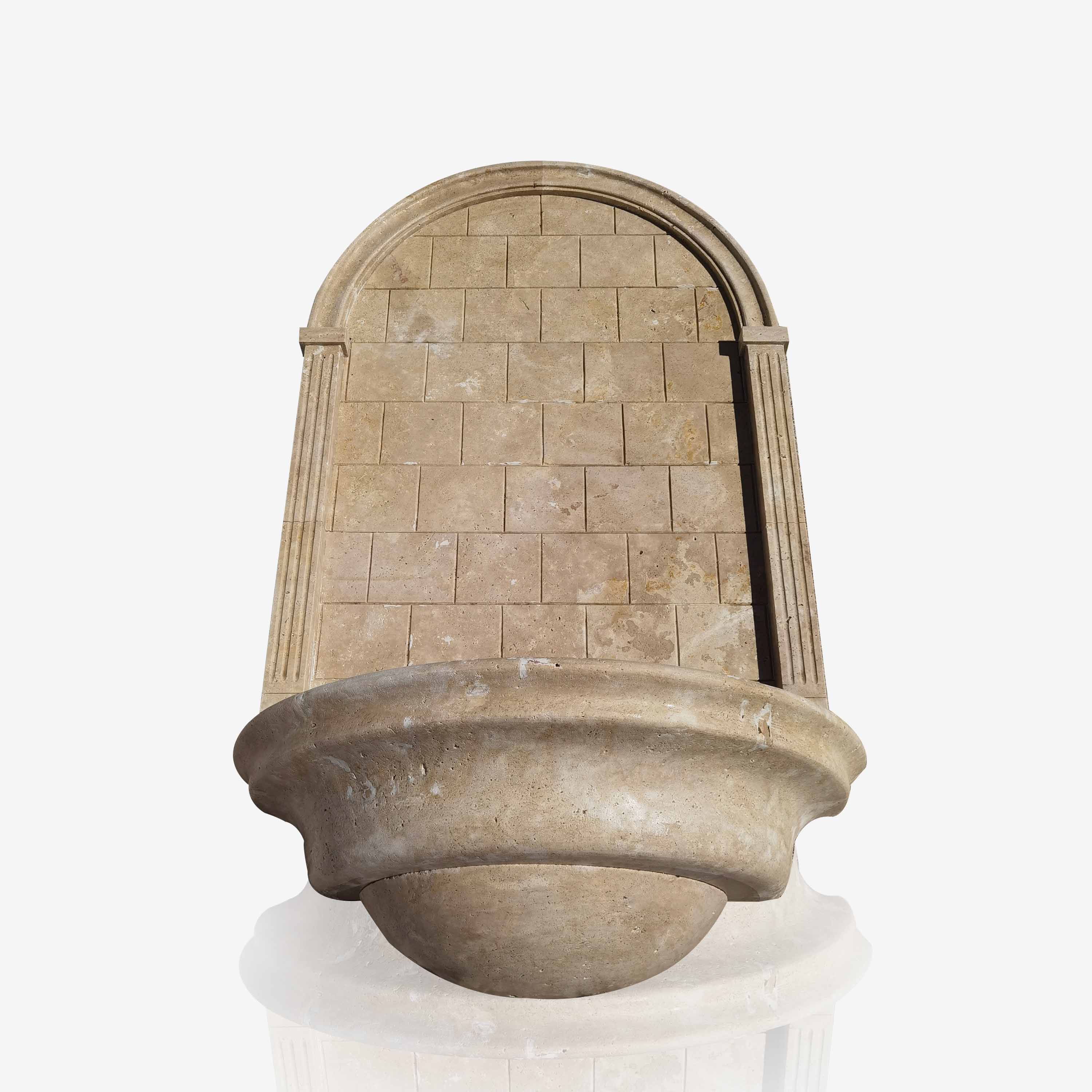 (Check out: Beige Travertine Wall Fountain with Basin)
Evoking ancient images of hallowed spaces, wall-mounted stone fountains such as this one seem so mystical perhaps because they are much more uncommon in modern exterior design than the standard freestanding variety.
But just as many questions remain when picking out this kind of fountain: do you want it to blend into the surrounding wall seamlessly, or do you want it to stand out, almost as if it were a window?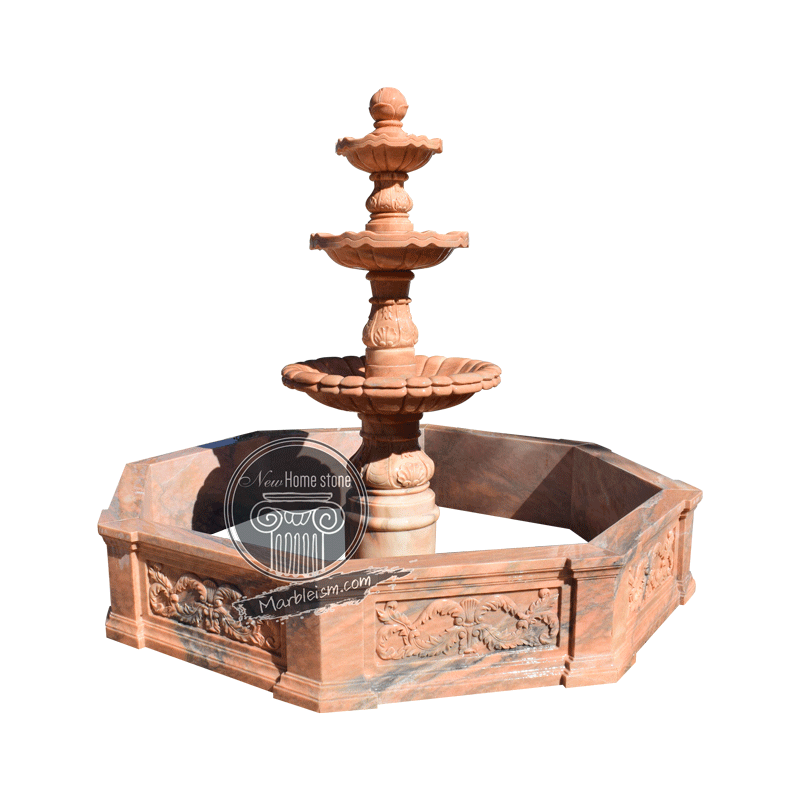 (Check out: Marble fountains design with octagon pool surround)
With a robust and sun-kissed ruddiness and swirling gray color veins, this three-tiered Marble fountain seems to bring with it a calm, sun-drenched warmth regardless of the weather in which it stands.
Beautiful reliefs etched evenly onto its polygonal base and precise floral patterns on the fountain's tiers prove the tireless hours spent crafting this work of art, and the shimmering color of water once the fountain begins running will only make it look all the more stunning.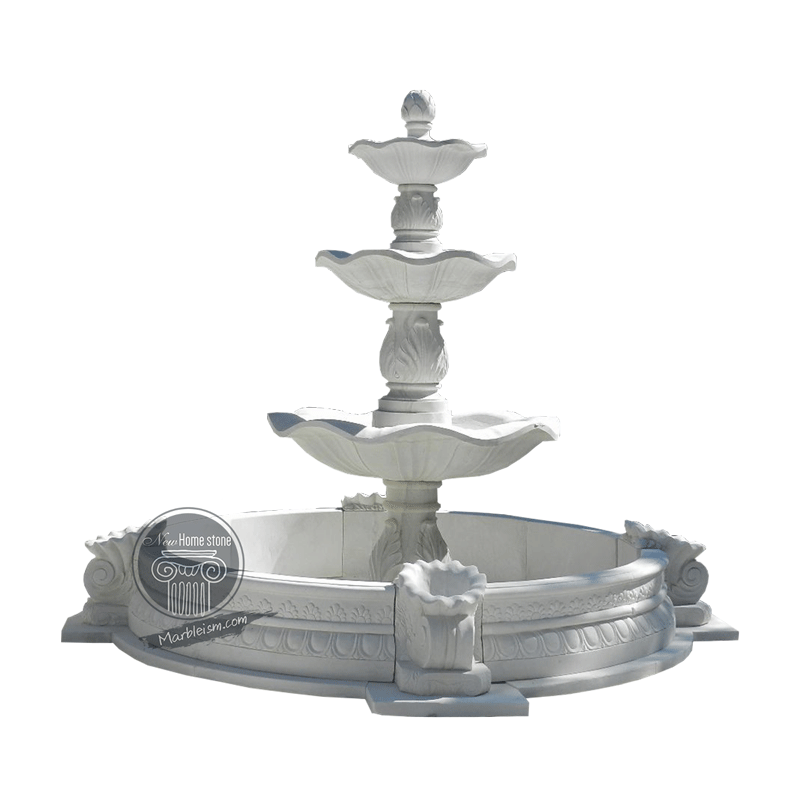 (Check out: 3 tier outdoor backyard water fountain)
Another multi tiered feat of craftsmanship, this white Marble fountain seems to flutter and flow with wavy ridges recalling undersea fauna: all the more appropriate when it begins to run with singing water. In fully operational grandeur, this creamy stone centerpiece looks like a relic recovered from the mythical underwater city of Atlantis, with plenty of floral themes and a gentle stone surface off of which natural light sources can play.
Like all sculptures, fountains can be used to tell stories. You may not think of storytelling when you think of fountain designs, even the most beautiful ones, but how often have you seen an ornate water feature with a heroic statue or tragic marble figure, and felt an emotional stirring?
These fountains combine their water features with grand depictions of epic figures, and the results are impossible to ignore.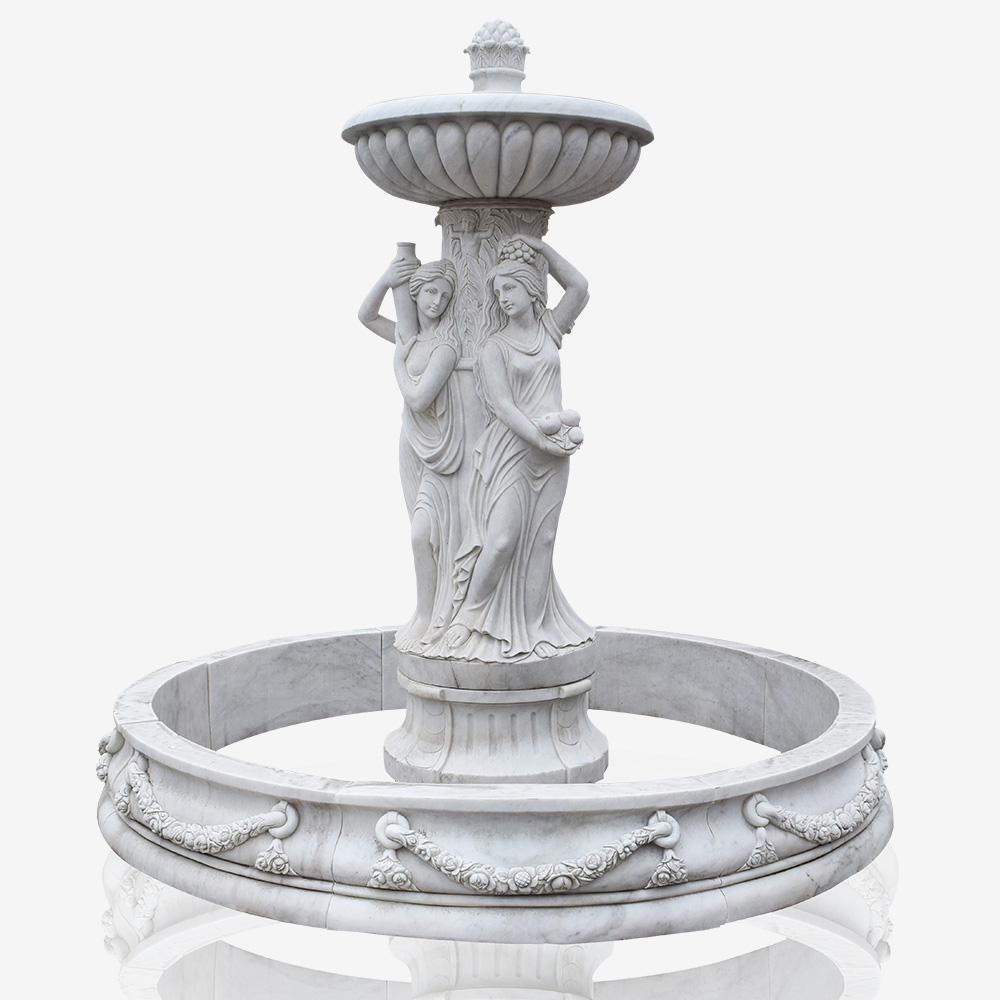 (Check out: White Marble Two Layer Fountain)
It may seem incredible to look at such an intricately fashioned sculpture as this white Marble fountain and call it "modest," but compared to the other examples on display here, that might be the best word for it.
Two intricately carved women hold vases and grapes aloft in the classical Romantic style, their swirling gowns spilling with precise folds and curves across their smooth white legs.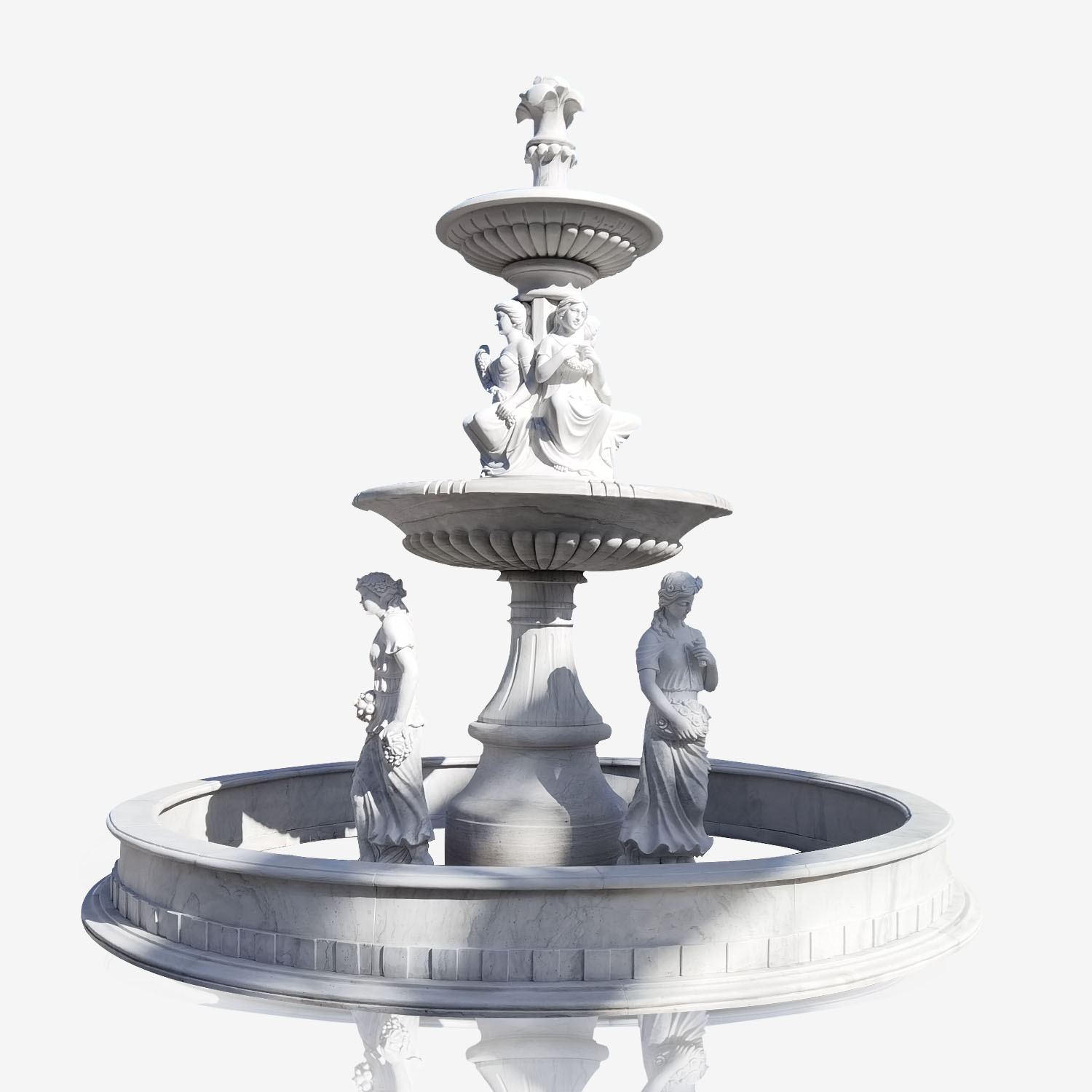 (Check out: White Marble Tiered Fountain)
More detail, more characters, and a wider scope bring this white Marble fountain rushing to life, and a careful composition of these features prevent the design from being crowded. A third tier gives the fountain something of a crown, and will veil the uppermost figures in a sheen of water when the fountain is running.
Although largely symmetric, the artist makes no attempt to carve these marble figures as identical: they are all completely customized and fully rendered as individuals.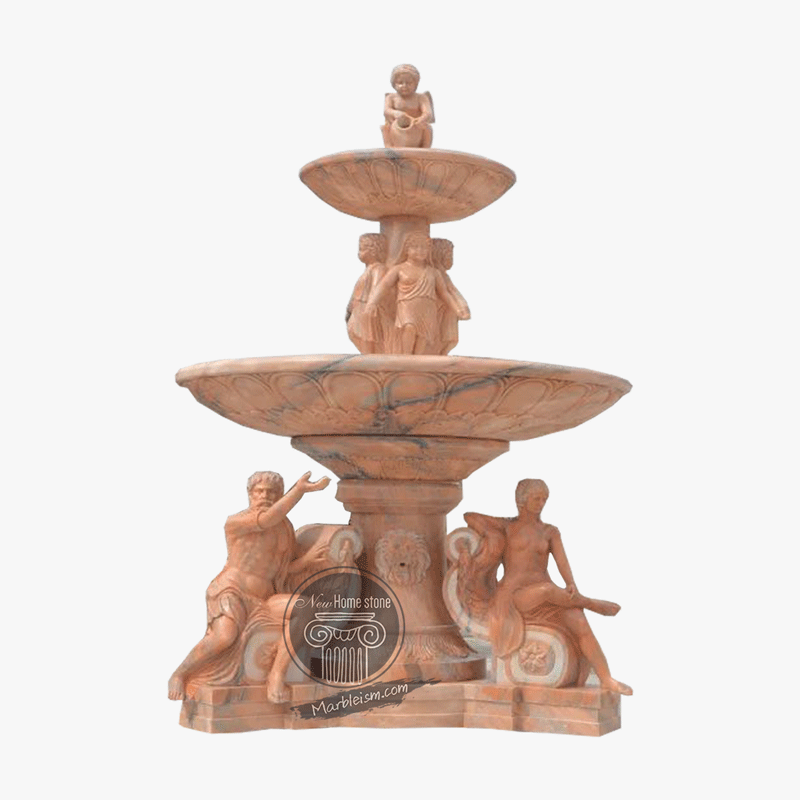 (Check out: White Marble 3 Tiered Fountain)
The grand finale of this trifecta of populated stone fountains is this masterpiece carved from whole sunset red marble. It stands tall and immense, with three full layers of characterized stone figures portraying a wide variety of personalities and archetypes.
These characters could be anyone, as could their relationships to one another—that is one of the beauties of all visual art, is its capturing a moment of time with little to no immediate context—but they seem to be a traditional family unit, with a powerful father and elegant mother anchoring the composition down below, and an assortment of cherubic children holding hands up above.
At the very top, the youngest of the children is given the most important job of all: harnessing the water of the fountain, which spills down to affect all the others below them.
But increasingly complex and ambitious designs are not the only way forward with fountain art, or any kind of art in general. In a sharp turn, let's look at a genre of stone fountain which goes the opposite direction, finding beauty and imagery by stripping away all but the most essential elements of this kind of structure: surround fountains.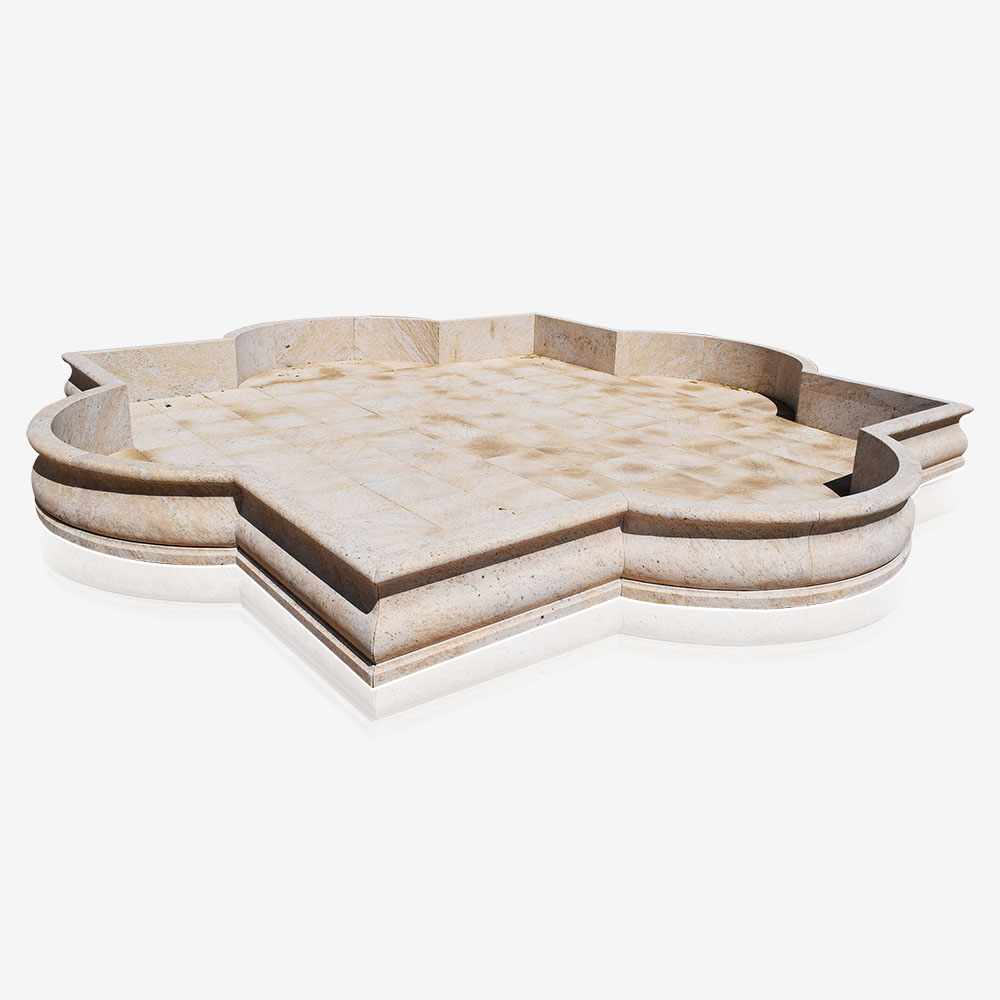 (Check out: Custom marble fountain pool surround)
With a gritty texture and a sandy color scheme, this expansive surround fountain is the perfect combination of complementary features: grainy stone being lapped up by clear water, and bright off-white colors baking in the sun next to the coolness of the running fountain.
Imagine casually sliding your fingers across the dense rolled-rim edges of this fountain as you pass it by, enjoying the burbling sound of water, maybe with a scattering of coins winking at you from down below.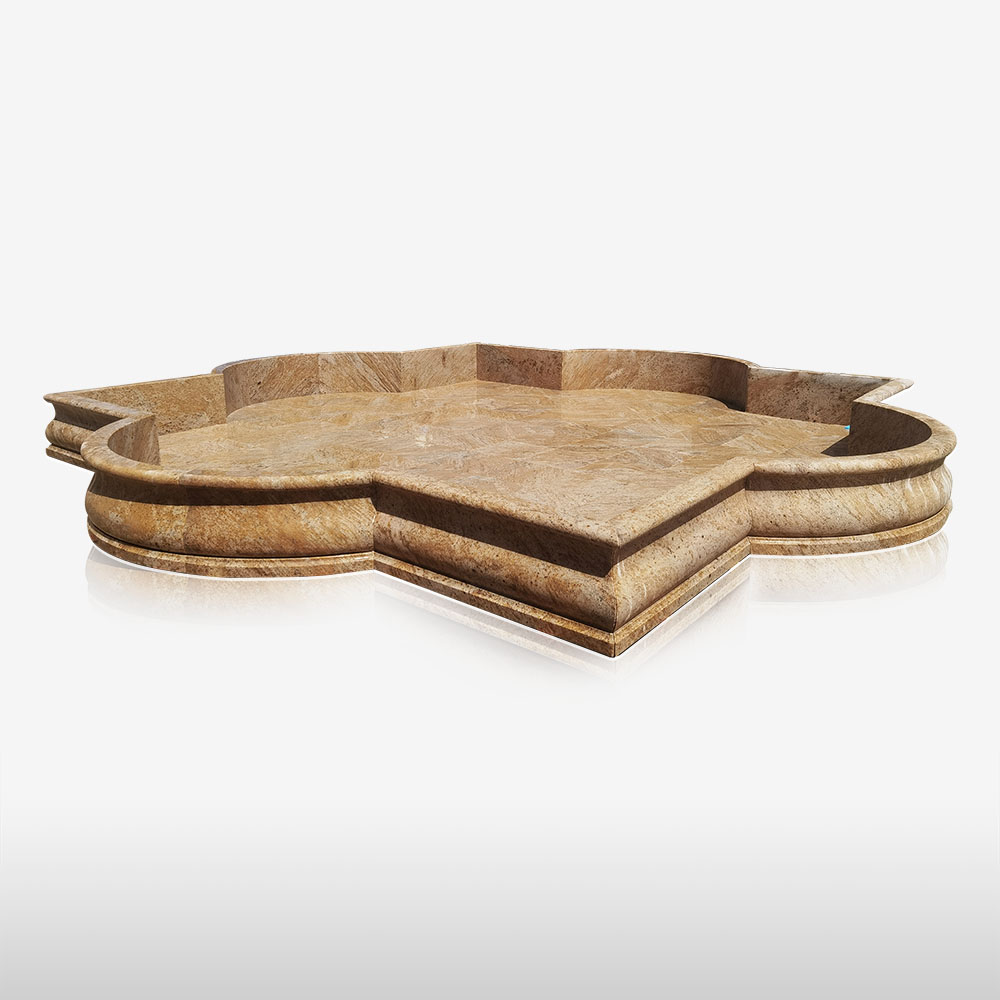 (Check out: Custom marble fountain pool surround)
Deeper, darker, and richer, this surround fountain takes on a ruddier, almost golden hue, but keeps all the other great qualities of this genre of fountain. Straight, hard edges glide into smooth rounded sides to create a mesmerizing perimeter structure, and the intense color of the marble stone seems to shine and glow just as much as the water itself does as it flows in the sunlight.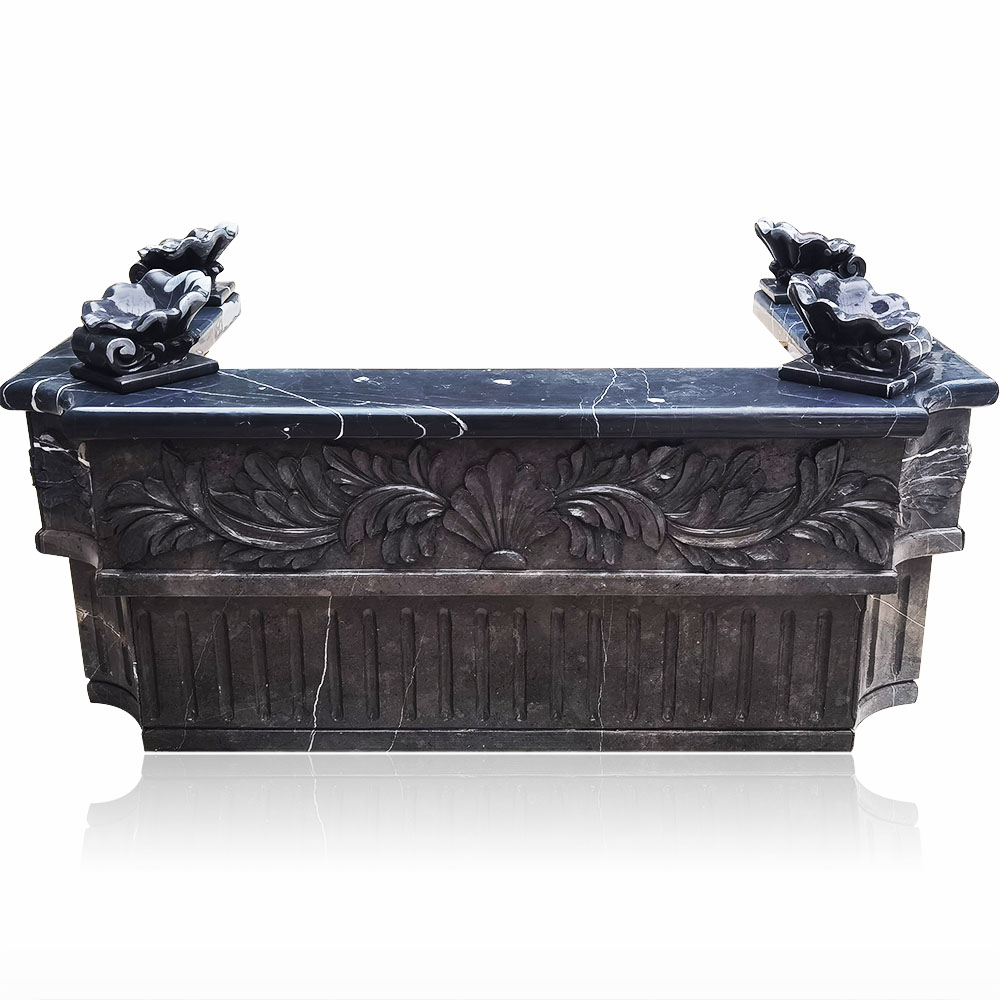 (Check out: Modern wall fountain pool surround)
Switching gears in a major way is this stunning wall fountain pool variant, definitely the most modern of the surround fountain designs. Not only does its heavy black marble gleam brighter than any other kind of stone, but in addition to being a surround fountain, this regal, relief-studded opus is also a wall fountain, with three sides set into another structure.
Imagine this fountain attached to the side of your house or property like a sideways crown, perhaps matched on the other side by a similar structure, turning the building itself into one massive fountain of artistic expression and personality!
With outdoor stone fountains , the only limit is imagination, especially thanks to our fully applicable customization options and wide range of products. Tell a story, decorate a space, or simply enjoy nature's elements harnessed with care, passion, and intelligence by some of the most talented artists in the world with these outdoor Marble fountains.