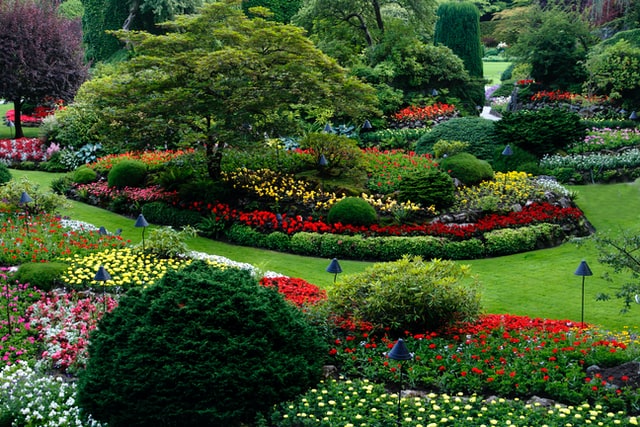 Garden landscaping is as much important as your interior design layout. In winters, it becomes a place where you can sit and soak up all the sunlight you can and in summers, it is where you lounge and enjoy al-fresco dinners. As it is a crucial part of your home, you will need a solid decorating plan for your garden landscape. Regardless of your current design style, there are a number of projects and gardening ideas that can help you transform your garden landscape into a brilliant and comfortable space for you to enjoy in any season.
However, the one important aspect that you should keep in mind before getting to this fun but the ginormous task is that garden landscaping must speak to you and complement your overall design. But before you begin the task, consider the space, your garden's location, and outlook. Studying these aspects will help you understand the requirements of your garden - where and what you want to use in your garden.
You can add various ornaments to increase the aesthetic appeal of your garden, including garden furniture, pavements, lighting, plants, hedges, statues, decks and much more. With a plethora of garden landscaping ideas out there, it is quite easy to get overwhelmed as to which ones will fit your budget and make your space look soothing.
These ideas are the key to creating a layout that you will love for many years to come. Whether you are seeking garden landscaping ideas to enhance your outdoor space or more tailored garden design inspirations such as garden ornaments, we have listed some of the most beautiful garden ideas to help you transform your outdoor oasis, regardless of its size.
Front Door Stone Lion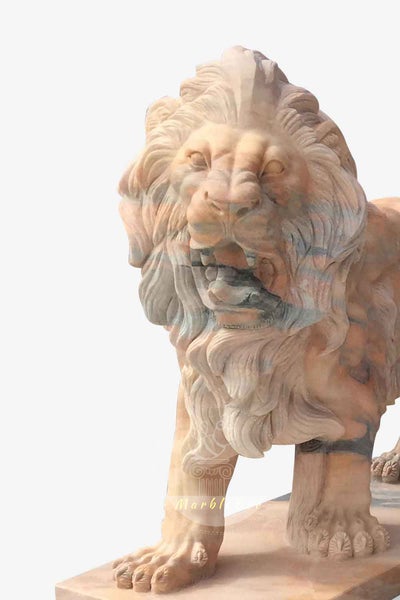 (Check out: Lifesized Lion Sculpture Natural Red Stone)
The front door stone lion sculptures are hand-carved out of natural stone, giving them an exquisite quality. There is a vast variety of natural stones that can offer a construction material for these beautiful lion statues. In many cultures, a lion statue stands for power, safety and luck. By placing a lion sculpture by the front door, you will be evoking a spirit of charm and good luck. Symmetrically placed in front of buildings, lion statues can add a royal vibe to any space. Besides, the manually-carved surfaces add a distinct beauty with an amazing texture to these embellishing accents. They can also be placed anywhere in your garden – by the pavement, middle of the fountain or the stairs. It will bring a sense of authority and power to your garden layout. If you are looking for stone lion statues, marble and granite are the best materials for outdoor usages and will grace your garden for ages.
Bronze Horse Statue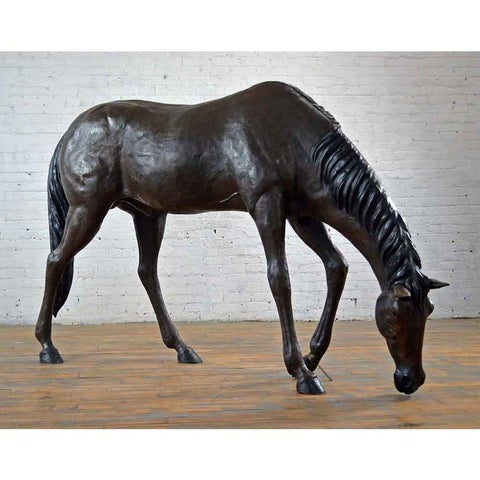 The horse is one of the most stunning animals. Gentle, fast and majestic, statues of these elegant creatures make for a brilliant addition to your garden layout. Take this drinking horse statue for instance – it will make an amazing inclusion to any horse lover's garden design. This bronze horse statue can be placed by the fountain or the pond or just on the plain grass to indicate as if it is drinking or grazing. Symbolizing grace, strength and beauty, this sculpture is created using the traditional lost-wax casting method to ensure the highest level of detail and quality. It featured a lustrous Bronze Patina that highlights every small detail in it. The statue can be custom-made to fit any requirements you may have as per your existing space and current design layout. Do remember to bring the statue indoors in extreme weather conditions or it could start to corrode.
Wall Mounted Lion Head Statue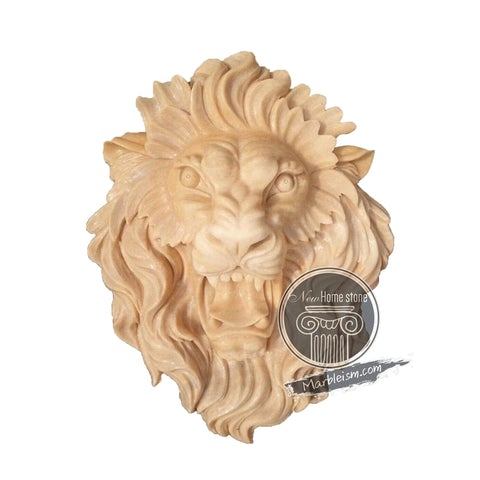 (Check out: Light pink marble roaring lion head carving)
A lion is a beautiful, majestic and regal animal that evokes a sense of power, courage and strength. A wall-mounted lion head statue can invite a vibe of authority and royalty to any space it is placed in. Install this gorgeous marble piece that can be used as a wall-mounted faucet in your garden or backyard. Aside from being a marvelous addition to your outdoor space, it can also grace our living room wall. This particular roaring lion headpiece has been carved out of pink marble and could lend you space a sense of being in nature and a regal vibe. It can increase the design quotient of your outdoor landscape and beautiful space. You can also place it inside your home such as in the foyer, living room and bedroom, which will not only raise the design quotient but also make it a conversational piece.
Marble Balustrade for Garden Landscape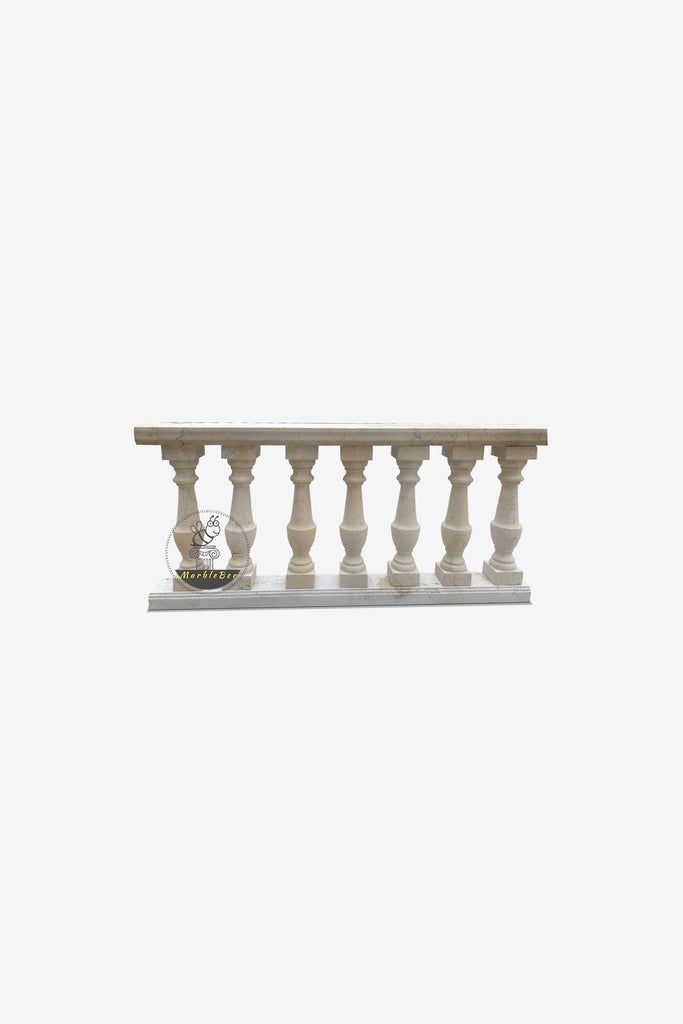 (Check out: Limestone Balustrade)
A marble balustrade can add a distinct allure to your garden landscape that will have you spending every leisure minute spending in this haven. Marble balustrades are the columns that hold up a stone railing or stone banister along the edge of a balcony or stairwell. This feature can be both as simple as the above pictured one or as an elaborate art piece. You can use it anywhere in your garden, with a strategic and creative application. It will include a classic architectural quality to your outdoor oasis. The hand-carved natural marble balustrades will be set in front of your backyard or balcony to embellish the space. With a wide variety of materials and designs, it is a brilliant piece to be included in your garden landscape, which will make it an amazing supporting element during the slippery weather.
Garden Stone Bench Ornament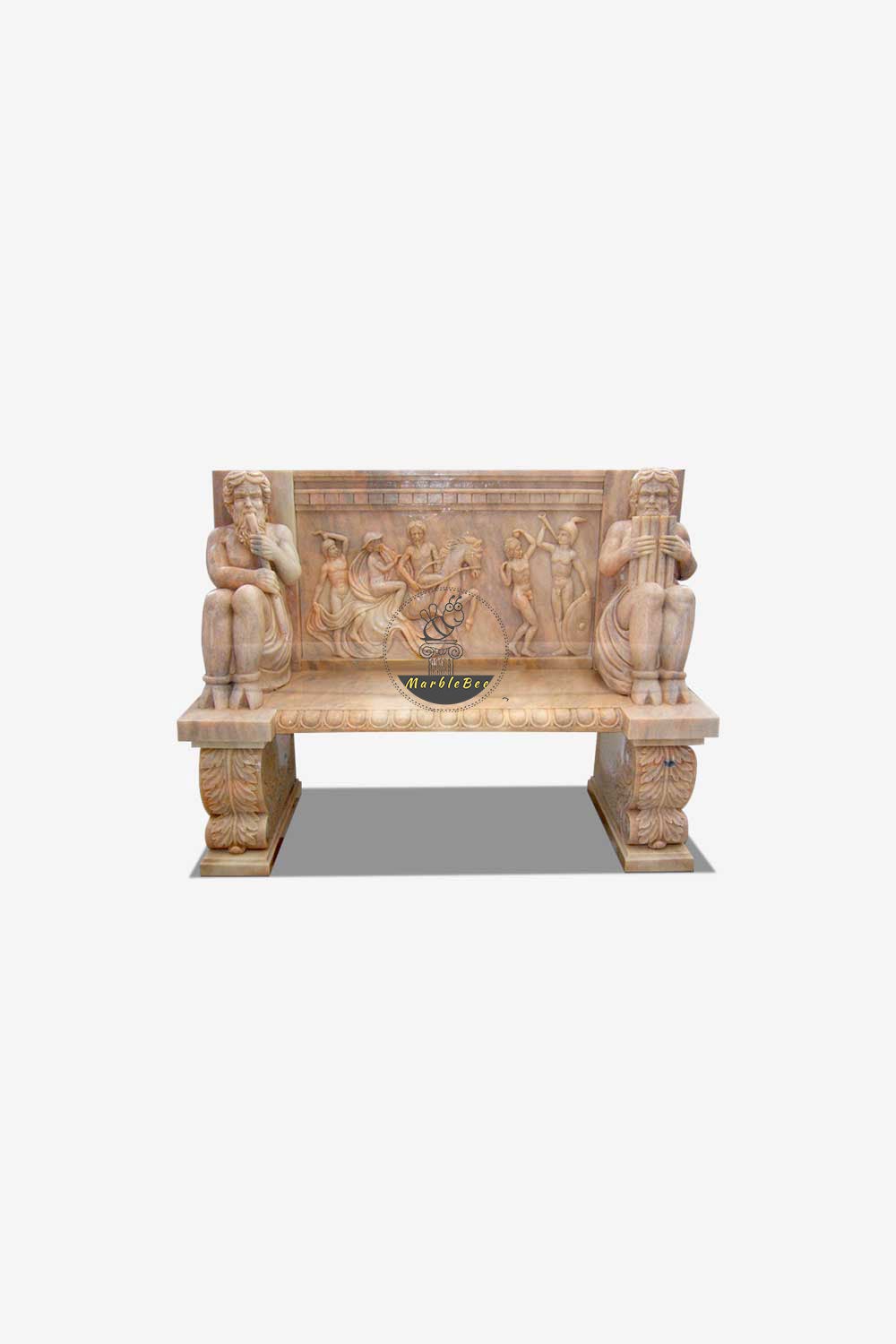 (Check out: Sunset Red Stone Bench for Backyard)
Gardens can be a natural oasis in a place otherwise overrun by plastic and metal, and they can be visually pleasing works of art. But they also need functionality to offer you a space to rest and rejuvenate amidst natural beauty. A beautiful hand-carved marble garden bench is always a great idea to include in your garden. This particular marble piece has a wonderfully detailed mosaic in between its two featured sitting musicians, dancers and horseback riders. The artwork beautifully details the flow of drapery and the horse caught in mid-gallop. The marble bench has a seat and the back to offer comfortable seating in the outdoor space. Besides, these marble benches will add a sparkle to your garden layout while becoming a lounging space for you in summers and winters alike.
Small Marble Garden Fountain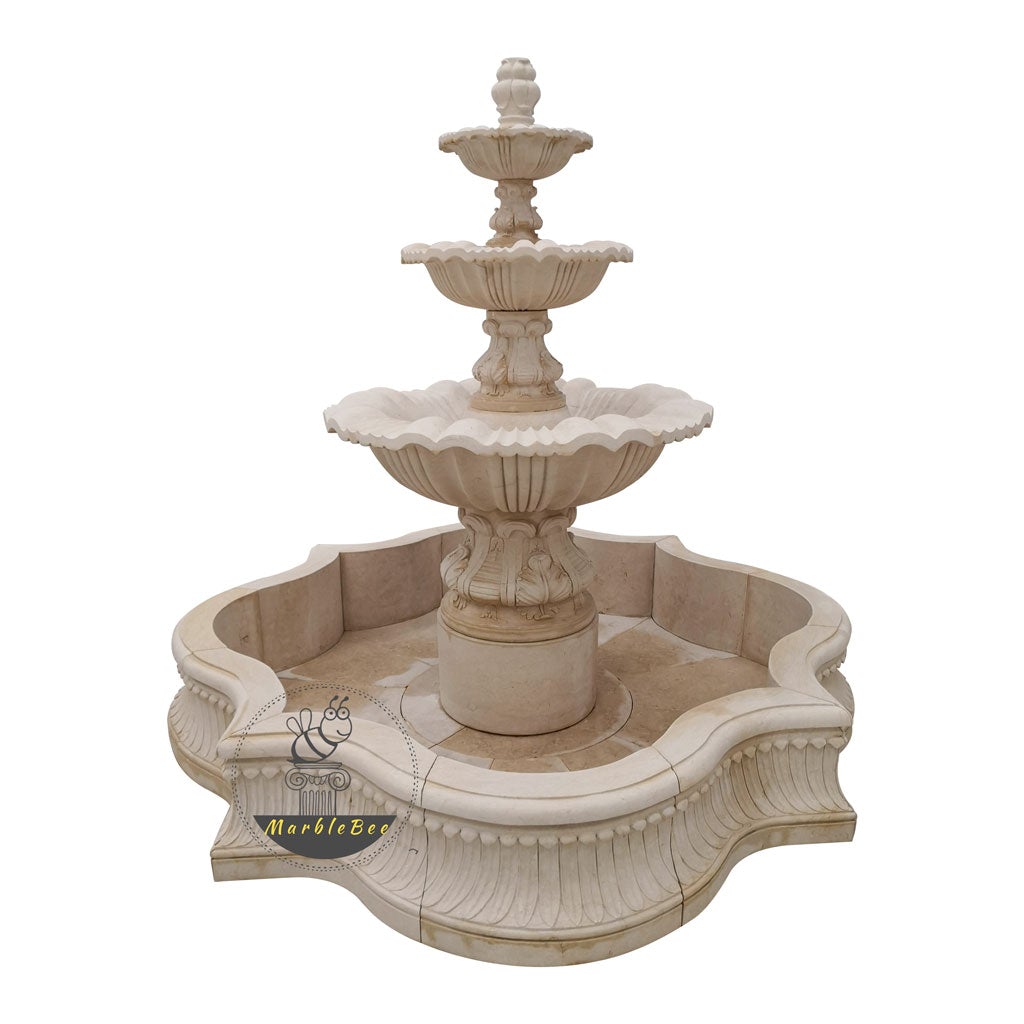 (Check out: Beige 3-tiered garden fountain)
Garden marble fountains can become an instant art piece in your space. Water fountains have been a symbol of human prosperity for ages. Marble fountains are awe-inspiring that rank amongst the most amazing feats of engineering. Regardless of the size requirement, you can install these stunning features in the middle of your garden landscape to create a regal aesthetic that everyone will be drawn to. The gentle babbling sound of the water in the garden will make you want to spend more time there, while you enjoy the passing seasons amidst the company of nature. A tiered marble fountain will not only offer an aesthetic element to your outdoor landscape but will also increase the value of your overall property. You can have it customized as per your design requirements and current layout.
Marble Statue of Greek God Hercules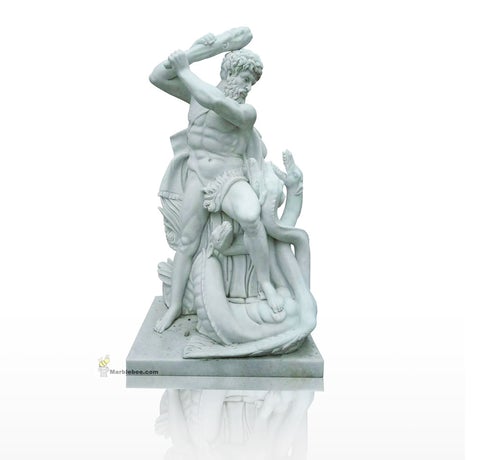 (Check out: Statue of Hercules-Life size marble statue)
A garden filled with classical architecture is one thing but incorporating a variety of famous characters and ancient mythical figures in the space is a whole other thing. Romans and Greeks knew how to use marble materials to transform a simple space into a royal one and their architecture gives solid proof of that. For example, this marble statue of Greek god Hercules fighting the terrifying monster Hydra, who had multiplying heads, is truly marvelous. This marble statue is replicated from the ancient legend, where marble gods and monsters battle in a scene that will make your garden landscape rich and quaint. It features a perfect resemblance to the statue of Hercules. Display this Greek scene with the God and monster battling each other in your outdoor space and add a little ancient spark to it.
Marble Wall Fountain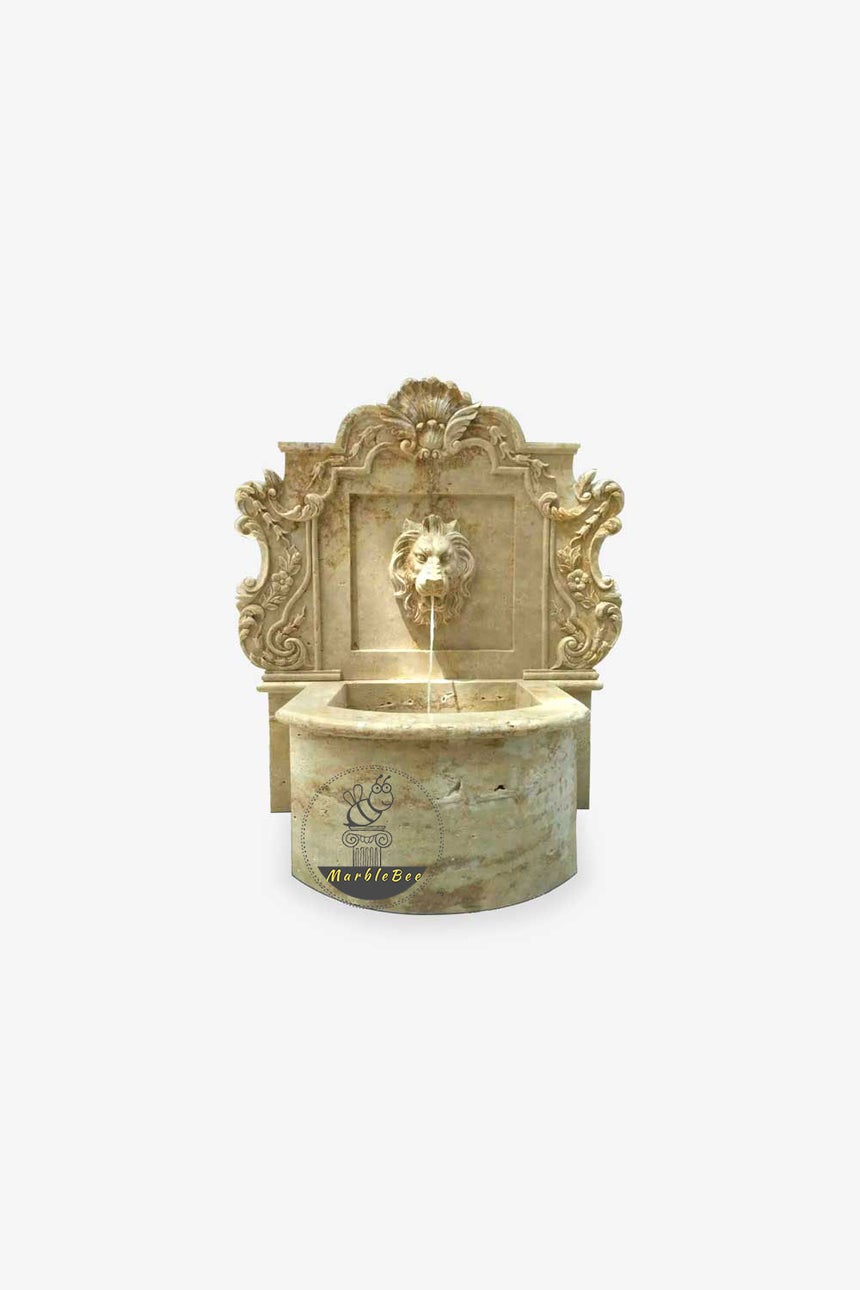 (Check out: Backyard Stone Wall Fountain with Lion head and pool)
Wall fountain is a perfect ornament for your backyard and garden landscape. Among all the marble wall fountains out there, the lion head wall fountain is the most popular. Lions are a symbol of power, strength and leadership and they do evoke a vibe of authority. A hand-carved lion marble wall fountain can be a great addition to your garden as it will be a timeless aesthetic element that will grace the space for ages while adding to the value of your overall property. The lion's head pours out the water into a tub underneath it, making this fountain a brilliant element. The babbling water sounds of this wall fountain, coupled with other natural offerings, will become an oasis for you to sit and relax in. You will be inclined to spend most of your time around this astounding water feature.
Marble Pedestal for Garden Landscaping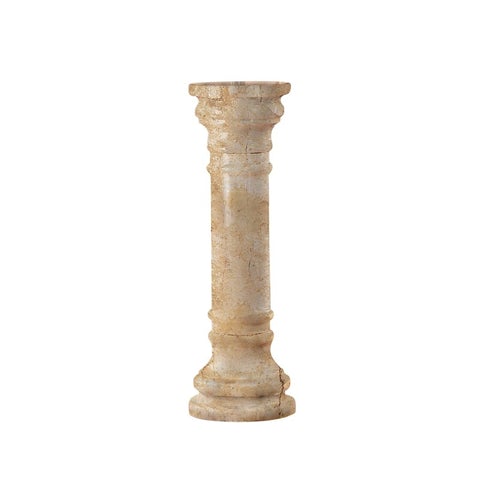 Garden landscape can be a great way to have some fun with the designing and creativity part. You can add various aesthetic elements to your outdoor space. Natural stone can enhance its beauty of it and add elegance and grace. Take this marble pedestal for instance. It can be used to raise a planter, bust, sundial or a statue above the ground level to be displayed in an entirely new light. Regardless of the height, this pedestal has a stunningly great capacity to bring the preferred beauty to life and a sense of power to your space. Marble pedestals can be customized in various designs and materials, depending on your taste to suit any modifications you may require as per your current layout and available space. You can place a marble pedestal around a pavement in your garden, with a flower vase on top of it.
Garden Marble Column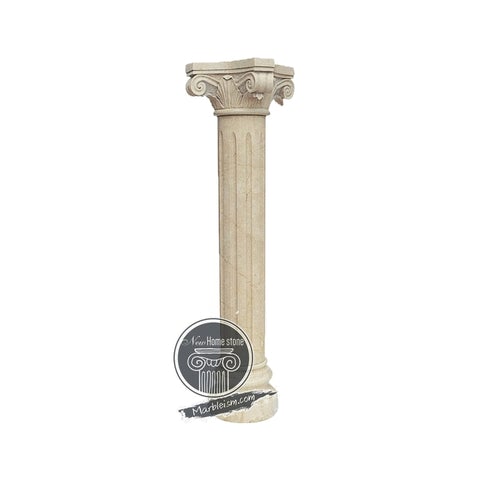 Columns are essential architectural elements for any space, they may or may not be used to provide structural support in the outdoor space. This beautiful garden marble column carved on ancient Greek marble can perfectly increase the design quotient by introducing graceful elements to your garden. It features pure elegance and will become a focal point of your backyard oasis. It has delicately engraved Greek-style carving details that make it a brilliant art piece, making it stand out from the rest of the décor in your space. This marble column is adorned with scroll leaf and a hand-sculpted Corinthian-style pedestal and base. The shaft of the column has straight vertical patterns on it, beautifying the entire piece. You can place the garden marble column at the garden entrance as a gateway to give it a royal feel and create a brilliant vibe for anyone entering through it.
Garden Stone Lamp Post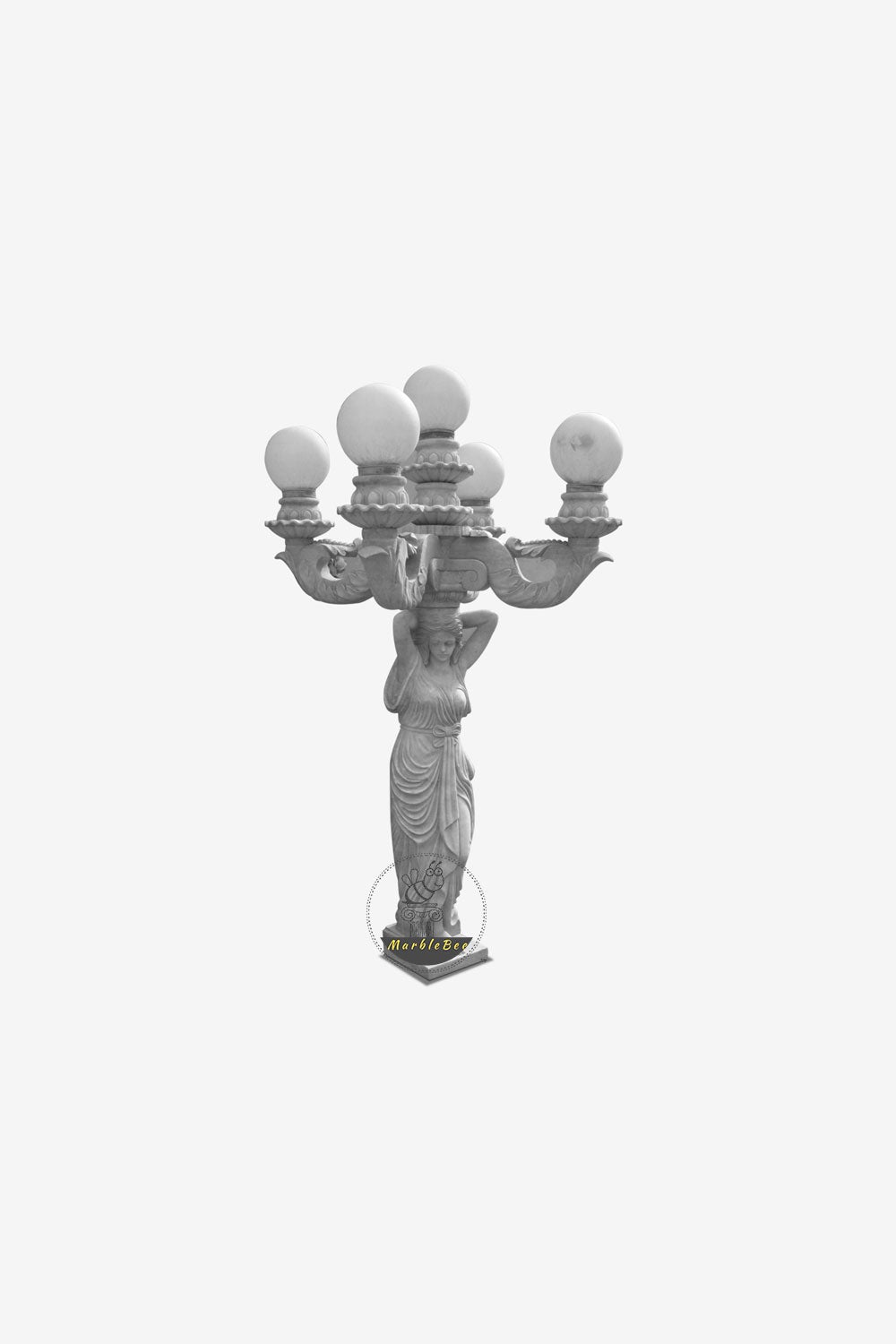 (Check out: Granite Light Post with Girl Statues)
This marble lamp post with carved elements can be a brilliant addition to your garden space, making the evening walks in the garden a delight. These things are ideal for a large garden, property or estate, with walkable paths. This classically styled stone lamp post can look eerie, intriguing and otherworldly. Hand-carved in natural marble, this extensive stone lamp post is versatile. It features a whole white figure of a lady who supports a beautiful group of lamps on her head. It can be customized as per your requirements and size preferences. It introduces a brilliantly exquisite element to your garden space and will bring a unique aesthetic to your space. Place a pair of these lamp posts around the pathway in your garden to light the way as you take a leisurely stroll on a summer evening, introducing a brilliant allure.
Custom Garden Stone Planter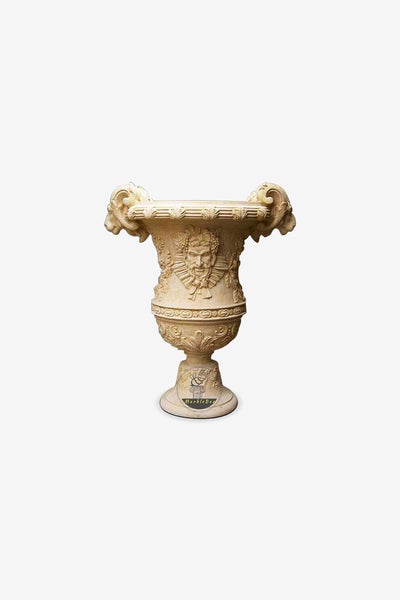 Take a gander at this custom garden stone planter. This beautiful marble planter features a delicacy to its stonemasonry and craftsmanship that makes it a brilliant addition to your outdoor space. It is functional and decorative as well. It has a ram's heads perched across from each other on the pot's rim. The stone planter has been intricately carved throughout its body to offer a beautiful regal quality to the accent. This design is stunning and versatile in its placement and purpose. It is a contemporary design that will grace your garden space for ages to come while offering pretty blooms for you. You can install this stone planter over a column or standalone. You can have it custom-made in any size and shape as per your current layout and available space to better fit in your garden and grace it for years to come.
Elephant Stone Sculptures for Garden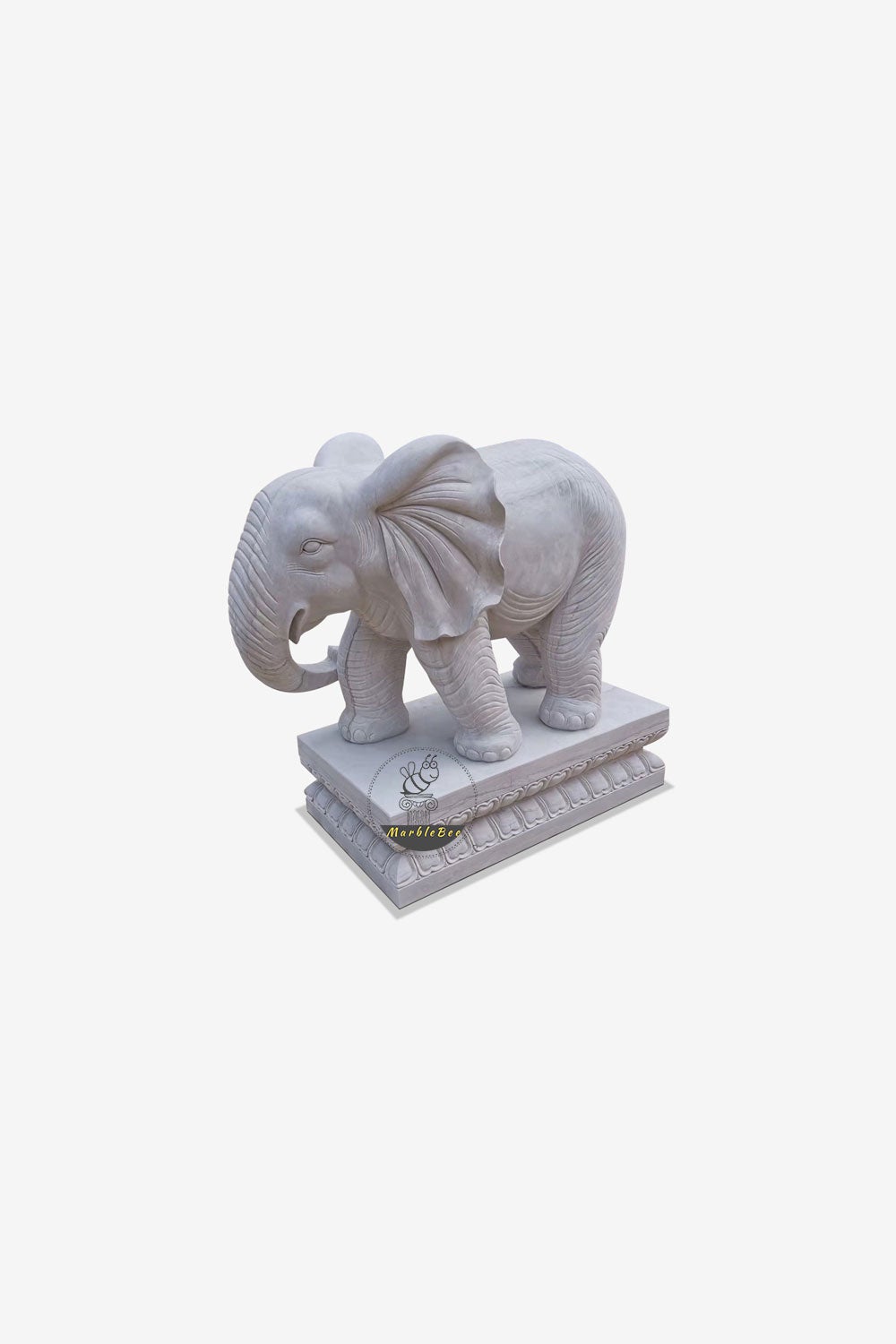 (Check out: Garden Elephant Statue)
Elephants are one of the most stunning creatures in the animal kingdom. They evoke a sense of power, bravery, calm and strength. This white marble elephant is a playful and cute addition to your garden landscape. The statue feature round and stubby proportions, and wide, curious eyes that make it a wonderful element to be included outdoors. The hand-carved baby elephant statue from natural marble material is carefully carved to lend it a beautiful quality. Featuring wrinkles on the legs, contrasted with the smooth skin of the body, the baby elephant's face is brimming brightly with emotion with a look of fascination with the world around him. Add this marble elephant statue to your garden and it will bring the same fascination to it. You can have this statue customized in any size depending on your requirements.
Life-Sized Marble Dog Statue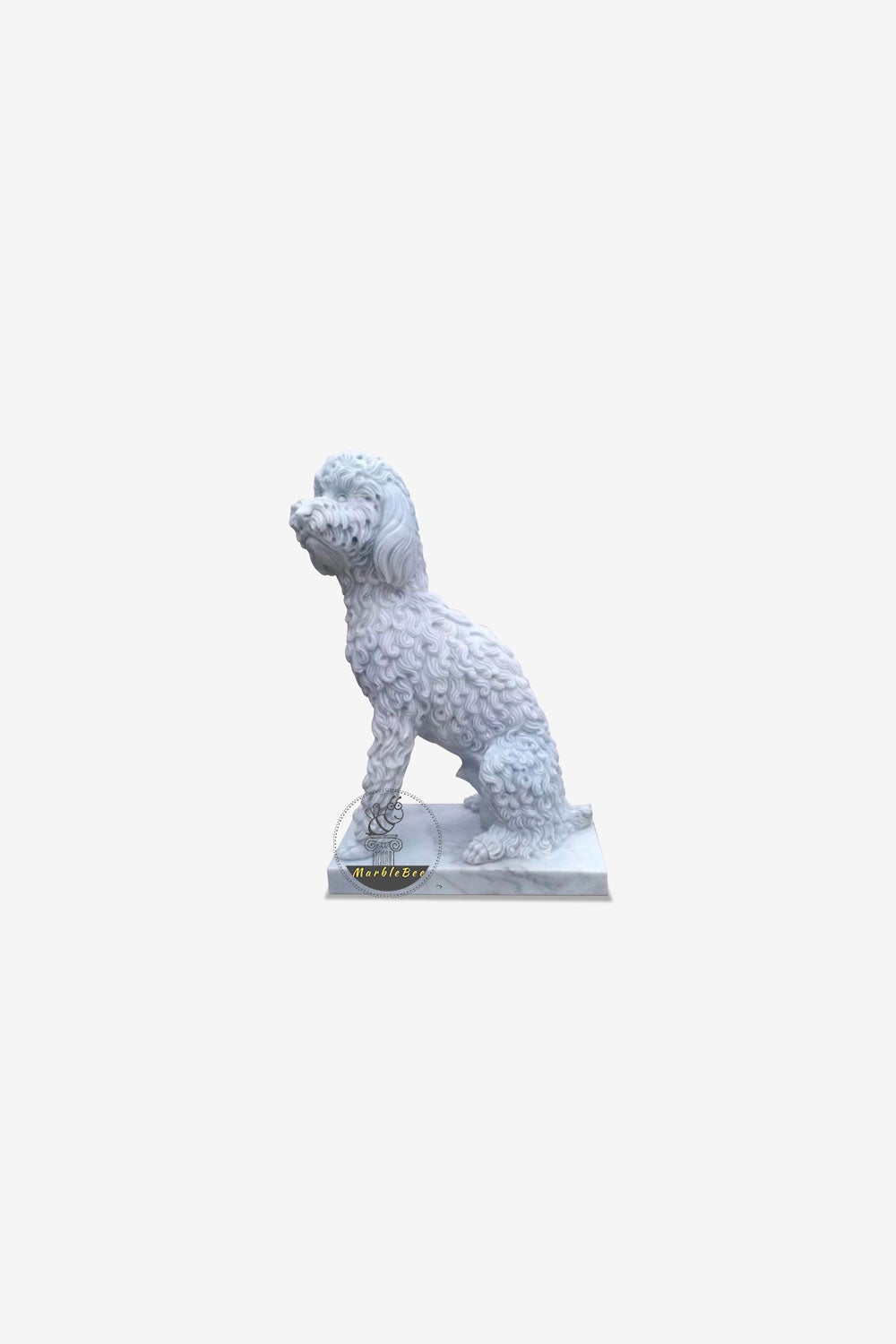 (Check out: Dogs sculpture Natural stone Life-size statue)
Dogs are amazing and probably the closest of friends. They can always evoke feelings of fun, joy and love in one. This life-size marble dog statue features a thick curly coat of fur and relatively small stature. The poodle statue is an amazing addition to any dog lover's garden landscape. The pose and stance of the dog give it a well-trained and poised sense of focus. The detail on its fur is beautifully precise, with each swirling hair hand-carved from the natural stone, giving it a very life-like feeling. You can place this pretty little fellow anywhere in your outdoor oasis. It will add to the element, whether you are creating statuary in your garden or just installing a couple of animals to bring nature closer to home. You can have this cute poodle in any size and color as per your current design layout and available space to place it in.
Life-Size Horse Statue
Hand-crafted from solid marble blocks, this beautiful life-size horse statue is an amazing art piece to be included in your outdoor space. The galloping marble horse statue is carved from natural white marble and has been captured in a running motion. It is a brilliant inclusion to any horse lover's garden to elevate the design layout. The horse is a symbol of passion, freedom, power, endurance and beauty. Coming with a matching pedestal, this horse sculpture is suitable for both indoor and outdoor displays. It features a shiny, smooth body and is a perfect fit for a contemporary garden design. You can have this life-size horse statue made to order in any size to better fit your current layout and available space.
Custom Stone Ball Finials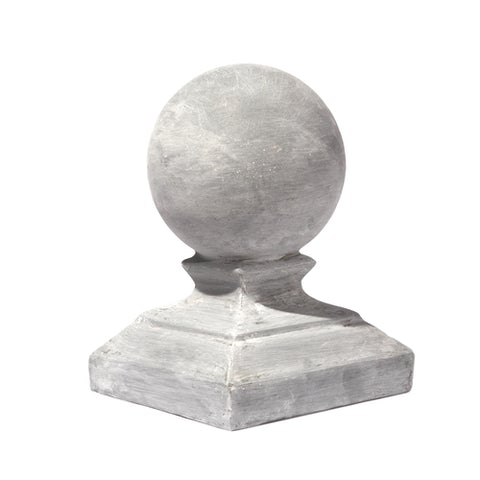 A well-kept garden with flowers, vines and sculptural art pieces is a marvelous space to sit and relax in. Stone ball finials are more than just a decorative feature and serve a purpose in your garden. You can place them at the end of a tree line or along the pathway. Stone garden finials create a focus and become the central point of your outdoor oasis. They will lend an architectural sense to your space with some height and scale to the decor with a timeless appeal. It can be made from various materials and into different shapes and sizes. It can either be hand-crafted out of scratch or made using a machine to carve a perfect shape and design. This stone ball finial has a stone sphere on the top with a square pedestal. You can have it custom-made to better fit your garden space and elevate the design elegantly.
Natural Stone Porticos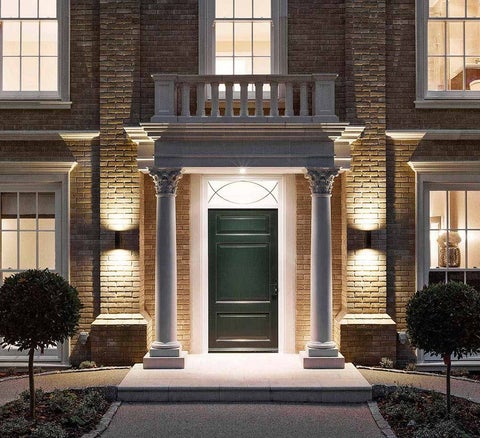 Natural stone porticos can increase the appeal of any place. With different hues, types of stones and designs out there, it is easy to find it difficult which portico will suit your space. Well, take a look at this beautiful natural stone portico with a balcony that can elevate the design of your outdoor space in style. This marble stone portico with a balcony overhead will right away incorporate elegance and superiority to the frontage of your property. The alpha stone-carved plinths of the piece come with a smooth clean surface, which considerably adds to the curb appeal and increase the value of any house design. Since the design allows you to have a small balcony, you can use that for gardening to amplify your property a bit more or have your evening tea while enjoying a beautiful sunset, if the location permits. The detailed carving at the top of the plinths makes the portico more visually outstanding and graceful. This design is sure to add value and panache to your design layout.
If you're looking for ideas to deck up your garden with stone ornaments, go no where else as Marblebee has a wide variety of stone decoration items for every sized property. We make products on your request according to your custom requirements to turn your property into a royal deal. Feel free to drop us a message.