Nothing can beat the warmth and luxurious ambiance of a crackling marble fireplace, designed in a way to become a focal point of a room. A marble fireplace carved with ethnic carving details by expert craftsmen adds a unique and irreplaceable atmosphere to any room. The strength, elegance, beauty, and timeliness of classic hand-worked marble fireplaces can not be compared to contemporary electric fireplaces. Marble fireplaces are far superior to them and many other modern-day heating appliances in terms of appearance, lavishness durability, and quality. The main advantage is that they provide warmth and coziness even when electricity is out as they utilize easily available firewood as fuel. If you are looking for ways to make your room winter-ready, unique, and beauteous with a classic hand-carved marble fireplace, check out the list below. We have got you the best ones.
1. Nero Marquina Black Marble Fireplace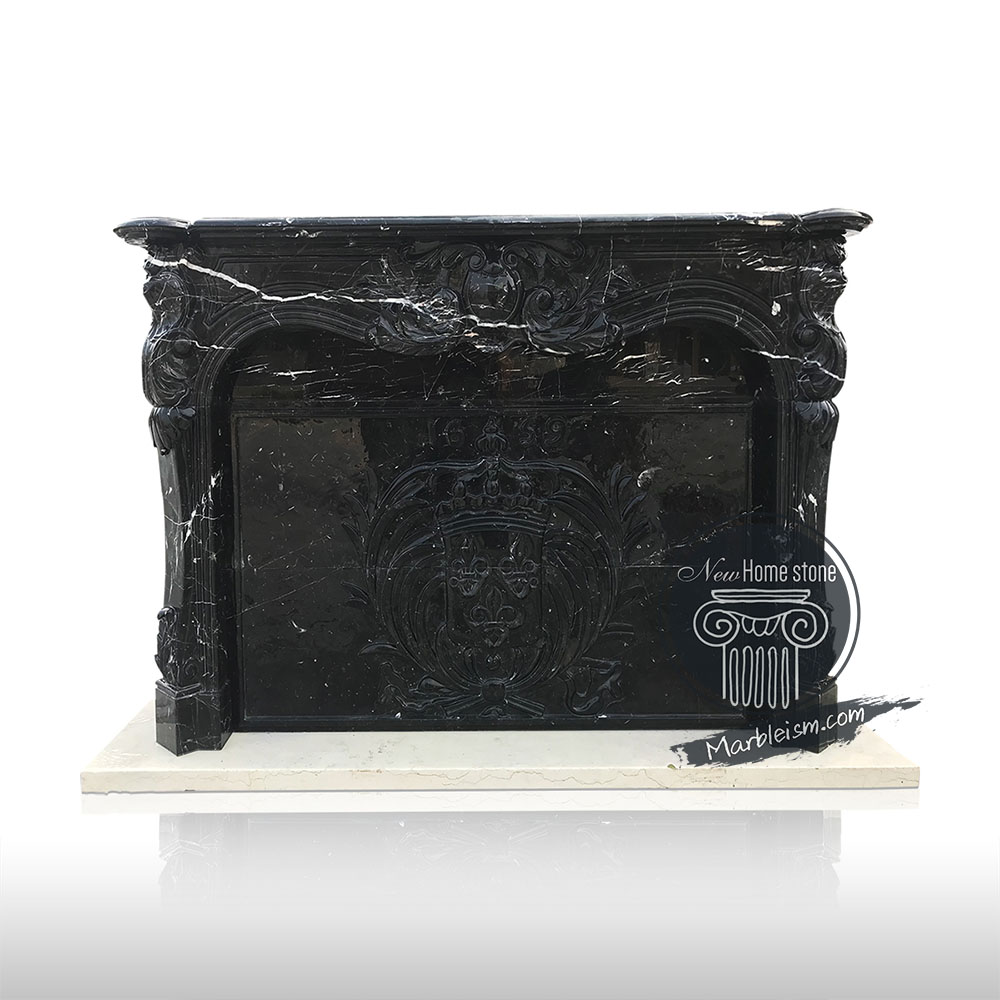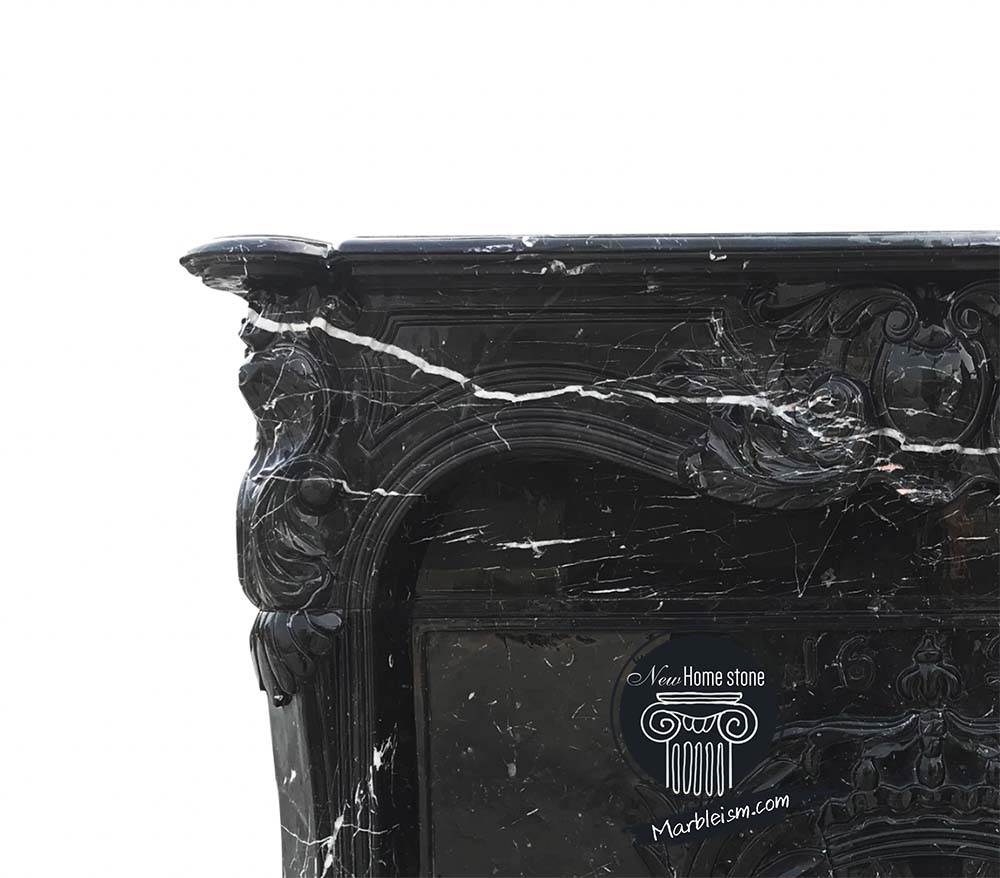 (Check out: Nero Marquina Marble Fireplace Surround)
Stone fireplaces not only add a natural look but also provide enhanced durability. Marble, in particular, has good heat tolerance. This Nero Marquina Marble fireplace can be the centre of attraction in your house with its intense black colour and twisting white veins. It is the epitome of a cosy ambience and class. The black marble fireplace has engravings and designs belonging to classical architecture. The look and feel of this fireplace will go great with a classic or minimalist style house.This Nero Marquina fireplace also comes with an in-built lid to cover up the fireplace when not in use.
2. Beijing White Marble Fireplace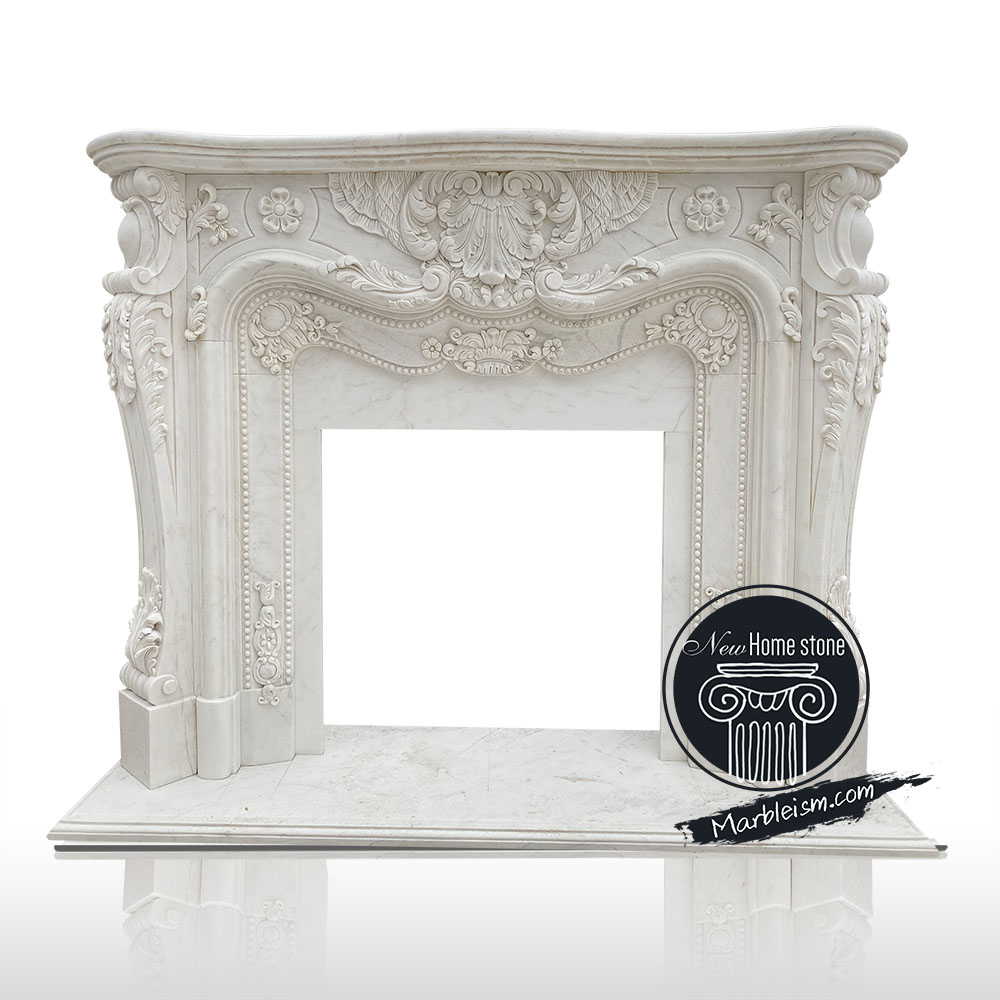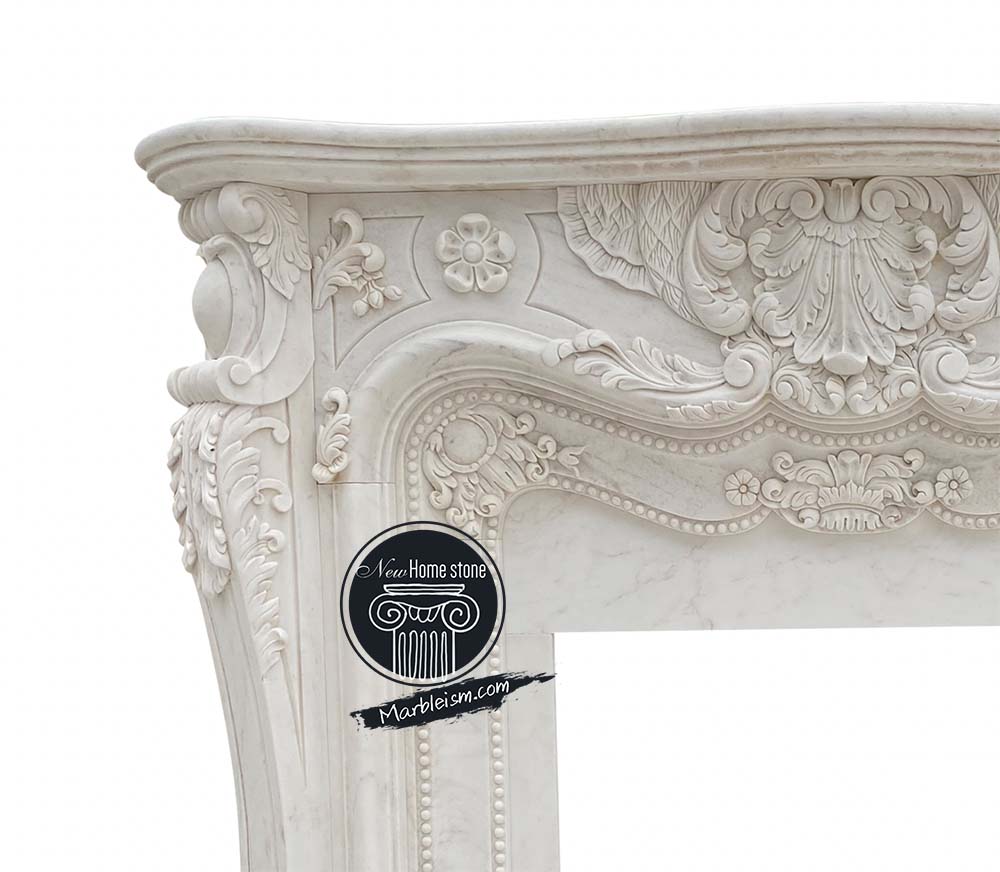 (Check out: Marble fireplace with floral carving design)
Marble is one of the most used materials in interior design. It adds a sleek and aesthetic ambience to any modern home. The Beijing white marble is a perfect choice for fireplaces; due to its smooth appearance and heat resistance. White marble needs a little maintenance to retain its gloss, but mild soap and water are just what you need for the job. This Beijing white marble fireplace is going to be one of the best centres of attractions your house can have. The design and finish of this white marble fireplace make it the most suitable option for your fireplace.
3. Black Basalt Fireplace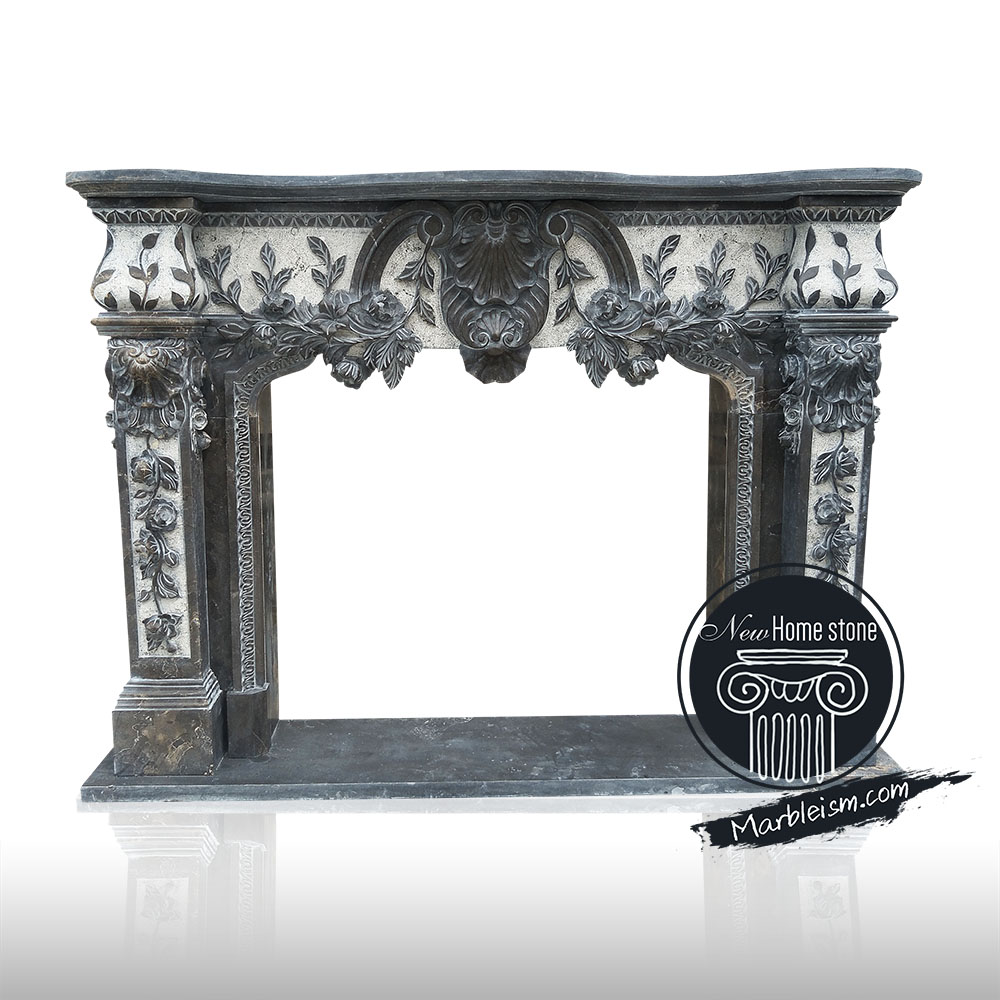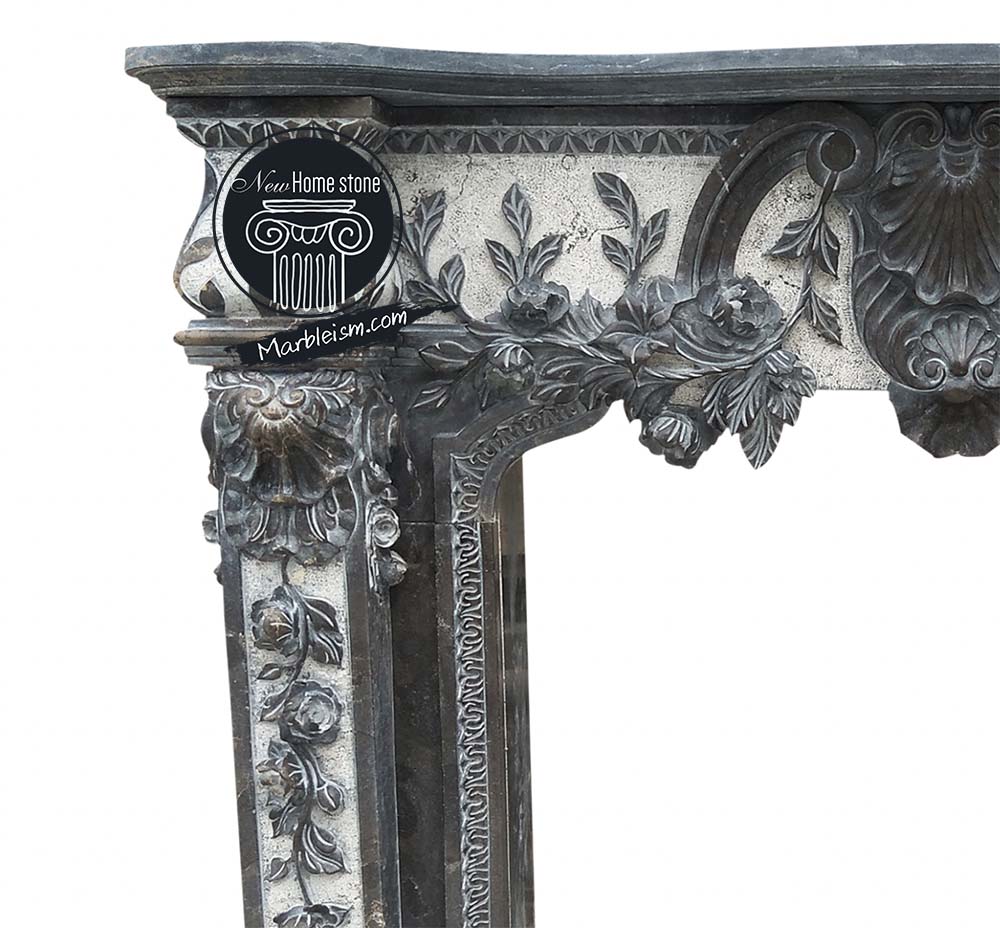 (Check out: Black basalt stone fireplaces with curving legs)
Basalt is another suitable material popularly used during interior designing. Hardened molten lava creates one of the hardest stones with a uniform black colour; Black basalt. This black basalt fireplace adds a unique and natural look to the home. It has stunning black leaves and detailed patterns engraved on it. It has a classical architecture that gives a cozy yet fashionable appearance. The fireplace is a beautiful combination of granite gray and white, best to go well with big lavish properties. This definitely be a attractive and lavish focal point in your bedroom.
4. Beijing White Marble Fireplace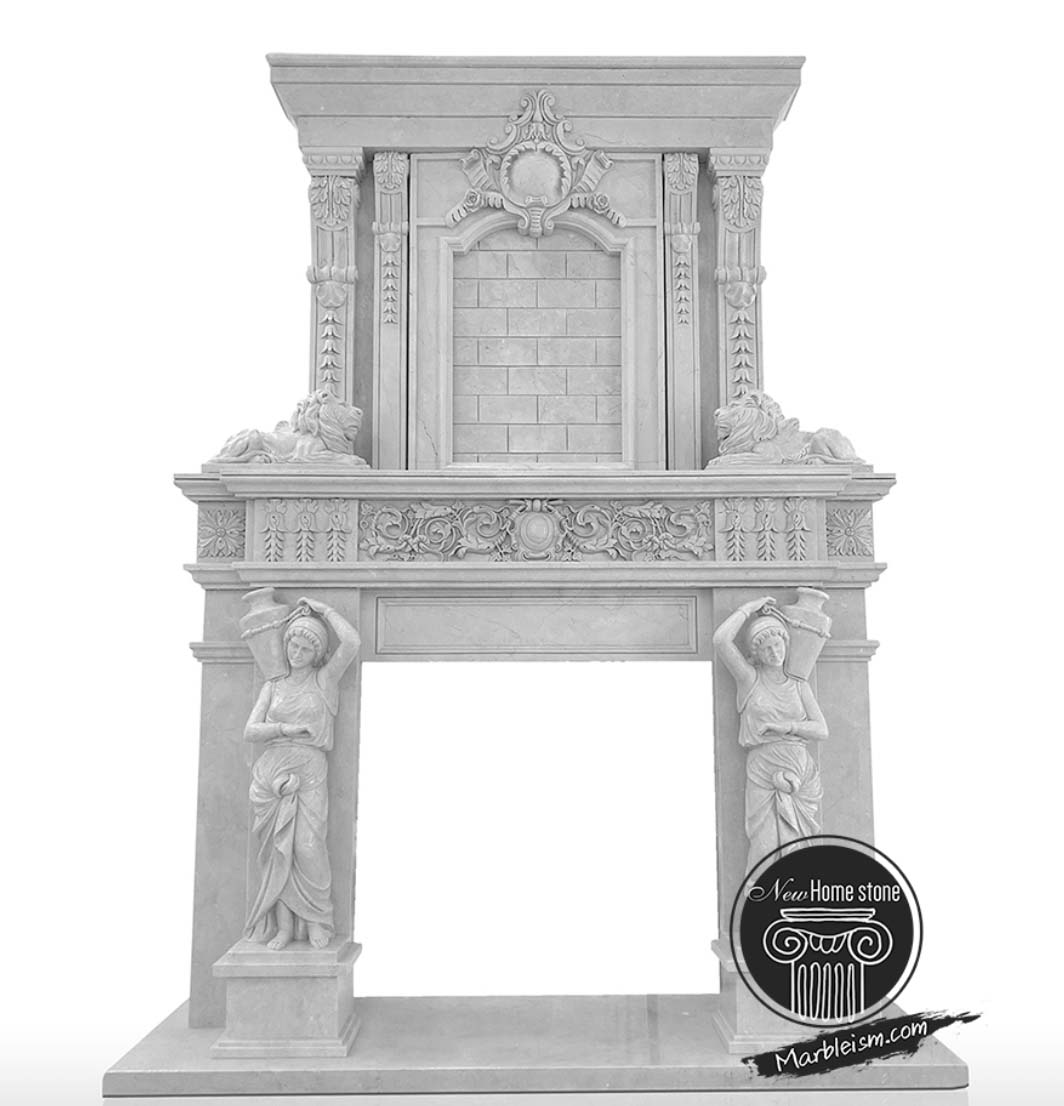 (Check out: White marble high ceiling fireplace)
Fireplaces are a beautiful inclusion in any kind of interior layout and have an extraordinary ability to magically bestow your space a royal vibe that will last for years to come. For example, this white marble high ceiling fireplace made from Beijing white marble can enhance the style quotient of your interior design just like that and bring in the charm your place might be missing. The lower pillars of this marble fireplace feature two female statues on the front and the mantel space has two marble lion sculptures gracefully sitting there. It has beautiful and delicate floral carvings and is likely to resemble the elements of the European architecture. You can install this floor to ceiling fireplace with lion sculptures in your foyer or living room and it will simply transform your home's aura instantly. It will not only bring warmth to your space and but will also become a decorative feature and point of focus, which will be a value investment to your entire home as well. This custom marble fireplace will be an amazing inclusion to any contemporary, mid-century or modern home.
5. Beijing White Marble Fireplace with Acanthus Leaf Details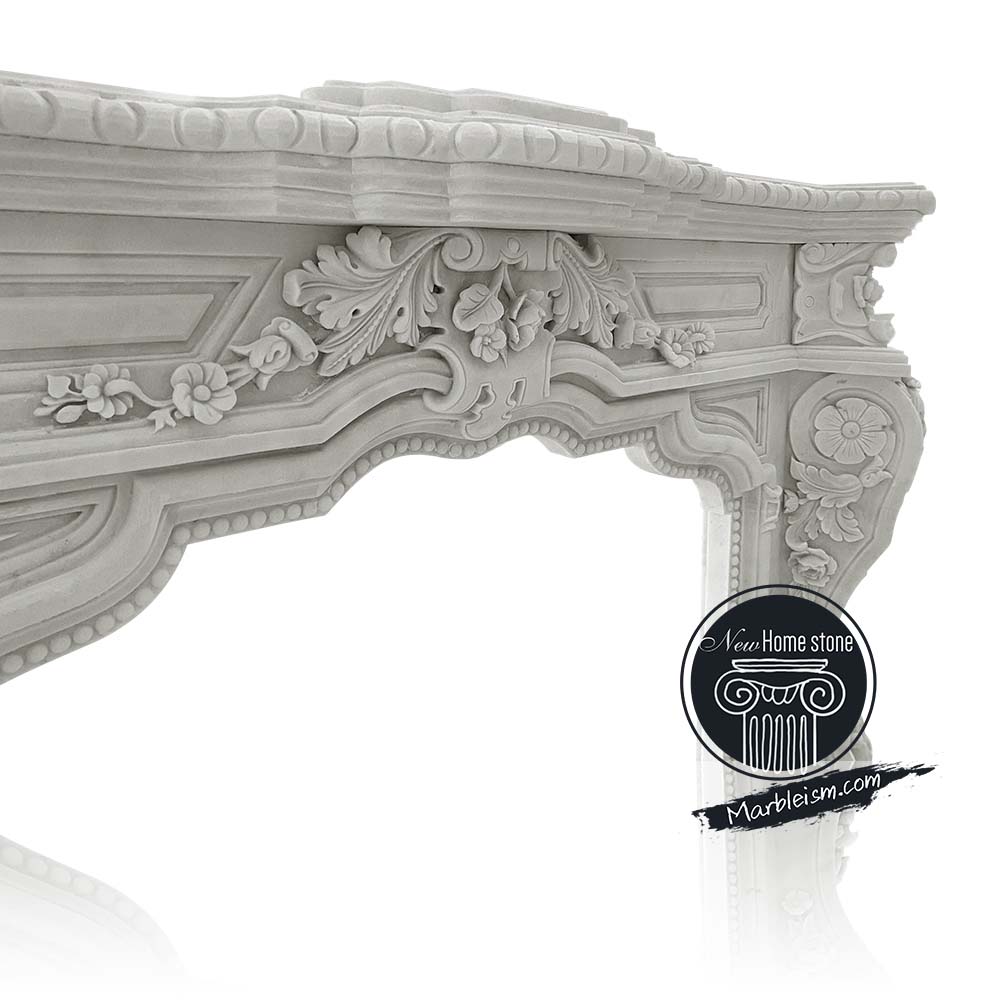 (Check out: White marble fireplace centered with acanthus leaves details)
One of the best ways to keep the winter chill at bay and your home warm and toasty, fireplaces can sit pretty in your living room as stunning decorative features for the rest of the year if you are not using them. This Beijing white marble fireplace features delightful floral carvings and is a brilliant accent to be installed in any space to uplift the spirits and elevate the design layout. Marble is a beautiful, durable and strong material, which can last for decades without sustaining any damages, making this white marble fireplace centered with acanthus leaves details an ageless and unparalleled feature in your home for you to enjoy for years. With hand-carved acanthus leaves, marble fireplace stands gracefully on a matching flat marble slab, while the floral carvings create a beautiful gateway-like arch. You can use the fireplace mantel to exhibit your holiday decorations or pictures or other decoration pieces to further beautify your interior design. The fireplace will become the center of focus in your living room and will invite several compliments and conversations from family and friends. It can be customized to fit your required area and existing layout.
6. Nero Marquina and Empress Green Marble Fireplace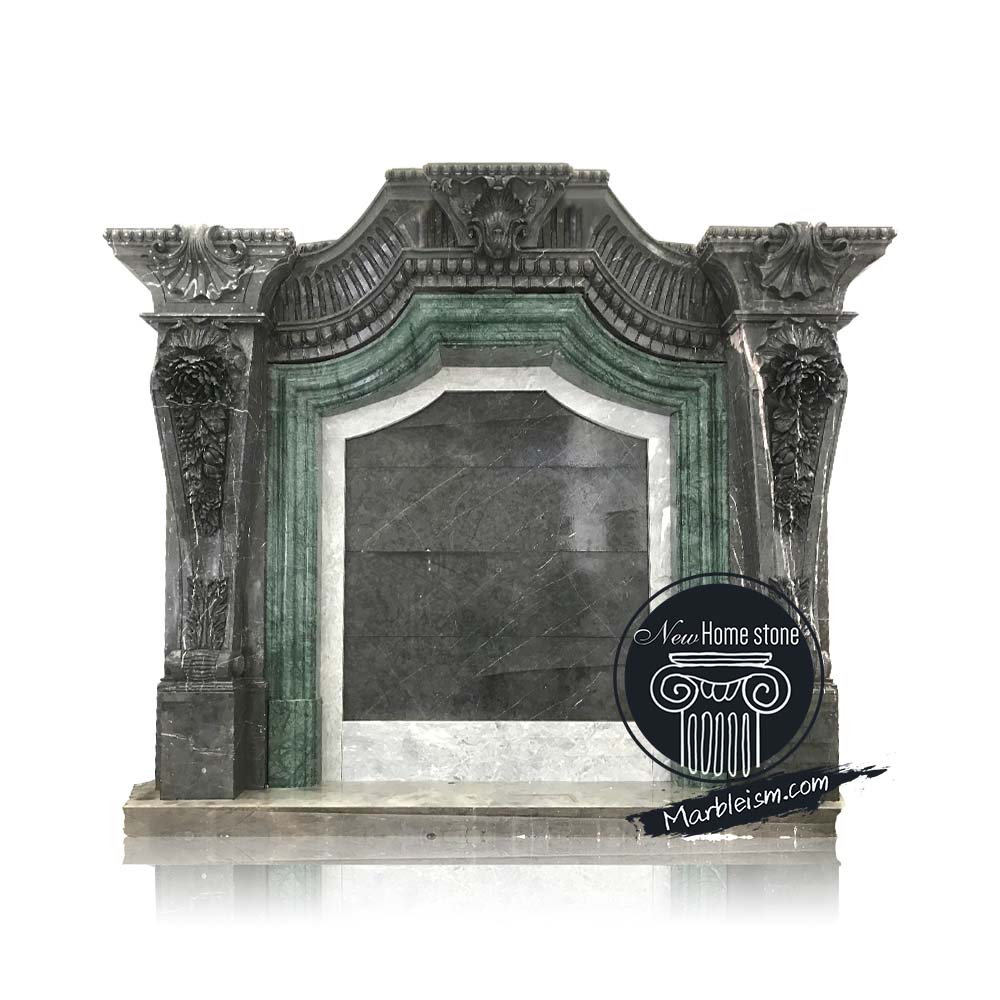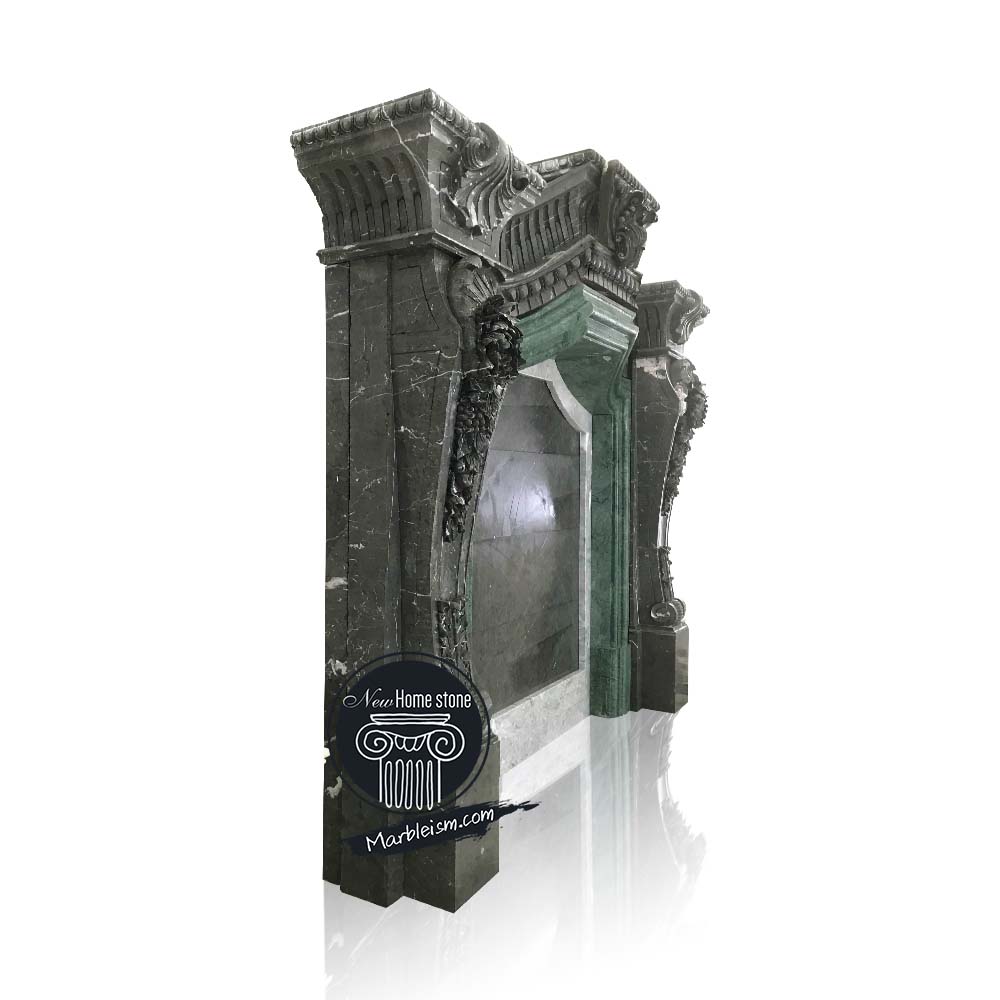 (Check out: Tall black marble and Empress Green marble fireplaces surround)
No matter how much you try, sometimes, through no fault of your own, your living space lacks a certain character and style. This tall black marble fireplace that has been made from an elegant and clever use of Nero Marquina and Empress Green marble can bring in that much required layer of character and graceful style. At first glance it looks like a door to a magical place; however, it is just a fireplace with meticulously carved features that lend it an elegance to introduce an ageless aesthetic appeal to any living room or bedroom. This Empress Green marble fireplace paired with Nero Marquina marble will enhance the beauty quotient of your home. The detailed patterns offer it a regal aura and it is equipped with the delicate qualities of the wonderful European architecture. Both marble materials have gentle veining running over the large black stone fireplace, making it a perfect inclusion to a modern or contemporary home where it will become an invaluable feature of your entire property. You can have it made to order to better accommodate any modification requirements as per your available fireplace installation area.
7. Calacatta White Marble Fireplace with Acanthus Leaves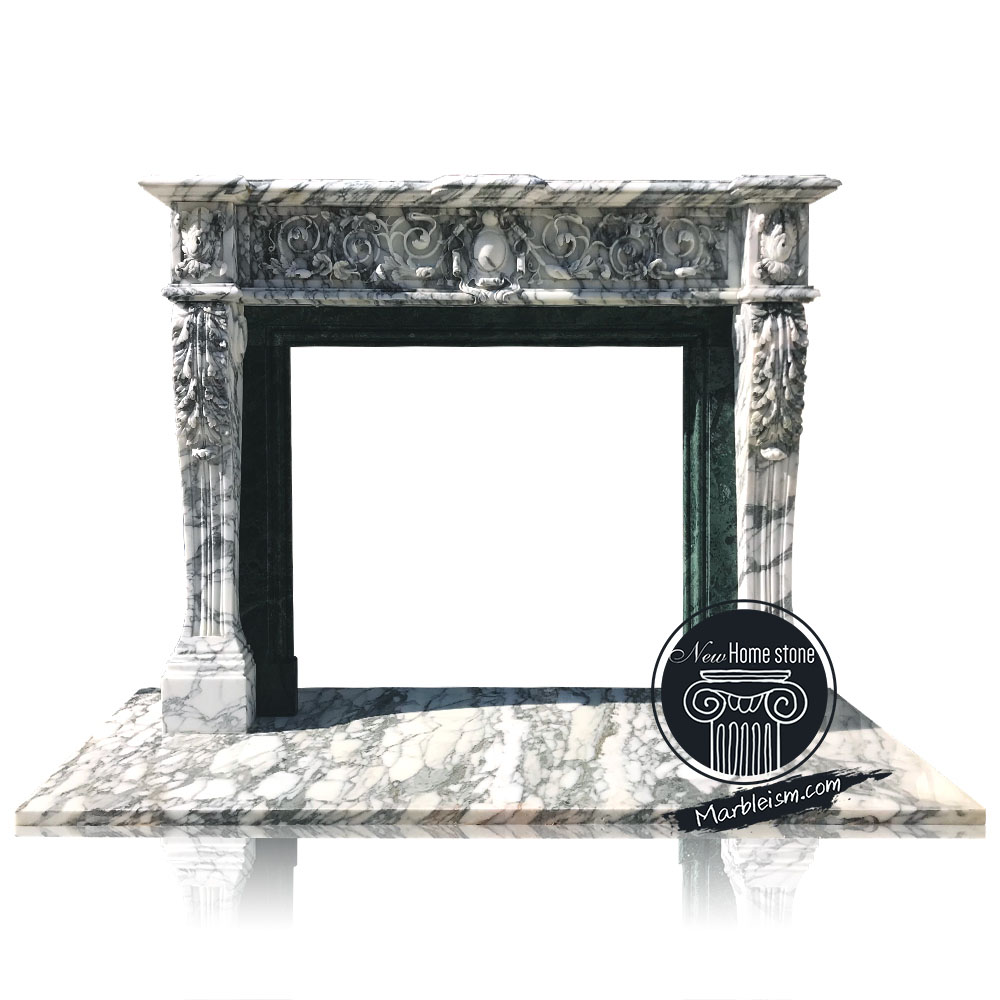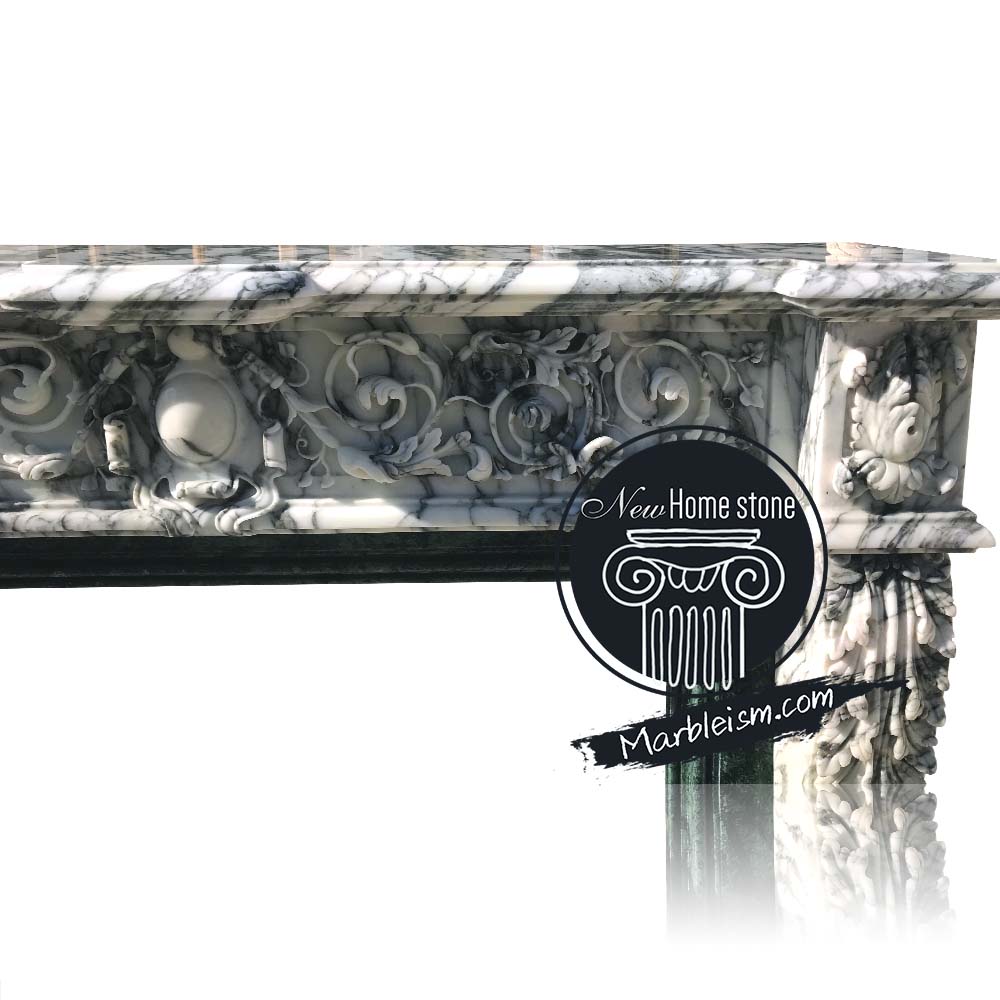 (Check out: Neo-classical white marble mantel with carving jambs)
Bring in the lost charm of your interior and spice things up with a stylish designer marble fireplace. Trust us; there is nothing better than installing a beautiful fireplace accent in your home to elevate the design. With a resemblance to a Greek or Roman gate, this Calacatta white marble fireplace is a brilliant natural stone piece that works flawlessly almost anywhere. With white stone mantel with acanthus leaves carving jambs, this fireplace may be simple in its design aspects yet every corner of this piece has been carved with elegance. The white marble has dark gray veining, giving it a sculptural quality to style up any living room. It is an ideal incorporation for any modern and contemporary home and will become an instant value investment for overall property. The floral carvings and leaves invite a natural element to the indoors. The neo-classical design white marble fireplace is modeled after Rococo antique style marble fireplace and can bring in an ageless charm to your interiors. The customized marble fireplace has two pieces – the outer layer made from white marble and the inner layer carved from black marble.
8. Modern Calacatta White Marble Fireplace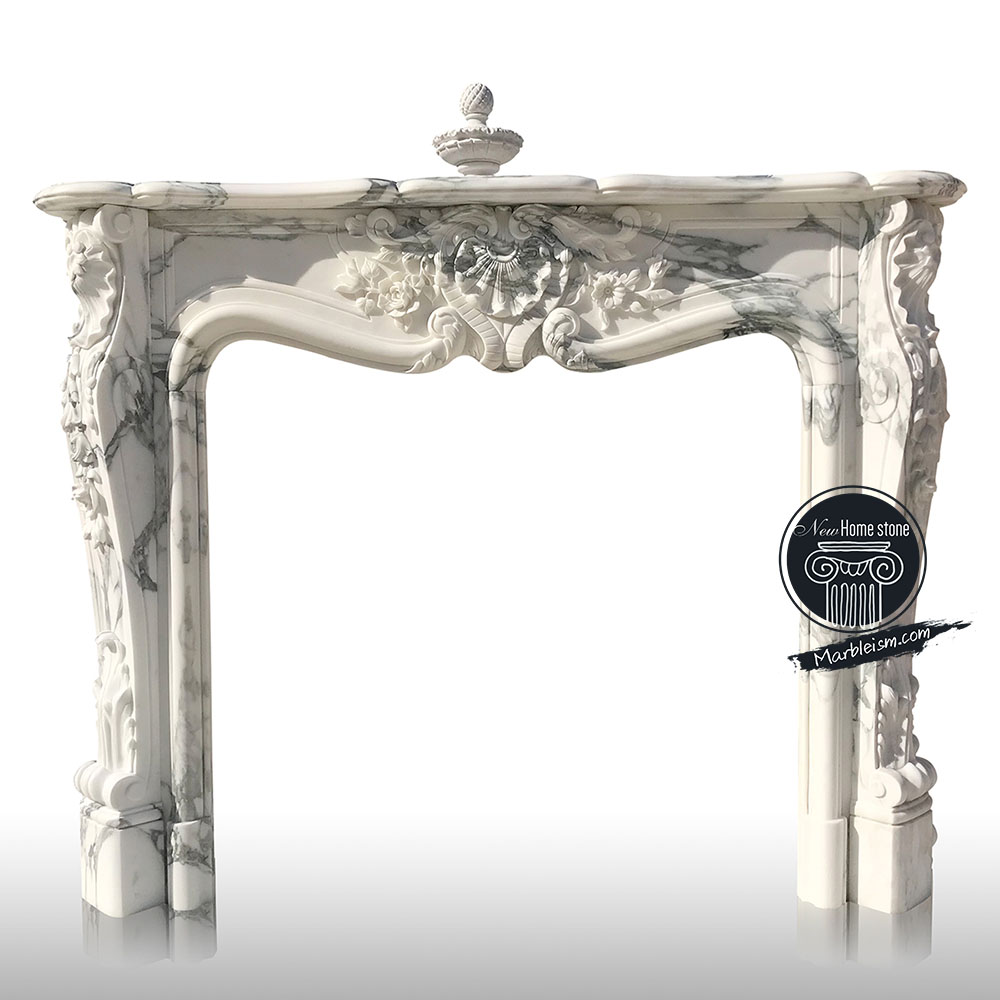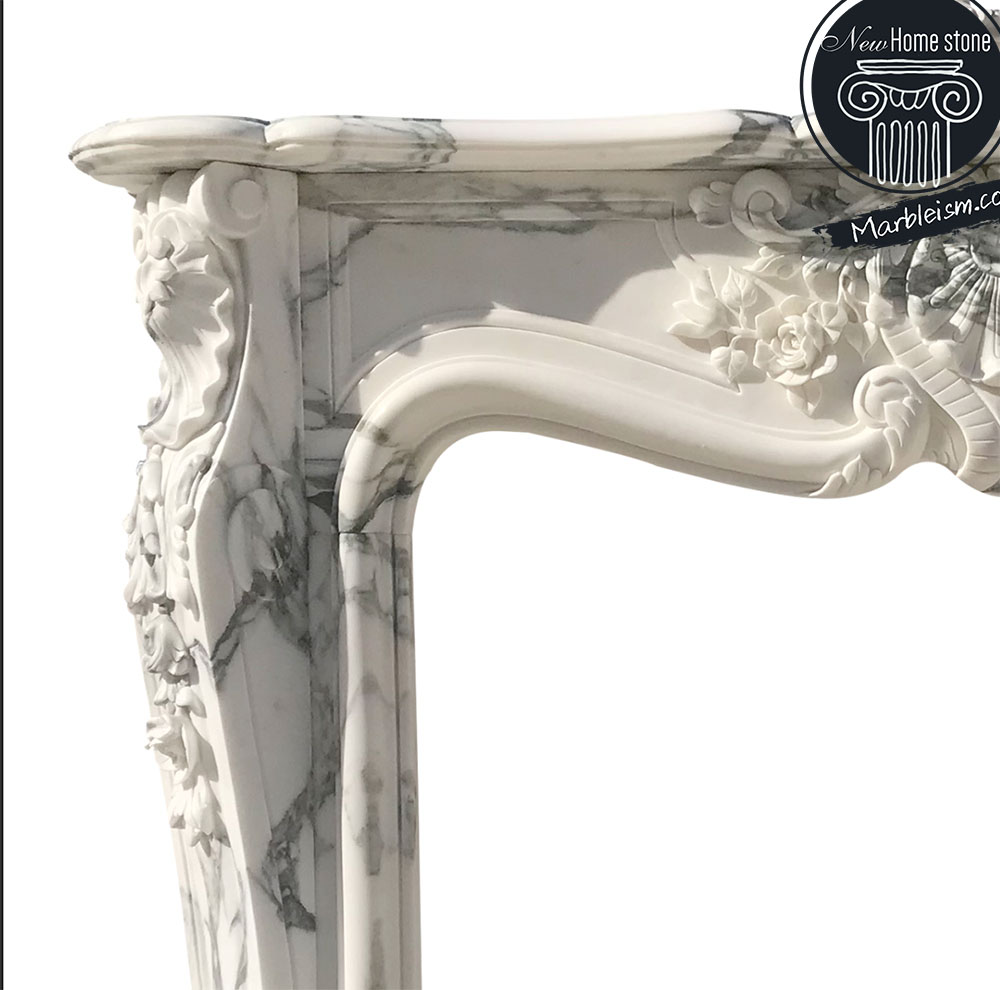 (Check out: Delicated Rococo fireplaces slim leg)
If not in real life, you may have seen beautiful fireplaces in classic movies or period drama shows. This modern white marble fireplace that has been made from stunning Calacatta white marble is one such piece reminiscent of those gorgeous fireplaces. Inspired by delicate Rococo fireplace with slim legs, the natural stone feature can add an instant grace and a gentle quality to your space. Distinguished by a highly ornamental late Baroque style of decoration that was quite popular in the 18th century Continental Europe, this Calacatta white marble fireplace has proportioned arches with brilliantly carved patterns and a small finial-like structure at the center of the mantel surface. The white marble fireplace with slim legs has visible and beautiful veining in dark gray hue that offers a wonderful aesthetic excellence to the piece and ultimately, to your entire home interior. The stunning fireplace will not only bring warmth to your living room on cold days, but also add a decorative component to your home as well, with a liberty to use it as you see fit. Moreover, you can have it modified with any specific design alterations you or your space may have.
9. Hibiscus Pink Marble Fireplace with Bronze Baby Statues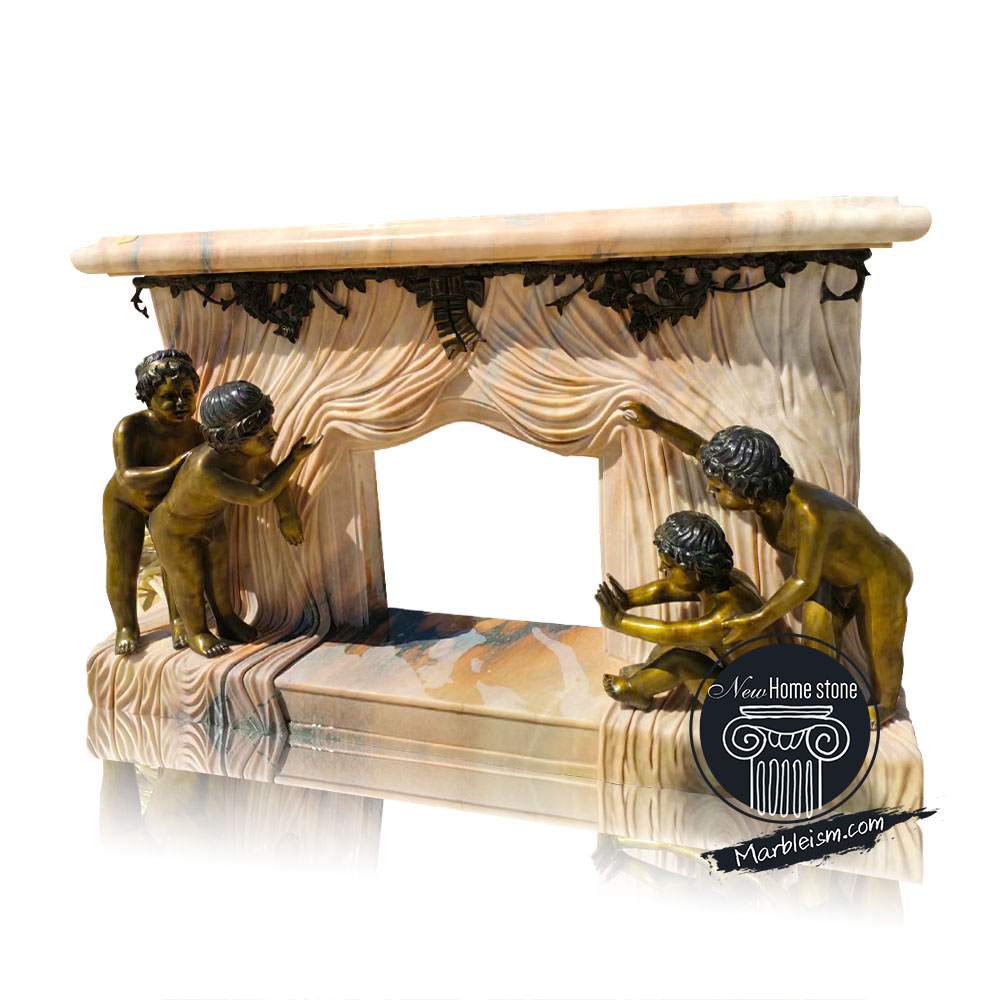 (Check out: Hibiscus Pink Marble fireplace mantel with brozen statues of children)
If your home does not need a fireplace as you live in a region with warm or tropical weather conditions, you can still install a marble fireplace to create a welcoming and charming vibe. With hibiscus pink marble and bronze statues, this pink marble fireplace with drape elements is an amazing marble feature to be installed in your space. This whimsical marble accent will bring in warmth in your foyer, living room, or bedroom, and will elevate the design quotient as well. The pink marble fireplace surround with bronze statues could be a never seen before design and will strike conversations with guests upon first look. There are four bronze statues standing and stooping by the fireplace pillars, as if drawing the stone carved curtains, which invites a quirky charm into your living area. You can proudly display your photos, mementos, or decorations on this pink marble fireplace mantel. With stone drapes carving, this fireplace mantel and its design with brown leafy vine under the surface is a perfect way to add a splash of color to your space. This marble fireplace surround is apt for medium or small fireplace, and can be customized.
10. Rococo Style Beijing White Marble Fireplace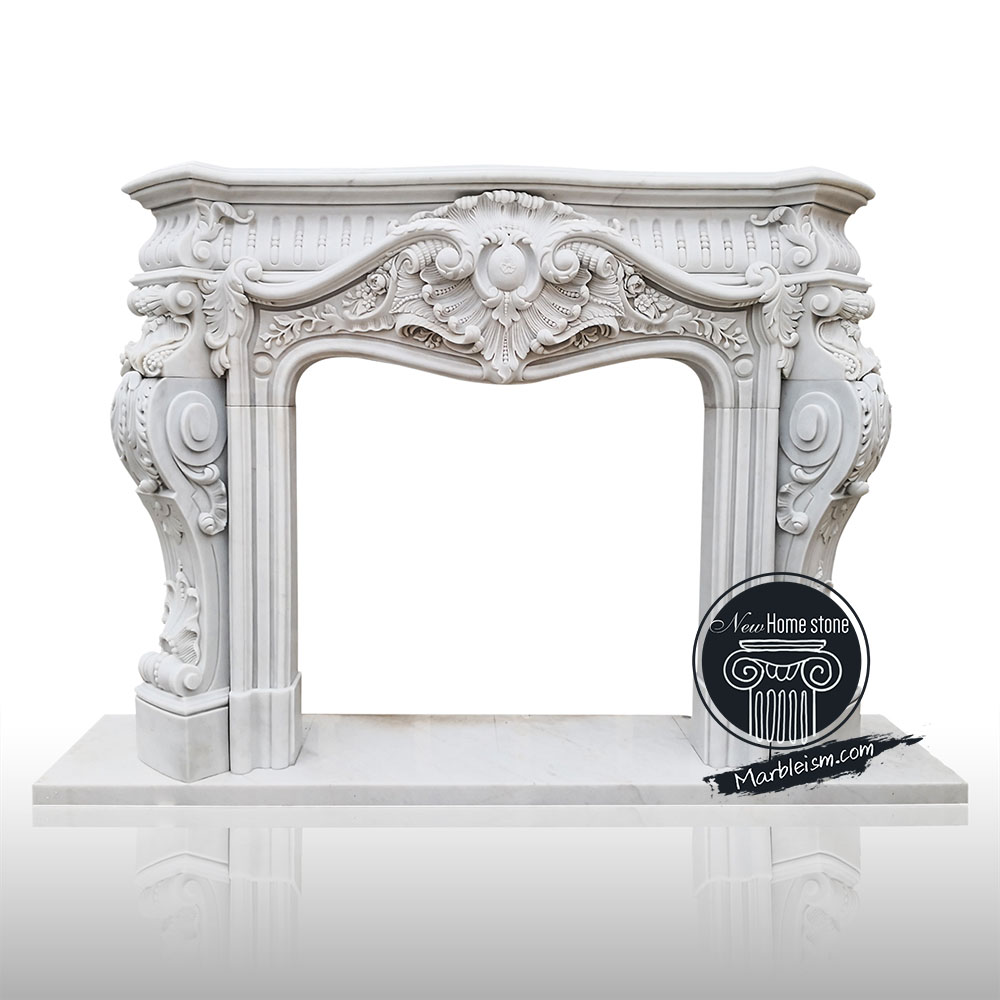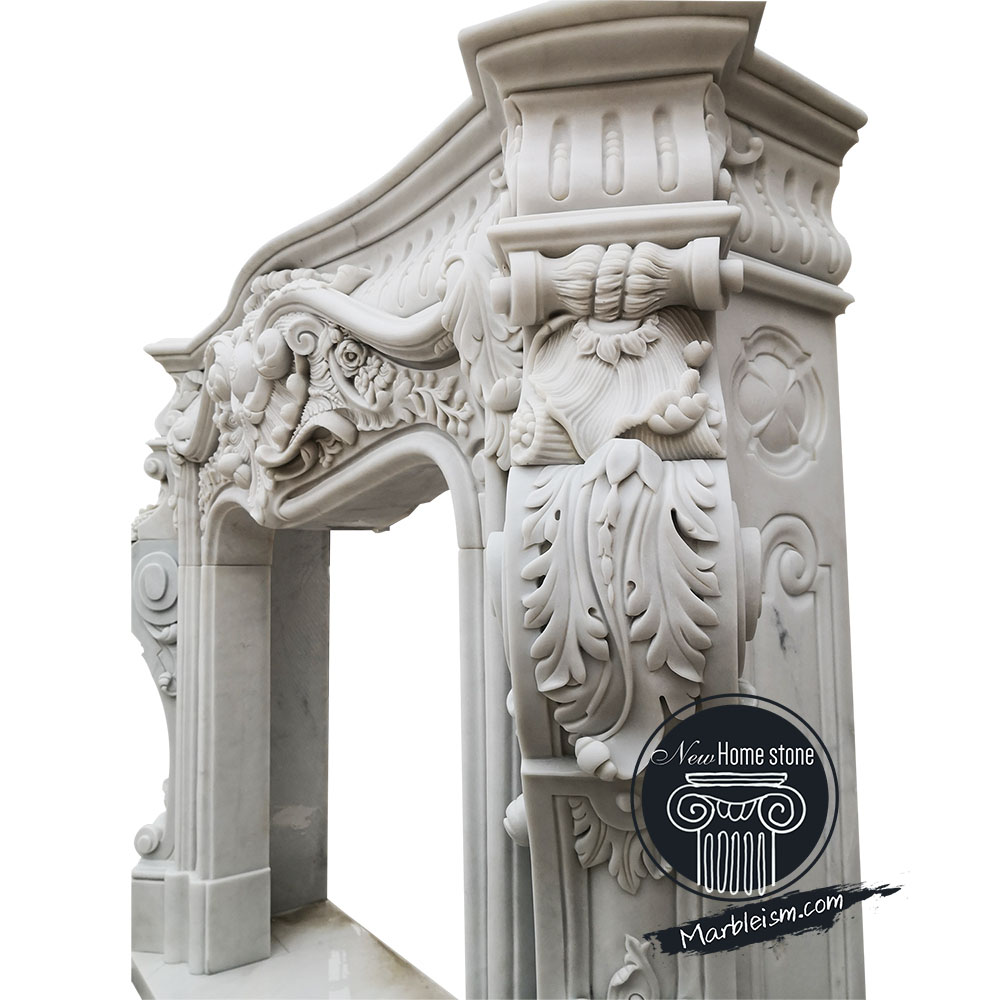 (Check out: Honed white marble fireplace surrounds)
You may or may not believe with love at first sight, but there are things that we, humans, simply can't resist and do fall in love with at merely one glance. For example, you need just one look and you will fall in love with this Rococo style marble fireplace surround with elaborately detailed carving elements that has been meticulously carved from natural Beijing white marble. You can incorporate this honed marble fireplace surround in your living room, bedroom or even in the foyer for functional and aesthetically decorative reasons. It features proportioned arches and matching floral and leafy patterns on each side. The smooth honed surface white marble fireplace will become a valuable investment for your entire property and will grace your space for decades to come as marble is strong and durable material, making it long-lasting. The thoroughly carved details put in a distinct texture and attractiveness to the marble feature and to your space. It will be an ideal fitting for any modern or contemporary home that needs a design boost. The fireplace surround is neatly placed on a flat marble slab and has an even mantel surface.
11. Gothic Style Black Basalt Natural Stone Fireplace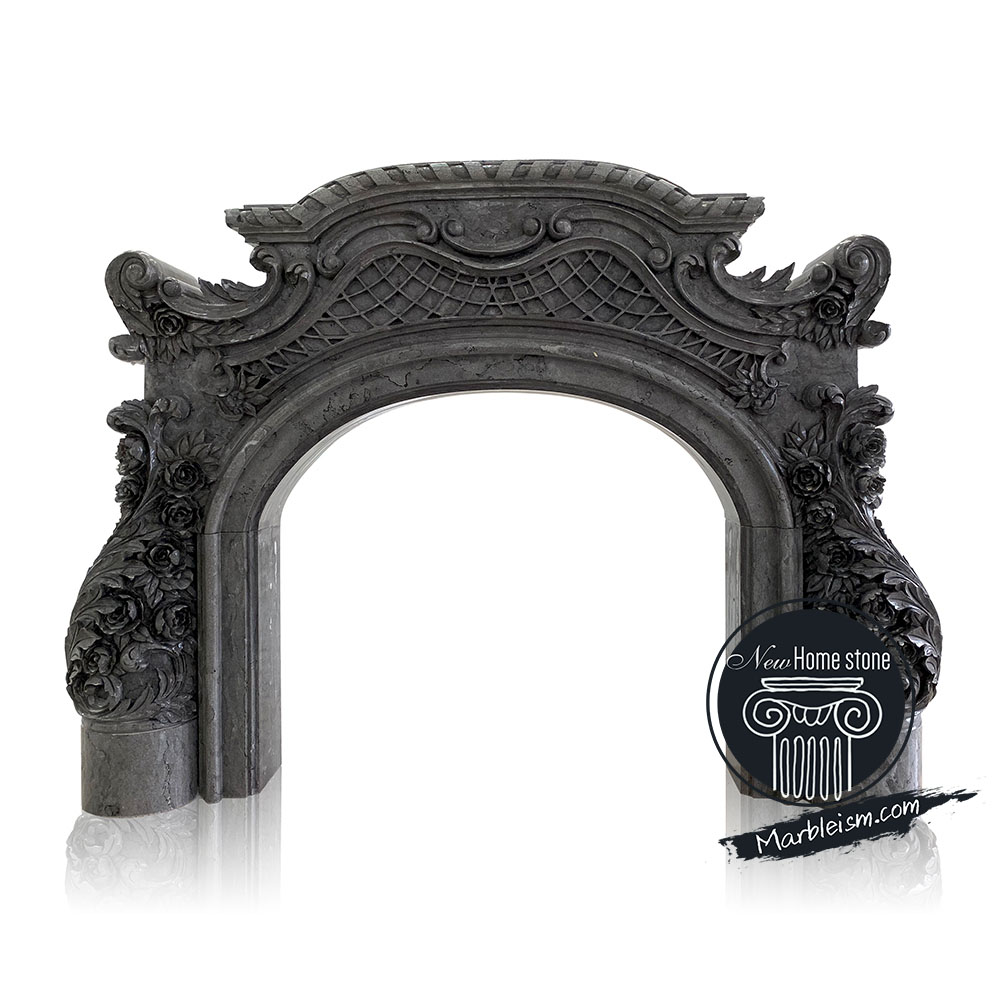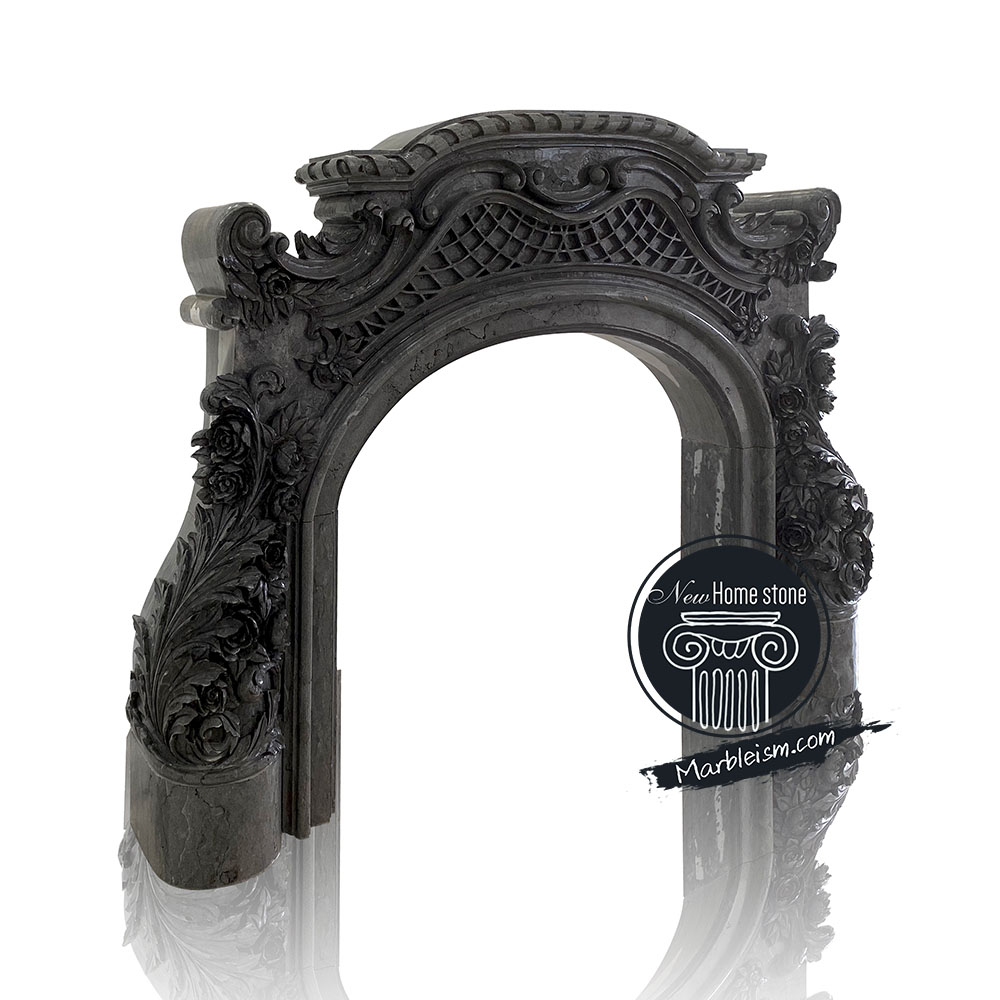 (Check out: Arched Black Basalt natural stone fireplace)
At first glance, this beautiful fireplace looks like a majestic gateway to fantasy land and you will instantly be tempted to get this stunning piece for your interiors. This gorgeous black basalt natural stone fireplace will bring in a fanciful factor to any living space with its strong and hard-wearing black basalt stone. It has symmetrical arches on each side, providing you with an indoor piece that can be used as a functional and a decorative accent. The arched black stone fireplace has a handsome arched fireplace mantel with heavy carving acanthus leaves on jambs, bringing in a piece of the great outdoors to your interiors. You can install it in a new house or remodel your old fireplace space with this new one to add aesthetic beauty and a fresh design element. The Gothic style basalt stone fireplace surround provides a sumptuous mantel where you can exhibit your pictures, mementos, artworks, antiques or holiday decorations all year long. It is a brilliant inclusion to a modern or contemporary home that can use some fresh features. Moreover, you can have it customized to better fit your space and current design layout.
12. Beijing White Marble Fireplace with Lion Statues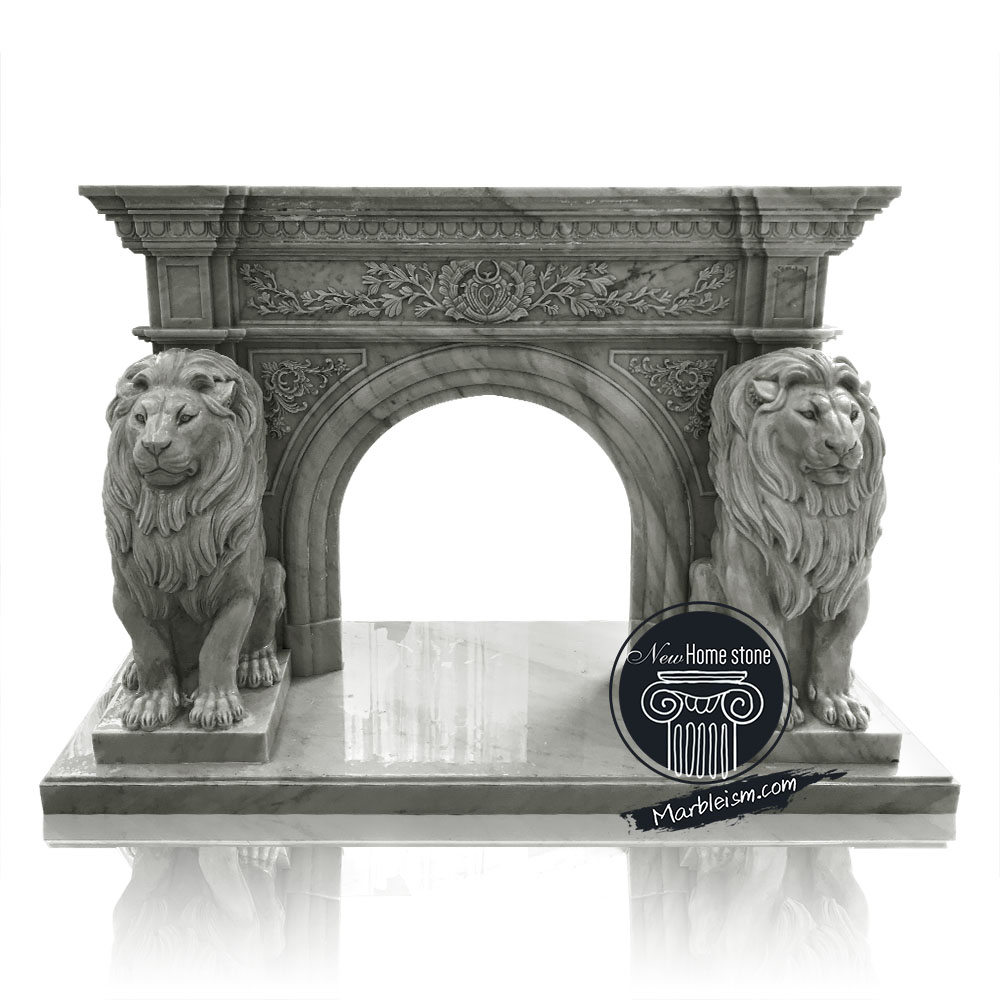 (Check out: Grey hue fireplace mantel with Large lion sculpture)
Installing lion statues in any space can evoke the feelings of power, bravery, pride, and strength – this goes for many design aspects of your home as well. The inclusion of majestic lion statues is one of the great ways to enhance the interior design layout and this grey hue fireplace mantel with large lion sculptures that has been made from Beijing white marble is one of those ways. Moreover, it is a brilliant way to comprise the beautiful animal statues in your home next to a beautiful natural stone fireplace that will keep you warm. With this lion statue marble fireplace surround, you can enhance the interior design layout of any modern, contemporary or mid-century home. The light gray marble accent has bold, dark gray veining and has been adeptly carved with floral patterns. You can also get this fireplace customized in any shape or size, which is suitable for medium and small fireplaces. The fireplace mantel has enough space for you to display your mementos or holiday decorations with pride. This elegant fireplace surround looks like a gate to an ancient city and will be the center of attraction in any home.
13. Beijing White Marble Fireplace with Lion Statues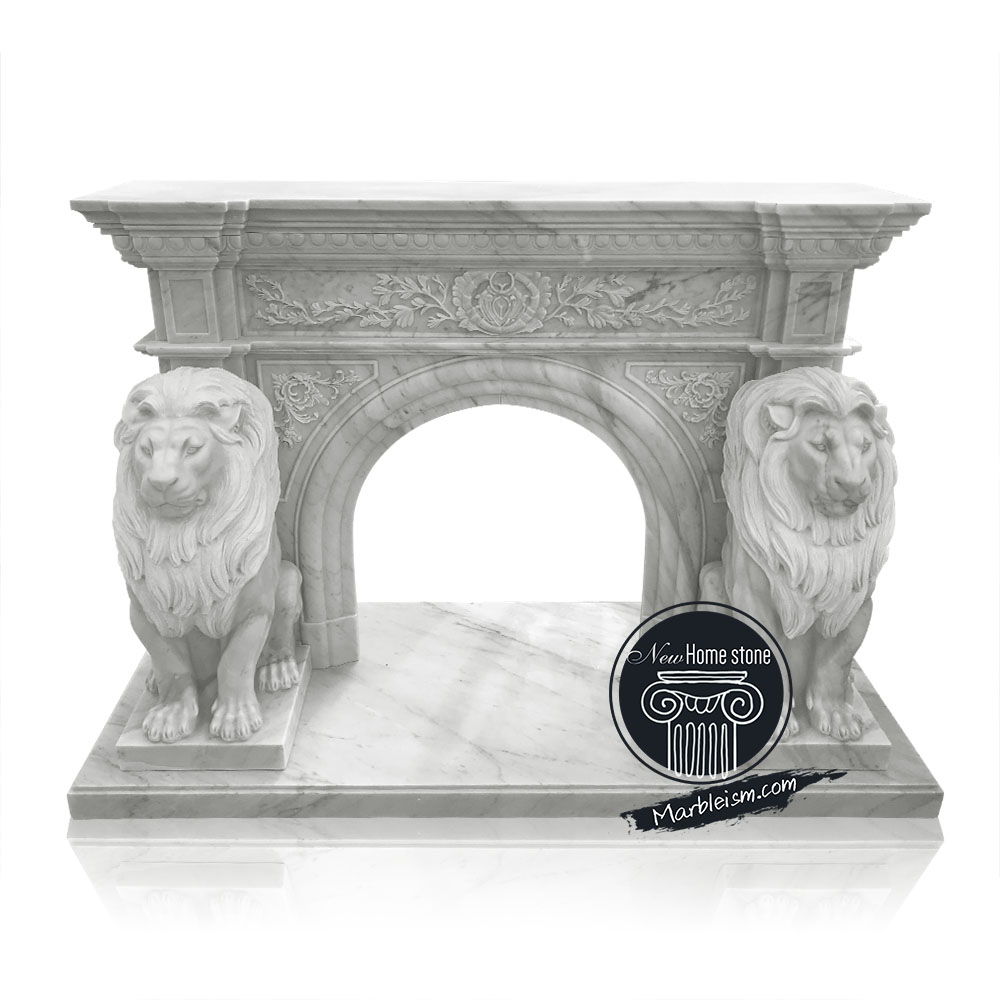 (Check out: White marble lion statues fireplace surrounds)
Carved from eye-catching Beijing white marble, this white marble lion statues fireplace surround is an absolutely delightful inclusion to any living room that is in a dire need of design upgrade. You can install it with a current fireplace or add it as a new one; it will flawlessly blend right in without disrupting the existing layout of your room. Evoking the feelings of power, strength, family and togetherness, the white marble lion statues fireplace mantel has a flat top where you can freely display your pictures or holiday decorations all year long. It features two lion statues on either side of the fireplace, which ultimately create an aura of power, pride, beauty and royalty in your room. It will bring aesthetic value to your home along with a property value enhancement as well. In addition, you can have this marble feature made to order in any size or shape to accommodate any modifications requirements you may have. It will be a perfect fit for all contemporary or modern homes.
14. Beijing Jade Fireplace Surround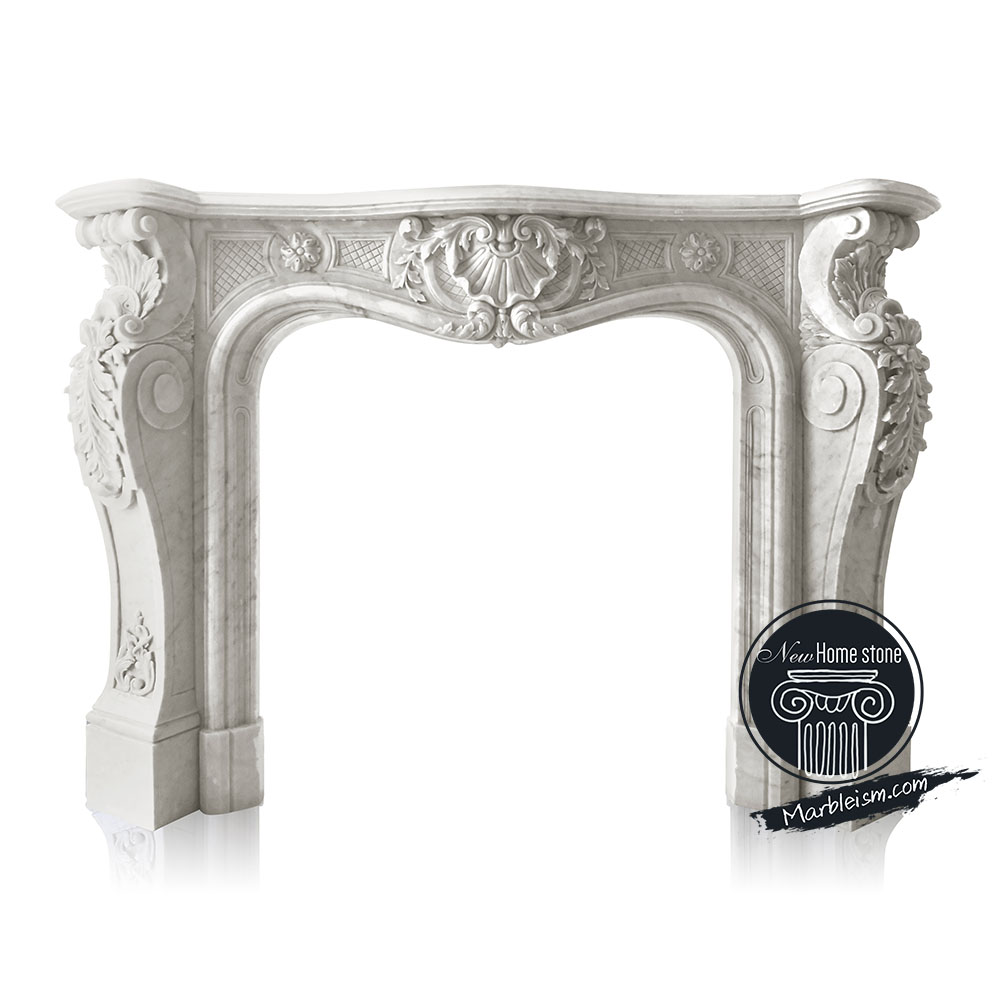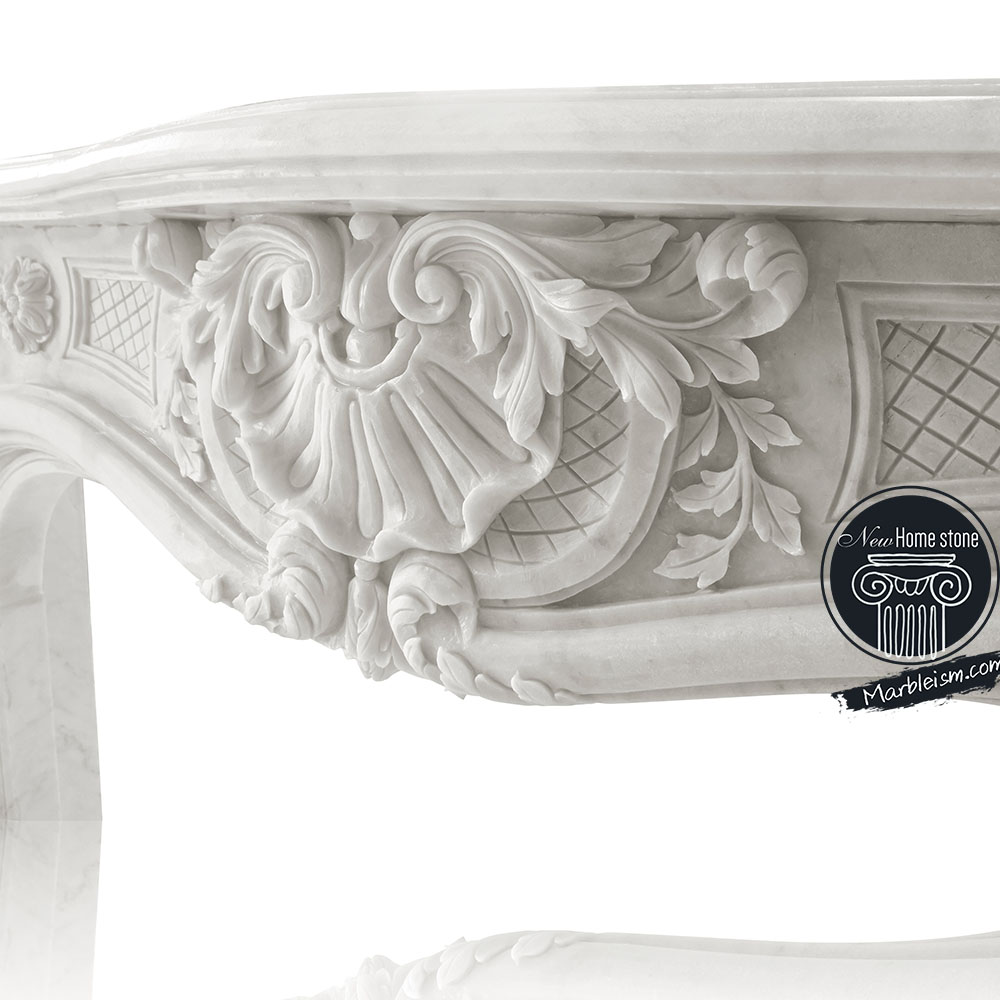 (Check out: White jade fireplace surround with slim jambs)
If you are in search of something simple yet elegant, take a look at this Beijing jade fireplace surround. It will be a brilliantly beautiful installation in any modern or contemporary home. This white jade fireplace surround with slim jambs has been meticulously carved from natural white stone, which bestows a unique texture and attractiveness to this feature and ultimately, to your living space. Its white jade fireplace mantel can be used to display your pictures or decorations throughout the year. It has beautifully carved proportioned arches and matching floral vines on each side. The comprehensive carving gives it a sculptural quality that can be a part of any space, including your foyer, living room, bedroom or even kitchen. It will not only bring warmth to you on cold days but also function as a decorative element to grace your home. It is an amazing fit for medium fireplaces, but you can also have it customized in any size or shape to make it a better fit for your home. Moreover, its geometrical outlines will add an amusing factor to your interior layout.