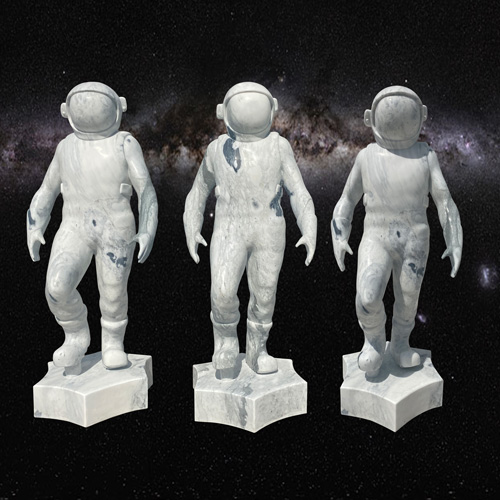 All through history, the creation of sculptors always experiments with a wide range of mediums. While fired clay, carved wood, and cast bronze have made lasting impressions, nothing can beat the magic of marble. We're sure most of you would agree with us.
Prevalent in both ancient and modern art alike, marble sculptors have a special place in various art museums throughout the world. That's why marble is one of the popular materials to create distinct sculptures, including artistic statues, fountains, bathtubs, and other decorative elements.
Taking people's love for the marble to another extent, Newhomestone has this time come up with an unusual marble sculpture in the shape of a spaceman. Unlike our usual decorative statues, fountains, and other marble accessories, we have created this marble statue of spacemen to help homeowners bring astronautical touch into their interior.
Inspiration Behind Newhomestone's New Spaceman Statue
We were inspired to create this stunning marble statue of spaceman after witnessing the marvelous Boonji Spaceman sculpture by artist Brendan Murphy at Hodges Bay Resort & Spa in Antigua. This is a 22-foot tall spaceman sculpture that's dancing above the sea at the edge of the resort's pier.
Murphy created this huge spaceman structure in collaboration with Christopher Harding, one of the resort's owners. They wanted to create this astronautical figure to display Murphy's imaginative pieces throughout Hodges Bay.
Soon this huge spaceman sculpture became a hit on social media, as everyone who visited Hodges Bay Resort started posting pictures and videos of this giant figure on their social medial handles. It literally broke the internet and even aroused curiosity in some of our artisans to come up with a similar structure using marble - one of the most sophisticated materials for creating decorative pieces.
This is how our exclusive marble statue of a spaceman took shape. According to our artisans, this is an extraordinary marble art piece for adding an astronautical vibe into the given space. It can add extravagant aesthetic to any space where it's installed.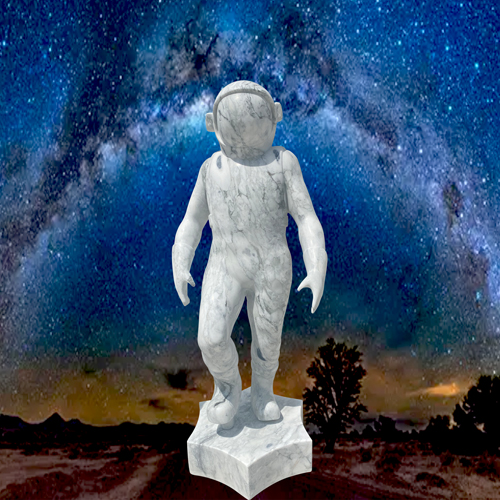 Mystery of Cathedral of Salamanca's Astronaut Figure
Do you know that a marble statue of spaceman is not just a modern creation? Once such structure also dates back to around the 12th to 13th centuries. That structure is of the Cathedral of Salamanca's astronaut. The Cathedral of Salamanca is basically two combined churches combined. But the newer one dates back to around the 16th century.
Aside from their glories as wondrous architectural creations, the two churches have something mysterious about them. But one thing that's totally extraordinary and questionable for that time is the astronaut carvings its wall.
Although most carvings on the walls are unique, the figure of an astronaut is the one that many people are fixated on. It is because they often question that how it's possible to have a figure of a modern spaceman's figure carved on a cathedral that was constructed around the 12th century.
While most people claim that it is a work of some time traveler or aliens are behind this creation. However, after many years the mystery was unveiled and it was found that it's not that mysterious. It is because the astronaut carving was added to the wall in 1992 - and it is not from the 12th or 16th century.
In 1992, the Cathedral of Salamanca's some portions were renovated. At that time, one of the sculptors created the figure of a 20th-century astronaut on the cathedral wall. When it was first seen, everyone got too excited and started believing in some conspiracy theories. But later it all came as a hoax.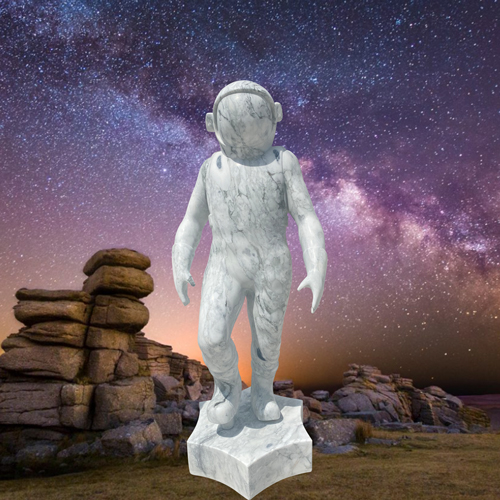 Marble Sculptures and the 21st Century
Marble's metamorphic nature is its most precious and biggest property. It means that this natural stone is changeable. When under extensive heat and pressure, this multipurpose stone leads limestone to metamorphose. Due to this, marble contains many components like iron, oxides, pyrite, graphite, clay, mica, quartz, and calcite. Calcite is an interesting component of marble due to its recrystallization property. This property helps in forming a stone that includes various interlocked calcite crystals.
Since marble is formed naturally under extensive heat and pressure, this natural stone possesses extreme strength and some exceptional aesthetics. And because of its amazing properties, marble is used even in the 21st century in architecture, art, and construction. This precious rock is useful in constructing various sculptures and decorative pieces, as it has many advantages to count on.
That's the reason why construction and marble together have a long history. Since it is a robust and very versatile rock, it has been used for creating huge structures and buildings for centuries. Marble is mostly found in European, Asian, and American construction and architecture.
Marble is easy to cut and carve, which is why it can be shaped into any desired form. Marble was also used in age-old Michelangelo's statues and sculptures. This precious stone is so popular even today due to its outstanding weather-resistant properties. It also makes it truly one-of-a-kind.
No matter what are the environmental conditions, this stunning natural stone sustains its texture and beauty for many years or centuries. It is one of the major reasons why marble is considered suitable for interior and exterior designs.
If we see across the world, we can find the majority of historical buildings are made using marble.
Some amazing examples of marble buildings are:


Taj Mahal in India
Washington Monument in Washington DC
The Supreme Court in Washington DC
he Coliseum in Rome, Italy
Great Pyramids of Giza in Egypt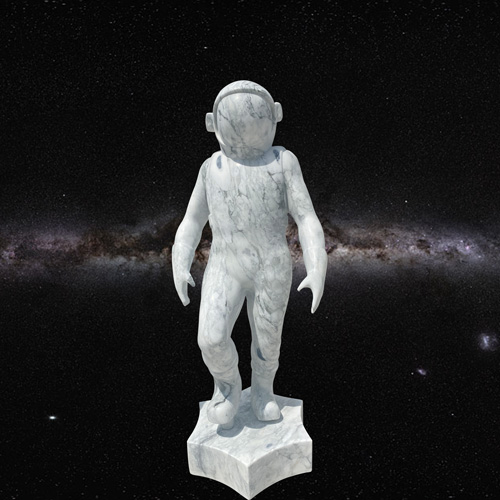 Characteristics of Marble as a Reliable Sculptural Material
As mentioned above, marble is a metamorphic rock that is formed due to various changes brought to its structure by igneous or sedimentary rocks by excessive heat and pressure.
Sculptors prefer marble because it is easy to work due to its relative softness. However, it becomes very hard and dense over the years. It also comes in a wide range of patterns and shades. The white marbles, particularly, are used for creating many expensive fine art sculptures because of their homogeneity and isotropy, as well as resistance to shattering.
Besides that, calcite (a component found in marble) has a low refractory index that permits light to penetrate the natural stone and leads to the refraction of calcite. It further results in the usual 'waxy' appearance that gives this natural stone a somewhat human skin-like feel. Compared to its best alternative i.e.c limestone, precious marble possesses very fine grains. It makes it very easy for sculptors to render minute details. Meanwhile, the material is made more weather resistant.
But there are certain downsides too. Marble being a rare stone is quite expensive than various other types of stones used in making stone sculptures. It is also a very heavy material. Hence, its transportation is very difficult. Compared to bronze, marble has lower tensile strength and it's also vulnerable to cracking or chipping when extended poses are tried. And, compared to granite, it is less weather resistant. So, it won't handle moisture well and absorb it like skin oils, leading to staining.
However, sculptors often treat marble pieces with a sealant to prevent moisture from penetrating their surface and causing staining.
How We Carved Marble Statue of Spaceman?
After months of hard work and precision, Our artisans were able to create a stunning marble statue of a spaceman. This all-white marble spaceman statue is one of the extraordinary pieces from our collection. This decorative piece of art is likely to bring an astronautical vibe into contemporary spaces. This marble statue is created the same way how we create out other marble statues and sculptures. It is a general process that involves the following steps:
Step 1.
The artisan often makes some maquette in clay or wax, over a frame or armature. From the initial version, a complete-sized model is created. Further, tacks are added at major reference points. Then, a measuring frame is installed on the model to record the locations of different tacks.
Step 2.
Furthermore, the locations of different tacks are transferred to a raw marble piece. This process is called pointing.
Step 3.
After that, the traditional work of "hammer and point" begins. It is a basic technique involved in stone sculptures. This technique has been used since the time of 650 BCE for making Daedalic Greek sculptures. It involves removing unwanted stone's sizeable chunks, using a long pointed chisel, a mallet, or a wedge-shaped pitching vessel.
Step 4.
After the general shape of a sculpture is formed from a block, the sculptor further use other tools for creating precise characteristics of a figure. They often use claw or toothed chisels, riffles, and rasps. Now the modern sculptors have more powerful tools, like drills, stone-cutters, and other instruments.
Step 5.
Once the carving work is done, a rough surface of the marble statue is finished off. It is often done by eroding the surface with some other stone called emery or usual sandpaper. The power tools are further needed to polish the marble. All the abrading and polishing helps in bringing out the natural color of a stone while adding some sheen or patina to the surface. Sometimes, iron oxides and tin or some sealing agents are also applied on the surface of the sculpture for a highly glowing exterior.
Why Choose Newhomestone For Marble Spaceman and Other Marble Statues?
Most of our customers put their trust in our sculptures and statues because of the following reasons:
1. Customized Design
Not just the designs we offer, we are also ready to add a personalized touch to your chosen sculpture. Newhomestone brings you an opportunity to enhance the overall aesthetic of your home interior or exterior with custom designs. It further enables you to discuss certain needs as per your preferences. So, when looking for some classic yet simple marble statues, you get them under one roof.
2. Years of Expertise and Experience
The expertise and experience of an artisan or sculptor matter a lot. When you want to buy a statue from us, you must never forget to check the expertise and knowledge of our artisans. We have years of experience in the industry of making the best marble sculptures and statues for our customers.
3. Size, Shape, and Other Factors
When thinking of buying a marble state, you have to pay more attention to its size, shape, and other factors like the finishing of design, quality of marble, and the overall creation process. With our statues, you can be assured that you get everything on one roof. We also offer you a wide range of options to serve you various purposes of size, shape, design, and quality with relative ease.
4. Costs of the Marble Statues
For getting high-quality and aesthetically crafted marble statues, it does not mean you need to buy an expensive marble statue. Newhomestone keeps everything in mind while offering its customers the best statutes for reasonable costs. So, there is no need to break the bank for investing in your finest Marble statues.
5. Understand Your Needs
Before creating any desired marble statue for you, we would confirm all details through email. Make sure this process of buying marble spaceman statue easy and smooth! This is exactly where we fit your statute requirements. We understand what you want with a customized collection of different marble statues.
Our sculptors work according to the specific needs of customers. You may even browse through our extensive range of marble sculptures and statues on our website that fit your needs very well. Also, make sure to discuss your preferences and requirements before you think of making the purchase right away. At newhomestone, you could buy custom marble spaceman statue with one email away!