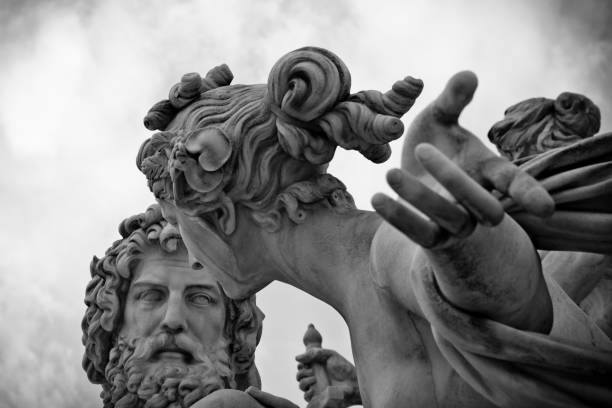 (Check out: Life-size statues)
Your garden statuary is not just something made of stone, metal or wood, it is art for your garden. And as you have to constantly look at it whenever you are in your outdoor space, you must carefully consider and then choose which accessories you are going to add to your garden. Garden statues can enhance and intensify the mood of your outdoors while lending them a sophisticated vibe. Remember that the space outside your home is as essential as the interior and must have the best stuff in it.
Regardless of your style or budget, there is an abundance of meticulous sculptures that are perfect for an outdoor space. Garden statuary can lend your space a sense of grandeur, which will become a coveted style in your neighborhood. If you are looking to jazz up the exteriors of your house, then check out these 10 amazing garden statues that will elevate the style quotient of your outdoors instantly.
Eve with Abel and Cain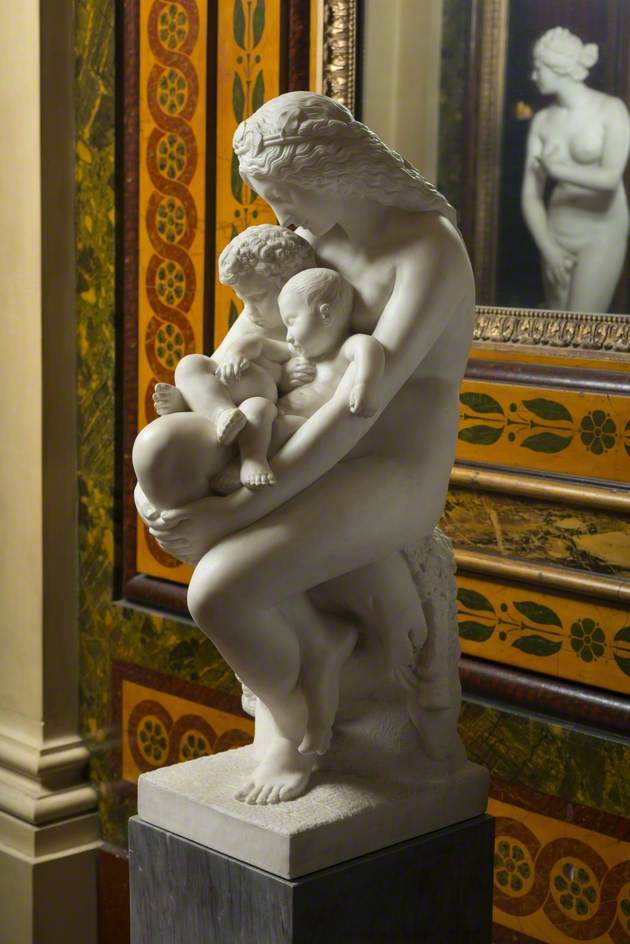 (Check out: Life-size statues)
This sculpture of Eve with her infants Abel and Cain is a heartwarming sight. Hand carved from shiny white marble blocks, this statue features Eve sitting on a slab as she holds the sleeping Cain and Abel on her lap. The depiction of Eve embracing Abel and Cain to form a 'cradle' is a true gesture of a mother's love for her children. The group is naked and without a shred of fabric. The hair of Eve is swept back and untied. One of the infants has curly hair while the other has straight hair. The white marble sculpture will look absolutely stunning as a garden centerpiece and will add value to your property.
The veiled lady statue
(Check out: Life-size statues)
The famous veiled lady bust by Raffaelo Monti is a subject of intrigue and curiosity and has inspired several iterations of the subject. This marble bust of a woman is an ode to woman's beauty and her shyness. Hand carved from natural beige marble block, this veiled woman bust statue is placed on a matching beige marble pedestal. The bust features a thinly veiled face of a woman with calm and placid expressions, visible through the thin fabric. Hand carved with adept precision, the stone bust wears a floral crown on the head, which holds the veil in place. The veil is then draped around the neck. It can be placed on a custom made pedestal in the garden to elevate the layout. It can be customized to fit in your space. This marble bust of a woman will be a perfect addition to any modern or contemporary home.
Pieta by Michelangelo in Rome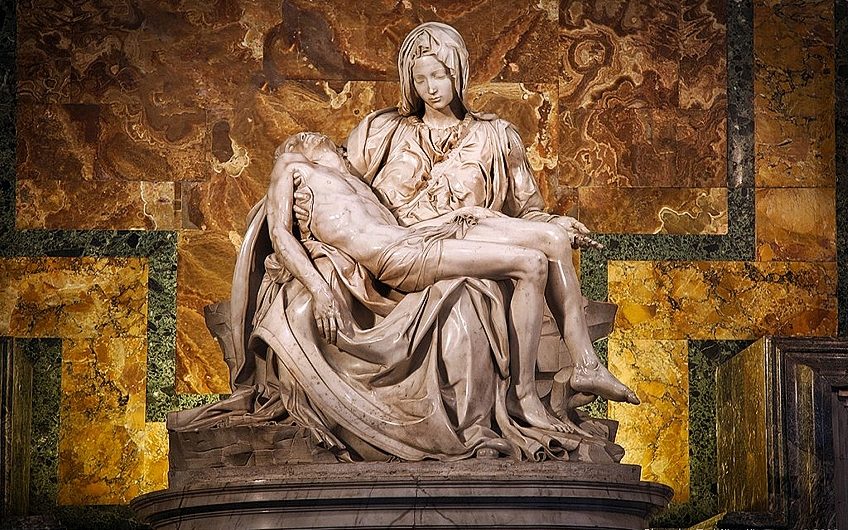 (Check out: Life-size statues)
This sculpture by the great master Michelangelo is an inspiration for all the young sculptors of modern time. It is considered a powerful art piece, which was inspired by the artist's faith. It portrays the Blessed Virgin Mary holding the mortal body of Jesus after his descent from the cross. It will make for a perfect addition to a church garden or a garden of a devout. Moreover, this statue can be made by our skilled craftsmen in any shape, size, color or material to make it a better fit for your available space and budget. It would be a suitable addition to a modern, rustic, and contemporary design layout.
L'abisso - The Abyss, 1909
(Check out: Life-size statues)
Pietro Canonica's 1909 L'abisso - The Abyss is a gorgeous sculpture, which reflects Canonica's amazing ability to create realism in his work, bringing this marble sculpture almost to life. This breathtaking statue features Paolo and Francesca, the ill-fated lovers from Dante's Inferno. The lovers are locked in their eternal punishment, holding onto each other with fear in their eyes. Both characters are draped in a thin cloth which has folds and crumpling to mirror the real-life fabric. It is a depiction of the love these both show for each other. It will be a good addition to your garden statuary and elevate the garden layout instantly.
Giovanni Dupré's Sculpture Saffo
(Check out: Life-size statues)
Giovanni Dupré's Saffo, sometimes referred to as Sappho, was a brooding and melancholy statue and was made between 1857 and 1861. The sculpture has a certain Michelangelesque charm to it and has been acclaimed as his best work. The work features a female figure mourning as she is sprawled on a chair of some kind with half of her body naked while a fabric is draping her from waist-down. Her hair is tied neatly into a bun at the top of her head. There is a musical instrument half concealed under the drapes. The white marble statue is a great addition to any modern garden layout and can be a wonderful centerpiece.
Statue of Killing Medusa
(Check out: Life-size statues)
Medusa is a prominent figure in Greek mythology. She was one of the three gorgons, females with living venomous snakes in place of hair and those who looked into her eyes would turn to stone forever. She was slain by the brave hero Perseus who beheaded her with an adamantine sword. This image has been used by so many sculptors in various mediums. This statue of the killing of Medusa by Perseus is made from patina bronze. It features our hero holding the decapitated head of the evil gorgon. The statue symbolizes the victory of good over evil and can be a beautiful centerpiece in a garden. It will not only elevate the design quotient but add value to your property as well.
Life size Athena stone statue
(Check out: Life-size statues)
Athena is an ancient Greek goddess of wisdom, warfare and handicraft and has been an interesting art subject for painters and sculptors alike. The daughter of Zeus is often portrayed wearing an aegis, body armor, and a helmet and carrying a shield and a lance in her hand. The depiction of Athena in this white marble statue is no exception and has been portrayed like that. Placed on a matching marble slab, the statue can be installed at the garden's entrance or in the middle to ooze a triumphant energy owing to the presence of the goddess of warfare and wisdom. You can have this statue customized in any size, shape, design or color.
Life size statue Nap in Gardens
(Check out: Life-size statues)
This life size statue of a napping goddess in the garden is a perfect depiction of ancient folklore and mythology. It has been hand carved from best quality natural white marble blocks with every tiny detail etched onto the stone with skilled hands. The goddess is naked and is lounging on a hammock secured onto two matching marble poles. One hand of the female figure is drooping over the side of the hammock. She is sleeping on the sheets as they cascade over the edge of her lounging station. It is a perfect addition to any modern or contemporary garden where it will evoke the feelings of calm, relaxation and soothing in general.
Greek Scholar life size marble statue
(Check out: Life-size statues)
Knowledge is the greatest wealth in the life of a human. And this statue embodies that learning perfectly as this life size statue of a Greek scholar is standing with a book propped open in front of him while a bag of coins is under his foot. The man is deep into reading, ignoring the fact that he has stepped upon a bag of money. Standing on a matching white marble slab, the white marble statue has been hand carved with utmost precision. The beard of the scholar is gently blowing with the wind as does his drapes, which are extremely lifelike due to their crumples and folds. The gentle gray veining on the white marble sculpture gives it an elegant appearance. It can be customized in any shape, size or design as per your preference. It will suit the garden of a library or the backyard of a scholar
Remy Martin Stone Centaur Sculpture
(Check out: Life-size statues)
A centaur sculpture is another beautiful offering for the fans of Greek mythology. A white marble statue of this creature has the upper body of a human and the lower body and legs of a horse will blend into a modern or contemporary garden. The creature is placed on a matching white marble slab. The head of the centaur is gazing into nothingness with its hands behind its back. The bulging muscles, horse hoofs, mane and tail of the creature, everything minute detail of the sculpture has been meticulously. You can place this large life size statue of a centaur anywhere in your garden – by the entrance, by the garden fountain, or the pathway – choice is yours. It can be custom ordered in any shape or size to accommodate your available space and budget.