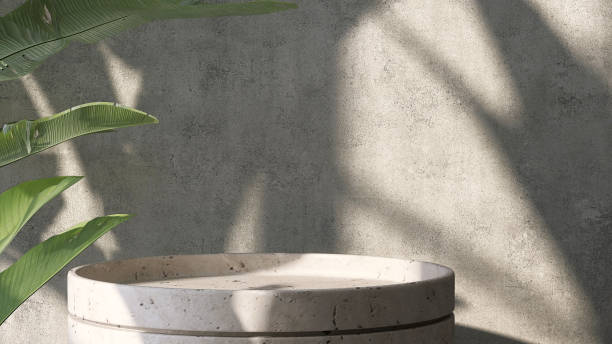 (Check out: Marble sculptures)
Marble has become quite popular when it comes to decorate homes in unique accents. The ageless beauty of marble not only elevates the design quotient of your home, but bestows it an elegant quality while increasing the value of your overall property. In the recent decades, marble has grown in popularity, emerging as a trend, and homeowners are looking at this natural material to offer the next accent pieces that they need to dazzle up their interiors.
You may think that these marble accents are perfect to include without much consideration, but you are sorely mistaken. You need to consider what you need, where you need it and what the style you are looking for is. Regardless, the key to get hold of perfection through marble is decorating in small quantities. If you overdo it, it will simply make your space look like a stone cold dungeon, robbed of life. You can pick a few selected, quirky and unique marble pieces to bring the innate characteristics of your home to the surface and replicate your individuality.
There are so many elegant ways to include marble décor into your home with style and panache. They add organic and earthy texture with a certain sophistication that only marble can offer. Uncomplicated, refined, and an all time favorite stone material, marble is resourceful, stunning and exceptional with its varying veining and coloring. To help you decorate your home with marble, here is a well-compiled list of unusually unique marble décor pieces to adorn your entire home.
Black Nero Marquina Marble Finials
(Check out: Black Nero Marquina Marble Finials)
These shiny, sleek black marble finials have been hand carved from natural black Nero Marquina marble blocks. They have been polished so smooth that they gleam in the light and add a distinguished touch of sophistication and classical style to your railings and banisters. Finials are one of the most familiar architectural features in western interior design, with their round tops and softly swooping curved sides similar to a traditional pawn piece in the game of chess.
These gorgeous, rounded stone finials are considered magnificent across the world, and can be installed basically anywhere in the house you want them to be. Although finials are often carved from wood as part of a wooden banner and then painted, these marble finials are made from pure stone and hand-carved by an expert craftsman. They are fully customizable with any variation or style required by you. Moreover, these marble pieces can be installed both indoors and outdoors. They can be used on staircases, balconies, garden walls, terraces and so on
Hand-Carved Marble Kitchen Hood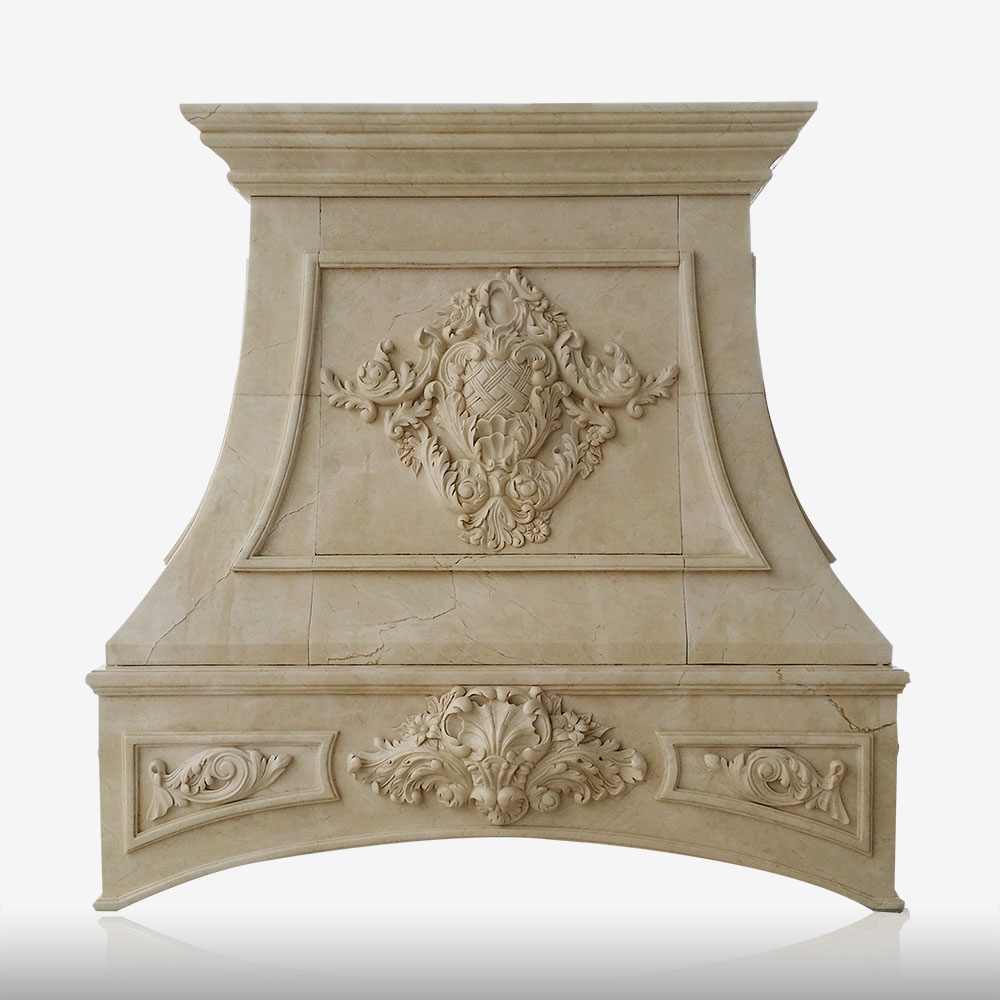 (Check out: Hand-Carved Marble Kitchen Hood)
Kitchen is the only place where you spend most of your time, which makes it the most important part of your home and everything in it must be grand and extraordinary. So why settle for a simple, dull range hood? Our advice, invest in this impressive natural marble kitchen hood. It has been hand carved from natural beige marble blocks.
Featuring an incredibly stunning stone relief design, the kitchen hood has gently curving sides that balance the heftiness of the natural stone and the massive size of it. However, the point of attraction in this kitchen accent is the stone relief. The face of the upper section of the hood has an ornate and complex floral wreath carving that compliments a similar design on the marble lip.
The entire thing is handsomely framed inside intricate carvings. This hood will be a perfect addition to any rustic design style kitchen. It can also be included in modern and contemporary homes with complementing color schemes; however, it would look amazing with an al-fresco kitchen. You can have it customized in a different size, shape or design as well.
Boonji Spaceman Marble Sculpture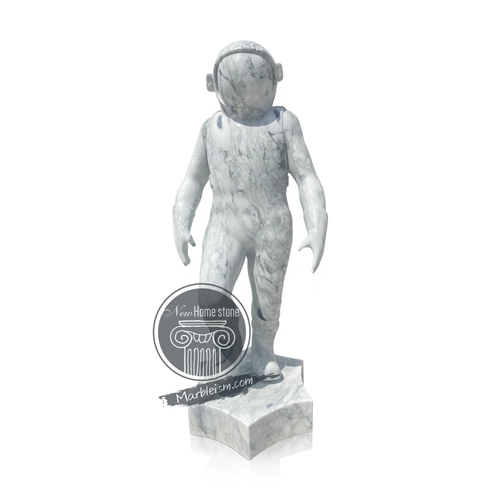 (Check out: Boonji Spaceman Marble Sculpture)
The Boonji Spaceman by artist Brendan Murphy has created ripples across the art world. Therefore, this stunning Boonji Spaceman-inspired marble statue makes for a perfect addition to an art lover's home. A 22 feet statue is currently installed in the center of the ocean at the Hodges Bay resort in Antigua as a sign of this artwork's popularity.
This beautiful statue has been hand carved from natural Calacatta marble and captured every detail from the original artwork through the complex headgear to the slab on which the statue stands upon. The excellent craftsmanship makes this statue lively and extraordinary. It is a great marble décor for people who want minimalist accents to adorn their homes. This spaceman marble statue is also a wonderful addition to the fans of science fiction or someone who is obsessed with the beauty of outer space.
Moreover, this natural stone decorative can be made to order in any shape or size to better accommodate any design requirements as per your available space and budget.
Black Nero Marquina Marble Wall Fountain Pool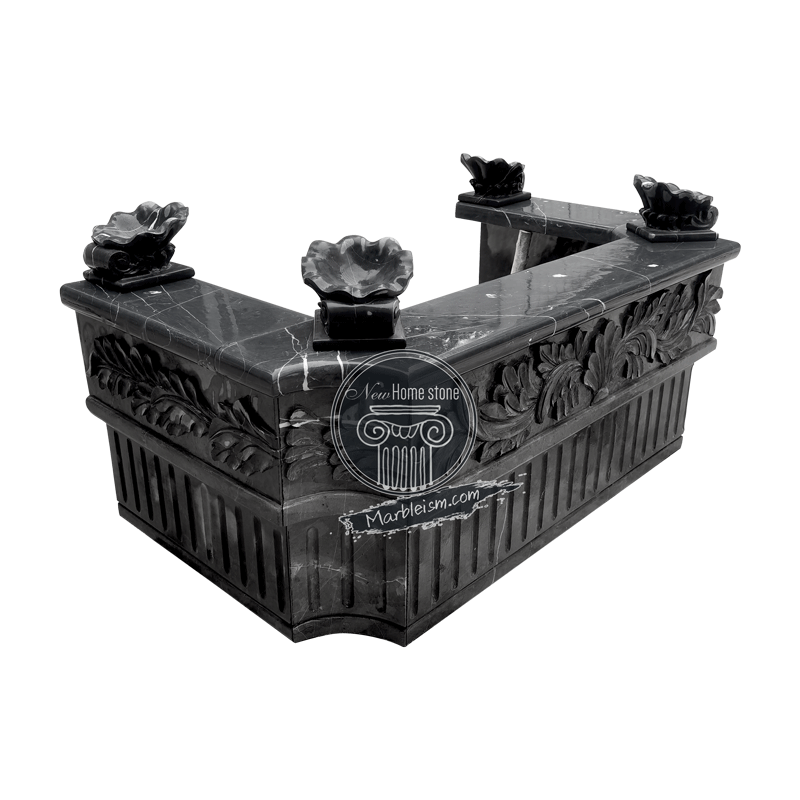 (Check out: Black Nero Marquina Marble Wall Fountain Pool)
Marble wall fountains are one of a kind and whether you like one or not, you simply cannot deny the sheer beauty of this wall accent. Beautifully hand carved from natural black Nero Marquina marble blocks, this marble wall fountain pool is a brilliant work of art. Oozing originality, creativity, beauty and elegance, this encircling wall fountain pond will elevate the style quotient of your space, whether you decide to install it inside the house or outside.
Through a wonderful combination of traditional and modern, this black pool surround has bold white veining that lends it an aura of unmatchable sophistication. It creates a relaxing atmosphere, so you can sit and relax and enjoy the babbling sounds of the water. It can be made to order in any shape or size to better fit your space. Moreover, the durability of marble will make this decorative piece last for decades.
Marble Wall Mounted Lion Head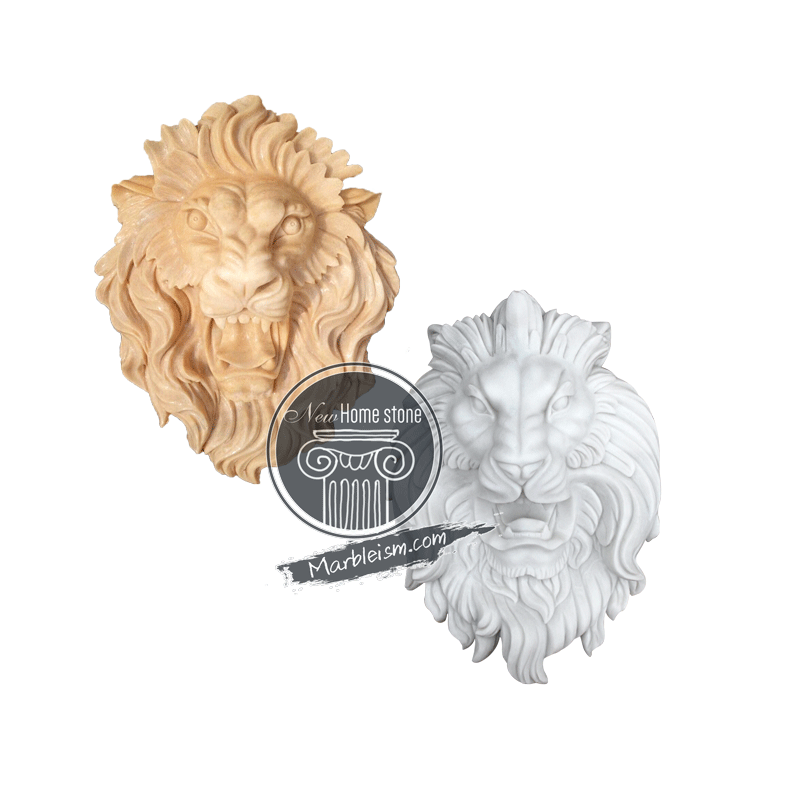 (Check out: Marble Wall Mounted Lion Head)
The power of a lion head décor piece in a home is not something unheard of; you can find stone lion statues in several cultures with significant meanings and symbolism. Aside from all the cultural references, the lion head looks majestic, regal and simply breathtaking in any home. So why not install one in your home as well?
This beautiful decoration can be the center of attraction in any space, be it indoors or outdoors. It can be hung on a wall to ooze grandeur and aura of power. It is specifically designed as a fountain spout, but can be used as a standalone lion head accent piece. The marble decorative design has a beautiful design with red-white patterns accentuating its innate beauty.
These pieces have been hand carved from red and white natural marble blocks by master craftsmen, who have blown life into stone. With a strong visual of a roaring lion, the water can flow through the open jaws of the animal head, if you choose to use it as a spout. However, it can be hung as a wall décor as well. You can have these pieces made to order in any size or material.
Wall Mounted Lion Head Fountain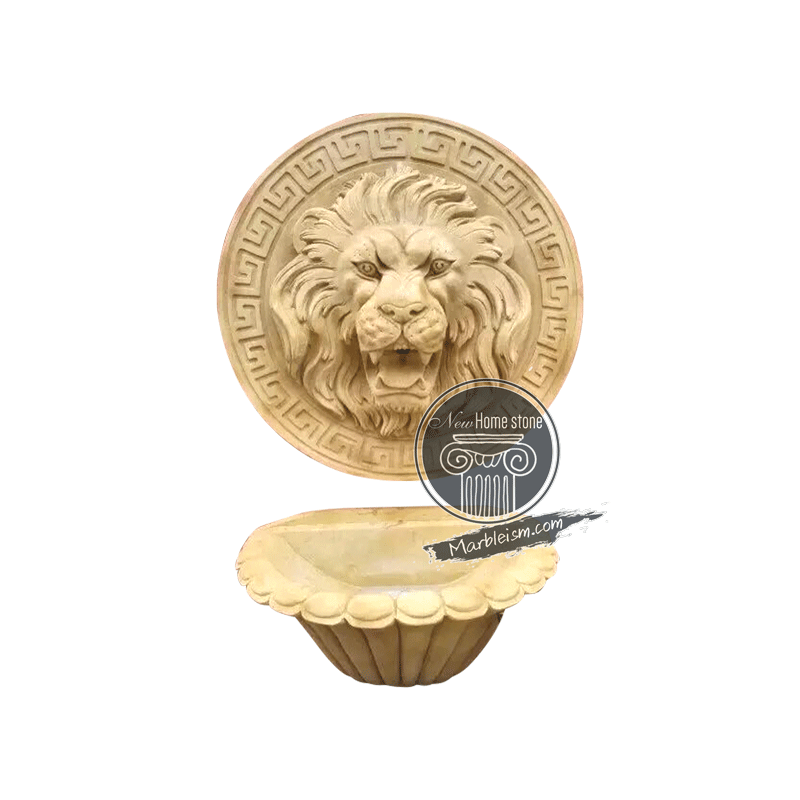 (Check out: Wall Mounted Lion Head Fountain)
Wall mounted fountains are undeniably gorgeous. They can be installed anywhere with a vertical stance to enhance the design appeal. Here is a stunning wall mountain lion head fountain with a mounted basin that will be a perfect fit in any modern, contemporary, rustic or farmhouse interior design layout. Whether you install it inside your home or out in the garden, the choice is yours. It is minimalist in size, but the charming effect of this beige marble wall mount fountain is unparalleled.
The wall mounted fountain has been hand carved from natural beige marble blocks with a matching marble basin in the shape of a seashell. The water flows from the mouth of the lion head fixture and pours down into the shell-shaped bowl. It can bestow a touch of elegance to any design layout. The lion's head is mounted on a circular base with gentle engravings.
The expressions of the lion's face are of fury, with a roaring mouth and flowing mane. It would look great in the open courtyard or the patio.
Wall Mounted Fountain Pool Surround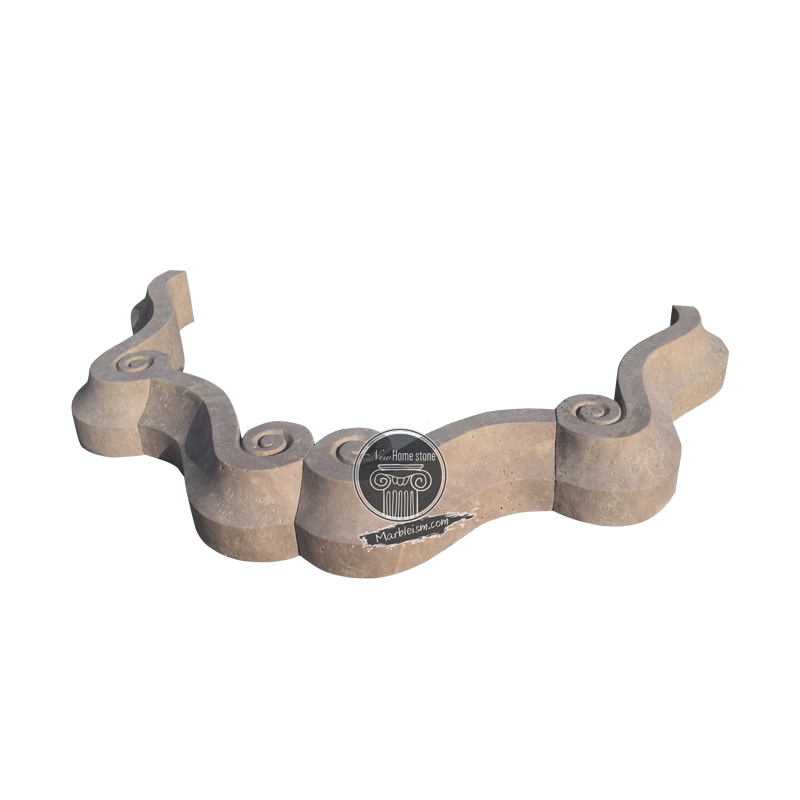 (Check out: Wall Mounted Fountain Pool Surround)
Featuring a curved design, this wall fountain pool surround made from natural marble is one of its kind, and will introduce a certain kind of charm to your living space. Simple yet elegant, this pool surround has been hand carved from natural marble blocks. It has an exquisite design with the power to intrigue everyone at the very first glance.
It can be installed both indoors and outdoors to add a certain elegance to your design quotient. Seen in many architectural features, this pool surround design has a cloud-like pattern and has exceptional endurance against the natural elements, which makes it a wonderful addition to your outdoor space.
You can install a wall fountain paired with this red marble pool surround out on your patio for design betterment. The beauty of this piece is only enhanced by natural elements. You can have it made to order in any size, shape, design or material to make it a better fit for your living space.
Natural Stone Garden Pedestal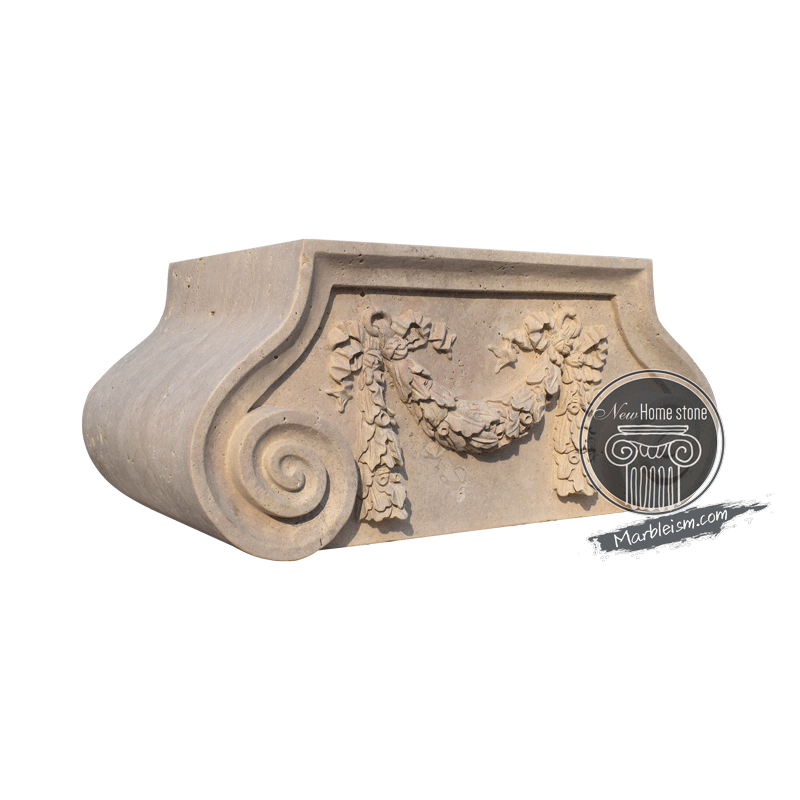 (Check out: Natural Stone Garden Pedestal)
The design layout of your garden is as important as the insides of your home. While there is a wide variety of accent pieces to decorate your garden with, the charm and elegance of a beautifully carved marble garden pedestal is still unmatched. These pedestals are great for placing your garden statues, planters or wishing ponds.
Check out this beautifully hand carved natural stone garden pedestal. Crafted carefully and skillfully from natural stone, this pedestal features gentle engravings on it that lend it a sophisticated vibe suitable for any modern, rustic, or contemporary garden. It has sloping and inward curved sides with a garland engraved on its front.
It has a bulky form and design that can also be used in living rooms as coffee table or a side table. It can be installed in the foyer with a statue of vase atop it to create a charming entrance as well. Moreover, you can have it customized to better suit your style and budget.