(Check out: Statues from Marbleism)
The front door of your home is like a window to the entire interior. What you put outside your entrance, or how you present it, decorate it, says a lot about your personality and style sense. Now , it can be quite puzzling to find something suitable to be placed at the entrance that can complement the interior layout and jazz up the complete look of your house. If you are someone who is looking for such decorative pieces, fret not. We are here to help . And one of the sure-fire ways to make your front door look more interesting and welcoming is through stunning front door statues.
Think of them as art for your entrance. Front door statues are the perfect accessory to elevate and intensify the intended moods of your space. You can add humor, wit, whimsy, charm and balance to the composition of your entire outdoors with just a couple of marble statues placed at the front door. You can choose from human sculptures and animal statues or use both to beautify your entrance. Let's see the best options that you can employ and how they will add to your decor quotient while simultaneously increasing the value of your property.
Front Door Lion Statue Pair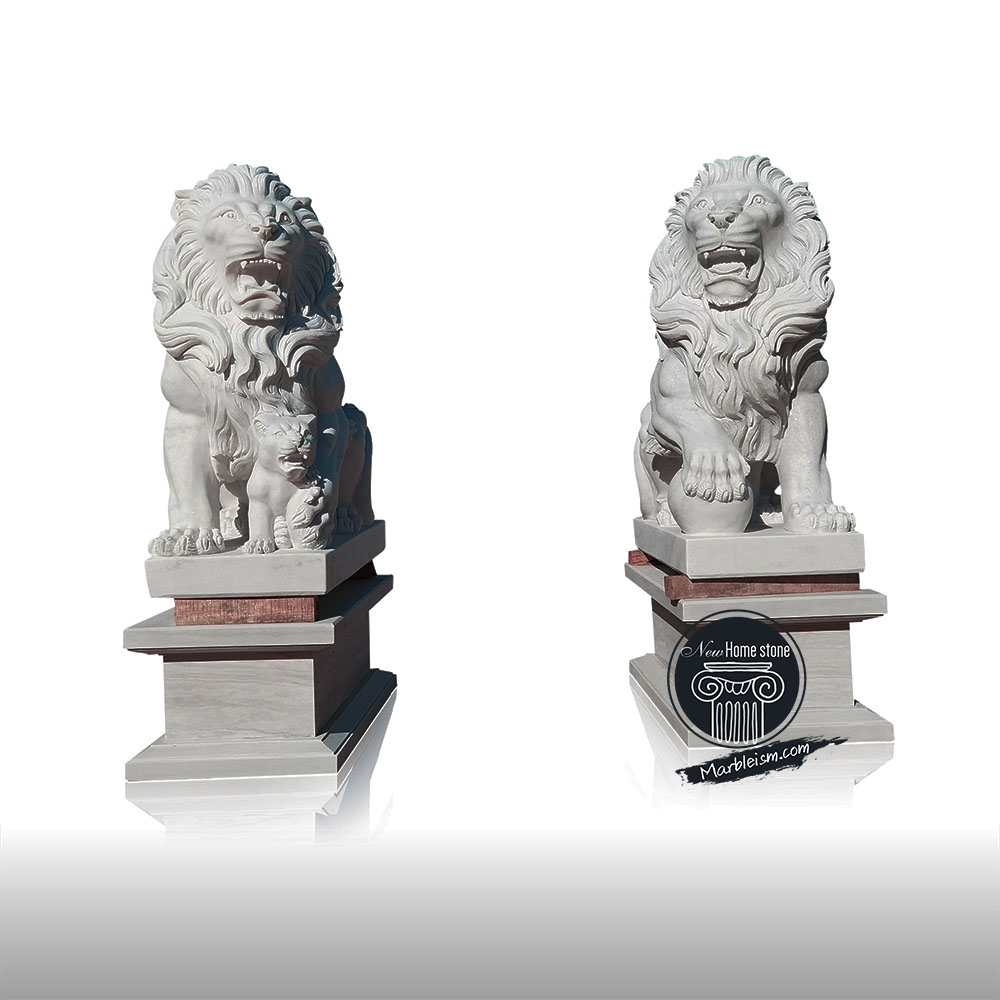 (Check out: Front Door Lion Statue Pair)
Use this powerful statue pair to evoke the image of family and protection. Place these two white marble statues on either side of the front door where standing side by side, this pair of guardian lion statues takes its place among the most instantly recognizable motifs in the history of sculpture. These lions are identical, with minute differences. One of the lions is cradling a cub, which is mirroring the power of its parent to scare off people. The other lion seems to be standing over some kind of orb on its pedestal. The stunning color of the Hunan white marble does not divert the attention from the incredible detail and texture of the work. The matching pedestals have been hand carved from the same marble alongside the beautiful front door statues. What is more, you can have these sculptures made to order in any shape or size.
Lazy Lion Entrance Statues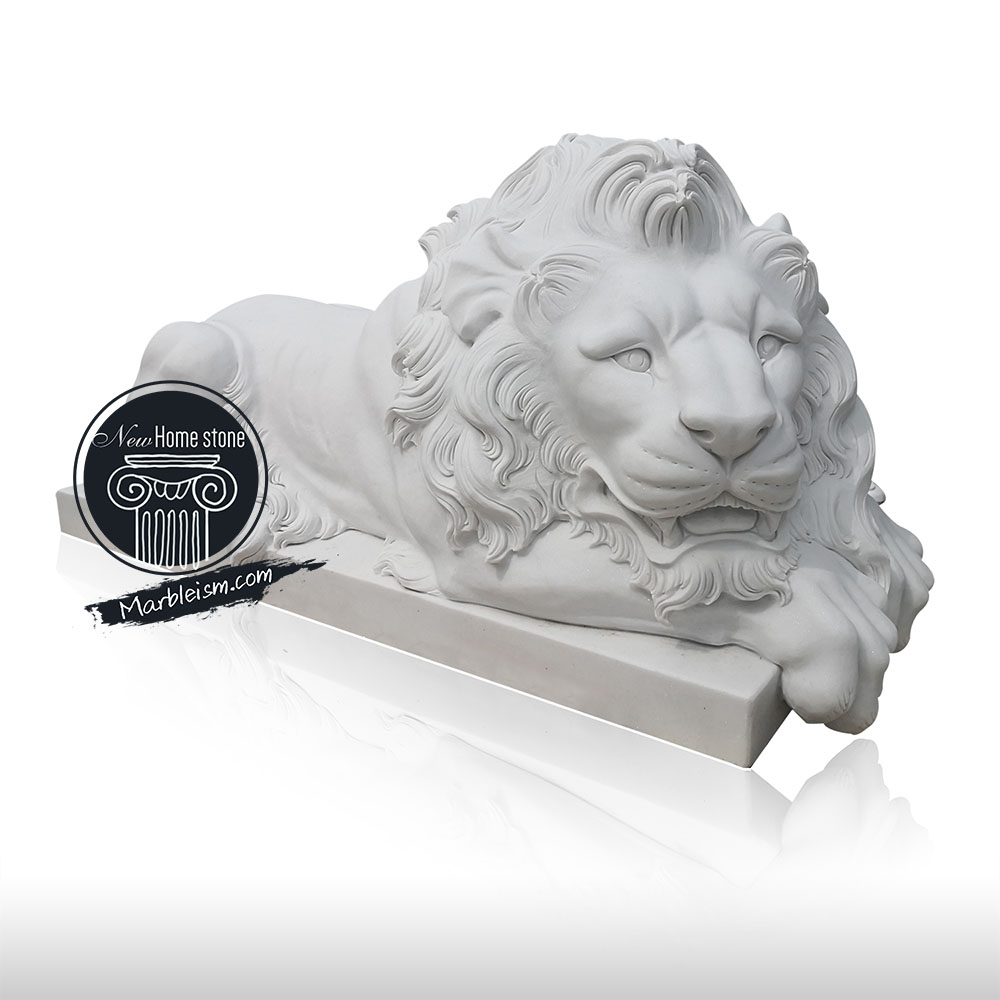 (Check out: Lazy Lion Entrance Statues)
In the jungle, the concrete jungle, the lion sleeps tonight...
Although the first thought that will come to your mind upon seeing this lying creature could be "that's a lazy lion", you sure as hell cannot deny that it is a fierce and powerful image. You can use this gorgeous white marble as a symbol of power, strength, bravery, pride and royalty outside your front door. It will not only scare away people but add to the aesthetic and real estate value of your home.
This sleepy, lazy lion statue with its matching marble pedestal doesn't even need to put on a display of its power. Hand carved meticulously from the stunning Beijing white marble, the statue shines and glows with the adept craftsmanship used to bring this napping marble lion statue to life. You can place two of these statues at your entrance for a symmetrical decoration. It will complement your existing layout and the natural stone make will sustain the natural elements without much wear and tear.
Beige Marble Dog statues
(Check out: Statues from Marbleism)
Let's be honest, dogs are probably the best pets humans could ask for – they are loyal, fierce and oh so adorable. This pair of beige marble dog statues is a perfect pick for dog lovers. The set features two identical dogs hand carved from natural marble blocks. Both are poised on matching square marble slabs with all their paws neatly placed there.
There is a dog collar wrapped around the neck of each pooch statue. Each dog has been crafted in an alert position as if the ears are intently trying to listen to something. When you place these adorable animal statues at your front door, they not only scare away trespassers but will give a little bit of fright to your guests as well. They pair well with any kind of home decor and color palette. The statues have been meticulously carved with intricate details of muscles and facial expressions
Marble Foo Dog Statue for Front Door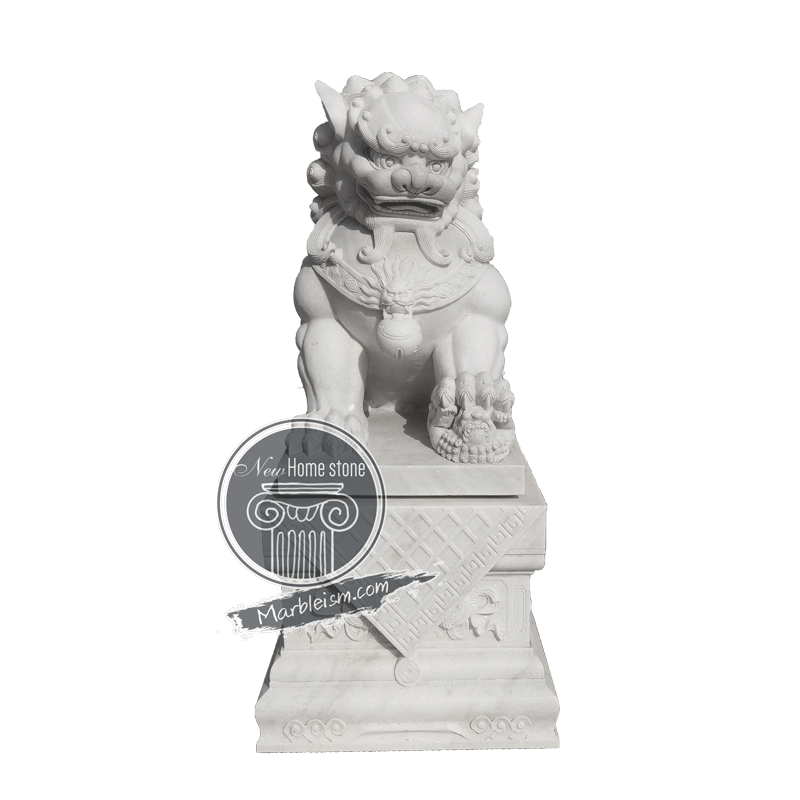 (Check out: Marble Foo Dog Statue for Front Door)
Foo dogs are mythical creatures that are famous in feng shui décor. They are also known as the guardian lions, komainu, shishi and so on. These intimidating, mythical, lion-like creatures can be seen across various art forms, ranging from architecture to tattoos. As they symbolize prosperity, success and protection, it is a great idea to use foo dog statues at your front door to ward off negative energies.
But remember to install a pair of male and female foo dogs outside your house as it is not considered good luck to just use one statue. This particular foo dog statue has been hand carved from the premium quality white marble. It has an orb with engraving hanging from its neck as a necklace, while a severed head of an entity is under one of its paws. The statue wears growling expressions as if to warn evil doers to stay away or face its wrath. When you are using foo dogs as front door ornamentation, ensure that they are facing outward, away from the building. They should always be looking in the same direction and not positioned at an angle.
Twin Female Sculptures for Front Entrance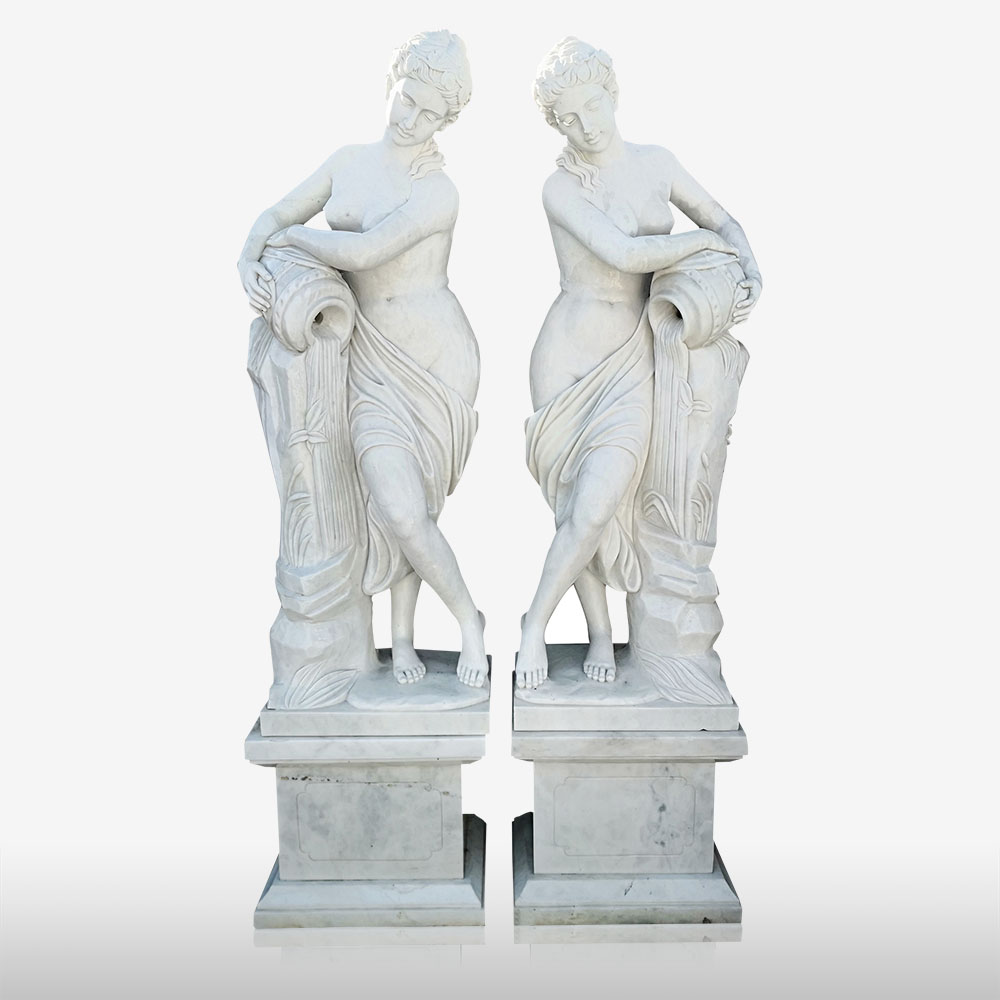 (Check out: Twin Female Sculptures for Front Entrance)
Female body is probably one of the most beautiful and most used subjects in art – be it poetry, paintings or sculptures. Therefore, it is only fitting to use this subject to beautify your home as well. Here is a beautiful set of twin female statues that you can install outside your front door. The stunning white marble sculptures are standing over matching white marble pedestals and pouring water from pots at their sides.
They have a distinct peacefulness and calm over their demeanor and a sense of realism. You can place them on either side of your entrance and let the beauty flow. Their gentle faces are covered with a subtle hint of a smile, as their hooded eyes are cast downward. These natural marble statues will blend right in outside and enhance the outdoor design of your home. Moreover, you can have them made to order in any size, shape, color or design to make them a better fit for your home.
Front Door Flying Angel Marble Statue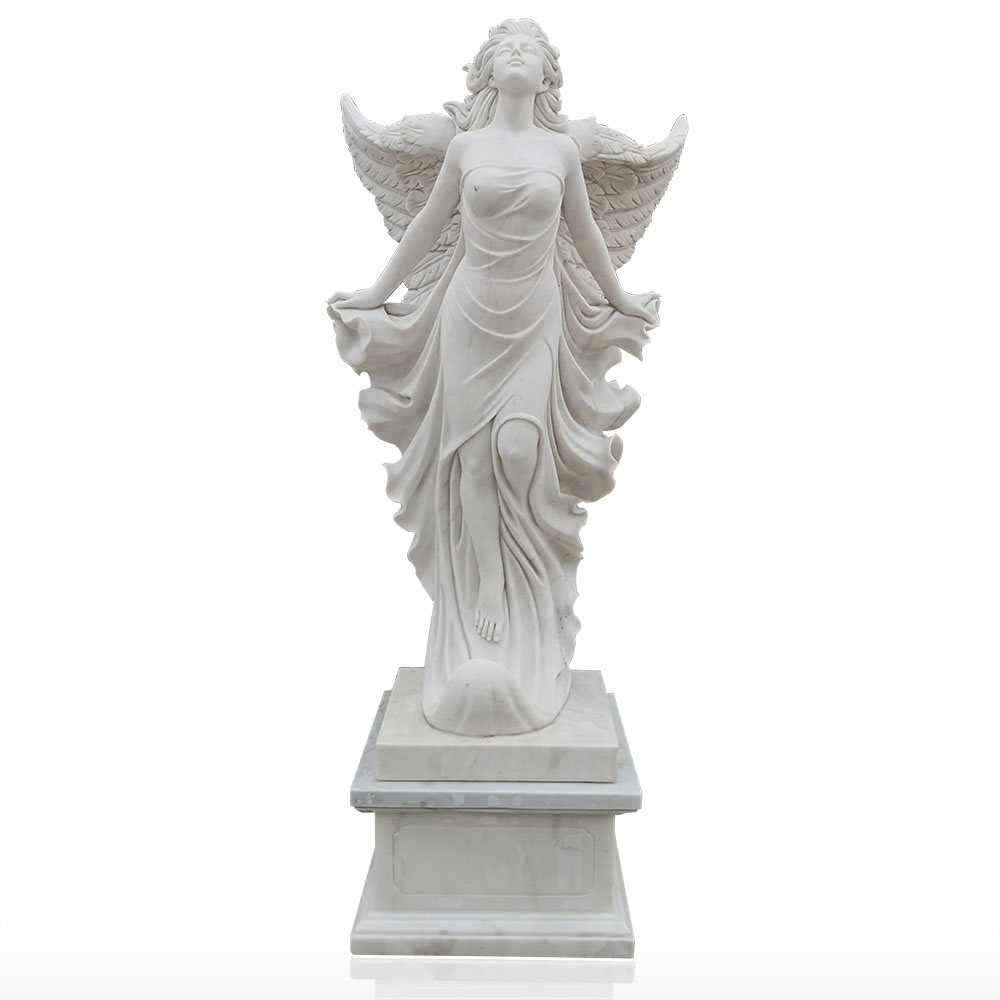 (Check out: Front Door Flying Angel Marble Statues)
We all want to include a guardian angel or two to our home's environment for that sense of otherworldly presence looking over us. Obviously, such presences can serve more purposes than just that. Think of a stone guardian angel statue for instance. It offers a sense of protection and safety while elevating the aesthetic appeal of your humble abode. This gorgeous white marble flying angel statue is an exact embodiment of the above mentioned features.
Place a flying statue each at both sides of your front door and see the magic happen. It will instantly add a regal charm to your door and the surrounding area. The flying angel's wings are sprawled behind her as she readies herself for takeoff and her arms are flung back holding the hems of her intricately carved dress with realistic folds fluttering in the wind. The angel's body, hair, wings, as well as her euphoria-filled face are a real testament to master sculptor. You can get this statue in a different color, shape and size.
Calypso Walking on Wave Sculpture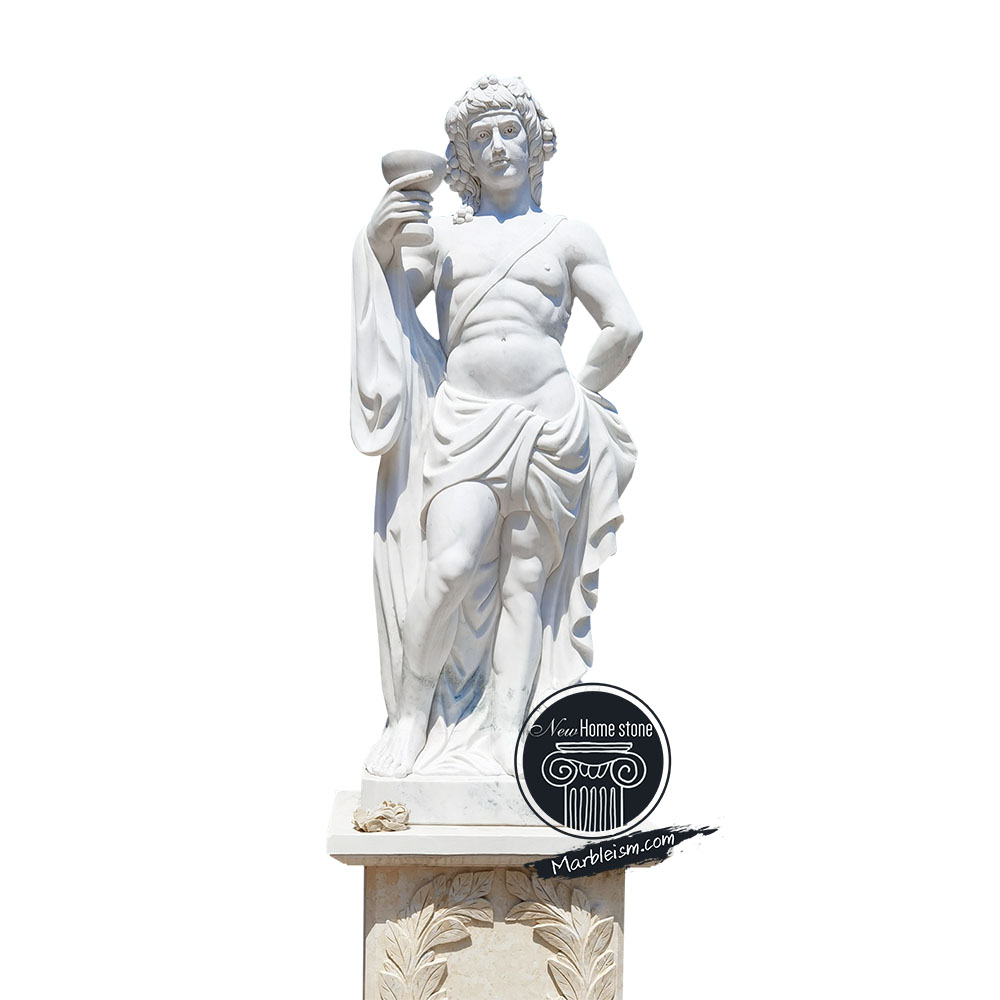 (Check out: Calypso Walking on Wave Sculpture)
The ancient civilization of Greeks knew how to depict their mythology and mythological creatures with such a reverence that they would live down history. This statue of Calypso or Yemeya, both ocean goddesses from various cultures, has been adeptly hand carved by master craftsmen from natural white marble blocks. It is a statue of a goddess standing on a sea wave and is a breathtaking sight.
With wavy hair and deep-set eyes, this statue placed on both sides of your front door will instantly evoke a sense of royalty, power, bravery and beauty in your space. Moreover, it can be custom made in any size, shape or color to better fit your available space and budget. It will enhance the beauty of your outdoor aesthetics and make your entrance look more enchanting and whimsical.
Red Marble Front Door Lion Statues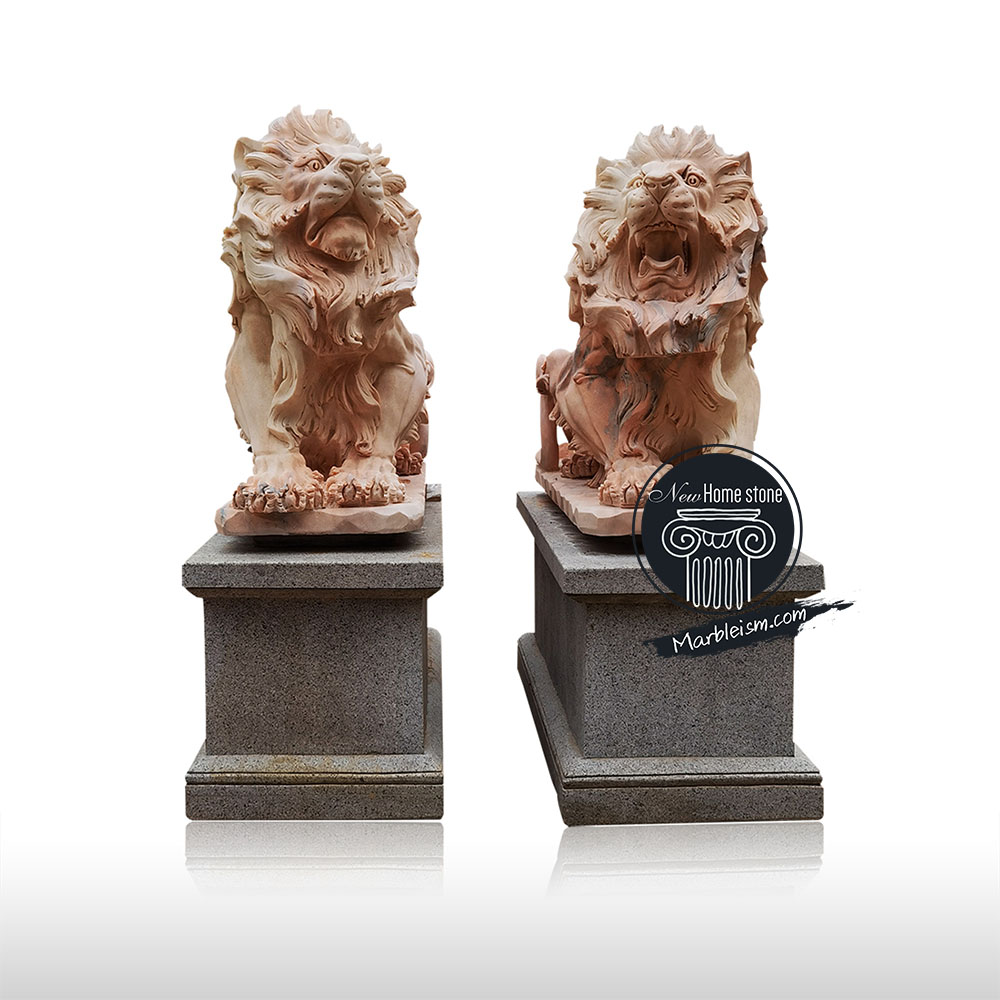 (Check out: Red Marble Front Door Lion Statues)
Adeptly hand carved from natural sunset red marble, this pair of lions is a ferocious sight to behold. This grandly vicious pair of stone lion statues sitting proudly on marble slabs is one of the most famous motifs. Stone lions are one of the most used sculptures when it comes to home décor. Install these marvelous creatures as the front door and see how they instantly catapult your home's outdoor layout into dignity and pride, with the gentle glow of sunset red marble shining on your front porch all day long.
One of the lion statues is roaring to beware any trespassers, while the other is scouting for anyone defying his companion's command. The sculptures have been carved with utmost precision and every detail regarding the facial expressions, bulging muscles, and flowing manes have been carved meticulously. The crouching lions will add a regal charm to your front door, while simultaneously increasing the value of your property.